Former NBA Commissioner David Stern Has Died.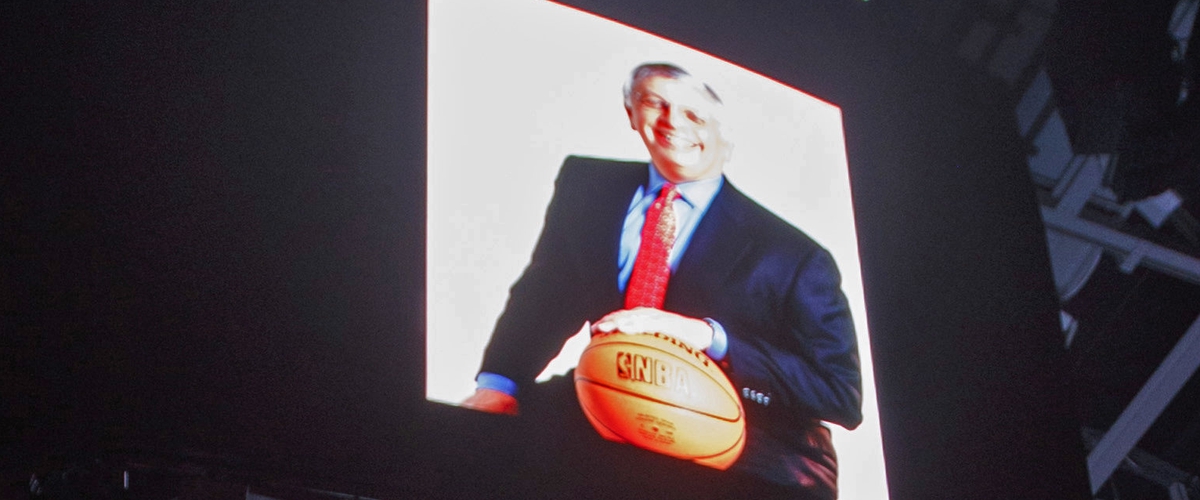 Former NBA Commissioner David Stern passed away at age of 77 after suffering a Brain Hemorrhage back on December 17th. The NBA reported that Stern's wife Dianne, and the rest of his family was at his bedside when he passed away.
The Former NBA Commissioner was a revolutionary, he did more things for the NBA that were never heard of back in the old days. Stern took over as commissioner of the NBA in 1984. Stern knew he had a lot of things to do.
Stern came into a league that was full of players, most of them black and knew of the drug problems that plagued the league. He also created a drug testing policy and a new dress code for the NBA.
NBA Commissioner Adam Silver said this about David Stern.
" I had a courtside seat for 22 years and I learned a lot form him. He taught me how to be a great leader and a great mentor. David will always be my friend and mentor. I will truly miss him."
Under David Stern The NBA grew in TV revenue and went global. The TV revenue grew from $10 million a year in 1984 to $900 million today. The NBA televised 150 games, in 200 countries and territories and can be heard in 40 languages. Stern also created the WNBA in 1997. He also created the Dream Team for the 1992 Summer Olympic Games. He also created the NBA developmental league, now know as the G-League. The League grew form 23 teams in 1984 to 30 teams today. Six teams have relocated.
But Stern's time as NBA Commissioner was not always pleasant. Stern had to deal with four lockouts during his tenure. Back in 1995 and again in 96 Stern had to deal with back-to-back lockouts which thankfully no games were lost.
But in 1998 and 2011, There were two more lockouts and that time games were lost. In 1998 the NBA only had a 50 game season and in 2011 the league only had a 66 game season.
Through it all Commissioner Stern was a still a revolutionary who made things work.
Back in 1991 when Magic Johnson announced that he was HIV-Positive Stern still let him play in the All-Star Break and in the 1992 Olympics.
Magic Johnson said this about David Stern.
" Stern was a great commissioner and a great friend. He was there for me when I got the HIV-Virus and when I had to retire from the game I love. He was a great friend and a great person."
Stern was commissioner during some of the best times in the NBA. He was commissioner during the Bird-Vs- Magic rivalry. He was also commissioner during the times of Michael Jordan and Lebron James.
In 1984 when Stern became commissioner, Jordan was entering the league and when Stern announced his retirement as NBA Commissioner LeBron James was winning his 2nd NBA title as a member of the Miami heat.
LeBron James paid tribute to David Stern on his Instagram page thanking his longtime mentor and friend for all of his years of service.
Michael Jordan said "David Stern was a great person who was always coming up with something knew every time, he knew what would work and what the NBA was about. He made the NBA what it is today."
Larry Bird said " Mr. Stern came at the right time to save the league. We were in the danger of bankruptcy and Mr. Stern saved the league from despair. David cared about the league and his players and the people around him.
WNBA Commissioner Cathy Engelbert released a statement.
" We are sad to announce that NBA Commissioner emeritus David Stern has passed away and we are deeply sadden by his lost. His leadership was the most outstanding leader in any sport that the sports world has ever had."
The one moment in Stern's time as the lead man at the NBA was back in 2011 when he vetoed the Chris Paul trade. Paul had decided to leave the then New Orleans Hornets to go to the Los Angeles Lakers. Commissioner Stern later said that " he wanted to protect the league owned Hornets form any financial hardship. Paul went to the LA Clippers one week after the Veto.
Here are my thoughts on Commissioner Stern..
David Stern was a person who cared about the NBA and his players. The League under Commissioner Stern Grew in teams form 23-to-30. His players respected him. Despite the dark cloud of the Malace at the Palace in 2004 when the Indiana Pacers and Detroit Pistons had their fight, or should I say a near riot.
The respect that commissioner Stern had was remarkable. He just flat out saved the NBA From going bankrupt and everybody knew it.
TV Revenues grew over the years. The 2010 All-Star game was played at Dallas Cowboys Stadium with a crowd over 108,000 fans the most in the history to watch a live NBA Game. Commissioner Stern was inducted into the Naismith memorial Basketball Hall-of-Fame in 2014 for his service to the NBA and his revolutionary ideas.
David Stern was a great person and a hero to a lot of his players and fans. He will be sorely missed, not just in the NBA community, he will be missed all over the sports world.
He is survived by his Wife Dianne, his sons Andrew, and Eric.
Commissioner Stern, Thank you for your service to the NBA and to the sports community for what you did during your 30 years as NBA Commission.
Commissioner Stern Thank you and GOD SPEED..