Jake Fromm Can Perform Under Pressure.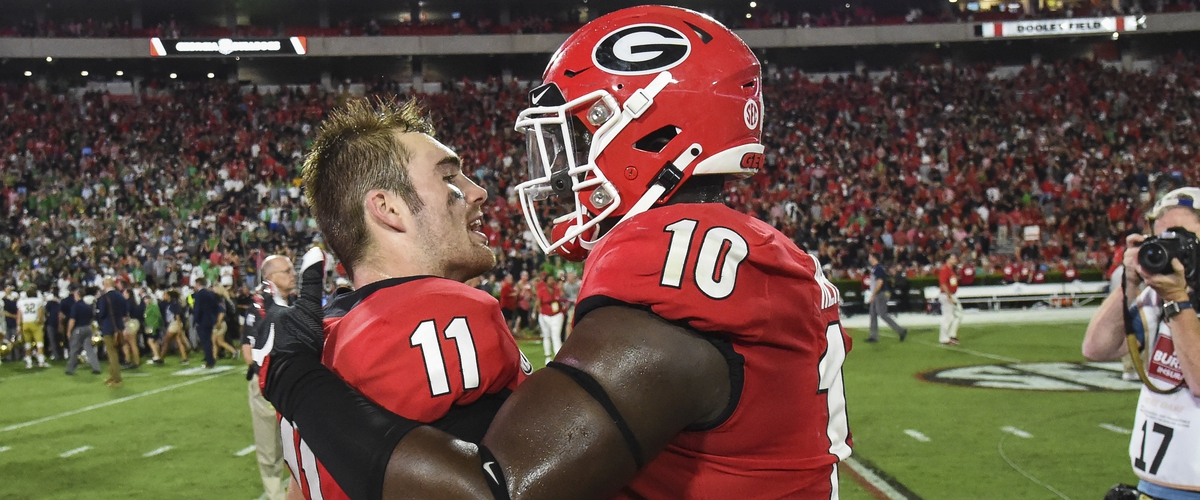 Well It Looks Like Georgia Quarterback Jake Fromm Can Get The Job Done Under Pressure. Look At What He Did Against Notre Dame In The Bulldogs 23-17 Victory This Past Saturday Night.
Jake Fromm 20/26 187 Yards, 1 Touchdown.
UGA Coach Kirby Smart..
" Jake Is a Hard As Nails Football Player Man. He Can Get The Job Done Under Pressure, And Yes He's Going To Be Somebody Special. And To The Rest Of The SEC I Say Look Out."
UGA Running Back D'andre Swift..
" You Guys Want To Talk To Me, You All Should Be Talking To Jake Fromm Because He's The Guy That Won It For. Yes I Did Rush For Almost 100 Yards And I Did Have a Touchdown, But This Moment Belongs To Jake Fromm Because He Did It For Us Tonight."
Now There Are Some People Saying Fromm Did Not Do Much On Saturday Against Notre Dame, But I Will Say This Who's 3-0 Against Notre Dame, Why It's The University Of Georgia. I Want To Look Back At The ND-UGA Game For a Second, A lot Of People Said That This Game Was Going To Be a Blowout. I Was Not One Of Those People. I Said It Would Be Close All-Night, And Yes It Was Proven Right. When Notre Dame Has a 10-7 Lead At The Half We Know It's Going To Be a Game. But When Georgia Didn't Score The First Touchdown And Had To Settle For a Field-Goal To Open The 2nd Half Then We Knew For Sure It Was Going To Be a Battle. Notre Dame Was Down By 6 With Less That a Minute Left In The Game. Ian Book's Pass Fell Incomplete And It Was Ballgame.
Don't Take Anything Away From Notre Dame, They Played An Excellent Game.
Ian Book 29/47 275 Yards, 2 Touchdowns, 2 INT.
And The UGA Defense Held Notre Dame To 46 Yards Rushing For The Game.
Here's My Take..
Georgia Is Coming Off Of a Huge Win Over Notre Dame And It Has Been Proven That Jake Fromm Can Perform Under Pressure. The Bulldogs Will Need To Perform Under Pressure At Least Three More Times This Season, And Here's What I Mean.
No.9 Florida..
We All Thought That When The Gators Star QB Filipe Franks Suffered a Broken Ankle That Florida's Season Would Be Over. But It's Remarkable On What Florida Has Done Without Franks At Starting Quarterback.
The World's Largest Outdoor Cocktail Party Could Have Meaning In The SEC East.
No.7 Auburn..
The Auburn Tigers Are Coming Off Of a Win Over Texas A&M Despite That Bo Nix, Only Threw For 100 Yards In The 28-20 Win. But Auburn Can Come Out And Bite You Like UGA Did To an Auburn Player Some Years Ago. So Do Not Sleep On Auburn And The Game Will Be In Auburn So Keep That In Mind.
No.23 Texas A&M..
Texas A&M Is Coming Off Of a Loss To Auburn. Kellen Mound Threw For Over 379 Yards In That Game In College Station. But Can The Aggies Represent The State Of Texas And Upset Georgia Along The Way. The Game Will Be In Athens But The Aggies Will Be Upset Minded Going Into That Game.
Then The $64 Question Is Will They Face LSU Or Alabama In The SEC Championship Game If Georgia Gets There. I Don't Know The Answer To That Question, However I Can Say This For Sure.
LSU Is a Tough Team To Beat, LSU QB Joe Burrow Can Prove He Can Get The Job Done. He Did It In The Season Opener Against The Texas Longhorns. The Only Question Mark Is Alabama, They Have Not Been Battle Tested Yet And I Don't Look For That To Happen Until The Auburn Game In The Final Regular Season Game.
If I Were To Ask Anybody On The Georgia Campus Who They Would Want To Face In The SEC Championship Game If They Get There, You Would Get At Least 2-or-3 Different Answers. Some Would Say LSU, And There Would Be More That Would Say Alabama. We Will Have To Wait And See What Happens The Rest Of The Way.
Bottom Line..
---