J.K. Dobbins had declared for the NFL Draft.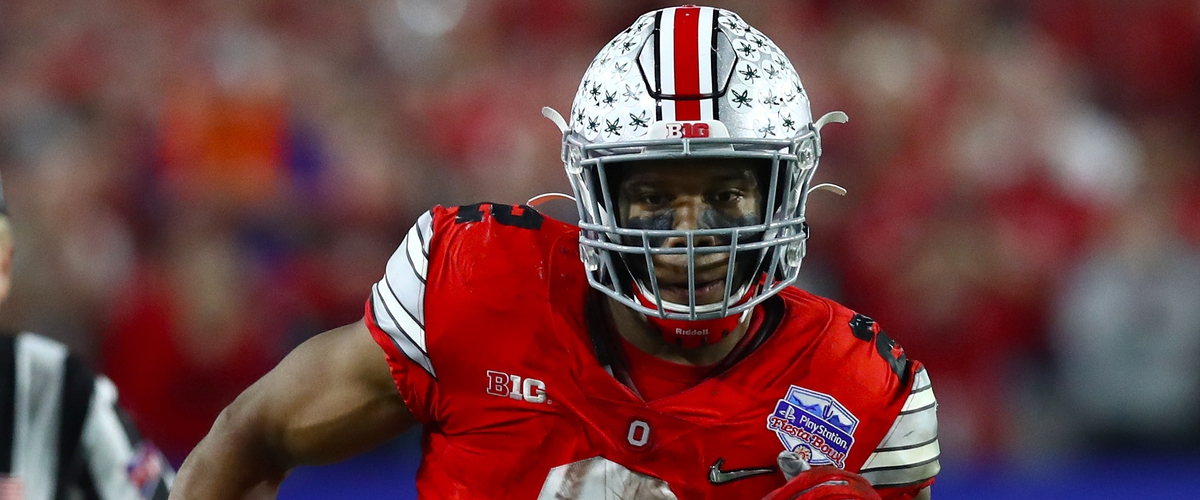 Well Ohio State nation got some news that some did not want to hear. Running back J.K. Dobbins, has decided to declare for the upcoming NFL draft in April.
Dobbins had one great season with the Ohio State Buckeyes cracking the 2,000 yard mark this season. Dobbins had 301 rushes this season for 2,003 yards, that does include 174 yards in the Fiesta Bowl against Clemson and 21 touchdowns.
Dobbins made the announcement that he was declaring for the NFL draft on Monday. Dobbins said that " it was an honor to play for Ohio State and now it's time to move on and go pro. I am going to miss Buckeye nation and it's fans. But It was a great three year run.
Ohio State head coach Ryan Day said the following about Dobbins Decision.
" He was great player for us and I thank him for his service at Ohio State. He was fun to watch and an honor to coach during his time here with us. He's going to be missed by me and the rest of Ohio State nation, I wish him the best of luck."
J.K. Dobbins had a fantastic career at Ohio State. In his three years with the Buckeyes Dobbins was a part of three BIG-10 Championship teams. He also a part of a Rose Bowl win in Urban Meyer's final game.
J.K Dobbins finishes his career at Ohio State with 725 rush attempts, 4,459 yards rushing and 38 touchdowns. Dobbins is going to be missed on Offense but the 2020 and 2021 recruiting classes look fantastic, as far as the 2021 class goes Ohio State is No.1 at the moment.
Now as far as Dobbins declaring for the draft goes, his prospects look really good. According to ESPN Draft Analyst Mel Kiper Jr, Dobbins ranks 3rd in draft-eligible running backs. He also the no.24 ranked overall player according to Scouts Inc.
Here's my take..
Ohio State had a excellent three year run with Dobbins at running back. So the question is who takes over. A lot of people have said that Master Teague could be the player to watch at running back. Dobbins was a part of a great team at Ohio State.
I wish him the best of luck in the NFL Draft or wherever he ends up. I just hope and pray he ends up with a good team in the NFL. But Dobbins will be missed at Ohio State. A lot of people have said there goes the entire offense. Don't despair Ohio State Nation we still have Justin Fields around for at least another year. And like I said earlier the 2020 class coming in will see some playing time for Ryan Day and Ohio State.
We will see how the 2020 Buckeyes respond. But let me close with this, The Buckeyes will compete for the National Championship in 2020.
Bottom Line..
---