Lakers Legend Kobe Bryant has Died in a Helicopter Crash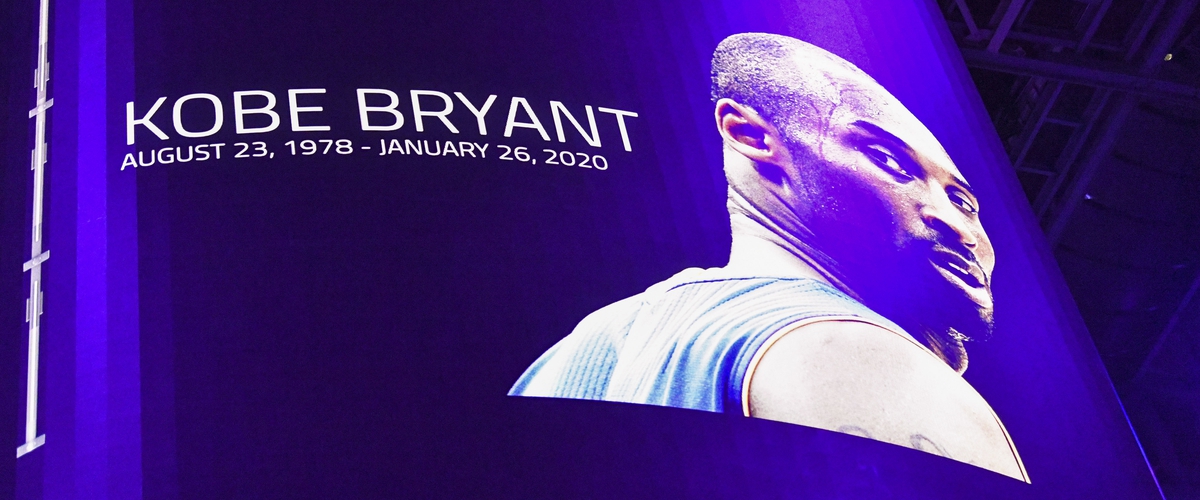 The Sports World was sadden on this Sunday as NBA Legend Kobe Bryant, died in a helicopter crash in Cababasas California just outside of Los Angeles on Sunday Morning.Bryant's 13 year old Daughter Gianna, also lost her life along with seven other passengers abroad the helicopter on Sunday Morning.
The Crash happened outside of Los Angeles at 9:47 AM Pacific time outside of Los Angeles, investigators do not know what happened and they have not determined the cause of this accident as of yet.
A source form the Los Angeles Lakers said that, "The team is in a state of shock." The Lakers players found out about the crash while on the team plane. This Tragedy comes one day after LeBron James passed Kobe Bryant for third on the NBA's All-Time Scoring List. Bryant took to Twitter to congratulate James on doing something very special, that special feat came at 10:39 PM last night.
Bryant was a very happy man about what Lebron James was able to do and James made a comment afterwards saying, " Wow this is a legend in the making."
A Native of Philadelphia, Kobe Bryant was drafted right out of High School. Bryant was drafted No.13 overall by the Charlotte Hornets, he was later trade to the Los Angeles Lakers later that night. And that's when the legend of Kobe Bryant really began.
Here's a list of what Kobe Bryant did in his career.
5 NBA Championships..
2 Gold Medals in the Summer Olympics..
4th on the NBA's All-Time Scoring List..
33,643 Points in his Career, No.1 in the Lakers Scoring list.
2 NBA Finals MVP Awards.
2008 Regular Season MVP Award.
He's the only player in NBA to have two jerseys retired by one organization.
NBA Commissioner Adam Silver released a statement..
" We have lost a legend not just in the NBA, but in the sports world. Kobe Bryant was a legend in the game and he will be missed. Our condolences go out to his family and the Los Angeles Lakers organization."
Another Lakers Legend Magic Johnson, said "Me and Cookie are sadden by this news, WE ARE SICK ABOUT THIS."
Derek Fisher, who was Bryant's teammate said, "I can't believe that this is happening and I am sad as can be right now, we were brothers out on the court."
Another NBA Legend Michael Jordan said, "Kobe was player that could do just about anything out on the court. My Prayers go out to him and his family."
Lebron James said this, " I can't believe last night how happy Kobe was for me and we spent sometime together and he was having fun with me, and now this happens, condolences to the family."
Other tributes around the NBA have been going on throughout this Sunday in respects to Kobe Bryant.
Atlanta Hawks player Trae Young wore the No.8 Jersey in respect for his hero and idol. Young normally wears No.11.
The Houston Rockets and Denver Nuggets held a moment of silence before the start of their game on Sunday.
The Toronto Raptors and San Antonio Spurs dribbled out the 24 second clock and also had an 8 second backcourt violation in honor of Kobe.
Madison Square Garden in New York is lit in the Purple and Gold inside and outside in respects for Kobe Bryant.
Here are some of my thoughts on this sad story..
I hate to report stories like this but I realize it has to be done. We have lost a legend in the sports world and in the NBA. It was Magic Johnson who put it at best, WE ARE SICK ABOUT THIS. I'm not a fan of the Lakers, I will put that out now, However Kobe was a fun player to watch, he could do anything with the Basketball in his hands. He was clutch when the game was on the line.
This week marks the 14-year anniversary of Bryant's 81 Point game against the Toronto Raptors. When Bryant played his final game in 2016 against the Utah Jazz Bryant put up 60 points in a 108-91 victory.
The Bryant Family is in a sadden state over the loss of two of their family members. My Condolences go out to his wife Vanessa and the rest of the Bryant Family.
My Prayers go out to the Family of Kobe Bryant and my heart felt condolences go out on this Sunday.
Kobe thank you for the memories that you gave us on the Basketball court and in the NBA. Thank you for being an idol and hero to children everywhere, and thank you for being an ambassador to the sport of Basketball.
Bottom Line..
KOBE AND GIANNA GOD SPEED..
---