Myles Garrett should be ashamed of himself.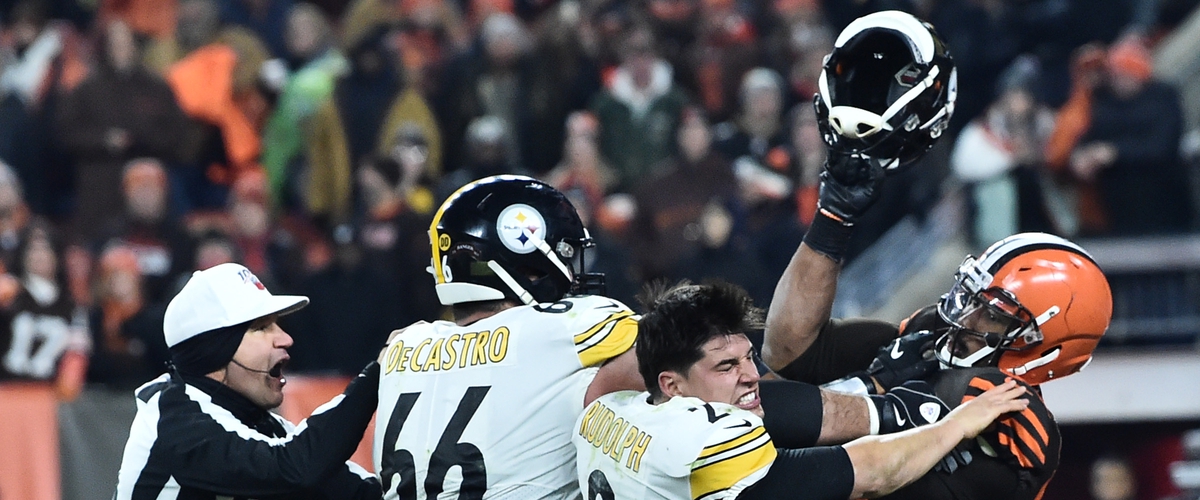 Hi everybody, the Cleveland Browns beat the Pittsburgh Steelers 21-7 on Thursday Night. Steelers Quarterback Mason Rudolph, was picked off four times in the game.
But I don't care about that tonight, what I do care about is the childish behavior of Browns Defensive Player Myles Garrett. With eight seconds left in the game Garrett tackled Steelers quarterback Mason Rudolph. Rudolph went to grab Garrett's helmet, and Garrett went on to pull Mason Rudolph's helmet off and hit him in the head with it.
Garrett and others were ejected form the game. The game ended and afterwards Baker Mayfield gave his honest opinion on what Myles Garrett did.
" I lost some respect for Myles tonight after what he did. He has to learn how to keep his composer and control himself. If he wants respect form me again, he will have to earn it back, and It's going to take a while."
Myles Garrett addressed reporters after the game and said the following.
" I feel bad about what I did and I do want to apologize to my teammates for my actions. I messed up big time and I am ashamed of my actions."
Now Here's my take and Cleveland fans might not like what I have to say, Yes I am a Browns fan.
Myles Garrett will be suspended, the question is how long. In my opinion he should be suspended for at least six games on the low end. But in all fairness he should be suspended for the rest of the season because of what he did.
He pulled Mason Rudolph's helmet off and hit him over the head with it. Garrett better be thankful he's not in jail for assault because in my opinion that was assault with a weapon. Myles Garrett could have done more damage to Mason Rudolph if he wanted to.
What Myles Garrett did tonight was the most selfish and childish thing I have ever seen on a Football Field or sports arena anywhere in the country. I have seen baseball brawls with punches thrown that were not as bad. I have also seen NBA bench clearing brawls that ended with somebody getting checked out.
But this tonight in Cleveland was inexcusable on the part of Myles Garrett. And yes I will say it again.
MYLES GARRETT SHOULD BE SUSPENDED FOR THE REST OF THE SEASON!!!!!.
And he should be ashamed of himself for the way he acted. There was eight seconds left in the game and there was no call for what he did, none what so ever. And he's lost my respect for his actions on Thursday Night.
BOTTOM LINE..