The 2019 NBA Draft Is In The Rearview Mirror. And Here's My Take.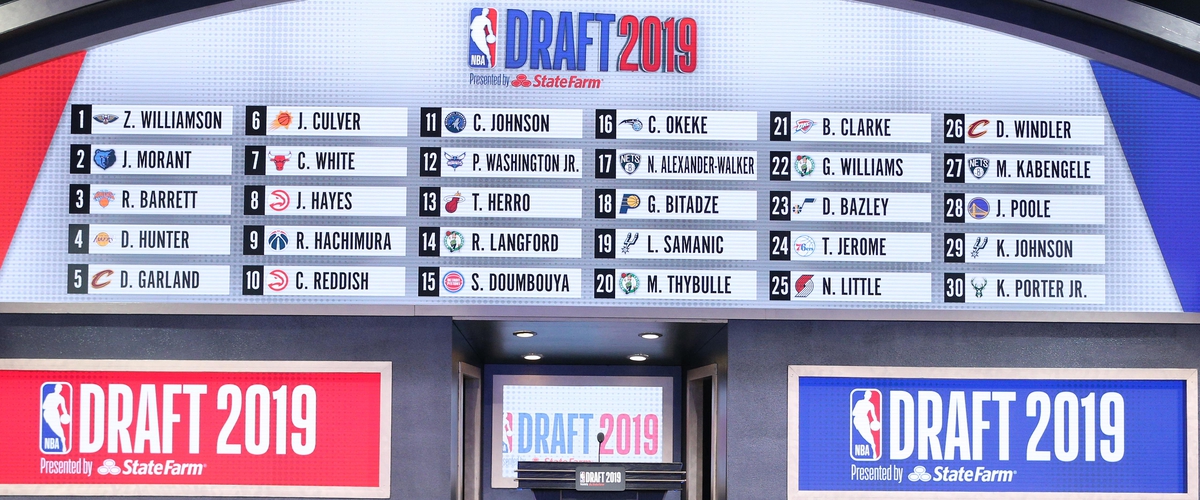 The 2019 NBA Draft Is Now Behind Us, I am Going to Give you My Commentary On The Top Three Picks In The Draft And Some Other Picks That Stuck Out To Me In The 2019 NBA Draft. And This Will Include My Take On All Draft Picks I Talk About.
The Top 3 In The Draft...
Numbers 1-2-3 Were No Surprise To Anybody Watching. Zion Williamson Of Duke Went No.1 In The Draft Like Expected, He Will Be Playing For The New Orleans Pelicans. The No.2 Pick, Ja Morant Of Murray State Went No.2 As He Will Be Playing For The Memphis Grizzles. And No.3: RJ Barrett Of Duke As He Will Be Playing For The New York Knicks.
Everybody Saw This Coming, Zion Williamson Was The Best College Basketball Player At Duke Since The Team's Of The 90's. Zion Is The Best Player Of His Generation As He Averaged Over 22 Points Per Game So Don't Tell Me That Williamson Has No Future. However He's There To Play The Game, And Not to Be The Savior. Ja Morant, He Was The Best Player That Got Overlooked Because He Was In The Ohio Valley Conference As He Played At Murray State. But Don't Let That Fool You, He Averaged Over 24.5 PPG And 10 Rebounds PPG While At Murray State So Don't Sleep On Him In Memphis. RJ Barrett, I Did Not Forget About Him, He Averaged Over 20 PPG And Like Williamson He Could Shoot The Ball And That's Why Duke Was Tough In The ACC. I Know That Duke Is Always Tough But This Season Was Special. So Do I Think RJ Barrett Is a Good Fit In New York, I Say Yes And The Fans At The Draft Certainly Think So To.
Here Are Some Other Draft Picks That Stuck Out...
4 Pick, 6 Pick And 10 Pick...
No.4 Pick: DeAndre Hunter, Virginia, He Will Be With The Atlanta Hawks And He Will Have Cam Reddish Of Duke As a Teammate In Atlanta. Hunter Averaged 15 PPG While at Virginia And He Lead The Cavaliers To Their First National Championship Back In March. Hunter Is a Very Excellent Shooter And Him And Reddish Are Going to Be Teammates. Now The Question Is How Good Will Hunter Be, I Think He Has a Good Shot Because He Will Have Reddish Along Side Him As a Teammate.
No.6 Pick: Jarrett Culver, Texas Tech. He Was Drafted To The Minnesota Timberwolves. Jarrett Culver Was Outstanding At Texas Tech, An All Around Player And He Averaged 17 PPG While In Lubbock. The Timberwolves Need Some Help And I Think They Got it In Culver And I Think The Timberwolves Will Make Some Noise Next Season. However Keep In Mind The Timberwolves Need to Get Somebody Good During The Offseason To Work With Culver, But The Timberwolves Got a Great Pick.
No.10 Pick: Cam Reddish Duke University He Will Be Playing For The Atlanta Hawks. Cam Reddish Was The Third Part Of The Duke BIG Three Along With Zion Williamson And RJ Barrett. Reddish Averaged About 13-To-14 PPG While Playing at Duke He Was The Unsung Hero While Playing at Cameron Indoor. The Atlanta Hawks Should Be a Good Fit. Keep In Mind They Needed Help Just About Everywhere And Cam Reddish Is a Very Excellent Pick For The Atlanta Hawks. And The Hawks Will Also Have DeAndre Hunter Of Virginia Along Side Him. Can Reddish And Hunter Put The ACC Talk Aside and Coexist I Say Yes Because They Know Each Others Style And They Want to Win.
14 Pick And 22 Picks Are Going to Boston...
No.14 Pick: Romeo Langford, Indiana, This Was Pick That Surprised Me. I Had Langford Going Outside The Top 20. He Is a Great Player Don't Get Me Wrong But The Hoosiers Did Struggle All Of Last Season And Langford Was The Only Bright Spot All Season In BIG-10 Play. Langford Did Average 13 PPG Last Season While In Bloomington But He Should Have Be Just Outside The Top 20 Because Indiana Did Struggle Last Year In BIG-10 Play. But All In All He Should Do Well In Boston. And They Could Use Him With Al Horford And Possibly Kyrie Irving Becoming a Free Agent, I Have Not Forgotten About That Either.
No.22 Pick: Grant Williams, Tennessee, This Pick Was Also a Surprise Because I Had Williams In The Top 15 Because He Just That Fantastic. He Averaged Almost 23 PPG While At Tennessee. And He Was The 2-Time SEC Player Of The How Could You Go Wrong And Not Have Him In The Top-15. But The Boston Celtics Saw Something In Him That Was Special. With Horford Leaving and Irving Becoming a Free Agent Williams Has a Chance To Be With The Celtics And Maybe He Can Help Romeo Langford Out. Because I See These Two Working Together And Being Superstars Someday.
28 Pick And 41 Picks Are Going to Golden State...
No.28 Pick: Jordan Poole, Michigan, He's Another One Who Should Have Gone a Little Higher. Poole Was An All Around Type Of Player While Wearing The Maize And Blue At Michigan. He Was One Of The Reasons Why Former Coach John Beilein Liked Him So Much Because He Played Hard And Was Always Their When Needed. Poole Averaged Over 17 PPG While In Ann Arbor And Was a Very Dangerous Player To Have To Guard Because He Was Tough. Jordan Poole Might Be a Starter If You Think About What The Warriors Are Going Through Right Now. Kevin Durant Is Sidelined For The Entire 2019-20 Season Due To An Ruptured Achilles Tendon. And On Top Of That Klay Thompson Is Going to Be Out For While Due to a Torn ACL. But Don't Forget Both Durant And Thompson Are Free Agents this Season And They Could Elect To Go Somewhere Else.
No.41 Pick: Eric Paschall, Villanova, One Of Only a Very Few That Went Form The BIG EAST. Villanova Coach Jay Williams Spoke Highly Of Paschall. Paschall Averaged Almost 15 PPG While At Villanova And He Was A Great Shooter And That's Something That The Golden State Warriors Will Need Due To The Issues With Durant and Thompson And Here's The Question, Can Both Paschall And Poole Coexist And Play As Teammates, Keep In Mind Back In 2018 Michigan Faced Villanova For The National Championship, And Villanova Gave Michigan a Beatdown. So To Answer The Question Yes, Because They Will Have To. Why You Ask, Because We Don't Know About Durant And Thompson On What They Will Do During NBA Free Agency..
---