The St Louis Cardinals Get Important Sweep Of The Brewers.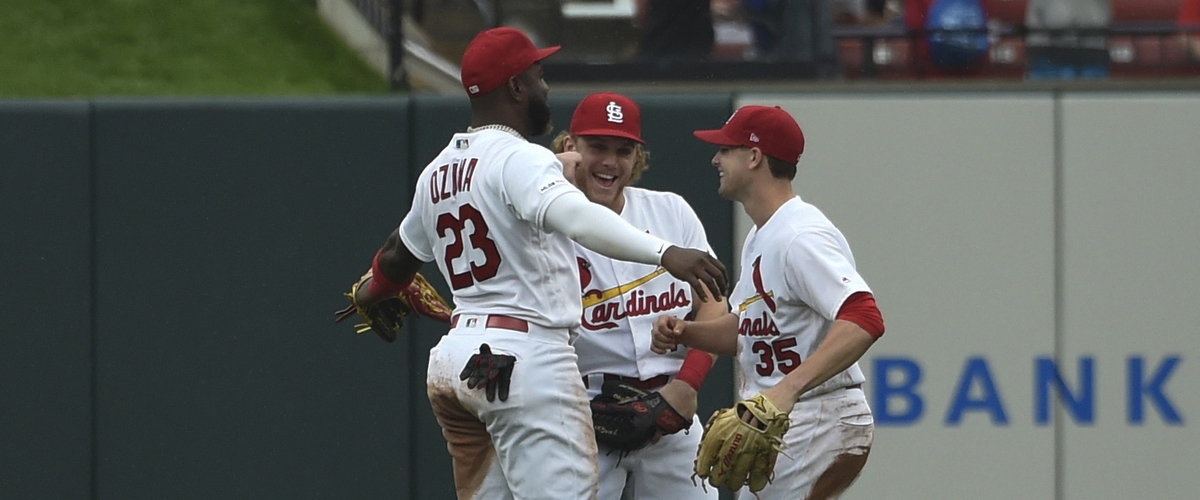 Hi Everybody, The St Louis Cardinals Got a Very Important Sweep Of the Milwaukee Brewers after a 5-2 Victory In Wednesday Night. The Cardinals are Now 10-3 At Home This Season and they are now In First Place in the NL Central. And Special Congrats are in Order to Adam Wainwright for Becoming the Fifth Pitcher In Franchise History to Win 150 Games, Now That's Impressive.
Now Thanks To Off The Wall Scheduling The Cardinals and Brewers have Faced Each Other Ten Times the Season and Each Team Has Won Five Games. And the Cardinals Have Seen The Brewers 10 Times Already The Last Time That Occurred was all the Way Back in 1958 When the Cardinals Faced the Chicago Cubs in 11 Of their First 23 Games Of that Season.
Yadier Molina Said After the Game, " We are 10-3 At Home Because We Love the Home Field Advantage and we Can Defend Our Like No Other Team In the League. Marcell Ozuna Had a Home Run in the Cardinals Victory But The Most Outstanding Player Of this Three Game Set Was Paul Goldschmidt, He Went 2-3 in the game to Extend His Hitting Streak to 11 Games. The Best Thing the Cardinals Did Was Get Goldschmidt and His Numbers Have shown it this Season.
Paul Goldschmidt Has Nine Home Runs along with 19 RBI's, He's Hitting .281/.373/.594, Now How About That.
But What About Christian Yelich, He Was Supposed to Be the Big Threat the Brewers Have. Yelich Has 13 Home Runs and 31 RBI'S And he's Hitting .326/.435/.793. And What Happened, He Went 0-for-7 in the Series with 2 Walks and 4 Strikeouts and One Of those Strikeouts Came Last Night With the Bases Loaded Late in the Game.
Brewers Manager Craig Counsel, Had this To Say After the Game. " I made some Bad Decisions I Should have Put Yelich in Sooner Now We're Paying for it by Getting Swept on the Road, Now We need to Get Back into the Battle or it's going to be All Over For Us Before We Know It.
And Here's Another Problem For the Brewers, The Starting Pitching. The Brewers Starting Pitchers Are Only 8-7 With a 5.48 ERA. The Brewers Need Starters to Finish Games and Go Deep.
Now Here's My Take.
The Power Between These Two Teams Is Real. In the Ten Games So Far This Season Both The Brewers and Cardinals have Combined For 45 Home Runs This Season including Three on Wednesday.
As far As The Brewers go Nine of their Ten Runs in this Series We Courtesy of the Longball. The Cardinals However took a Different Approach, They Mustered 39 Hits in this Three Game Set And Produced Runs When They Couldn't Rely On the Longball.
St Louis Manager Mike Shildt Said "Our Only Team We Can Beat Is ourselves Because Over the Last Two Seasons that's What This Team Did, Well Maybe we have turned the Corner."
We Cardinals Fans your Cardinals Might Have Just Turned the Corner, Your Cardinals Are Now in First Place in the NL Central.
This Is What the NL Central Looked Entering Monday.
1. Pittsburgh Pirates 12-8 -
2. St Louis Cardinals 13-9 -
3. Milwaukee Brewers 13-11 1GB.
4. Chicago Cubs 10-10 2GB.
Now Here's What The NL Central Looks Like Now.
1. St Louis Cardinals 15-9 -
2. Chicago Cubs 12-10 2GB.
3. Pittsburgh Pirates 12-10 2GB.
4. Milwaukee Brewers 13-13 3GB.
Also Keep this In Mind, Now I Know the Cardinals and Brewers Have Already Played 10 Games Against Each Other Already. But Keep these Dates In Mind if it Comes Down To a Stretch Run Between these 2 Ballclubs.
August 19th-20th-21st In St Louis.
August 26th-27th-28th in Milwaukee.
September 13th-14th-15th In St Louis.
There's Nine More Games Between These 2 Teams But they Have a Long Spell In the Meantime But it Could Come Down to these 2 In the NL Central and We Might want to Throw In the Chicago Cubs For Good Measure. The NL Central Is Living Up to The Red Hot Hype in April And it Will Stay this Way All Season and there's No Doubt In My Mind About that.
---