Blue Jackets Go Up 2-1 over the Bruins.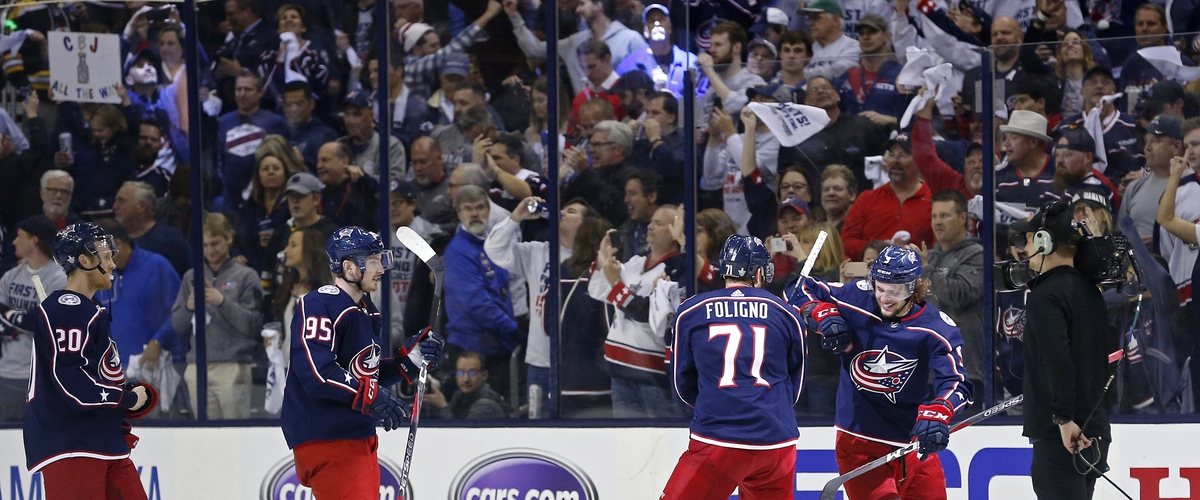 Well Now The Columbus Blue Jackets Find themselves Up 2-1 in the Series Over the Boston Bruins after a 2-1 Victory in Game Three over the Boston Bruins in the NHL East Semi-Finals.
Sergei Bobrovsky Was Fantastic Only Giving Up One Goal and that Goal Was a Fluke. But The Bob had 36 Saves in Game Three on Tuesday Night. Bobrovsky Said Afterwards, "I am One of the Reasons Why the Blue Jackets are where they are Right Now and I am Proud of this Team"
Bonne Jenner and Matt Duchene Each had a Goal In the Game as the Blue Jackets Found Themselves On the Right End Of a HUGE Victory in Game 3 On Tuesday Night.
But What about the Boston Bruins, Tukka Rask had 32 Saves in the Game But the Bruins Offense Was Fast Asleep In Columbus. The Bruins had the One Fluke Goal In the Game all Night Long as CBJ Just Dominated All Over the Place.
CBJ Head Coach John Tortorella Said after the Game, " This Team Is coming together at the Best Possible and we could be the Team that Shocks The World and you what I think we can"
Now Here's My take, If somebody would have told me Before the Playoffs Started that the Blue Jackets would be Leading the Boston Bruins 2-1 in the NHL East Semi-Finals I would have Said HAVE YOU LOST YOUR MIND. But Now I say I Believe it. The Blue Jackets Have Won 13-of-15 Games Dating Back to March 24th. They Upset The Tampa Bay Lighting and they Were the President's Trophy Winners and Now The Lead the Boston Bruins 2-1 In a Best Of Seven Series.
And this Is the Boston Bruins We're Talking About, One of the Most Storied Franchises In NHL History. And CBJ Is up 2-1 On them I am Not Surprised anymore by the Blue Jackets Because they Are now one Of the Favorites to Win the Stanley Cup and If Columbus Plays Like they are Now I would Not Be Surprised if we See CBJ In the NHL East Finals and Possibly the Stanley Cup Finals. So Move Over Everybody Because the Blue Jackets Might Be Moving In.
---