The Trailblazers Send OKC Home On a 37-Foot Three at the Buzzer.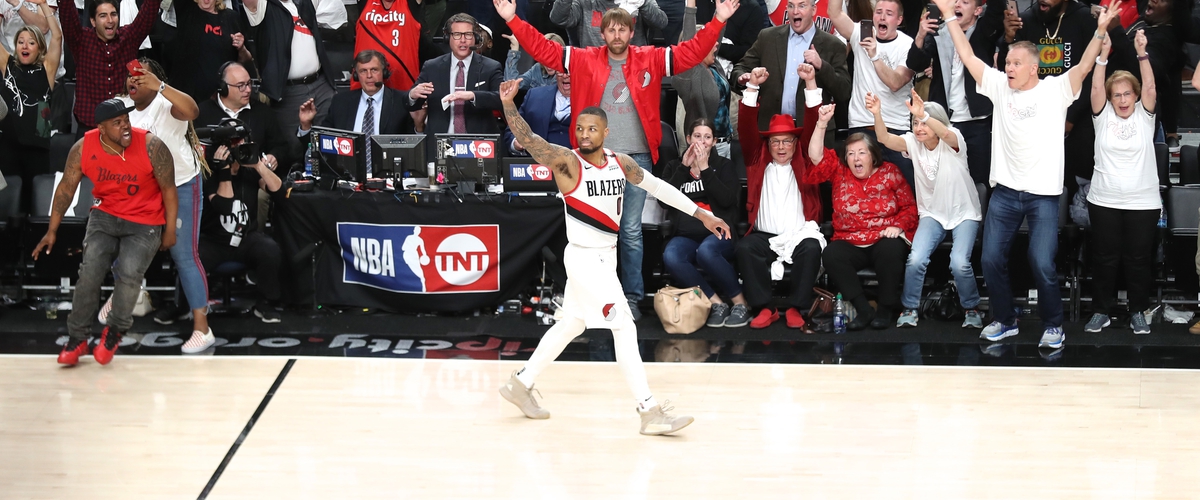 The Oklahoma City Thunder's Season Came to An Crazy End on Tuesday Night as Portland Trailblazers Star Damian Lillard Hit a 37 Foot Three Pointer at the Buzzer to Give the Portland Trailblazers a 118-115 Victory over the Oklahoma City Thunder.
Immediate Reaction Came in form Other NBA Players. First Was Paul George Who had to Defend Lillard. He Said " That Was A Bad Shot and He Got a Great Break that it went in."
LeBron James Tweeted, "DAMN!!!!!!"
Stephen Curry Tweeted, " Man A Little Late To The Party But What a Shot."
Now If you Think Damian Lillard's Shot was Just Lucky Think Again. Lillard is a Very Dangerous Man From That Far Beyond The Arc. Lillard Hit 32.9% Of His Three Point Shots form 30-40 Feet This Season While The Rest Of the NBA Just averaged 25.9% form 30-40 From that Far From Beyond the Arc.
Times Have Changed in the NBA Now Here's My Take, The NBA Shooting form That Far Beyond the ARC Has Come to Light This Season. Damian Lillard, Stephen Curry and Trae Young Have 71-186 on Three Point Attempts form 30-40 Feet this Season nd they Averaged a 38% Clip This Season as well. So Let Me Say This The New Breed Has Taken Over The League. Remember the Days Of the Old School NBA When 3 point Shots We Never Taken Unless It was a Must To Win the Game, Those Days are Now Gone and the Trio Of Lillard, Curry and Young Have Proven That in 2018-19.
But What About the Oklahoma City Thunder, Their Season is Over thanks To Lillard and a Few Other Things as OKC Struggled in the Playoffs. They Struggled in their Final Game of the Regular Season against a Golden State Warriors Team that was Minus Kevin Durant. They Had Paul George Who Could Have Stopped Lillard But Couldn't Do it. And on top Of that they Went Out in Five Games.. They Should Have Beaten The Trail Blazers But OKC Struggled in the Playoffs and Down the Stretch at the Tail End of the Regular Season. Will There Be Some Changes in OKC.
I will Say this In Closing, Something Has to Give Because they Should have Taken Portland and to Lose to a Golden State Team that Did Not Have Kevin Durant Playing on The Court There's No Excuse For that At all.
---