We have 2 Monster Games in College Football In week 11.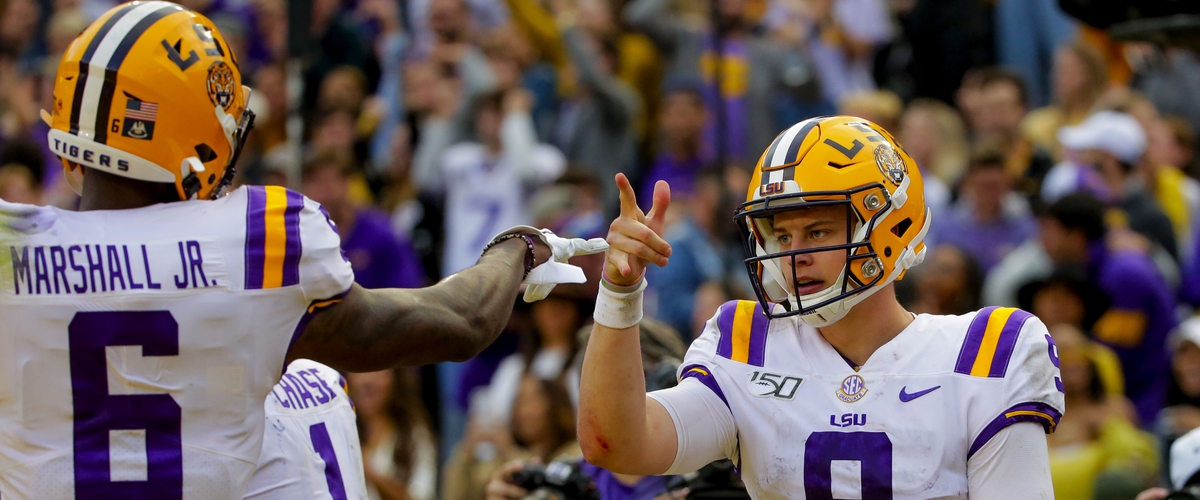 We have a double main event this Saturday in College Football. The First part of the Double Main Event will be at 12:00 when No.4 Penn State Faces No.17 Minnesota, then it's the battle in the SEC west when No.2 LSU faces No.3 Alabama in what could be the game of the year.
I have a feeling we could be in for a wild Saturday and everything is on the line.
No.2 LSU Vs No.3 Alabama..
Let's face it the loser of this game is out of the discussion for the College Football Playoff and the SEC west. LSU coach Ed Orgeron has told his players focus on the job at hand, Bama coach Nick Saban has told his players what to expect on Saturday.
LSU star QB Joe Burrow has done just about everything you can imagine. I mean come on, he's a Heisman Trophy candidate for crying out loud.
Look at what Burrow has done, he's thrown for over 2,800 yards and he's the best thing to ever happen to the LSU Program.
But the question for Alabama going into the Game is the status of QB Tua Tagovailoa, he hasn't played since October 19th against Tennessee when he injured his ankle. And LSU is going to be without Defensive end Michael Divinity Jr because he's taking leave form the team for personal reasons.
Alabama head coach Nick Saban, has Said, Tua's Status is a " Game time decision."
LSU head Coach Ed Orgeron, has said, " Despite the absence of Divinity we still have the depth to do the job on Defense so will be okay."
The QB-WR Tale of the Tape..
LSU: Joe Burrow, 2,805 yards, 30 touchdowns, four interceptions.
Justin Jefferson, 55 Catches, 819 yards, nine touchdowns.
ALA: Tua Tagovailoa, 2,166 yards, 27 touchdowns and two interceptions.
Devonta Smith, 43 receptions, 721 yards and nine touchdowns.
That's the main tale of the tap you need to know for the HUGE SEC clash on Saturday, and yes everything is on the line.
No.4 Penn State Vs No.17 Minnesota..
This is the BIG-10 Big One at High Noon in the twin Cities on Saturday and Yes it will be a winter wonderland with snow in the forecast.
Golden Gophers head coach PJ Fleck has said, "we might have this game won because we're used to this weather at this time of the year and our players love it."
Penn State head coach James Franklin has said, "it will be won on the ground and my guys know it and we're ready for it.
Both head coaches have said that the quarterbacks might not be much of a factor throwing the ball but they can run if need be.
Penn State quarterback Sean Clifford has taken the roll of starter and has been very good in his first season. His opposition will be Tanner Morgan of Minnesota and Yes Penn State head coach James Franklin has had nothing but good to say about Tanner Morgan. Gophers coach PJ Fleck has seen what Sean Clifford can do.
If have some more on this matchup and keep in mind this is going to be a HUGE test for both teams.
Minnesota has beaten their last four opponents, Illinois, Nebraska, Rutgers, and Maryland by a combined score of 168-41. And the Defense has held their last four opponents to 17 points or fewer.
Penn State has beaten their last four opponents, Michigan State, Michigan, Iowa, Purdue by a combined score 108-47.
Here's the QB Tale of the Tape..
Penn State: Sean Clifford, 1,931 yards, 20 touchdowns, three interceptions.
Minnesota: Tanner Morgan, 1,761 yards, 18 touchdowns, four interceptions.
Keep in mind that Minnesota has a running back that will be used as a weapon in Rodney Smith. Smith has rushed for 889 yards and seven touchdowns.
The Minnesota rush offense has averaged 204.5 yards per game. Now the question becomes can the Penn State rush offense stop Minnesota, PSU's rush defense has averaged 68.4 yards allowed per game.
This game will be won on the ground because there's snow in the forecast for the Minneapolis/ St Paul area because the QB factor might not mean much on Saturday.
And yes everything is on the line in this BIG-10 Big One on Saturday, Both teams are undefeated. Penn State is trying to stay in the College Football Playoff Hunt, Minnesota on the other hand is trying to prove that they can run with the big boys.
If Minnesota upsets Penn State at home they're not home free as far as the BIG-10 west goes, they have to play Iowa and Wisconsin.
If Penn State wins, they could have a showdown at the Horseshow with Ohio State on November 23rd and that is where the BIG-10 East will be won or lost.
Bottom Line..