Week 11 of the College Football Season is behind us and here's the recap.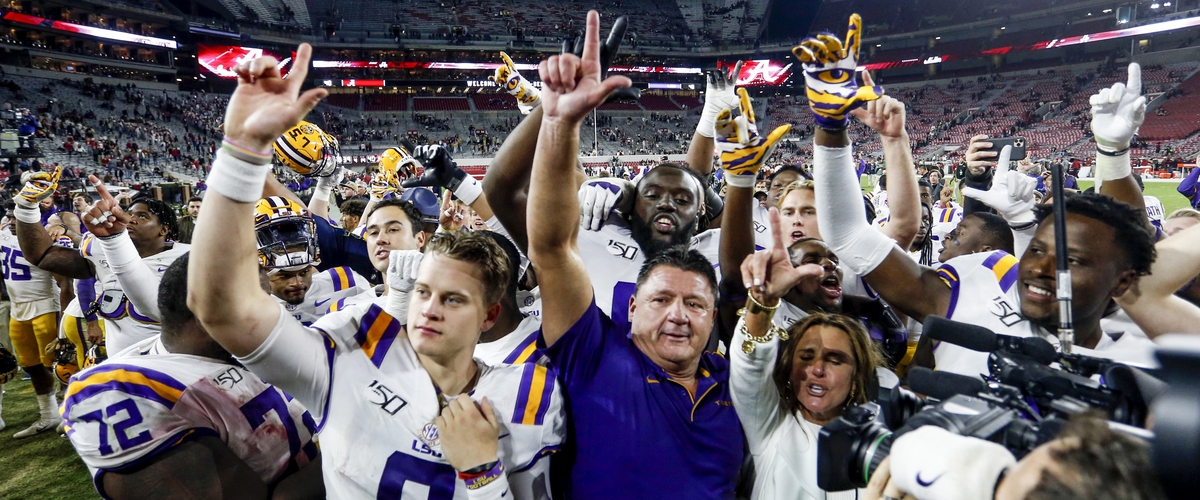 Week 11 of the College Football season is now behind us. The question is what did we learn, well for one thing we learned that the Penn State Nittany Lions are OVERRATED!!!!!. We also learned that Alabama could be on the outside looking in as far as the College Football Playoff goes. The other thing I learned was Joe Burrow should be the president of college football. The Minnesota Golden Gophers need some consideration for the top-10, and the BIG-12 is a Big Mess.
No.2 LSU-No.3 Alabama, LSU Wins 46-41..
The LSU-Alabama game was a classic to say the least. The game had 1,100 yards total offense between the tow teams, and LSU won 46-41 despite the Bama defense having 5 sacks and 6 TFL on the day.
Joe Burrow went 31/39 for 393 yards and three touchdowns, he was the hero but he did have some support when he needed it.
Clyde Edwards-Helaire, he had 20 carries for 103 yards and three huge touchdowns, he even had nine catches for 77 yards and a TD Grab.
Ja'marr Chase had six catches for 140 yards and one touchdown, not a bad effort on his part.
But as far as Tua Tagovailoa goes, he had a game to remember in a losing effort, he went 21/40 for 418 yards, four touchdowns and one interception.
LSU head coach Ed Orgeron told reporters after the game, " I was so proud of our team and the effort they gave on the road, we could be on the way to better things."
I said the other day that this was an elimination game and the loser might be on the outside looking in, believe it or not it might be Alabama and they still have Auburn coming up on November 30th and if Bama loses that game, Good Bye to everything.
No.4 Penn State-No.17 Minnesota, Minnesota stuns Penn State 31-26..
This game was a clash of two unbeaten teams. Penn State was already tested against Iowa and Michigan earlier the season and they succeeded on those two occasions.
Minnesota on the other hand basically had nothing to lose by having their first real test of the season at home, and yes the Golden Gophers passed their first test of the season and they are 9-0, how did they do it.
Tanner Morgan had a career day for him, He went 18/20 for 339 yards and three touchdowns and he had two receivers who stepped up.
Rashod Bateman, he had seven catches for 203 yards and one touchdown.
Tyler Johnson, he also had seven catches for 104 yards and a touchdown for him.
And the Minnesota Defense stepped in the Antoine Winfield Jr as he had two huge interceptions that ended Penn State drives.
And speaking of PSU, Sean Clifford had a day that he might want to forget, he did go 23/43 for 340 yards and one touchdown, however he was picked off three times and one of those picks was very costly. Clifford's third INT was in the red zone with a little over a minute to go game.
Penn State had two very bad things happen which hurt them. No.1, they had three turnovers. No.2 The Penn State Defense who only gave up 280 yards pregame had a bad day. they gave up 518 yards against the Golden Gophers.
Gophers head coach P.J. Fleck addressed his team in the locker room after the game and he was in tears after the upset victory. Fleck told reporters afterwards, "I'm so proud of my team and what we able to do against a team like Penn State, we came ready to play and we got the job done."
What do we need to look for on Tuesday when the College Football Rankings come out..
First and foremost, Penn State and Alabama will drop after their loses. Ohio State and LSU will stay 1-2 respectively. But after that then what, I look at it like this Georgia should be in the discussion for the top-four along with Clemson. Clemson destroyed NC State on Saturday Night while Georgia had no problem with Missouri.
My top-four looks like this, No.1 Ohio State, No.2 LSU, No.3 Georgia and No.4 Clemson.
That's my top four..
But I have a few other things that we need to lookout for. First off, the Minnesota Golden Gophers, where will they end up. In my opinion after what they did to Penn State that should shoot them into the top 10, Not quite the top 5 but a spot in the top-10 is where I have Minnesota ending up.
But they still have to face Wisconsin and Iowa later this month and then we will know what happens to P.J. Fleck and company.
As far as the BIG-12 goes,, OH MY!!!!!, I don't know where to start because No.9 Oklahoma nearly threw it away against Iowa State. No.12 Baylor needed 3/OT to beat TCU, Texas upset No.16 Kansas State.
So here's where I stand on the BIG-12, Oklahoma and Baylor hurt themselves by playing it to close so I don't see them going anywhere except down if lucky. Kansas State might be out of the Top-25 all together by the time it's all said and done.
So in short tune in Tuesday Night to see what happens, I given you an idea but will the committee agree with me, we will see.
Bottom Line..