Who's on first?; KC has options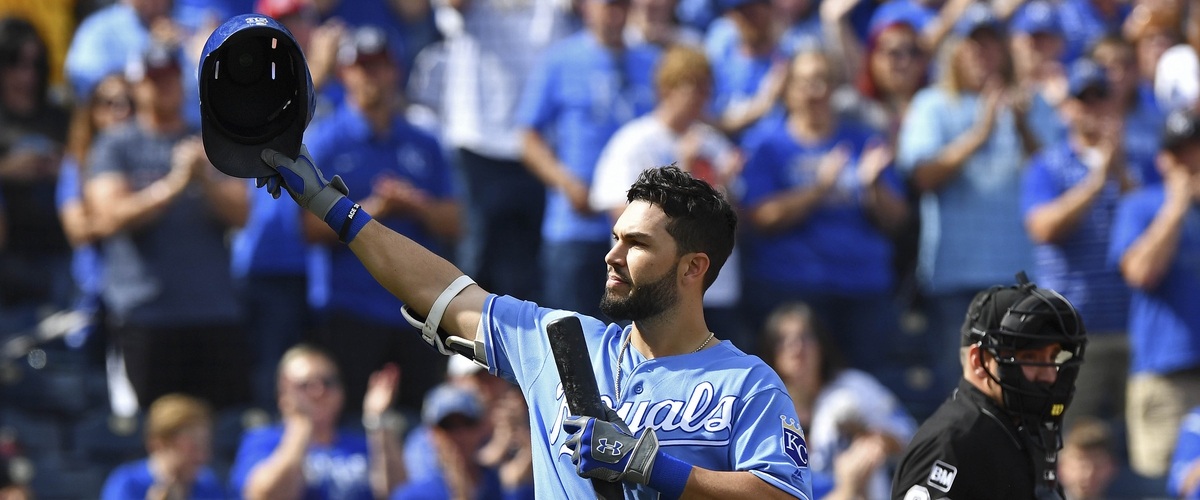 Eric Hosmer still has yet to sign anywhere. Right now, it is seemingly a two-team race between the Kansas City Royals, and San Diego Padres. The Royals have opened Spring Training in Surprise, Arizona and have to move on as of now, as if Hosmer is not returning to Kansas City. So, who is on first? Here are a few options for the Kansas City Royals if the all-star first baseman does not return.
Hunter Dozier: Dozier's name has been thrown around the most this offseason, as Kansas City hopes to slide Dozier from the hot-corner to the first base bag. Hunter Dozier stands 6'4 and is just 26-years of age. A season ago, Dozier played in just 33-games and hit .243. For his career, he turns in a .261-batting-average. Dozier has played 11-games at first base in his career, but with a whole Spring of work the transition does not seem to be a difficult one--Transitioning to first is not really a hard transition for anyone.
Logan Morrison: While the Royals enter a rebuild year in 2018--despite the organization refusing to dubbed this season as such--It does not seem very likely that the Royals would, or should throw money at a 30-year-old first baseman. Although, Morrison would love to play for Kansas City, and he has made that known multiple time; Kansas City just has no use for him. This team in all likelihood is not good enough to contend for that second wild card spot, and certainly are not good enough to win the AL Central. The only thing this move would bring is a better chance of being mediocre instead of being bad. The Royals have spent the last two seasons being mediocre, and it is now time to hit the reset button, and be bad for a few years while General Manage Dayton Moore tries to rebuild the Royals who own one of the worst farm systems in baseball. While it will not take 30-years, it could take 3-4. Morrison is a very good player, but a subpar fit in Kansas City.
Frank Schwindel: Schwindel had a very good 2017 campaign. He raked for a .321-average in AAA (over the course of 99-games), to go along with a .350-average in AA (over the course of 34-games), for a season total of .329-average. The 25-year old is a natural fit at first base, as he has accumulated over 330-games at the position. At first base he has a .993-fielding-percentage. Was 2017 an outlier? Not so much an outlier as much as a breakout season. For his career he hits for a .287-average, and gets on base at a .466%-clip. This would be my pick, however, it seems unlikely to happen; At least to start the season.
Ryan O'Hearn: O'Hearn is a 25-year-old prospect, and has split time between first base and the outfield, but seems to have found his permanent home at first, at least (potentially) in the Majors. Ryan O'Hearn has played in over 400-minor-league-games and hits for a .278-average, and gets on base at a .356%-clip lifetime. His fielding percentage at first is .990. A year ago, splitting time between AAA and AA, O'Hearn turned in a slash line of .253/.330/.488.
Cheslor Cuthbert: By now, all Royals fans are familiar with the 25-year-old that hails from Nicaragua. His season last year was riddled with injuries, which played a part into why he only played in 58-games. While he could patrol first, the more likely scenario is that he mans the hot-corner, replacing Mike Moustakas who the Royals will also (likely) lose to free agency.
Whit Merrifield: While you would not like one of your most athletic and versatile players on the roster being stuck at the least tasking defensive position, this is an option. The do-it-all utility man has played first for exactly one Major League game. However, as a farm hen Merrifield played 27-games at first. So it is clear he could do it--well, anyone could play first--but why would Kansas City want to do this? After the Royals locked themselves into another year of the worst position player in baseball (Alcides Escobar, at shortstop) it leaves Raul Mondesi (The Royals top prospect) scrambling to find a position, and likely falling back down to Omaha to start the year. But if the Royals slide Whit Merrifield to first, that opens up second base for Mondesi, if they really want to get him more experience--which is does not seem like they do at this point.
Jorge Soler: Soler is a clunky outfielder, which is not the "Royal way." He struggles with everything in the outfield, besides of course gunning runners with his cannon of an arm. After Kansas City shipped Brandon Moss out to Oakland this offseason, it makes way for Soler to take over as KC's designated hitter. However, if the Royals would like to keep that spot open and use it as a tool to get guys days off, while keeping their bat in the lineup, plugging Soler in at first base would do just that.
Salvador Perez: This is the wild card. This one, has a 1% chance of happening, well actually, less than 1%. However, the move is not as crazy as it seems on the surface. Perez, an aged 27-year-old veteran that has accrued over 800-Major-League baseball games behind the dish. Perez is notorious for getting beat up behind the plate with a foul tip here, a back swing there, a pitcher mix-up that catches him on the forearm there, along with the natural pain that goes along with being a catcher in the knees, could moving him to first base prolong his career, and also help out his hitting numbers? One would imagine, less stress defensively, leaves you more energy in the batter's box. While a move to first will happen at some point in Perez's career, it will not be this year. If it was this year, who would take over the catching duties? Cam Gallagher. Gallagher made his Major League debut a year ago, and in 13-games slashed for .250/.333/.417 at age 25. In the minors a year ago, Cam hit for a .292-average.
The Royals may not have Hosmer next year, but they do have options.
For more news, notes, opinions, and updates on the Royals follow @Rylan_Stiles on twitter.
---