According to Jason Garrett, Dak Prescott is the franchise Quarterback.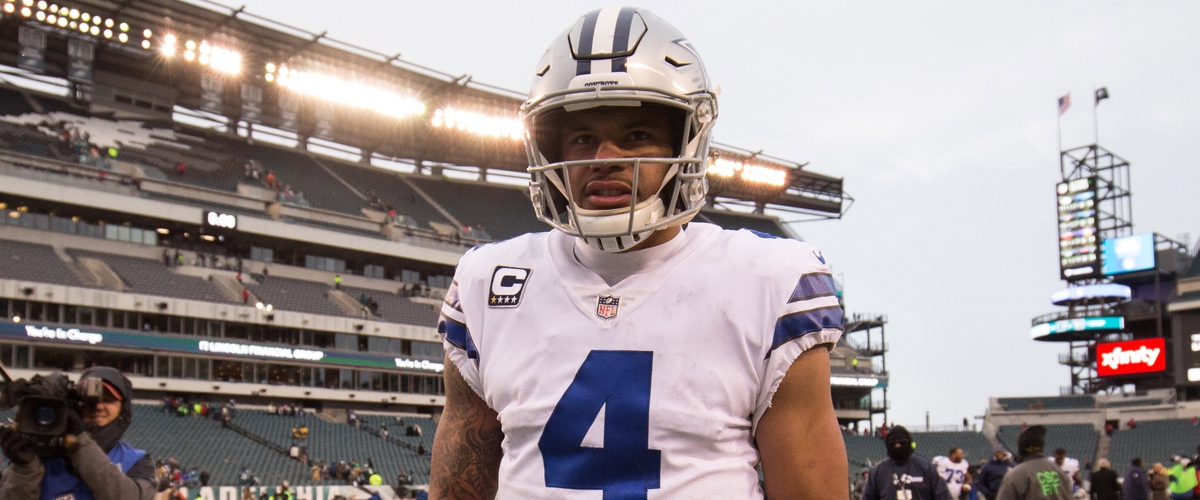 Dak Prescott is coming off of what appears to be a sophomore slump. It was a disappointing 2017 season for the twenty-four-year-old Quarterback. Many regarded his 2016 rookie season as the best rookie season by a Quarterback, ever. The Dallas Cowboys' fourth-round pick by way of Mississippi State came into the N.F.L. as a third-stringer. Playing behind Kellen Moore and of course, Tony Romo.
It took two Quarterbacks to go down, and a botched Josh McCown signing for him to be able to start for the Dallas Cowboys. Dak Prescott moved up to the primary backup position when Kellen Moore broke his right tibia during training camp, and the Cowboys could not reach an agreement with Cleveland to trade for Josh McCown. Then Tony Romo would go down during a pre-season game against the Seattle Seahawks. All of a sudden, the Dak Prescott-perfect storm had hit 920 millibars. And that perfect storm was ready to make landfall.
That Perfect storm earned a Pro Bowl, a PFWA All-Rookie Team, an AP NFL Offensive Rookie of the Year, and a Pepsi NFL Rookie of the Year.
Me personally, I would have given the Offensive Rookie of the Year award to Ezekiel Elliott. It just appeared to me that most of Prescott's Rookie success came from Elliott's 1,631 rushing yards, and 15 touchdowns. He also averaged 108.1 yards a game, and 5.1 yards a carry. How could any Quarterback look bad when his running back has those kinds of numbers.
It was a shock to many that Elliott did not win the honor. However, they voted, and we have to respect their decision.
However, many Dallas fans questioned Prescott's legitimacy in his Rookie year because of the numbers Ezekiel Elliott put up. And many of the Prescott doubters are looking at his freshly wrapped up second year as proof that he isn't a legit franchise Quarterback.
Now, I must say, it is way too soon to start casting doubt on a young Quarterback. I say give him at least another year to prove himself. He is in fact, early in his career. However, we can look at the numbers we have now. There is nothing wrong with looking at numbers.
Dak Prescott's Rookie season:
Cmp / Att / Pct / Yds / Avg / Lng / TD / Int / Rtg
311 / 459 / 67.8 / 3,667 / 8.0 / 83 / 23 / 4 / 104.9
Dak Prescott's second year:
Cmp / Att / Pct / Yds / Avg / Lng / TD / Int / Rtg
308 / 490 / 62.8 / 3,324 / 6.8 / 81 / 22 / 13 / 86.6
To me, the most telling sign of struggle is his passer rating. He finished this year with the 17th best passer rating in the N.F.L.
That's not good at all.
And as far as everything else goes, every stat except the interception stat is down. Including Prescott's percentage rating, which finished 13th best overall. I'm not even going to look at the interception statistic. My main focus at this point in Prescott's young career is his passer rating and his completion percentage. Looking at interceptions and touchdowns right now seems irrelevant. Due to the possible, surrounding influences on the field, that may have caused those numbers to dip into the red.
One man who hasn't been discouraged by the lack of successes from Prescott is Head Coach Jason Garrett.
Coach Garrett said in a press release,
"I think he's absolutely the right kind of guy to have as the quarterback of your organization, I think he's demonstrated that time and time again. Now, if you pull back and look at what he's done in his first two years of his career, he's won 22 out of 32 games, he's 22-10 as a starting quarterback in the National Football League.
"You reflect back at other quarterbacks as they have started their careers, no one has really had that kind of success like he has. Now, is he perfect? Absolutely not. Does he need to get better? Absolutely he does. We're focused on that. But he's done a lot of really good things in a short period of time for us. He'll continue to grow because of the kind of person he is."
Coach Garrett's comments on Prescott seem to have a mix of hope and need for better play. He sort of went with three positives, and a tiny negative on Prescott. He went on to Prescott's record and how "no one" has had the kind of success Prescott's had in such little time.
However, Garrett made clear that Dak Prescott has to get better.
You always have to get better in this sport. Every year, you must improve you're playing ability.
Dak Prescott is still young. He'll have moments of success, and of failure. Nobody knows how Prescott's career will pan.
Nobody has a crystal ball that can look into the future.
Dak Prescott may be a Hall of Famer in the making.
He may just be the biggest Quarterback tease of the decade.
Only time will tell.