2019 NFL Draft Big Board 1.0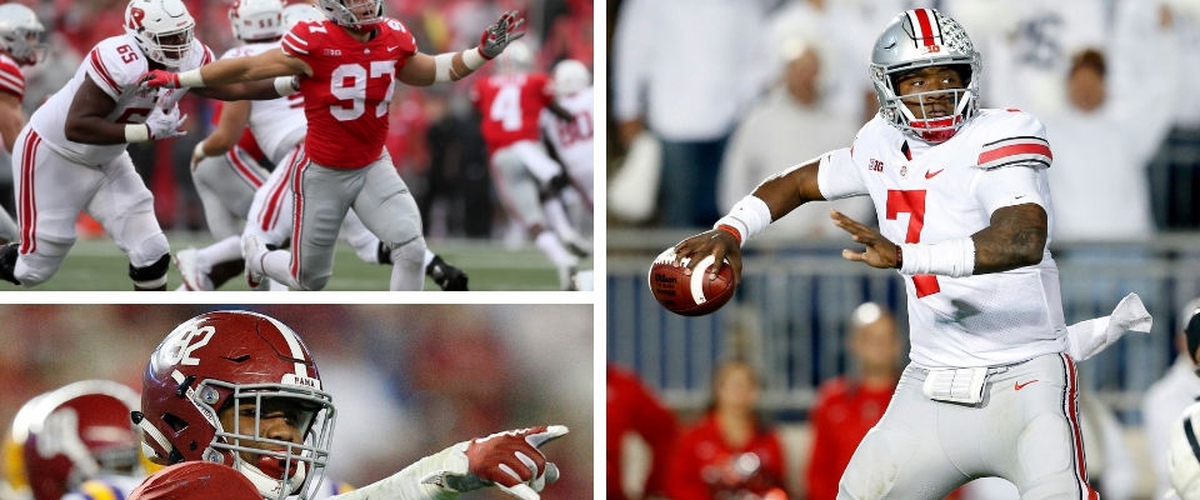 Before diving into my top 50 prospects, I just want to note Kyle Murray's omission. At the time of writing this, I don't have enough professional opinions on where he'd realistically land if he chooses to forgo Major League Baseball. That being said, here's my first Big Board with the early entree deadline come and gone.
1. Nick Bosa, Edge, Ohio State - #1 Overall
We might as well call this Arizona pick now, assuming they don't trade it away. There's still a slight chance new Head Coach Kilff Kingsbury convinces the fractured Cardinals front office to draft Kyler Murray, a player he admired greatly while coaching Texas Tech, but all signs (and mock drafts) point to Nick Bosa going first overall. If he can stay healthy, he should rack up double-digit sacks off the edge for Arizona in 2019.
2. Quinnen Williams, DT, Alabama: Top 3 Pick
As expected, the redshirt sophomore entered early. San Francisco (#2 pick) and New York (#3 pick) don't necessarily need him, but he's talented enough to win a starting spot over other players. There's also a good chance both clubs trade down for more picks, so someone will see the instant trench disruptor as worthy of a Top 3 pick.
3. Josh Allen, Edge, Kentucky: Top 5 Pick
In most other drafts, Allen would be the top edge rusher. Since Nick Bosa is the best player in this draft, Josh Allen is #2 at his position, but the next Chandler Jones should still land in the top five.
4. Ed Oliver, DT, Houston: Top 8 Pick
Ed Oliver's pass rushing skill set and size compares exceptionally to Aaron Donald. His lack of weight (possibly under 280 pounds) and inconsistent production at a non-Power 5 program push him back from his old Top 3 pedigree down to a Top 8 grade.
5. Jonah Williams, OT, Alabama: Top 10 Pick
Jonah Williams also expectedly declared early, and his overall technique makes him the best Tackle in the draft. His size (6'5"/305) discounts his Left Tackle ability day 1, keeping his stock from going any higher than a Top 10 grade.
6. Clelin Ferrell, Edge, Clemson: Top 10 Pick
Ferrell will be a quality 4-3 pass-rushing Defensive End right away, and barring a poor combine performance, he should be a Top 10 pick despite being the third-best at his position.
7. Greedy Williams, CB, LSU: Top 12 Pick
Greedy's built like a shutdown corner (6'3'), and combined with his tackling ability and overall athleticism, could easily become one. As the top corner in this draft class, I'd be shocked if he falls below the top 12 picks.
8. Rashan Gary, DL, Michigan: Top 12 Pick
Gary, a former #1 high school prospect, has the size (6'5"/282) and athleticism to be an impact player right away. His lack of production could keep him out of the Top 10, but a solid combine could easily boost his stock above the Top 12 Pick range.
9. Dwayne Haskins, QB, Ohio State: Top 12 Pick
Haskins' velocity, arm talent and every-level accuracy make him the undisputed #1 Quarterback, even if Kyler Murray chooses football over baseball. He has the ceiling of Ben Roethlisberger, the floor of Josh Freeman and the immediate talent level of Teddy Bridgewater. His stock has risen to Top 12 since Justin Herbert announced he was returning to Oregon, and there's a solid chance the New York Giants (#6) or Jacksonville Jaguars (#7)
10. Devin White, ILB, LSU: Top 15 Pick
White was the last player I had to wait on a decision from before writing this article, and as the premier Inside Linebacker (and one of the fastest to come out of college in years), he'll surely land in the Top 15.
11. Jeffrey Simmons, DT, Mississippi State: Mid-1st Round Pick
Simmons is the fourth-best defensive lineman in a crowded field, but his stock rose after being completely cleared of domestic abuse charges. I find it very unlikely Simmons goes in the Top 10, but his value as an effective interior pass rusher should guarantee his name called before the 20's.
12. DeAndre Baker, CB, Georgia: Mid-1st Round Pick
Baker has more than enough athleticism, instincts and tackling ability to be impressive in man-to-man and press coverage assignments right away. The lack of zone ability will likely keep him out of the Top 10, but solid man-to-man corners are becoming harder and harder to find. The Thorpe Award winner should be the second corner taken, landing in the middle of the first.
13. Jachai Polite, Edge, Florida: Mid-1st Round Pick
Polite may be a bit short (6'2") for an edge rusher, but his exceptional balance, acceleration and hand moves make him a dangerous pass rusher right away. Polite won't offer much in run support, preventing him from being an every-down defender and likely preventing him from landing in the Top 10 as well. A good combine should solidify his case as landing right before #15 and not right after.
14. Deionte Thompson, FS, Alabama: Mid-1st Round Pick
After Deionte Thompson didn't show up to the annual early-entry press conference, everyone assumed he was returning to school. However, just a few days before the deadline, Thompson officially put his name in the ring. As the only Free Safety worth drafting in the first round, his value as a deep-lying defender should be enough to eclipse his lack of experience and land before the 20's.
15. Greg Little, OT, Ole Miss: Mid-1st Round Pick
Little can start at both Tackle positions right away, an extremely rare feat coming out of college. There are question marks surrounding his ceiling (or lack there of), but he's still the second-best tackle on the board and his NFL readiness should lock his position as a mid-first round pick.
16. Montez Sweat, Edge, Mississippi State: Mid-Late 1st Round Pick
Sweat's length (6'6" with a long wingspan), hands, acceleration and production guarantee his spot as a first round pick. However, the fifth-best edge rusher
17. Byron Murphy, CB, Washington: Mid-Late 1st Round Pick
Murphy plays like a shutdown cornerback (Google his monster hit from this past season), but his lack of size will keep him from going in the first half of the first round.
18. Dexter Lawrence, DT, Clemson: Mid-Late 1st Round Pick
Lawrence is massive (6'5"/340) and will fill gaps right away in the NFL. His red flags (athleticism, motor, and positive drug test) will prevent any pick earlier than the late teens or 20's though.
19. Christian Wilkins, DT, Clemson: Mid-Late 1st Round Pick
Wilkins flashed serious talent in both run and pass defense after returning to win a championship in his senior year. However, he hasn't been able to do either on a consistent basis. His power and pad level are major concerns, but his NFL size (6'4"/300) and high motor should still guarantee a first round selection.
20. D.K. Metcalf, WR, Ole Miss: Mid-Late 1st Round Pick
Wide Receiver has been a tumultuous position already, with four or five different guys alternating as the earliest on different mock drafts. Metcalf's size (6'3"/225) and ability to win matchups consistently have him as my top wideout as of mid-January. The potential is his selling point, as his form and catching technique is far too raw to warrant a first-half-of-Thursday selection.
21. Noah Fant, TE, Iowa: Late 1st/Early 2nd Round Pick
After Albert Okwuegbunam decided to return to Missouri, Fant's stock as the best tight end was solidified. I'd be shocked if the freak athlete doesn't go in the first round, but there is a possibility every playoff team sees his lack of blocking ability as too much of a concern.
22. Brian Burns, Edge, Florida State: Late 1st/Early 2nd Round Pick
Burns has the length (6'5") and athleticism to land in the first round, but he's small (235 pounds) and never got any stronger at Florida State. He's best suited as a 3-4 Outside Linebacker who only sees pass defense reps, and some team in the late first round or early second round could use exactly that.
23. Dre'Mont Jones, DT, Ohio State: Late 1st/Early 2nd Round Pick
Jones has the athleticism and mental game to play in the NFL right away, but he gets pushed around and outworked far too much to warrant a top-20 selection, especially in a crowded D-Line field.
24. Cody Ford, G/RT, Oklahoma: Late 1st/Early 2nd Round Pick
Ford has been the biggest riser, ranked in the 60's just five weeks ago and now all the way up to #24. He's build more like a Guard (6'4"/330), but he's an absolute mauler in both pass and run blocking. Ford has a higher floor at Guard, but a higher Ceiling at Right Tackle, and a handful of teams in the 20's and 30's will need a player like him moving forward.
25. N'Keal Harry, WR, Arizona State: Late 1st/Early 2nd Round Pick
At nearly 6'4", Harry's a huge target who made SportsCenter more than once this past season with highlight-reel catches galore. He's useless against good press corners and his routes are inconsistent, but his production (155 Receptions and over 2,200 yards in the last two years) certainly warrants a look late Thursday night, if not right away on Friday.
26. Daniel Jones, QB, Duke: Late 1st/Early 2nd Round Pick
Jones has the height (6'5"), eyes and RPO experience to be an effective West Coast Quarterback at the next level. However, that might be the only thing that carries over, as he took 95% of his college snaps in shotgun and struggles with balance, fumbling, and carries concerns over his durability and overall arm strength. While praisers claim he's the next Carson Wentz, a more realistic comparison is Brock Osweiler. Still, QB-needy teams will see him as the second or third best option in this draft, and for that alone he should go before the 40's.
27. A.J. Brown, WR, Ole Miss: Late 1st/Early 2nd Round Pick
Brown has all of the tools to catch in the slot, he just doesn't have the speed to be a slot specialist in the NFL. He's elusive, but not a deep threat. Overall, Brown's a possession-first receiver that will rely on his hands and routes to develop into a borderline WR2/WR3 at the next level. Teams looking for a reliable third or fourth option for their Quarterback will take him in the 20's or 30's.
28. Drew Lock, QB, Missouri: Late 1st/Early 2nd Round Pick
Lock reminds me of Jay Cutler - both good and bad. His size (6'3" and sturdy), velocity, arm strength and release point are all ideal for the next level. However, he's also terribly inaccurate, struggles with looking off safeties and has a hard time with decision-making. Jay Cutler, right? That being said, some team looking for their next shot at a franchise QB will think their QB coach can work miracles and will take a shot with Lock.
29. Marquise Brown, WR, Oklahoma: Late 1st/Mid 2nd Round Pick
Brown isn't nicknamed "Hollywood" for nothin': he's crazy fast and burns defenders at every level. His size (5'10"/168) is a red flag for many front offices, as durability questions naturally rise. However, those that like him compare him favorably to DeSean Jackson, and one of those teams will look to get a burner either very late Day One or in the first half of the second round.
30. Trayvon Mullen, CB, Clemson: Late 1st/Mid 2nd Round Pick
Mullen boasts the size (6'1"/195) every NFL team is looking for at Cornerback, and he has the physicality to match. His tight hips and lack of short area quickness leads him to getting beat in man-to-man coverage frequently, a weakness that could very well keep him out of the first round. However, with his ball skills, some defensive mind is going to convince their front office they can develop Mullen into a shutdown corner, a possibility that will guarantee a spot at least in the first half of the second round.
31. Devin Bush, LB, Michigan: Late 1st/Mid 2nd Round Pick
Bush's mock draft range deviates significantly, as some teams can't overlook the red flag that is his size (5'11"/222) and other teams will try to just to get his speed at Linebacker alone. Paired with his vision and coverage abilities, and you have a great pass defense option in today's NFL. Some team in the 20's or 30's will gamble on his stature, but if he doesn't test well, expect for his name to slide down into the 40's, 50's and even possibly beyond.
32. Jawaan Taylor, OT, Florida: Late 1st/Mid 2nd Round Pick
Taylor stands as the third-best true Tackle in this class, but despite his NFL size (6'5"/334), some think his weaknesses (poor athleticism, bend, first step and range) may require a move inside in the future. His power and hand usage suggest a fit at Right Tackle, and some team in the 20's, 30's or 40's will see what they're looking to fill in Taylor.
33. Mack Wilson, LB, Alabama: Late 1st/Mid 2nd Round Pick
For months, Wilson sat in the early 20's on every mock draft, mostly due to his ridiculous speed and athleticism for a Linebacker. A couple poor tackling performances and mental lapses in the College Football Playoff, and Wilson's stock has slid to the second round in most draft. If a playoff team is desperate for a speedy coverage linebacker, there's still a chance he lands late in the first, but otherwise his name will land in the first half of the second round come spring.
34. Zach Allen, Edge, Boston College: Late 1st/Mid 2nd Round Pick
Allen falls into the "Edge" position, but his best usage at the next level will likely be interior gaps. His size (6'5"/285) is ideal for a Defensive End, and he's been just as productive rushing inside the tackles as outside of them. He has tight hips and isn't flexible, two traits that will likely prevent him from being effective on the edge in the NFL and thus likely keeps him out of the first round, but some team in the 30's or 40's could see him as a multi-positional down lineman in pass defense, a role he could excel at right away.
35. Jerry Tillery, DT, Notre Dame: Late 1st/2nd Round Pick
Tillery has the size (6'5"/306), power and pass rushing technique to blow up interior gaps right away in the NFL. That being said, he gives up far too much ground on tape, and his mobility, flexibility and overall conditioning are legitimate concerns. An impressive combine could shoot his odds up at landing late in the first, but otherwise he could land anywhere in the second.
36. Kelvin Harmon, WR, North Carolina State: Late 1st/2nd Round Pick
Harmon's size (6'3"/214), route running and separation skills make him an immediate deep threat. However, his lack of speed and catching technique could result in a very low ceiling as a depth possession-first option. Barring good speed numbers, he'll likely land to some team looking for downfield weapons in the second round.
37. Amani Oruwariye, CB, Penn State: Late 1st/2nd Round Pick
Oruwariye is an interesting case. He has the size (6'1"/204) and strength to be an excellent press corner, as well as the awareness and all-around technique to hold his own in zone coverage, but somehow gets beat in man coverage frequently. His tackling needs a lot of work too, and without any top-end speed to show, his stock will likely remain at a second-round grade moving forward.
38. Jaylon Ferguson, Edge, Louisiana Tech: 2nd Round
Ferguson is an absolute boom-or-bust prospect. His size (6'5"/267) and technique bill him has a solid 4-3 Defensive End. However, his lack of athleticism, and really any other ideal pass rushing traits, translate to a strong possibility that he'll never be a full-time starter in the NFL. Ferguson will contribute on run defense right away, but some team in the second round will have to gamble on his technique and sparse athleticism in order to find their next 4-3 End.
39. Oshane Ximines, Edge, Old Dominion: 2nd Round
Ximines has the motor, production, physicality and hand usage to attack Quarterbacks right away. That being said, his lack of flexibility, bend, and burst may never give him a chance on the first two downs. Combine that with his lean size (6'3"/247) and poor coverage skills, and you're looking at a realistic projection as a pass-rushing-only 3-4 Outside Linebacker. A player with that ceiling isn't going in the first round, but teams in the second round desperate for Sacks should still consider Ximines.
40. Will Grier, QB, West Virginia: 2nd Round
Grier sat out his West Virginia team's bowl game, and somehow his stock still dropped even after Justin Herbert withdrew his name from draft consideration. The accuracy and arm talent is certainly there, but his tape still shows a guy playing wild with a weak 6'1" frame and an inconsistent 3/4 release point.
41. Damien Harris, RB, Alabama: 2nd Round
Harris was a power-first starting Running Back at Alabama, but there's actually a chance he lands BEHIND his backup in this year's draft. He's a decent power option, with the size (5'10"/216), pad level, ball security, vision and hands to warrant an early draft selection. However, his speed and acceleration are much too slow to be an immediate starter, and he doesn't break tackles well enough to cover up his lack of speed. There's a good chance he'll never be a starting Running Back at the next level, and that's more than enough to prevent a first round selection. Anything less than a good combine, and his stock could drop severely.
42. Dalton Risner, OL, Kansas State: 2nd Round
Risner's value lies in the fact he could realistically play anywhere on the offensive line in the NFL. His frame (6'5"/305) translates well, and he excels at dropping the anchor and holding his own in run blocking. Risner's hand usage and technique warrant an early pick, but he's 24 and had significant shoulder surgery less than a year ago. His tape shows inconsistent pass sets, something that may force him inside. Realistically, he could be a decent option at Right Tackle, Guard and Center right away, a trait that should help him land somewhere in the second round.
43. David Edwards, RT, Wisconsin: 2nd Round
Edwards, a former Tight End, is huge (6'7"/319) and just absolutely mauls people in run blocking. However, he carries major footwork and technique flaws, the type that may take a few years to iron out. Teams looking for an excellent run blocking Right Tackle that can afford some lapses in pass coverage should seriously consider Edwards with their second round picks.
44. Yodny Cajuste, OT, West Virginia: 2nd Round Pick
Cajuste has the frame (6'5"/315), strength, mobility and run blocking technique to make an impact in run support right away. However, most teams draft Left Tackles for their pass protection, and his lack of flexibility and overall stiffness and pass blocking technique make him a slight liability right away from the blind side. He's best suited in zone, run-heavy sets, where he could realistically start at either Tackle spot right away. Teams running said sets will crave taking Cajuste in the second round.
45. Josh Jacobs, RB, Alabama: 2nd/Early 3rd Round Pick
Jacobs is stocky (5'10"/216), but combined with his explosiveness, physicality and vision, and you have a potential every-down back in the NFL. His effort on special teams make him a coach's dream right away, and while his lack of starting experience (he never started at Alabama) suggest an early third-round pick, teams are looking for fewer and fewer miles coming out of college. I'd be surprised if he slips past the second round.
46. Kris Boyd, CB, Texas: 2nd/Early 3rd Round Pick
Watching Boyd's tape, and there are zero questions about his motor. The guy just loves jamming receivers, and if he adds more upper body strength to his 6', 195-pound frame, he could be an effective press corner right away. Concerns surrounding his ball skills and how often he gets beat by double moves will push him out of first round consideration, but if Boyd puts up better-than-expected numbers at the combine, he should guarantee a spot in the second round.
47. Julian Love, CB, Notre Dame: 2nd/Early 3rd Round Pick
What Love lacks in size (5'11"/193), he makes up for in quick feet, solid instincts and hand usage, and impressive mirroring and matching technique. However, he's not fast or long, and he gives up far too much in separation. He needs good speed numbers at the combine to lock in his stock as a second round pick.
48. Jonathan Abram, S, Mississippi State: 2nd/Early 3rd Round Pick
Abram is straight-up physical. His frame (6'/210) and experience covering Tight Ends in man coverage make him an immediate candidate for the rising in-the-box Safety role in the NFL. His mental game (especially his angle decisions) and lack of playing through contact are concerns, and there's a good chance he'll only develop into a sub-package specialist at the next level, something that will push his stock into the 40's, 50's and 60's.
49. Taylor Rapp, S, Washington: 2nd/Early 3rd Round Pick
Rapp has the size (6'/212), aggression, mental game and tacking ability to make impact plays in the box right away. However, his lack of range, poor top speed, and tight hips may prevent him from seeing any zone coverage reps. He also has shown zero playmaking instincts or ball skills on tape, a weakness that could surely push him into the later half of the second round or even round three come spring.
50. Irv Smith Jr., TE, Alabama: Mid 2nd/3rd Round Pick
Smith Jr., like most Tight Ends coming out of Alabama, is an impeccable receiver. He's super athletic for his 6'3", 243-pound build, and has the hands in both receiving and blocking to warrant significant reps right away. His run blocking technique and routes are inconsistent, and he really hasn't seen any contested balls or needed to separate too much. Combined with his lack of urgency, and you have a receiving specialist who shouldn't be called any earlier than the 40's, 50's and 60's.
51. J.J. Arcega-Whiteside, WR, Stanford: Mid 2nd/3rd Round Pick
Arcega-Whiteside is an immediate deep threat, something a lot of the other receivers in this cluttered class cannot say. He's big (6'2"/220) with impressive acceleration and crazy acrobatic catches on tape. That being said, he drops the ball far too much, plus he's a bit too physical and is relatively predictable. Some team on Day 2 will pull the trigger on adding another big deep threat.
52. Hakeem Butler, WR, Iowa State: Mid 2nd/3rd Round Pick
Some of the receivers in this class are big, but Butler is another story: he's 6'6" with a crazy-wide wingspan. His catch radius is better than anyone else in the draft, and his strides are probably longer than the rest of the field too. He's not creative with his routes, in fact his route tree has digressed during his tenure in Ames, and his lack of agility and separation skills question how many reps he deserve during his rookie year. However, his size alone should warrant a selection in the earlier portion of Day 2.
53. Gerald Willis III, DT, Miami: Mid 2nd/3rd Round Pick
Willis has shown major character concerns throughout his collegiate career, but it looks like he's finally turned it around. He's a bit undersized (6'2"/285), and his technique and pad level require major improvement. His stock may be the most combine-dependent out of any day 2 players, as a good showing pushed him into the 40's, where a bad showing pushes him closer to the 100-mark. Willis likely needs time to develop, but the natural instincts and production are there.
54. Elgton Jenkins, C, Mississippi State: Mid 2nd/3rd Round Pick
Jenkins boasts the ideal size (6'4"/313), hands, fluidity and initial punch of a quality NFL center. He also attacks the second level better than any other Center prospect. Jenkins' lack of physicality and athleticism leads to him getting outworked 1 v. 1 frequently, a major red flag. If he shows more aggressiveness in his pre-draft efforts, he could easily land in the 40's or 50's, otherwise his stock slips to somewhere in the third round.
55. Te'Von Coney, ILB, Notre Dame: Mid 2nd/3rd Round Pick
Coney exemplifies the Middle Linebackers of old: sturdy frame (6'/240), strong, with consistent tackling technique and athletic traits. However, his tape shows zero explosiveness or man coverage abilities, and there are serious questions surrounding his natural instincts and mental game. Teams needing a run-stopper who may not play every down could easily take him on day 2, because that's about all Coney offers at the next level.
56. Juan Thornhill, FS/CB, Virginia: Mid 2nd/3rd Round Pick
Thornhill is long (6'1/195) with a very high IQ. However, he's an average-at-best athlete with poor physicality and a complete lack of in-the-box instincts. He's a decent zone coverage option right away, either at Free Safety or Cornerback, but there's a solid chance he'll never develop into a starting talent at either. His limitations should damn his odds of going any earlier than the 50's, and he could easily slip late into Friday night.
57. Joe Jackson, Edge, Miami: Mid 2nd/3rd Round Pick
Jackson's long and lean frame (6'5"/258) combined with solid athleticism, proven production, a high motor and a dangerously quick first step make him a decent edge rushing threat. That being said, his technique is erratic, and his hand usage and pad level both need serious improvement. Jackson needs time, and a play style more like an enforcer than a reactor, but compared to other edge rushers, he has a relatively high ceiling deserve a selection somewhere during day 2.
58. David Montgomery, RB, Iowa State: Mid 2nd/3rd Round Pick
Montgomery's built like a power back (5'11"/215), but runs outside the tackles just as well as inside of them. His vision is impressive, but the serious question surrounding his athleticism are damning his odds of landing anywhere higher than the fourth-best Running Back should. Montgomery probably won't develop into a starting-level back, something that will cripple his stock. A good combine could at least guarantee a spot late in the second round.
59. Michael Deiter, G, Wisconsin: Mid 2nd/3rd Round Pick
Deiter is big (6'6"/325) and strong, like most offensive line prospects out of Wisconsin. His impressive mobility makes him an ideal lead blocker at the next level, and he anchors well enough for a shot at a starting Guard spot. His length is poor and there are questions surrounding his ceiling, but he has enough lateral quickness and mass to cover at Right Tackle as well. Teams looking for a plug-in option at Guard (I'm looking at you, Green Bay) will consider him on Day 2.
60. Deebo Samuel, WR, South Carolina: Mid 2nd/3rd Round Pick
Samuel's route-running alone warrants his spot as the eight-best wideout in this class. The ball skills and post-catch ability are also there, but his mediocre frame (5'11"/215) and poor catch radius knock him down from going any higher than the 50's. Samuel also may only have the ceiling of a WR3, a concern teams have to swallow when considering him Friday night.
On the bubble: Riley Ridley, WR, Georgia; Chris Lindstrom, G, Boston College; Jaquan Johnson, SS, Miami; Chase Winovich, Edge, Michigan; Kaden Smith, TE, Stanford; Germaine Pratt, ILB, North Carolina State; Nasir Adderley, S, Delaware; and Justice Hill, RB, Oklahoma State.
Biggest Riser: Cody Ford, OL, Oklahoma
Biggest Faller: Chase Winovich, Edge, Michigan
Biggest Sleeper: Nasir Adderley, S, Delaware