2019 NFL Mock Draft 1.0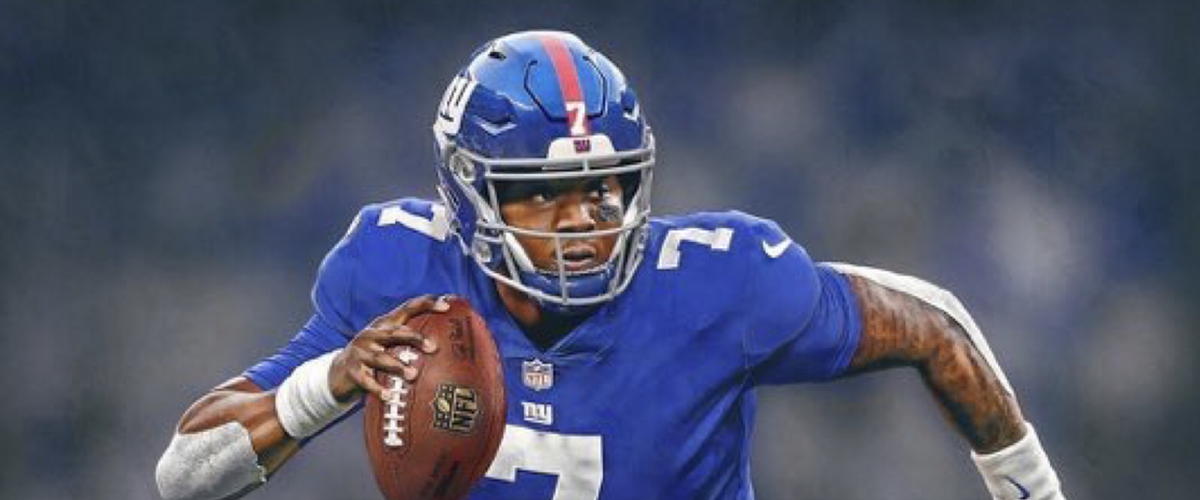 1. Cardinals: Nick Bosa, Edge, Ohio State
Bosa is big, physical, fast off the edge and ready to start day one - just like his brother. Arizona needs someone other than Chandler Jones to rush the passer, and he's the clear top prospect. Done and done.
2. 49ers: Quinnen Williams, DL, Alabama
San Fran declined DT Earl Mitchell's option for 2019, meaning they have an open hole on the D-Line. Quinnen Williams is my best player available behind Bosa, and while they could cut DE Arik Armstead, save over $9 Million and draft a just-as-deserving Josh Allen, I still have Quinnen going #2. This could easily waffle the other way, though.
3. Jets: Josh Allen, Edge, Kentucky
The Jets have been desperate for someone to get after quarterbacks, and now they can add the best edge rusher AND the best player available here. If San Fran takes Josh Allen at #2, the Jets will be happy settling for Quinnen Williams here.
4. Raiders: Rashan Gary, DL, Michigan
After trading Khalil Mack, Oakland's pass rushing became anemic. With Nick Bosa and Josh Allen both off the board, Rashan Gary becomes the best sacker available. Clelin Ferrell and Ed Oliver are both good options here as well.
5. Buccaneers: Jonah Williams, OT, Alabama
To use a baseball metaphor, Tampa doesn't need a home run - they need more runners in scoring position. I expect them to trade down and fill one of their many needs, as they could use upgrades at really any position. Left Tackle, Running Back and Cornerback could all be filled here, and they don't have the balls to move on from Jameis Winston. While Jonah Williams isn't the best built prospect for the blind side, he's currently the unanimous choice for best offensive lineman in this class.
6. Giants: Dwayne Haskins, QB, Ohio State
This is a pick I feel good about. Assuming Tampa Bay doesn't trade the fifth pick to a team looking to one-up New York and take the best Quarterback in the draft, the Giants should find their best shot at replacing Eli Manning right away, right here.
7. Jaguars: Ed Oliver, DT, Houston
Jacksonville looks to be moving on from Blake Bortles, and Cody Kessler isn't a long-term solution. They could take Daniel Jones, Kyler Murray or Drew Lock here, but new Offensive Coordinator John DeFilippo was instrumental in Nick Foles' playoff stardom in 2017 and I have a feeling they'll make a move to acquire him from Philly. Also, their two biggest contracts are aging Defensive Tackles in Marcell Dareus and Malik Jackson. Adding a difference-making inside man here could alleviate cap money required to make improvements elsewhere, and between Ed Oliver and Jeffery Simmons, the former doesn't have a torn ACL. They could improve the Offensive Line with OT Jawaan Taylor here too.
8. Lions: Devin White, ILB, LSU
Detroit can go three different ways with this pick. Ziggy Ansah is likely leaving in free agency, meaning they need an impactful 4-3 Defensive End ASAP. Enter Clelin Ferrell, a dream fit here. Darius Slay is an expensive cornerback and there isn't too much depth behind him, so top corner prospect Greedy Williams should be considered here. Williams' LSU teammate Devin White should also earn attention, as Detroit's linebacker corps is weak. I have White as my best player remaining, and while a 4-3 Defensive End fit like Clelin Ferrell seems impossible to pass up, White is the surest bet here at #8.
9. Bills: Jawaan Taylor, T, Florida
Buffalo's offense was terrible last year, and while Wide Receiver is probably their biggest need, no wideout in this class is deserving of a Top 10 pick. Defensive Tackle is a hole following Kyle Williams' retirement, but with Ed Oliver gone, they'd have to reach for Jeffery Simmons or Christian Wilkins. They also had one of the NFL's worst offensive lines, so adding an impact lineman like Jawaan Taylor, who's ready to start at either Tackle spot, is a major addition.
10. Broncos: Greedy Williams, CB, LSU
It's no secret that Denver scouted QB Drew Lock heavily during the Senior Bowl, and they likely enjoyed what they saw. However, Denver just took on Joe Flacco's huge contract, so they're not going to use the 10th overall pick on a gunslinger in a relatively weak class. Their three biggest needs are Cornerback, Offensive Tackle and Wide Receiver, and out of those three needs, CB Greedy Williams (3rd-best available) is the clear choice.
11. Bengals: Cody Ford, G/RT, Oklahoma
While the offensive line still needs some work, Vontaze Burfict is a huge question mark at Inside Linebacker and they have zero depth behind him. However, with Devin White off the board, I don't see them reaching for the undersized Devin Bush. Cody Ford can start at Guard or Right Tackle right away, so Cincy will appreciate the help from the Oklahoma big man.
12. Packers: Montez Sweat, Edge, Mississippi State
With Cody Ford gone, the O-line needs will have to wait. Safety is a big hole, but no Safety is worth drafting in the Top 25, let alone at #12. Finding an impactful edge rusher with the uncertain futures of Nick Perry and Clay Matthews looming this offseason is a priority, and while DE Clelin Ferrell is my best player available, he doesn't fit in Mike Pettine's 3-4 scheme. Montez Sweat is a quick, lengthy option who could earn a 3-4 Outside Linebacker starting spot right away. Jachai Polite and Brian Burns are two other edge rushers to keep an eye on here.
13. Dolphins: Kyler Murray, QB/ATH, Oklahoma
If any fan base is accepting enough to use Kyler Murray in a Taysom Hill-like "Weapon" position next season, it's Miami. Even though I wouldn't trust Ryan Tannehill as my Quarterback, some people in Miami's front office obviously still do, so they can pass off the addition of Murray as a "different look." Both Drew Lock and Daniel Jones are still on the board here at #13, so if Miami is actually willing to find a prototypical franchise Quarterback, neither of those names would come as a surprise here.
14. Falcons: Christian Wilkins, DT, Clemson
Atlanta's biggest hole is Defensive Tackle, and dream fit Ed Oliver is off the board. Pre-injury, Jeffery Simmons was the perfect back-up plan here. Now, it's honestly hard to picture anyone taking a guy at #14 who may miss his entire rookie season. Christian Wilkins is the next best D-Lineman, and while that may be a slight reach, Atlanta would also have to reach for DeAndre Baker or Byron Murphy if they looked to fill their second-biggest need at Cornerback.
15. Washington: Drew Lock, QB, Missouri
Alex Smith may never play a down of football ever again, and Daniel Jones at #15 isn't a bad value if you look at what other teams surrendered to trade up for a similar Quarterback in previous drafts. If they like Daniel Jones more than Lock, he's their guy. If Washington has something else up their sleeve at QB, I'd pay attention to the two best wideouts in the class: D.K. Metcalf and Marquise Brown.
16. Panthers: Clelin Ferrell, DE, Clemson
Carolina needs to upgrade their offensive line and find a new edge rusher. Clelin Ferrell is their dream fit as a 4-3 Defensive End, and he's the best player available. Boom.
17. Browns: Andre Dillard, LT, Washington State
Cleveland still needs a Left Tackle, and they'll likely look at one of the Defensive Tackles in this deep class. Out of the two position groups, Jeffery Simmons is the best player available, but I don't think John Dorsey is rolling the dice on a season-long injury. They could reach for Dexter Lawrence, Jerry Tillery or Dre'Mont Jones, but I feel Dorsey wants to protect Baker Mayfield ASAP and adding a surefire Left Tackle in Andre Dillard is a huge step in the right direction.
18. Vikings: Dalton Risner, OL, Kansas State
Minnesota's biggest weakness is obvious: the offensive line. Cody Ford is their dream fit here, but he's off the table. That leaves OT Greg Little (29th) and Dalton Risner (38th) as the only other O-Linemen in the Top 45 on my board. While Little is ranked a bit higher, Risner could realistically start anywhere across Minnesota's line, and that flexibility makes him a huge sleeper pick here. A reach? Maybe, but Pat Shurmur wants to protect his $84 Million man.
19. Titans: T.J. Hockenson, TE, Iowa
Tennessee has needs on offense and defense. Marcus Mariota needs some weapons, either at Tight End or Wide Receiver. On defense, D-Tackle and Edge Rusher are the two biggest holes. DT Jeffery Simmons is the best value here, but I (and others) have a feeling they like what they see in TE T.J. Hockenson. Either that or a speed-first weapon like Marquise Brown. A month ago, I didn't even have Hockenson in my Top 60 and now he goes 19th overall.
20. Steelers: Devin Bush, LB, Michigan
Antonio Brown is soaking up most of Pittsburgh's attention this offseason, but their two biggest needs are still Linebacker and Cornerback, even after they trade AB. Both of their dream fits, ILB Devin White and CB Greedy Williams, are off the board. That leaves CB DeAndre Baker (#22), CB Byron Murphy (#23) and LB Devin Bush (#28) as the best options available. Even though he's ranked last, Devin Bush is the best fit. I'd still keep an eye on the top receivers in this class here, in case Pittsburgh succumbs to the replacement hype.
21. Seahawks: Jachai Polite, Edge, Florida
Seattle needs help across their defense, and Jachai Polite is the second-best defender available and an immediate help for their lackluster pass rush:. There's a reason why Bleacher Report, Todd McShay and Mel Kiper all mocked Polite to the Seahawks.
22. Ravens: Josh Jacobs, RB, Alabama
Even though Baltimore needs receivers, the possibility of adding Josh Jacobs as an every-down back to pair with Lamar Jackson is too drool-worthy to pass up. D.K. Metcalf and Marquise Brown are both still on the board here, so expect both names to get attention around this time come spring.
23. Texans: DeAndre Baker, CB, Georgia
Houston will look for a new Offensive Tackle or Cornerback at #23, and with CB DeAndre Baker sitting as the second-best player on the board, the Texans should take him over fellow corner Byron Murphy and Tackles Greg Little and Yodny Cajuste.
24. Raiders: Byron Murphy, CB, Washington
Oakland took Rashan Gary at #4, so Cornerback and Wide Receiver are the two biggest holes remaining. CB Byron Murphy (#23), WR D.K. Metcalf (#24) and WR Marquise Brown (#26) and are all excellent values here. Given the range of receivers available three picks later compared to the Cornerback drop-off after Murphy, Oakland should take the sure bet on the Washington D-back.
25. Eagles: Trayvon Mullen, CB, Clemson
Philly is fortunate enough to not have too many needs. Josh Jacobs was the only every-down back in this class, so Running Back won't be addressed here. If Philly likes what they see in T Greg Little, he's a decent value at #25. However, injuries at Cornerback exposed just how thin they are, so slightly reaching for CB Trayvon Mullen makes a ton of sense if the Eagles want to get back to playing in February.
26. Colts: Marquise Brown, WR, Oklahoma
Going into this offseason, Indy's biggest need is to add more receivers for the finally healthy Andrew Luck. Both of the top receivers are available, and between D.K. Metcalf and Marquise Brown, I see Indy adding the latter.
27. Raiders: D.K. Metcalf, WR, Ole Miss
This is Oakland's third pick, and the first two (DL Rashan Gary and CB Byron Murphy) addressed defensive needs. Now Oakland needs a weapon, and unless Jon Gruden & Co. really like what they see in N'Keal Harry or A.J. Brown, D.K. Metcalf is the clear front-runner for best receiver available.
28. Chargers: Dexter Lawrence, DT, Clemson
The lesser L.A. team can solve their biggest hole here - literally. The Bolts declined Corey Liuget's option and are likely letting Brandon Mebane walk, so they need a gap-filler. Fortunately, Dexter Lawrence is available and stands as the best true Nose Tackle in the class. If they like Jeffery Simmons, they could gamble on him, Jerry Tillery or Dre'Mont Jones here as well. T Greg Little, LB Mack Wilson and even QB Daniel Jones should get attention here too.
29. Chiefs: Jerry Tillery, DT, Notre Dame
Cornerback is a major need, but it would be a major reach for Amani Oruwariye or Julian Love here, neither of which are first-round talents. Defensive Tackle is a big need, and with Kansas City's general depth at other places, they could afford to gamble on DT Jeffery Simmons. However, Jerry Tillery is another D-Tackle sitting as my 30th best player overall. Barring a reach for a corner, Tillery has the edge over Simmons and Dre'Mont Jones.
30. Packers: N'Keal Harry, WR, Arizona State
Out of Green Bay's remaining needs, the best players available are WR N'Keal Harry (#32), TE Noah Fant (#33), WR A.J. Brown (#37), FS Deionte Thompson (#39), and LB Mack Wilson (#40). I wouldn't be mad if they reached for a Safety like Nasir Adderley, but I don't see Brian Gutekunst pulling the trigger on that one. As of now, Green Bay is sticking with Jimmy Graham, so the best choice is the freaky long N'Keal Harry. I'd keep an eye on slot receivers like Deebo Samuel or Parris Campbell with this pick too.
31. Rams: Jaylon Ferguson, DE, Louisiana Tech
Lamarcus Joyner is a free agent and I doubt they'll franchise tag him again. The NFC Champions can pick the only start-ready center fielder-type Safety in this draft, but they won't. Edge rusher Jaylon Ferguson fits fantastic as a 4-3 Defensive End, perfect for replacing Dante Fowler Jr. I don't think they'll care about the NCAA All-Time leader in sacks' off-the-field issues, as they have N'Damukong Suh starting up front.
32. Patriots: Daniels Jones, QB, Duke
New England didn't show too many weak spots during their Super Bowl run, but Tom Brady can't play forever. A lot of QB-needy teams passed up on Daniel Jones for questions surrounding his NFL readiness (95% of his college snaps were from shotgun), but New England has time to mold a second Jimmy G under the GOAT. If Jones is off the board, New England will likely add a Tight End, Defensive Tackle or another edge rusher. My money would be on TE Noah Fant.
REST OF MY TOP 45 BOARD:
Brian Burns, Edge, Florida State (27th)
Jeffery Simmons, DT, Mississippi State (28th)
Greg Little, OT, Ole Miss (29th)
Noah Fant, TE, Iowa (33rd)
Dre'Mont Jones, DT, Ohio State (35th)
A.J. Brown, WR, Ole Miss (37th)
Deionte Thompson, FS, Alabama (39th)
Mack Wilson, LB, Alabama (40th)
Irv Smith Jr., TE, Alabama (41st)
Nasir Adderly, S, Delaware (42nd)
Kelvin Harmon, WR, North Carolina State (43rd)
Zach Allen, DE, Boston College (44th)
Johnathan Abram, S, Mississippi State (45th)