Fuller's 2019 NFL Mock Draft 2.0 - Post-Combine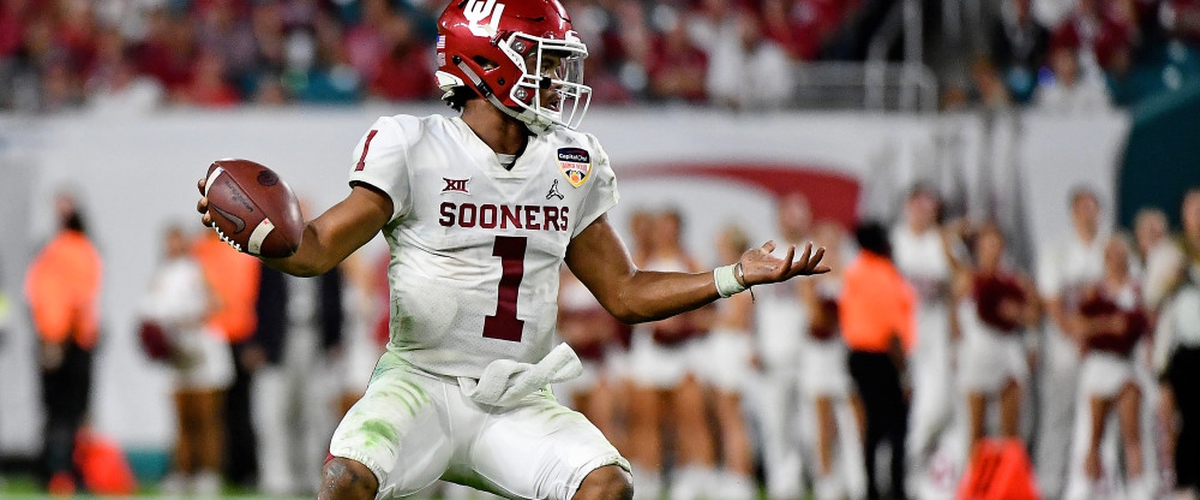 1. Cardinals: Kyler Murray, QB, Oklahoma
I didn't believe any of the hype when the news of Kliff Kingsbury loving Kyler Murray surfaced back in January, as there's no way they'll use the #1 overall pick to draft a 5'10", thin-framed Quarterback. Well, here I am, putting Murray as the top selection. Rumors of Arizona liking Kyler at #1 resurfaced at the combine, and they've only grown since. Josh Rosen will likely be traded, and if so, you know exactly why...
2. 49ers: Nick Bosa, DE, Ohio State
Bosa is still my top prospect in the draft, and should still be considered the most all-around talented player in the class. San Fran can now cut Arik Armstead, save $9 Million and significantly improve their pass rush with the most sure player in the draft. Fans in the Bay should be happy.
3. Jets: Josh Allen, Edge, Kentucky
Both Quinnen Williams and Josh Allen are on the board here, and Allen gets the nod due to being #2 on my Big Board behind Bosa, and because Jets fans have been longing for a good pass rusher for far too long. Pay attention: this pick could be traded to whoever wants QB Dwayne Haskins the most.
4. Raiders: Quinnen Williams, DL, Alabama
Defensive Line isn't one of Oakland's biggest holes, but Jon Gruden simply needs playmakers and Q gives him that on defense right away. If they like Rashan Gary more, he has decent odds landing here too.
5. Buccaneers: Rashan Gary, DE, Michigan
Tampa could very well trade this pick, but if they keep it, Rashan Gary is the best player available and could instantly boost a lackluster Bucs pass defense. I don't know what they see in Jameis Winston, but if Tampa comes to their senses like the rest of the country, Dwayne Haskins could be a shocking-yet-not-shocking pick here.
6. Giants: Dwayne Haskins, QB, Ohio State
In this mock, the Giants don't have to move up to take Haskins, but come April they will if they have to. This just seems like an incredible fit, and they can taper Eli off and use him as a mentor to a relatively inexperienced gunslinger.
7. Jaguars: Jawaan Taylor, OT, Florida
I called Nick Foles to the Jags back in January, and now it's looking more and more likely. Their three best tackles are Jeremy Parnell, Cam Robinson and Will Richardson, so improvements need to be made. Taylor is a 10-year starter who can plug in on either side of the line. I wasn't expecting another tackle to leapfrog Jonah Williams for the top spot, but here we are.
8. Lions: Montez Sweat, Edge, Mississippi State
Clelin Ferrell is a more natural fit to replace Ziggy Ansah, but Montez Sweat's combine solidified him as the third-best edge rusher behind Bosa and Allen, regardless of fit. If Detroit loves ILB Devin White or TE T.J. Hockenson, they could land here.
9. Bills: D.K. Metcalf, WR, Ole Miss
Jawaan Taylor is gone, which means the top players to fill their needs are T Jonah Williams, DT Ed Oliver, WR D.K. Metcalf and TE T.J. Hockenson. We all just witnessed how desperate Buffalo is for receiving after the whole Antonio Brown debacle, so Metcalf's meteoric rise after a historically great combine continues all the way into the Top 10.
10. Broncos: Drew Lock, QB, Missouri
In the last mock draft, I noted how much Denver loved Drew Lock at the Senior Bowl, but were going a different direction after trading for Joe Flacco. Well, they shipped Case Keenum to Washington, and now it looks like Denver is increasingly willing to use pick #10 on a long-term solution after Flacco's over-sized deal expires.
11. Bengals: Devin White, ILB, LSU
Honestly, no one knows what Vontaze Burfict's future holds, and Cincy will be absolutely delighted that White is still on the board at #11. Offensive Line is still a major need, so if they like Jonah Williams or Cody Ford enough, neither name would shock me here.
12. Packers: T.J. Hockenson, TE, Iowa
Brian Burns added 15 pounds of needed weight and ran the second-best 40 at 4.53, a stunning number for 249 pounds. One scout described him as a "dream stand-up 3-4 edge rusher", and that's exactly what Green Bay is looking for. However, rumor has it the Pack are looking to spend on edge rushers in free agency, so they can take an immediate difference-maker here in T.J. Hockenson. Currently, Green Bay has zero good blocking Tight Ends under contract, and there are many expensive question marks surrounding Jimmy Graham. I don't expect the Packers to cut Graham, but T.J. Hockenson could be a decade-long starter at a position barring weakness since Jermichael Finley's spinal chord injury in 2013.
13. Dolphins: Brian Burns, Edge, Florida State
Burns' incredible combine was mentioned above, and now he'll finally hear his name called at #13. Miami could take QB Daniel Jones, but I'm pretty sure their front office is still on the Ryan Tannehill train. Cameron Wake, William Hayes and Andre Branch are all set to leave, and Robert Quinn's $12.9 Million cap hit is the third-biggest on the team. Adding an edge rusher just makes the most sense.
14. Falcons: Ed Oliver, DT, Houston
Oliver falls to #14 despite reassuring doubters with solid measurables at the combine. He's a dream fit in Dan Quinn's 4-3 Defense, and he'll learn valuable pro-level skills lining up next to franchise-tagged Grady Jarrett. It's hard to see Atlanta going any other direction right now.
15. Washington: Jonah Williams, T/G, Alabama
Washington acquired Case Keenum as a fill-in for Alex Smith, so Quarterback probably isn't the biggest need right now. Next up is edge rusher, where Clelin Ferrell would be an excellent value at #15, but Washington runs a 3-4 and Ferrell's strictly a 4-3 Defensive End. No other edge rushers are worth reaching for here, and neither are any other receivers. That leaves Guard, where there's an open spot opposite of Brandon Scherff, and Jonah Williams is both the best player available and tested better as a Guard than a Tackle at the combine. Whether he wants to move inside to Guard or not is another dilemma.
16. Panthers: Clelin Ferrell, DE, Clemson
Wow, this works out perfectly for Carolina. Ferrell falls all the way to #16, and he's a dream fit in Carolina's 4-3 defense. He'll provide a spark of youth and potential in a Panthers' pass attack that's been aging for years. Now with Thomas Davis and Julius Peppers gone, Ferrell steps in as an immediate starter. Plus, he went to nearby Clemson. Everyone's happy here.
17. Browns: Andre Dillard, LT, Washington State
Yes, Cleveland could take the higher-rated Cody Ford to fill in the Guard spot Kevin Zeitler leaves, but if Baker Mayfield is the new face of the franchise, they need to protect him - ASAP. Dillard tested very well at the combine, and he still stands as the draft's best prototypical Left Tackle, as well as the best natural pass protector.
18. Vikings: Cody Ford, G/RT, Oklahoma
Ford's measurables may almost guarantee a move inside full-time, and Minnesota has needs all across their Offensive Line. Unless they really like Dalton Risner more, I can't see them picking anyone else on the board right now.
19. Titans: Noah Fant, TE, Iowa
Fant was one of the combine's best performers, even if he didn't leapfrog his college teammate T.J. Hockenson to be the first Tight End taken. He's a First Round value, and Marcus Mariota needs more weapons in order to balance out a Derrick Henry-led running game. Delaney Walker isn't getting any younger. If they really like A.J. Brown or Marquise Brown, I could see them adding a wide receiver as well.
20. Steelers: Greedy Williams, CB, LSU
It's not often that you go 19 picks without a Cornerback being taken, but top corner Greedy Williams falls all the way to #20. Pittsburgh needs to improve their secondary if they want to go any further in the playoffs, and Williams will boost that immediately. Byron Murphy and DeAndre Baker are behind Greedy on my board, but if the Steelers' front office really prefers one of the other two options, neither corner would surprise me.
21. Seahawks: Taylor Rapp, S, Washington
Earl Thomas is gone and Kam Chancellor probably won't see the field ever again, meaning Safety is a huge hole. They may have to reach a bit, but Taylor Rapp is a rising, complete Safety who happened to play in Seattle for college. With the resurgence of Washington's football program, it would be smart for the 'Hawks to implement an in-city talent pipeline.
22. Ravens: Josh Jacobs, RB, Alabama
After cutting Alex Collins and missing out on D.K. Metcalf in this draft, Baltimore's choice is obvious: Josh Jacobs. He's the only every-down back in this class, and I doubt his pro day is going to hurt his stock.
23. Texans: Greg Little, T, Ole Miss
Little is by far the best Tackle available, and Houston needs Tackles badly. Deshaun Watson won't have time to work some magic and help the Texans' defense out. If they really like Byron Murphy or DeAndre Baker, they could add a Cornerback and fix the O-Line later on.
24. Raiders: Byron Murphy, CB, Washington
Despite all of the changes before reaching #24, Oakland is still picking Byron Murphy in my mock draft. He's now passed DeAndre Baker for the second-best Cornerback honors on most people's boards, and some even have him as better than Greedy Williams. Oakland could use a receiver, but they can address that need three picks later.
25. Eagles: DeAndre Baker, CB, Georgia
Josh Jackson is off the board and no other Running Back is worth a first-round pick, so Cornerback is the sole need to address. Luckily, DeAndre Baker is still on the board, and he's a solid value at #25. We all saw how exposed the Eagles' secondary was come playoffs last year. Christian Wilkins is the best player available, and he would make a ton of sense here too.
26. Colts: Christian Wilkins, DT, Clemson
Indy could still take Marquise Brown here, but Defensive Tackle is another need and Christian Wilkins is the best player available. Imagine how much better the Colts' run defense would be with a gap-plugger like Wilkins lining up in front of rising stud Darius Leonard.
27. Raiders: Marquise Brown, WR, Oklahoma
A.J. Brown and Marquise Brown are essentially inseparable on my draft board, but speed kills and I think Jon Gruden is a fan of the "Hollywood" Brown. He weighed in underweight and didn't run at the combine, so his pro day could have a significant impact on his stock - in either direction.
28. Chargers: Devin Bush, LB, Michigan
The Bolts' two biggest needs are Linebacker and Defensive Tackle, and the former's depth is much weaker than the latter. Bush had a second-round grade before the combine, but his speed and athleticism (the 40.5" Vertical surprised most people, including me) is boosting his stock into the 20's on many people's boards. Dexter Lawrence is an excellent value here too, if the Chargers want to address their other big need.
29. Chiefs: Dexter Lawrence, NT, Clemson
Aside from Chris Jones, who had a breakout season in 2018, no one on the Chiefs' D-line is safe. Dexter Lawrence is one of the best players available, and his massive stature and proven gap-filling ability should earn him significant reps come September. Kansas City could also reach for a Cornerback or Safety here too.
30. Packers: Nasir Adderley, S, Delaware
Green Bay didn't address edge rusher at #12, and I wouldn't be surprised to see them use an early pick on that hole even if they invest in free agency on a C.J. Mosley-like pass rusher. However, they also have needs at Guard and Safety that deserve equal attention. Nasir Adderley is a complete safety who could instantly be an improvement over Kentrell Brice. Plus, Tramon Williams can move back to Cornerback and be far less of a liability on defense. Jachai Polite could still be an option here, despite reports of him bombing combine interviews, and A.J. Brown could be a solid option at receiver here too.
31. Rams: Garrett Bradbury, C, North Carolina State
Los Angeles decided not to pick up trust Center John Sullivan's 2019 option, so there's literally a huge hole in the middle of the Offensive Line. For a timing-based QB like Jared Goff and a run-heavy system featuring an elite Running Back in Todd Gurley, I would say Center (and possibly Guard, depending on the Rodger Saffold situation) trumps the D-Line needs. Garrett Bradbury was one of the best performers at the combine, and solidified his case for being the top Center in the class. Pass rushers Jachai Polite, Zach Allen and Jaylon Ferguson should all earn consideration here too.
32. Patriots: Daniel Jones, QB, Duke
I'm still sticking with Daniel Jones-to-New England here. The arm talent is there, and that was on full display at the combine, but his readiness (95% of college snaps were in shotgun) is still a concern. Allowing Jones to learn behind Brady for a year or two (or five, at this rate) could be the Patriots' best shot at their next franchise Quarterback.
SECOND ROUND
33. Cardinals: A.J. Brown, WR, Ole Miss
34. Colts: N'Keal Harry, WR, Arizona State
35. Raiders: Deionte Thompson, FS, Alabama
36. 49ers: Chauncey Gardner-Johnson, DB, Florida
37. Giants: Dalton Risner, OL, Kansas State
38. Jaguars: Jerry Tillery, DT, Notre Dame
39. Buccaneers: Rock Ya-Sin, CB, Temple
40. Bills: Dre'Mont Jones, DT, Ohio State
41. Broncos: Trayvon Mullen, CB, Clemson
42. Bengals: Irv Smith Jr., TE, Alabama
43. Lions: Mack Wilson, LB, Alabama
44. Packers: Parris Campbell, WR, Ohio State
45. Falcons: Chris Lindstrom, G, Boston College
46. Washington: Jachai Polite, Edge, Florida
47. Panthers: Amani Oruwariye, CB, Penn State
48. Dolphins: Kelvin Harmon, WR, North Carolina State
49. Browns: Julian Love, CB, Notre Dame
50. Vikings: Zach Allen, DE, Boston College
51. Titans: Jaylon Ferguson, DE, Louisiana Tech
52. Steelers: Hakeem Butler, WR, Iowa State
53. Eagles: Damien Harris, RB, Alabama
54. Texans: Johnathan Abram, S, Mississippi State
55. Texans: Erik McCoy, G/C, Texas A&M
56. Patriots: Jeffery Simmons, DT, Mississippi State
57. Eagles: Deebo Samuel, WR, South Carolina
58. Cowboys: Riley Ridley, WR, Georgia
59. Colts: Joejuan Williams, CB, Vanderbilt
60. Chargers: Gerald Willis, DT, Miami
61. Chiefs: Juan Thornhill, DB, Virginia
62. Saints: J.J. Arcega-Whiteside, WR, Stanford
63. Chiefs: Devin Singletary, RB, Florida Atlantic
64. Patriots: Jace Sternberger, TE, Texas A&M