2019 NFL Draft Top 50 Prospects: Pre-Bowl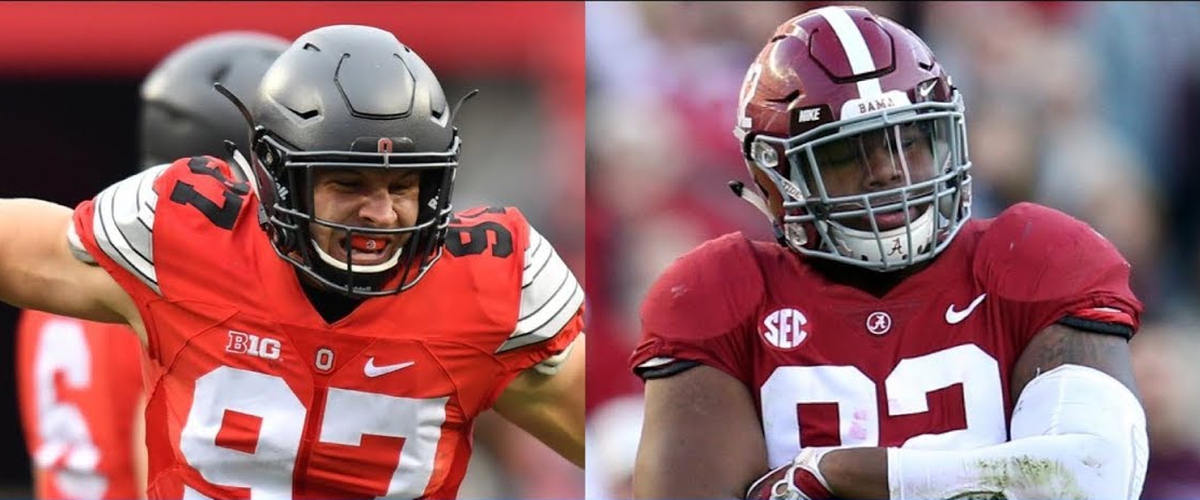 The early entries to the NFL Draft come rolling in on a daily basis, and many players already announced they're skipping bowl season to focus on the draft. Given how little interest I have in how my native Wisconsin does against Miami in the friggin' Pinstripe Bowl, I'm doing the same. The largest factor in ranking the prospects below is what I label ADP: Average Draft Position. Combined with the likelihood of early entry for certain prospects, and where they rank among their positional peers, the aggregate draft position is gathered from the most recent boards across Mel Kiper, Todd McShay, Bleacher Report, USA Today, CBS Sports, DraftTek, Walter Football, Sports Illustrated and Draft Wire. While not all of these end up being very accurate (usually my mock draft is more accurate than nearly all of the mocks mentioned below, and I'm more than happy to share the statistics proving so), the end average is a very accurate representation of where scouts, front offices and relevant pundits view the 2019 Class of NFL Draftees. Without further ado, let's look at our board:
1. Nick Bosa, Edge, Ohio State: #1 Overall
Bosa's the unanimous #1 pick across all mocks, and he's the most explosive edge rusher to come out of college in recent years. He injured a core muscle back in October and withdrew from Ohio State to focus on rehabbing and the draft process, so he'll be good to go for whoever ends up with the #1 overall pick.
2. Quinnen Williams, DT, Alabama: Top 3 Pick
Williams is just a mauler on the interior front line. He gained weight and moved from a 3-4 End to a nose guard this season, and current bears the highest Pro Football Focus grade in the entire country. He's also a first year starter and only a redshirt sophomore, so if he's this good now, imagine his potential. His name will be among the first three heard.
3. Ed Oliver, DT, Houston: Top 5 Pick
Given his mobility and utilization of his lack of size, the comparison of Ed Oliver to Aaron Donald is growing in popularity. He has the skill set to start day one, and the only think preventing Oliver from going earlier is a lack of consistent pass rushing production. I wouldn't expect to see him leave the Top 5.
4. Greedy Williams, CB, LSU: Top 8 Pick
Greedy is the prototypical shutdown cornerback. He's 6'3", fast, has some of the fastest instincts in the country, and holds his own tackling in run support. Injury barring, he's undoubtedly the best cornerback in this draft class and a sure-fire top ten pick.
5. Josh Allen, Edge, Kentucky: Top 10 Pick
Josh Allen won the Bednarik award this past week for best defender in college football, and for good reason: 14 Sacks and 18.5 Tackles for a Loss. He's 6'5" and 250 pounds, giving him the flexibility to line up in an NFL defensive package. The Chandler Jones comparison may not be far off, and his stock continues to rise on a weekly basis. I'd be surprised to tee him slip out of the top ten.
6. Devin White, ILB, LSU: Top 10 Pick
A converted Running Back, White now serves as a speedy, hard-hitting linebacker for LSU. He's grown mentally over the past season, and he's already set up for a killer combine. White is as close to the prototypical hybrid 'backer, a growing trend in the NFL, as you'll find. He won't go top five, but I wouldn't expect to see him make it past the first 15 selections.
7. Jonah Williams, OT, Alabama: Top 12 Pick
Jonah Williams switched from Right Tackle to Left Tackle this season, and his technique has been flawless in his first campaign on the blind side. His biggest NFL question mark is his size (6'5", 305), but how many times have we seen a prospect with good size and poor technique turn into an absolute bust? He'll likely land somewhere between 5th and 12th overall.
8. Justin Herbert, QB, Oregon: Top 12 Pick
The 2019 QB class is extremely weak, and Justin Herbert could take advantage of it by declaring early. He's 6'6" and 240 pounds with a cannon of an arm and sneaky fast speed. His decision making and accuracy has raised questions, and his NFL readiness across the board is his biggest drawback. He could use another year in college, and his younger brother is a 2019 commit at Oregon, so he has plenty of reasons to stay in Eugene. Then again, with the likely top ten selection he'd earn this year, the corresponding paycheck gives Herbert millions and millions of reasons to go pro now.
9. Clelin Ferrell, Edge, Clemson: Top 15 Pick
Ferrell was a likely Top 20 pick last season, but decided to return to Clemson. His 6'5", 260-pound size makes him an instant fit as an explosive 4-3 Defensive End. Ferrell boasts a good arsenal of power and finesse moves, and while he may not offer much in the run support game, plenty of teams in the first half of the draft would love what he instantly provides in the pass rush.
10. Rashan Gary, DT, Michigan: Top 15 Pick
Gary was the #1 overall prospect in the high school Class of 2016, and he's already declared early for the draft. His athleticism has always shown, but he's lacked consistent production since stepping on campus in Ann Arbor. Combine his size (6'5, 282 lb.) and ability to line up in every gap (even outside the tackles at times) provides excellent draft value. He currently sits as a Top 15 pick, but a solid combine could have him shooting up the board very quickly.
11. Deionte Thompson, FS, Alabama: Top 20 Pick
Thompson's stock as the best Safety is miles ahead of anyone else at the position, serving as a prototypical center fielder of a safety. He's rangy with great speed and killer instincts. His biggest drawback is a lack of bulk - he looks lanky for a college player, so imagine how he'd look among NFL sized players. Still, his standing among his position guarantees a top 20 spot in the draft.
12. Jeffrey Simmons, DT, Mississippi State: Mid-1st Round Pick
Simmons shows excellent ability as an interior pass rusher, a coveted addition to any team. However, an off the field incident in which he's shown striking a woman multiple times may kill his stock. Mississippi State claims he was breaking up a fight, and Simmons himself plead no contest, but with the recent events involving Kareem Hunt and Reuben Foster, it's certainly a sensitive subject. Then again, teams like the Redskins may not even care. He's a Top 10 talent, but his "extracurricular activities" will restrict him to a pick in the teens.
13. DeAndre Baker, CB, Georgia: Mid-1st Round Pick
Baker has many desirable qualities in a man-to-man corner: strong, great instincts, agile, and a strong, consistent tackler. He didn't win the Jim Thorpe Award as the nation's best defensive back on accident. He doesn't mirror and match well, and he's been outpaced by speedy receivers, so he's a zone liability at this point. All things considered, his man coverage abilities will help him land in the middle of the first round.
14. Raekwon Davis, DL, Alabama: Mid-1st Round Pick
Davis is a physical nightmare. He's 6'7" and 310 pounds, but has a first step as quick as anyone and an incredible rip move. Davis is powerful enough to stop the run and flashes the athleticism and hand movements of a solid pass rusher across the line. He's probably best fit as a 4-3 Defensive Tackle, and some team in the teens will overlook Davis' balance issues and poor lower body strength to take a three-down talent.
15. Jachai Polite, Edge, Florida: Mid-Late 1st Round Pick
There aren't many players this early with a highly accurate pro comparison, but Jachai Polite is Melvin Ingram 2.0. His 6'2" height is a bit undersized, but he has all the tools of a great pass rusher: incredible balance, great acceleration, agile, and excellent hand moves. He doesn't offer much in run defense, so some scouts right him off as a pass rushing specialist and not an every-down edge player, which would hurt his stock immensely. He won't land in the Top 10, but his pass rushing arsenal should be enough to hear his name on Day 1.
16. Dwayne Haskins, QB, Ohio State: Mid-Late 1st Round Pick
Haskins bears the triple crown of natural Quarterback talent: arm strength, accuracy and mobility. His vision is good and he has a natural pocket presence, something not always seen by mobile gunslingers. He only has one year of starting experience under his belt, and Ohio State's spread-like offense doesn't translate well to the NFL. Given the nature of the offense and talent surrounding him, he also hasn't taken a ton of shots downfield, nor has he had to perform in too many high-pressure situations. For those willing to let him grow within an offense, he's worth a first round try. Also, there's still a slight chance he chooses to return to Ohio State and begin the post-Urban Meyer era as the face of the Buckeyes.
17. Montez Sweat, Edge, Mississippi State: Mid-Late 1st Round Pick
Sweat bears incredible length (6'6", 245) on a proportionally lean frame. His top-end acceleration and excellent hand usage makes him a natural pass rusher at the next level. He could line up as a 4-3 End or 3-4 Outside Linebacker, but his lack of flexibility and poor coverage abilities may limit is usability, keeping him from going in the first half of the draft.
18. Dexter Lawrence, DT, Clemson: Mid-Late 1st Round Pick
Lawrence is massive. At 6'5", 340 pounds, he'll most likely be pidgeon-holed as a Nose Tackle in the NFL. He fills holes and draws double teams well like an inside man should, and considering his size, he uses his hands and agility well. Lawrence still lacks athleticism, and his tape is very inconsistent. His poor motor could be a red flag for some teams, and some scouts think he's hid behind Clemson's all-time great D-Line and hasn't contributed that much individually. The potential is definitely there, especially if he loses weight, so Lawrence's name will still be called in the second half of Day 1.
19. N'Keal Harry, WR, Arizona State: Mid 1st-Early 2nd Round Pick
N'Keal Harry is a straight up playmaker. His catches warranted a handful of SportsCenter appearances, and his 6'4", 213-pound frame makes him a match-up nightmare. The production is there, with a total of 155 Receptions, 2,200+ Yards and nearly 20 Touchdowns in the past two seasons. Harry's an immediate deep threat, who will also likely add value in blocking and as a red zone target in the near future. He struggles with press coverage, and his route running is relatively basic, but he still stands as the most talented receiver in the 2019 class.
20. Greg Little, OT, Ole Miss: Mid 1st-Early 2nd Round Pick
The biggest plus Greg Little offers is the ability to start at Left Tackle or Right Tackle right away. He's 6'5.5" and 325 pounds with long arms. His technique needs work, especially in pass protection and his first step. He still offers solid power and a consistent run blocking tape. My favorite thing about his tape is how often he reaches the second level and takes out linebackers for the running back. He's never going to be a blue-chip blind side protector, but his NFL readiness and tape will land him a selections somewhere late Thursday night or early on Friday.
21. Mack Wilson, LB, Alabama: Late 1st Round
Most Inside Linebackers coming out of Alabama are tried-and-true run stoppers, but Wilson is more of a coverage inside option. His excellent speed and agility is seen on tape by his ability to keep up with athletic tight ends and take away mid-field crossing routes. Wilson's a 3-4 Inside 'backer in Tuscaloosa, but could likely play as a "Will" outside 'backer at the next level as well. His mental game and tackling form could use growth, but his every-down usability should nearly guarantee his name being heard in the 20's.
22. Byron Murphy, CB, Washington: Late 1st Round
Some scouts may write Murphy off as a shutdown corner right away due to his lack of size (5'11", 182 lb.), but his tape says otherwise. He was the best player on the field during the Pac-12 Championship, and his technique is as good as anyone's in this class. Murphy also isn't a liability in any package, meaning he has a reason to be on the field regardless of down or situation. The size alone may damn him to the latter portion of the first round, but his talent and technique are more than enough to hear his name on Thursday night.
23. Brian Burns, Edge, Florida State: Late 1st/Early 2nd Round Pick
Brian Burns has what I deem a "Yankees profile": you either love him or you hate him. On the plus side, he has an excellent burst paired with a long 6'5" frame. On the down side, he doesn't have much muscle or power on a 235-pound build, and haters are quick to point out he hasn't gotten any stronger during his time in Tallahassee. The athleticism is definitely there, and his production (10 sacks, 15.5 Tackles for Loss) matches the profile. Burns likely needs to be a stand-up pass rusher, probably best suited as a 3-4 Outside Linebacker and pass rushing specialist. I've seen him go as high as #5 and as low as #45, so the predictable comfort zone stands as a late first or early second round pick.
24. A.J. Brown, WR, Ole Miss: Late 1st/Early 2nd Round Pick
As far as production goes, Brown is as proven as any receiver in this class. In just the past two years, Brown racked up 160 catches for 2,500 Yards and 17 Touchdowns. This being said, his game doesn't transition too well to the next level. Most of his experience in Oxford was as a slot receiver, but he doesn't bear the speed or athleticism to be a slot receiver at the next level. The elusiveness is there and he's a decent route runner, but he's not JuJu Smith-Schuster. His 6'1", 200-pound frame is decent, but doesn't boost his stock. Overall, he's a productive alternative option at wide-out, with the potential to develop into a WR2 with more speed. He'll be taken in the 20's or 30's.
25. Dre'Mont Jones, DT, Ohio State: Late 1st/Early 2nd Round Pick
Jones had a decent chance at being a first round pick last year as a redshirt sophomore, but he returned to Columbus much to Urban Meyer's liking. His first step is fantastic and his agility and awareness are impressive for a big man. His biggest question mark last season was production, but he's put together a productive 2018 campaign as a full-time starter. His tape shows bigger O-Linemen bullying him around, easily opening up running lanes. If that's a problem against Big 10 opponents, it isn't going to get any prettier at the next level. Plus, his 6'2", 295-pound is nothing to write home about. Overall, the potential alone is likely enough to land in the late first or early second round.
26. Derrick Brown, DT, Auburn: Late 1st/Early 2nd Round Pick
Brown is an incredible bull rusher. His movement and range is impressive for his 6'4, 320-pound stature. Brown boasts a great first step, as well as power at the point of contact, so he can attack any of the gaps on the line successfully if his technique is right. Unfortunately, that's a major "if." His inconsistencies in technique and pad level show up on tape relatively frequently, as base blocks and double teams can clear him out of the way easily. For someone with a good first step, he's late on the snap far too often. Brown's also horrible at reading blocks, and his tape against a good Georgia line shows how ineffective he can be. His potential, combined with the ability to attack any gap alone the line, still give him good (but not guaranteed) odds at hearing his name late Thursday night.
27. Noah Fant, TE, Iowa: Late 1st/Early 2nd Round Pick
Fant is the highest-graded Tight End for one major reason: he's a freak athlete. He posted a vertical of 42.5" last spring, which would lead most recent Tight End draft classes. Standing at 6'4" and 235 pounds, he's a mismatch for safeties and linebackers right away at the next level, especially in the red zone. His film shows decent zone blocking, but with the frame more similar to a wide receiver than a true Tight End, questions rise about his in-line ability at the next level. Overall, there's a chance he won't develop into much more than a receiving-only Tight End, keeping his stock out of the first half of Thursday night and more likely landing in the 20's or 30's.
28. Trayvon Mullen, CB, Clemson: Late 1st/Early 2nd Round Pick
Mullen's stock lies less in what's he's done at Clemson, and much more on his potential at the next level. He's long (6'1", 195 lb.) quick and physical. Although rarely tested, his ball skills look formidable on tape, and combined with his ability to read the backfield, he'll be NFL ready in press coverage and zone coverage. It's man-to-man where Mullen could struggle, as he doesn't mirror and match well. He lacks short area quickness, has very tight hips, and his recovery speed is inadequate. In fact, if you watch him try to recover on tape, he either gets extremely grabby or just simply doesn't arrive to the ball on time. Mullen's play is better fit for a Day 2 selection, but his size, physicality and intangibles could be enough to sneak in the end of Day 1.
29. Christian Wilkins, DT, Clemson: Late 1st/Early 2nd Round Pick
I projected Christian Wilkins as a late first round selection last season before he announced he'd return for his senior season. To be fair, he had a rough 2017 season, and his projection was based more on his potential. A year later, and teammates Clelin Ferrell and Dexter Lawrence stole his limelight, leaving Wilkins with the same, if not worse, stock as a year ago. He's a warrior of a player, unafraid of getting down and dirty in the trenches. His flexibility and bend are excellent, and his size (6'4", 300 lb.) will translate well at the next level. While he does flash good pass rushing moves, his lack of power, pad level and hand usage prevents him from controlling blockers far too often. Watch his tape and you'll see him pushed backwards frequently. He doesn't follow the "lower man wins" rule, thus doesn't win very often. A better first step would help his stock too, but for now, these weak points keep Wilkins slotted in the 20's or 30's.
30. Will Grier, QB, West Virginia: Late 1st/Mid 2nd Round Pick
There were two major traits preventing Will Grier from entering the draft last year: holding onto the ball too long, and his sporadic accuracy. He's fixed both issues tremendously in his senior campaign. He's still a bit wild, and he's at his best when he doesn't have to hold onto the ball too long. West Virginia's done a nice job of creating an NFL-like offensive, while still emphasizing quick passing plays to maximize Grier's effectiveness. However, the combination of an inconsistent, unorthodox three-quarter release point with his mediocre 6'1" frame raises red flag for some scouts. Grier has as much to prove during the pre-draft process as anyone, but for now, a range of 20's through 40's is a reasonable expectation.
31. Kelvin Harmon, WR, North Carolina State: Late 1st/Mid 2nd Round Pick
If you're not exceptionally fast, you better have good size to make it in the NFL, and Kelvin Harmon (6'3", 214 lb.) has exactly that. He dominates 50/50 balls, and while he won't burn anyone with speed, he finds away to get open as a deep threat. Harmon catches with the body far too often, and he doesn't add many Yards After Catch. Still, he's a consistent, possession-first receiver that adds value as a home run threat in multi-receiver packages. His limited ceiling keeps him from landing any earlier than the late 20's, but he's still good enough of a natural receiver to hear his name before the 50's.
32. Drew Lock, QB, Missouri: Late 1st/Mid 2nd Round Pick
As far as technique is concerned, Drew Lock is good to go. His 6'3" frame translates well, and the release point, velocity and arm strength are all consistently impressive. Lock's accuracy and decision-making have improved, but they're still far below the standard of a starting NFL quarterback. His pocket presence is solid, but he struggles with looking off safeties. Overall, everything before he throws is pretty good; it's the actual pass that raises questions about his inconsistency. Those buying in on intangibles and potential may take him late Thursday night, otherwise he'll fall to the first half of the second round.
33. Marquise Brown, WR, Oklahoma: Late 1st/Mid 2nd Round Pick
Marquise "Hollywood" Brown is a scary-fast receiver. His initial burst is impeccable, and he can beat any defender at any level of his route tree. He's never going to block well at the next level, and at 5'10" and just 168 pounds, some scouts see his lack of durability and size as major red flags. A lot of offenses could use a slippery burner of a wideout, and some team will pull the trigger before the latter half of the second round.
34. Zach Allen, Edge, Boston College: Late 1st/Mid 2nd Round Pick
It's not often that an edge rusher will be more effective rushing interior gaps at the next level, but that's the case with Zach Allen. His 6'5", 285-pound frame will translate as a D-End in either a 4-3 or 3-4, and he's shown increasing efficiency in blitzing interior gaps. That being said, his hips are tight and he isn't flexible, so it's nearly impossible to envision Allen outworking a Tackle on the edge. If whatever team drafting Allen works on his ability to plug interior gaps for run defense packages, his multi-positional flexibility could offer a lot of value for a pick in the 20's, 30's or 40's.
35. Daniel Jones, QB, Duke: Late 1st/2nd Round Pick
For teams with a West Coast offense that need a Quarterback, Daniel Jones may be their dream pick. First off, he just looks like an NFL gunslinger at 6'5". Second, he uses his eyes to look off defenders better than anyone else in this draft class. Jones could walk in Day One and run a successful RPO. There are some questions about his arm strength, and he fumbles far too often. He has a handful of extra negative nuances, such as a relatively thin frame and the fact he doesn't slide when running the ball. Overall, he may only translate as a starter in the next level in a shotgun-happy (over 95% of his snaps at Duke were in the shotgun), short-range West Coast offense.
36. D.K. Metcalf, WR, Ole Miss: Late 1st/2nd Round Pick
It's hard to predict where D.K. Metcalf will actually get drafted. Some sites have him rounding out the Top 10, whereas others have him falling to the third round. He's a sizable (6'3", 225 lb.) receiver with the physicality to match. Metcalf fits in any scheme, blocks well and the tape shows him consistently winning battles at every level. His major questions surround his experience and lack of production. He's only a redshirt sophomore, and he hasn't reached 40 receptions or 650 Yards in either of his first two seasons. Overally, he's very raw, but the potential given his size and usability will have some team bite before the third round arrives.
37. Amani Oruwariye, CB, Penn State: Late 1st/2nd Round Pick
Oruwariye exemplifies the sizable corner every team is looking for in today's NFL. He's 6'1", 204 pounds and strong for a defensive back. His awareness and technique is as consistent good as any other corner in the class. Where he loses draft stock is in man-to-man traits. His tackling alone is a red flag, and if he starts at the next level, he'll likely be restricted to zone/press packages. If that type of corner is a need for a team late in the first, he may hear his name on thursday; otherwise he'll land before the 60's.
38. Albert Ogwuegbunam, TE, Missouri: Late 1st/2nd Round Pick
Ogbwuegbunam's height, weight and frame (6'5", 260 pounds and long arms) makes scouts drool. Add that to his proven athleticism and you have a match-up nightmare at the next level. He's only a redshirt sophomore, so the experience is lacking, and his blocking on tape is pretty poor. His hips are tight and he doesn't create enough separation to make him an immediate receiving threat come 2019. His potential add late first round value, but his raw game will likely restrict him to a second round selection.
39. J.J. Arcega-Whiteside, WR, Stanford: Late 1st/2nd Round Pick
Arcega-Whiteside will be an immediate deep threat in the NFL. His 6'2", 222-pound frame is a plus, and his acceleration combined with acrobatic catch ability make him a highlight waiting to happen. I haven't watched a single snap of Pac-12 football this year, but I know Arcega-Whiteside very well, so that alone should say something. He drops balls far too often, and his physicality may be an Offensive Pass Interference concern in today's penalty climate. He tips his direction a bit too often, but he also holds his own in the press. The talent may warrant a late first round selection but his dropping problem will likely be enough to push him back into the second round range.
40. Devin Bush, LB, Michigan: 2nd Round Pick
Bush's play style is ideal for today's ever-evolving NFL Inside Linebacker position. He bears excellent speed, blitzes interior gaps extremely well, and offers solid value in coverage. He's a dream third-down 'backer. Bush does bear a red flag: his size. At 5'11" and 222 pounds, he needs to have D-Line help to open gaps, as he's not going to beat anyone blocking him. The size alone will likely prevent him from being selected Thursday night, but he's an excellent three-down value right away on Friday.
41. Chase Winovich, Edge, Michigan: 2nd Round Pick
Winovich is an incredible college football defender. He's learned how to defeat blocks with incredible hand technique and he reads the edge in run support as well as anyone. This is more than enough to be a difference-maker off the edge in college, but his physical traits don't translate well professionally. Winovich lacks lateral mobility, only average-sized (6'3", 253 lb.), and severely lacks flexibility. His technical skills make him NFL-ready, but his physical traits alone will prevent him from being an impact defender, and in turn, a Day 2 selection.
42. Yodny Cajuste, OT, West Virginia: 2nd Round Pick
Unlike many other Tackle prospects in this class, Cajuste projects as a true Left Tackle. His 6'5", 315-pound frame holds up in run protection, and the length and mobility is there to fend off edge pressure. Cajuste isn't great in pass protection, and he'd be best suited playing the blind side on a run-first offense with short sets and slide protection options on passing downs. Questions rise about his flexibility, plus he hasn't been tried against NFL-like speed on the edge. Cajuste probably has too many question marks to be worth a first round pick, but if he tests well at the combine, he can guarantee himself a spot among the first 60 or so selections.
43. Jerry Tillery, DT, Notre Dame: 2nd Round Pick
Tillery will be drafted on length alone. He's 6'5", over 305 pounds with long arms to match. His game translates best as a power pass rusher, and his tape shows effectiveness at pushing back the line of scrimmage. He was a major underperformer entering his senior year, but with 7 Sacks entering the College Football Playoffs, many scouts have crossed that red flag off their list. Tillery's conditioning and mobility have improved, but still have a ways to go before he's an NFL starter. He's improved every year in college, and some team in the second round will bite on a professional bull rusher.
44. Damien Harris, RB, Alabama: 2nd Round Pick
Simply put, Harris doesn't waste time or space. Hes a 5'10", 216-pound power back who loves to get vertical as quickly as possible. His ball carrier vision is impeccable for a power-first runner, and isn't afraid to drop his pads. He lacks acceleration and long speed, making some scouts question if he'd ever develop into a starter. While he receives well and possesses excellent ball security, he also doesn't break too many tackles nor barrels over anyone. Harris' intangibles as a ball carrier are incredible for a college player, but with a ceiling potentially lower than a starting level, he's not sneaking into round one.
45. Jawaan Taylor, OT, Florida: 2nd Round Pick
Taylor's built like an NFL lineman at 6'5", 334 pounds and long arms. He's a solid puncher who moves well, and he's a good enough athlete in small spaces. This being said, he can't handle explosive edge rushers, almost entirely killing his odds at playing Left Tackle in the NFL. Taylor's range isn't great, neither is his first step, and his bend needs work. Given his size, power and hand technique, Taylor may be best fit as a Guard at the next level. For now, his best fit stands as an average-ceiling, run-blocking Right Tackle, and those don't land earlier than the second round.
46. Julian Love, CB, Notre Dame: 2nd Round Pick
While many of the aforementioned Cornerbacks are zone/press players, Julian Love is the opposite. At 5'11" and 193 pounds, he's best built for man-to-man. His crazy quick feet enables him to mirror and match anyone, and his quick adjustments and good vision round out a solid attribute set. He's not big, fast or long, three of the highest-valued traits in NFL corners nowadays. Love can get eager and have to recover early on in the play, and his inefficient, inconsistent footwork often leaves too much space for receivers. Add that to his bad habit of not turning and running with receivers in time, and you have a talented yet vulnerable man-to-man cornerback. That's a second round profile.
47. Dalton Risner, OL, Kansas State: 2nd Round Pick
Dalton Risner is a punisher. His tape shows how completely ineffective power rusher are against him, as he loves dropping the anchor and striking harder than his counterpart. At 6'5" and 305 pounds, his build will hold up at the next level. Scouts see a couple red flags in Risner, as he had a thorough left shoulder surgery after the 2017 season, and he'll be a 24-year-old rookie, meaning we've likely seen all he's capable of. There are also some questions about his pass sets on the exterior, meaning despite his three years of starting experience at Right Tackle, many NFL teams might prefer moving him inside. Risner's a proven run blocker, and if his shoulder holds up, he's an excellent second round value.
48. David Edwards, OT, Wisconsin: 2nd/Early 3rd Round Pick
Edwards has every reason to return to Wisconsin, especially with the best Running Back in the country (Johnathan Taylor) around for at least one more year. That being said, some team may take him early in the second if he leaves a year early just for his run blocking ability alone. Edwards absolutely blows holes open for the ball carrier, hence why you see Wisconsin Fullbacks breaking out for first down runs. He's also the perfect example of a guy who doesn't quit before the whistle blows. Edwards enrolled at Wisconsin as a Tight End, then put on the necessary pounds to play Right Tackle. Because of this, there are a lot of bugs with his technique and footwork. His tape blocking edge rushers in long pass sets shows many of his weaknesses, as his length (6'7", 319 pounds) gets negated by technical misfires. Another year in college could push his stock into the first round range, but if he decides to leave early, a team willing to develop him from a pass protection perspective could take him in the second round.
49. Kris Boyd, CB, Texas: 2nd/Early 3rd Round Pick
For a cornerback, Kris Boyd plays hard. He visibly appears to love man coverage, jams receivers up well in the press, and has the necessary athleticism to not be beaten over the top. Boyd's ball skills are really inconsistent. Sometimes he looks like a wide receiver out there, and other times he drops easy interceptions. His tape shows receivers beating him relatively frequently on double moves. He's an asset in run support just on his hyper-aggression and motor alone, but he could use to build some upper body strength on his 6', 195-pound frame. He's useless in zone packages, but for teams looking for a high-energy corner near the line of scrimmage, Boyd is worth a second or early third rounder.
50. Chris Lindstrom, G, Boston College: 2nd/Early 3rd Round Pick
Chris Lindstrom is a unique Offensive Lineman in the sense that he doesn't have any major flaws. He bears decent size (6'4", 305 lb.), the hand usage is phenomenal on tape, he's as experienced as any Guard in this class and the technique is consistently good for both pass and run schemes. His ceiling is really his only flaw, as he'll never be the best player on the line. Still, a lot of teams could use a plug-and-play starter at Guard, even if Lindstrom never develops into anything more than an average starter. I'd be surprised if he's still on the board in the 70's.
On the bubble:
Jaquan Johnson, S, Miami; Joe Jackson, Edge, Miami; Trevon Diggs, CB, Alabama; Oshane Ximines, Edge, Old Dominion; Cody Ford, G, Oklahoma; Irv Smith Jr., TE, Alabama; Taylor Rapp, S, Washington; Elgton Jenkins, C, Mississippi State; Jalen Jelks, Edge, Oregon; Trey Adams, OT, Washington; Hakeem Butler, WR, Iowa State; Tyler Biadasz, C, Wisconsin; Calvin Throckmorton, OT, Oregon; David Montgomery, RB, Iowa State; Gerald Willis III, DT, Miami; Ross Pierschbacher, G/C, Alabama; Jaylon Ferguson, Edge, Louisiana Tech; Bryce Hall, CB, Virginia; Anthony Johnson, WR, Buffalo; Kaleb McGary, OT, Washington; Justice Hill, RB, Oklahoma State; and Kaden Smith, TE, Stanford
---