Sam's Grading the Pack Week 15: Is It Tanking Time?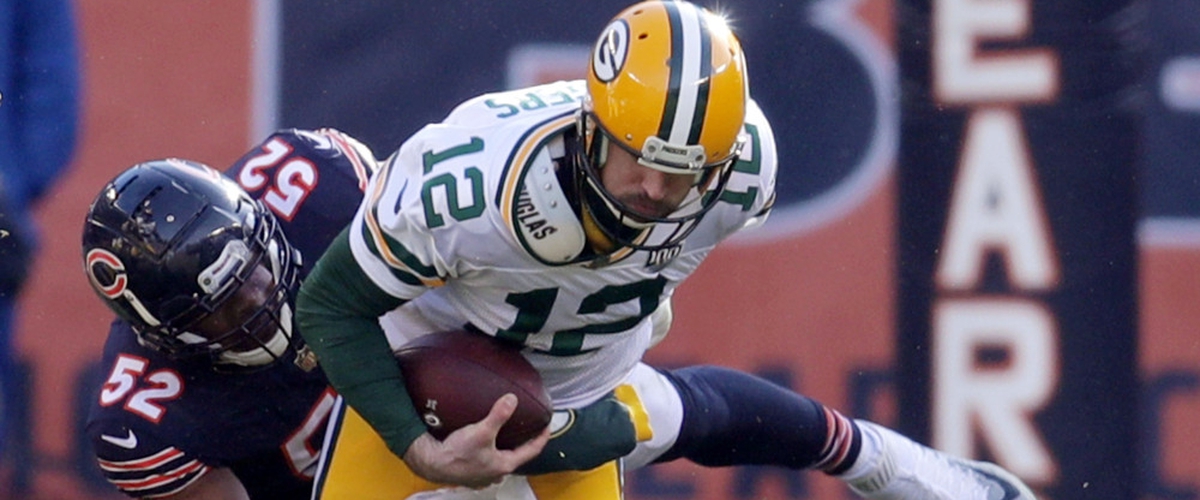 Now there's officially a ZERO percent chance the Packers make the playoffs. I wasn't expecting a playoff berth, let alone a victory in Chicago, but I expected to see more out of Aaron Rodgers. He overthrew open receivers a handful of times, couldn't convert on third down, and threw an interception for the first time in over 400 snaps without adding a touchdown to his box score. I completely understand firing Mike McCarthy, as I'll go as far as saying it was long overdue. However, firing a head coach is pointless if your Quarterback, the highest-paid player in league history, is missing wide open receivers.
His offensive line didn't help him too much, especially with a human liability like Jason Spriggs starting on the far right side. Jamaal Williams stepped up big time in Aaron Jones' absence, and Davante Adams had yet another 100+ yard receiving performance.
On defense, there weren't any significant individual performers. Dean Lowry made a smart play to jump on a loose ball, and Clay Matthews was credited with the only sack of the game. Surprisingly, the leading tackler was undrafted rookie D-Lineman Tyler Lancaster, who started in place of Mike Daniels for the second straight week. Mason Crosby netted all three field goal attempts, a feat given all three attempts were longer than forty yards. Overall, the Packers showed they were a mediocre team who lost to the best team in the NFC North. Oh, what fun this offseason should be.
OVERALL: C
Offense: C QB/RB: C+ WR/TE: C+ OL: C
Defense: C DL: B- LB: C DB: C- Special Teams: C+
BEST GRADE: A-: RB Jamaal Williams and WR Davante Adams
Aaron Jones has been a bright spot on a disappointing season, and it hurt to see him leave the game early with a knee injury. However, Jamaal Williams stepped in and earned the highest grade of the season with 97 yards from scrimmage and a Touchdown. While Davante didn't find the end zone, his 8 catches for 119 yards was more than enough to re-enter the Best Grade category.
WORST GRADE: D-: RT Jason Spriggs
As far as implications on making next year's roster goes, this game was as important to Jason Spriggs as anyone. Bryan Bulaga was out injured, and Spriggs gets yet another chance to turn around what's been a rough start to his career. To be blunt, he blew it. Rodgers was sacked five times, four of which Spriggs was primarily responsible. Sunday showed that even when healthy, Spriggs can't be trusted. Right Tackle needs some serious revamping in 2019.
MVP Watch: Davante Adams is back in the Best Grade category this week, further extending his lead Blake Martinez leapfrogged Aaron Rodgers with much better recent performances, and Aaron Jones didn't gain any ground by leaving injured early in the game.
STATS OVERVIEW:
Passing - Rodgers: C- (25/42, 274 Yds, 0 TD, 1 INT, 69 Passer Rating)
Rushing - J. Williams: A- (12 Rush, 55 Yds, 1 TD; 4 Rec, 42 Yds); A. Jones: C (4 Rush, 8 Yds)
Receiving - D. Adams: A- (8 Rec, 118 Yds); Cobb: B- (3 Rec, 30 Yds); Graham: C (3 Rec, 32 Yds); Valdez-Scantling: C (1 Rec, 12 Yds); Kendricks: B- (4 Rec, 27 Yds)
Defense - No Interceptions, 1 Sack (Matthews), 1 Fumble Recovery (Lowry)
Questions? Comments? Concerns? General Feedback? Would you encourage Green Bay to tank? Let me know!
Thank you and God Bless,
Samuel R. Fuller