My Thoughts on the Delly/Henson Trade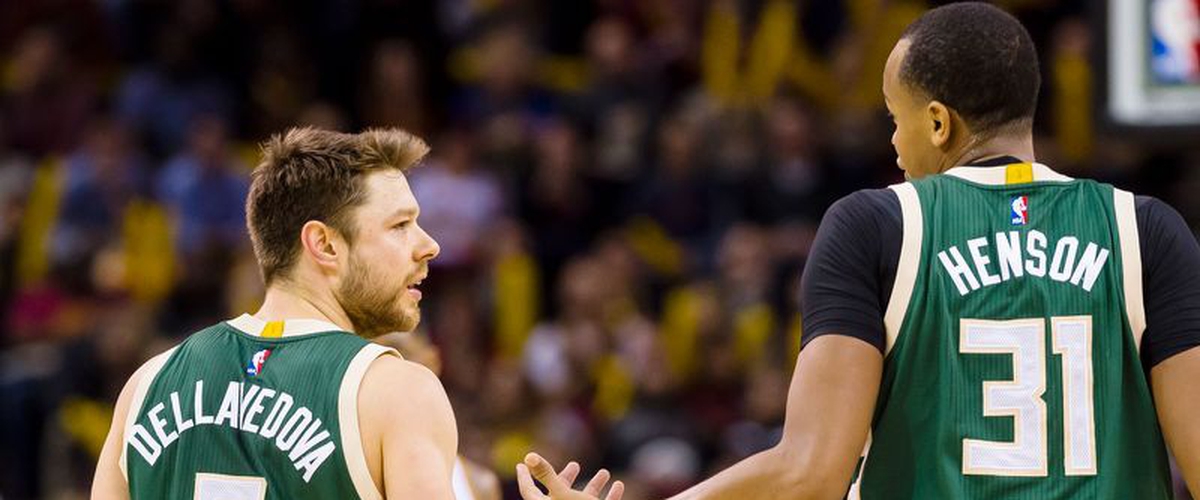 I'm driving home from work Friday night, heading back east on I-94, and I go to change a song on my phone (I wasn't feeling Jazz to start the weekend). Before I even get the chance to unlock my phone and open Spotify, I see the Bleacher Report notification on my lock screen: "Milwaukee Trades Delly Back to Cleveland."
I was stunned. Not necessarily by the Bucks moving on from the backup Point Guard, but by the rest of the trade package: John Henson and two picks, all for George Hill and Sam Dekker. It seemed like an imbalanced trade at the time, then about an hour later, more notifications arrive stating the Bucks traded Wisconsin native Sam Dekker to Washington for veteran bench warmer Jason Smith and a second-rounder. Obviously, this was a lot to take in.
Put it all together, and you have Milwaukee shedding Matthew Dellavedova, John Henson and a first round pick for George Hill and Jason Smith. Talent-wise, the Bucks were losers Friday night. However, upon further analysis of all the elements of the trade, I actually applaud Milwaukee GM Jon Horst for the move.
First, let's look at what Milwaukee gave up Friday night (I'm not counting Sam Dekker, as he's a bench player who was a Bucks player for a good hour)
John Henson
I've been screaming for years that Milwaukee needs to trade Henson. I'll give him some credit, he was actually playing some of his best basketball under Mike Budenholzer before tearing a ligament in his left wrist. Henson's out until late February, so his $11.3 Million salary was useless for a few months. His salary is the real reason he was shipped away, zero doubt about it. Brook Lopez won the starting job, and with Thon Maker due minutes and Giannis playing big man minutes in small-court sets, Henson was overpaid for his current role. Even worse, he was set to make $10.5 Million next season, while key players Khris Middleton and Eric Bledsoe become free agents this summer. Not only does dumping him to Cleveland free up needed cap space, it also removes an injured player from the roster and gives Thon Maker more opportunities to grow. Some may say him being moved elsewhere was long overdue. I am one of those people.
Matthew Dellavedova
The biggest storyline from Friday night may be Delly returning to Cleveland, but it certainly isn't the biggest impact to the Bucks' product on the floor. To be blunt, #8 looked bad this year. Some games he wouldn't even play in, and other games he'd soak up 20 minutes in the backcourt while scoring no more than two or three points a game. I understand what he brings defensively, but the two Point Guards above him on the depth chart Eric Bledsoe and Malcolm Brogdon are both decent defenders. No one should be paying $9.61 Million to an inefficient, third-string player, and that's exactly what Milwaukee was doing. Plus, he was set to make the same next season, once again following an upcoming summer where both Middleton and Bledsoe are free agents. Like Henson, Delly wasn't a great fit under Budenholzer, wasn't worth his contract, and was dumped before costing far too much next season.
2021 First Round Pick
No, I didn't forget we gave up a first-rounder. That being said, I don't feel like including it in the package was too much. Let's assume the Bucks will finish as one of the ten best teams in the NBA after the 2020/21 season. That's not crazy to guess. Giannis will be playing even more-so like an MVP, and I trust Jon Horst and Mike Budenholzer will come up with a solid gameplan to arrange the proper talent around him for a deep playoff run. This being considered, Milwaukee gives up a pick in the 20's. Really, how much value are you giving up with a pick in the 20's? Only one player taken in the 20's is averaging 21 minutes a game (Landry Shamet, Point Guard for the 76'ers) and that's due to a significant injury above him at the depth chart. Milwaukee is banking on having the required talent by that point to afford losing a first-rounder, and given their current trajectory and track record under this General Manager/Head Coach pairing, I have absolutely no reason to doubt them.
Alright, now time for the two players acquired in the salary-dump deal:
George Hill
For the second year in a row, George Hill gets traded from a bottom-dweller team to a playoff contender (all while getting paid a lot of money, too). Hill started all 13 games he played in for Cleveland this year, averaging 10.8 points per game while doing so. He's also shooting what would end as a career-high 46.4% from beyond the arc, which could really benefit Milwaukee's offense given Giannis' struggles from deep. He's also a pesky defender, so the Bucks don't lose any defensive prowess by dumping Delly for him. Hill will cost Milwaukee big time this year ($19 Million), just under what Henson and Dellavedova were earning combined. However, the Bucks can buy out his 2019/20 salary of $18 Million for just $1 Million, a deal I'm 100% positive they'll take advantage of. Essentially, they'll take in a 6th man-quality Point Guard for the rest of the year.
Jason Smith
I'm a big fan of the NBA, but I still had to Google who Jason Smith was. He averaged 3.7 points per game in less than 11 minutes per game across 12 appearances for Washington this year. He's not going to get any better at 32 years of age, but he's an experienced veteran that bears something to the front court John Henson couldn't: he can play. The last time I checked, being able to play trumps being inactive for a few months. Plus, his $5.45 Million salary is about half what Milwaukee was paying Henson for the exact same role. Even better: he's an unrestricted free agent this summer. An inexpensive, more-experienced veteran option instead of a player who possibly won't take the court until March? Well done, front office.
And the biggest winner of this three-team trade is....
Milwaukee's Salary Cap!!!
Every single piece of this multi-team deal points to freeing up salary cap space. Most fans are focused on Milwaukee's second-place standing in the Eastern Conference or the fact Giannis actually has a really good shot at winning the MVP award. Those are awesome feats to pay attention to, but Milwaukee has a BIG offseason coming up this summer. To begin, three starters all become free agents. Brook Lopez and Eric Bledsoe are outright unrestricted free agents, and Khris Middleton is most certainly going to turn down his $13 Million player option (he could earn nearly double that on the open market). George Hill's deal will be bought out and Malcolm Brogdon is a restricted free agent, meaning Milwaukee has zero Point Guards under contract for next season. Trading away John Henson and Matthew Dellavedova freed up $20.9 Million to spend this offseason, giving them a realistic shot at either bringing key pieces back or going out and pairing Giannis with another superstar (Klay Thompson, Kristaps Porzingis, DeMarcus Cousins, Kemba Walker, DeAndre Jordan, D'Angelo Russell, Tobias Harris and Nikola Vucevic are all free agents).
To sum it up, I'm a huge fan of the deal for the present and future of the Milwaukee Bucks. Well done, Jon Horst.