Sam's Grading the Pack Week 14: All Hail Joe Philbin?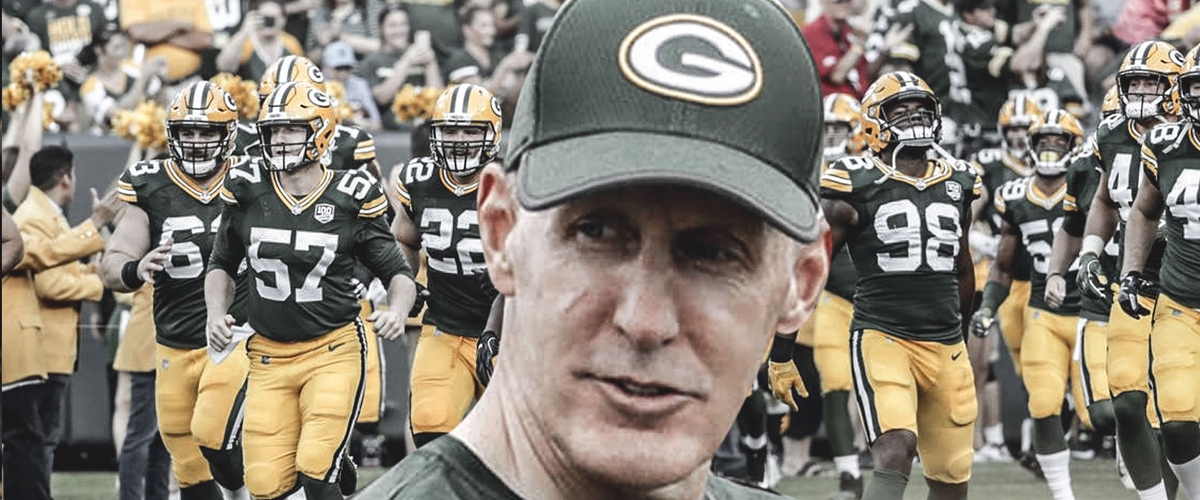 24-28. That was Joe Philbin's record in his three-and-change seasons as head coach in Miami, his only stint leading a team before. In fact, Sunday's game hosting Atlanta was the first time Philbin EVER called plays. For a play-calling debut, a 300-yard, four touchdown offensive performance is one hell of an effort.
While it won't show up on a stat sheet, Aaron Rodgers simply looked like he was having fun out there. I don't remember the last time I've seen him smile that much during a game. Winning obviously helped, but with Joe Philbin essentially handing him the offensive keys, I believe Rodgers is simply in his control-freak element now with McCarthy out of his way. Aaron Jones barely touched the ball in the first half, but once Philbin called his number more often in the second, he put together some incredible runs and added a score on the ground. Davante Adams pulled in his twelfth Touchdown of the year, and Randall Cobb tallied his first Touchdown since the season opener. The O-Line was missing three starters due to injury, but fill-ins Lucas Patrick, Justin McCray and Jason Spriggs joined leaders David Baktiari and Corey Linsley in one of the best blocking performances of the season.
On defense, Bashaud Breeland had a career game. He made an incredible read on an Interception, then quickly returned it back for a pick-six Touchdown. Kenny Clark went down briefly with an elbow injury, but thankfully recovered and returned in the game. Clay Matthews tallied the only sack of the day, and he made a few additional important rushes. Blake Martinez held his own once again, leading the team with 12 Tackles. Jaire Alexander had a decent day guarding Julio Jones, undoubtedly one of the most dangerous wideouts in the NFL. On Special Teams, Mason Crosby made two field goals 48 yards or longer and made all his extra point attempts, so a good day for the veteran. Alexander botched a punt return but thankfully recovered it, and JK Scott was average at best when punting Sunday.
OVERALL: C+
Offense: B- QB/RB: B+ WR/TE: B- OL: B-
Defense: C DL: C LB: B- DB: C+ Special Teams: C+
BEST GRADE: A+: CB Bashaud Breeland
For the first time in nine games, Davante Adams isn't mentioned in the "Best Grade" paragraph. He still posted an "A-" grade, it's just Bashaud Breeland had a career game. Green Bay's defense has been missing a playmaker, especially after trading Ha Ha Clinton-Dix. Breeland stepped up and took an interception back to the house for a pick-six, a key moment in the game. In the second half, Atlanta botched a snap and Breeland quickly scrambled to recover the fumble, essentially sealing the victory. In an injury-depleted secondary, a back-up Cornerback converting two turnovers is exactly what the Packers needed Sunday. Aaron Jones posted an "A" and veterans Aarong Rodgers and Clay Matthews joined Adams in the "A-" club, so they all earn honorable mentions.
WORST GRADE: D: CB Josh Jackson
While Jaire Alexander has blossomed into a potential Defensive Rookie of the Year, second-rounder Josh Jackson has struggled significantly in his first campaign. It was yet another week with a defensive penalty, not to mention multiple blown assignments. He's looked more like an out-of-place Free Safety than a Cornerback. He has an uphill climb if he ever wants to develop into a positively contributing corner. Jimmy Graham didn't fair much better at a "D+", mostly due to multiple drops.
MVP Watch: Davante Adams is still miles ahead of anyone else with a 3.83 GPA. Aaron Rodgers (3.38) and Blake Martinez (3.33) are the next closest, and Aaron Jones (3.27) is the only other legitimate competition for a podium spot.
STATS OVERVIEW:
Passing - Rodgers: A- (21/32, 196 Yds, 2 TD, 0 INT, 103.1 Passer Rating)
Rushing - A. Jones: A (17 Rush, 78 Yds, 1 TD; 3 Rec, 28 Yds) J. Williams: C+ (4 Rush, 17 Yds)
Receiving - D. Adams: A- (7 Rec, 81 Yds, 1 TD); Cobb: B+ (5 Rec, 43 Yds, 1 TD); Valdez-Scantling: C+ (2 Rec, 19 Yds); Graham: D+ (2 Rec, 13 Yds);
Defense - 1 Interception & Touchdown (Breeland), 1 Sack (Matthews), 1 Fumble Recovery (Breeland)
Questions? Comments? Concerns? General Feedback? Does Joe Philbin have a shot at being the next permanent head coach? Let me know!
Thank you and God Bless,
Samuel R. Fuller