Packers Mid-Camp 53-Man Roster Prediction
Instead of finishing out the rest of the positional group predictions, I thought halfway through camp would be a good time to predict who's going to make the active roster to face Chicago Week One. Roster hopefuls have had two games to make their case for a spot in Green Bay, and some have made a stronger push than others. Plenty will change between now and Labor Day weekend, but as we're sitting at about the halfway point of camp, here are the 53 players most likely to be wearing the Green and Gold come September.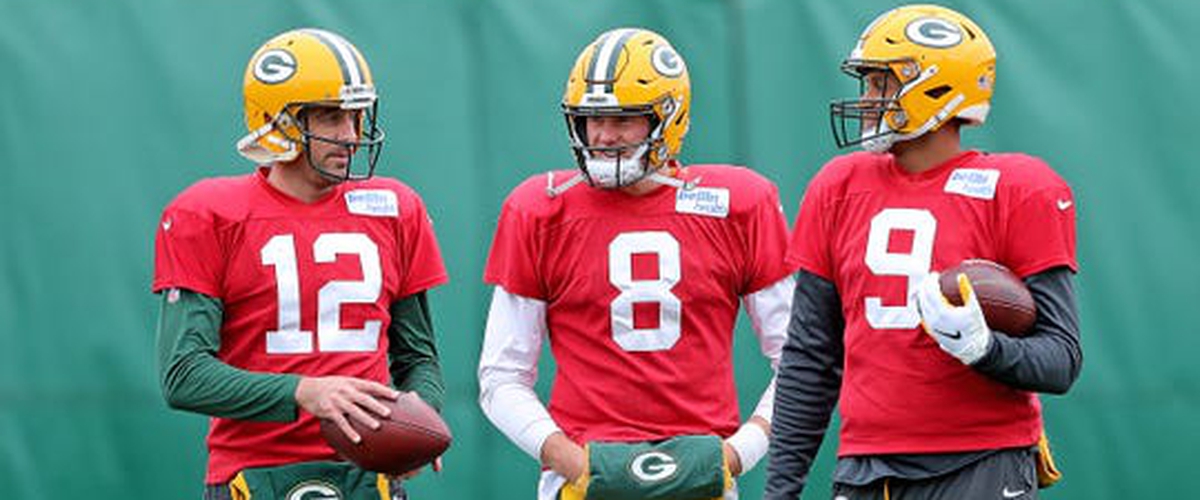 QB (3): Aaron Rodgers, Tim Boyle, and DeShone Kizer
Missed the cut: Manny Wilkins
Here's Why: Aaron Rodgers will be a Packer for life, and Green Bay proved they're willing to pay him enough to make it happen. Tim Boyle and DeShone Kizer both had rough outings in Baltimore last week, and neither look like a true QB2. This being said, I doubt GM Brian Gutekunst is going to scramble and bring in a seasoned #2 behind Rodgers (despite my suggestions). Manny Wilkins still has a shot of prying a roster spot from Boyle or Kizer, but right now, the undrafted free agent is just a likely practice squad candidate.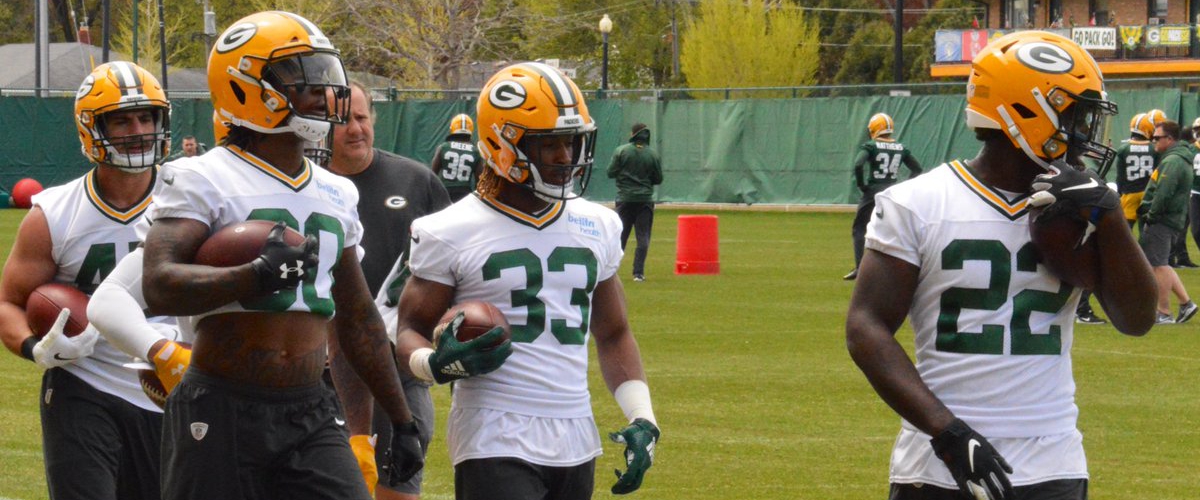 RB (4): Aaron Jones, Jamaal Williams, Dexter Williams, and Danny Vitale
Missed the cut: Tra Carson, Keith Ford, Malcolm Johnson, Tommy Bohanon, and Darrin Hall
Here's Why: Aaron Jones is a 1,000-yard back when healthy, so he's a guaranteed RB1. Jamaal Williams may not have as high of a ceiling as initially anticipated, but he demonstrated quality between-the-tackles reps as an RB2 last year and I don't expect his production to worsen in his third season. Dexter Williams, a sixth-rounder in this year's draft, has struggled with fumbling and dropping passes in camp so far, but his potential as an off-speed back coming off the bench should guarantee a roster spot regardless. If Danny Vitale is healthy, he provides quality pass blocking and special teams ability, enough to warrant keeping a Fullback full-time on the roster (which they chose not to do with Aaron Ripkowski last year). If Vitale's calf doesn't get better in the next two weeks, Malcolm Johnson and Tommy Bohanon have a much better shot of making the roster. Tra Carson isn't taking a spot from anyone, but he'd be an excellent practice squad candidate. Keith Ford and Darrin Hall are just simply not good enough for consideration.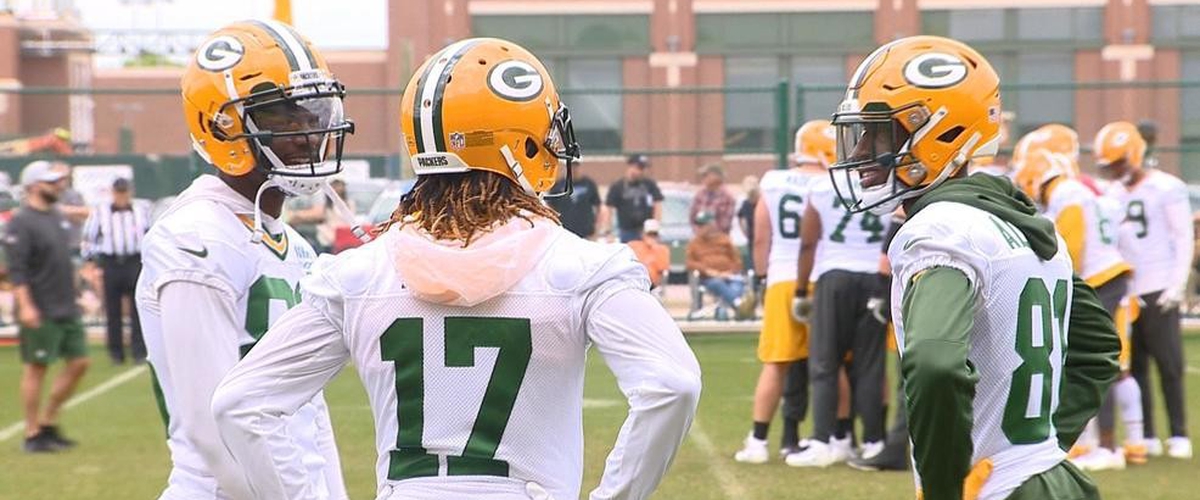 WR (7): Davante Adams, Geronimo Allison, Marquez Valdes-Scantling, Jake Kumerow, Equanimeous St. Brown, Darrius Shepherd, and J'Mon Moore
Missed the cut: Trevor Davis, Allen Lazard, Kabion Ento, Teo Redding, and Malik Taylor
Here's Why: Davante Adams is not only a WR1, he's also the top-ranked fantasy football wideout. There's a lot more questions behind Adams on the depth chart, but as of now, we have a vertical target WR2/3 on the outside in Geronimo Allison and a shifty inside WR2/3 option in sophomore Marquez Valdes-Scantling. Jake Kumerow's chemistry with #12 grows daily, and he's been the most reliable target among the backup receivers so far in preseason games. While EQ St. Brown hasn't shone in camp yet, he flashed enough potential last year and can do enough things both inside and outside to warrant the fifth receiver spot. Darrius Shepherd is playing his way onto the roster so far in camp, pulling in a Touchdown in each game while flashing some returning skills as well. J'Mon Moore is the slowest-progressed receiver among the three second-year draftees, but his potential warrants a shot as a depth option over returning specialist Trevor Davis. There's still a good chance Davis makes the roster over Moore, and there's still a decent chance Allen Lazard plays his way onto the roster over Moore AND Davis too. Kabion Ento, Teo Redding and Malik Taylor all have a long way to go before being considered for a practice squad spot, let alone on the 53-man.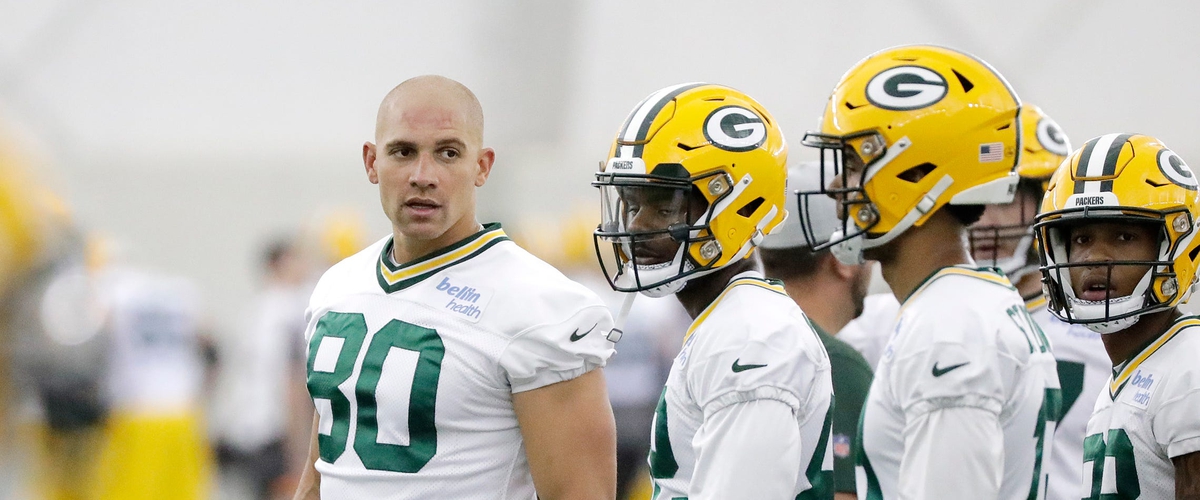 TE (4): Jimmy Graham, Marcedes Lewis, Jace Sternberger, and Robert Tonyan
Missed the cut: Evan Baylis, Davis Koppenhaver, Pharoah McKever
Here's Why: Following a disappointing debut season in Green Bay, Jimmy Graham looks to turn it around in a new offense, where he'll still be the uncontested top Tight End. Marcedes Lewis looks to have a bigger role, as he is still a multi-dimensional threat on offense despite playing into his mid-30's. Jace Sternberger is a receiving specialist who should learn a lot under Graham and Lewis, and there's a good chance he'll start seeing TE2 reps by the end of the season. Robert Tonyan's big play and special teams abilities nearly guarantee his spot on the 53-man as the fourth option. Evan Baylis, David Koppenhaver and Pharoah McKever have far too much ground to cover in order to make the active roster, and I wouldn't be surprised if all three miss the practice squad cut too.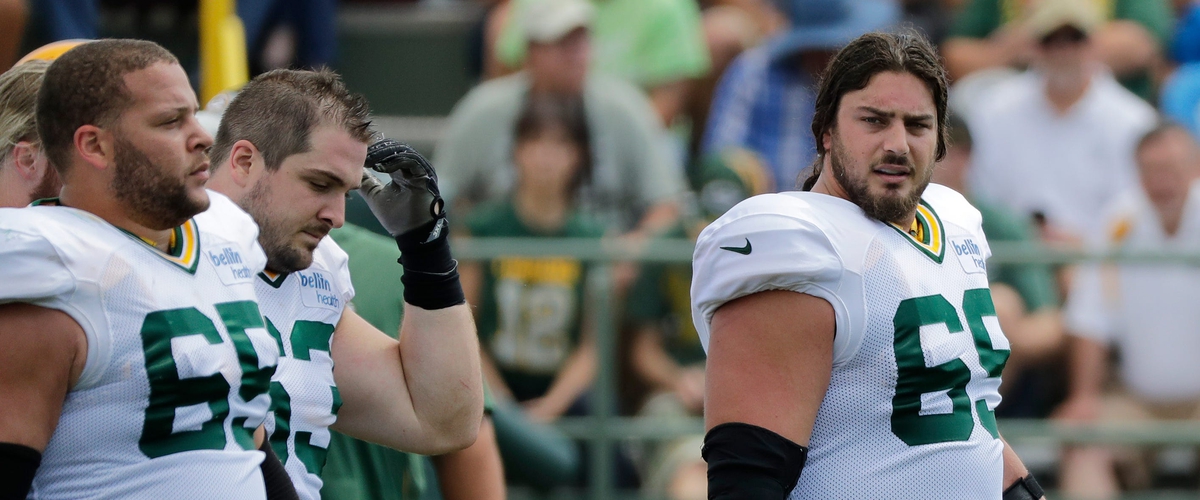 OL (9): David Bakhtiari, Lane Taylor, Corey Linsley, Billy Turner, Bryan Bulaga, Elgton Jenkins, Justin McCray, Lucas Patrick, and Adam Pankey
Missed the cut: Cole Madison, Alex Light, Anthony Coyle, Gerhard de Beer, and Yosh Nijman
Here's Why: David Bakhtiari is the best Left Tackle in the NFL, and Corey Linsley hasn't missed a snap at Center in two seasons. Billy Turner was signed back in March, and his 11 starts at Guard and Right Tackle is more than enough experience to be slotted in as a starter at Right Guard. Lane Taylor had his struggles at Left Guard last year, but he still has the edge over his younger competitors for his starting spot. Bryan Bulaga has been a thorn in my side for years, but as of now, no one is more qualified in this camp to start over Bulaga at Right Tackle. Elgton Jenkins should see backup reps at Center and both Guard spots as a rookie this year, with the long-term plan to start somewhere on the inside of the line in a year or two. Justin McCray isn't a reliable starter, but he's experienced and talented enough to be a backup Guard and Right Tackle this year. Behind those seven, there's a drop-off in both talent and experience. Lucas Patrick and Adam Pankey have been with the team longer than the other five "cut" players, and they should cover the remaining backup spots on the depth chart. Cole Madison missed all of last year with personal issues, and while his versatility at all five spots on the line could be useful, he probably needs at least one season on the practice squad to catch up on what he missed all last year. Alex Light, Anthony Coyle, Gerhard de Beer and Yosh Nijman are all either undrafted rookies or second-year bubble guys hopeful of just making the practice squad.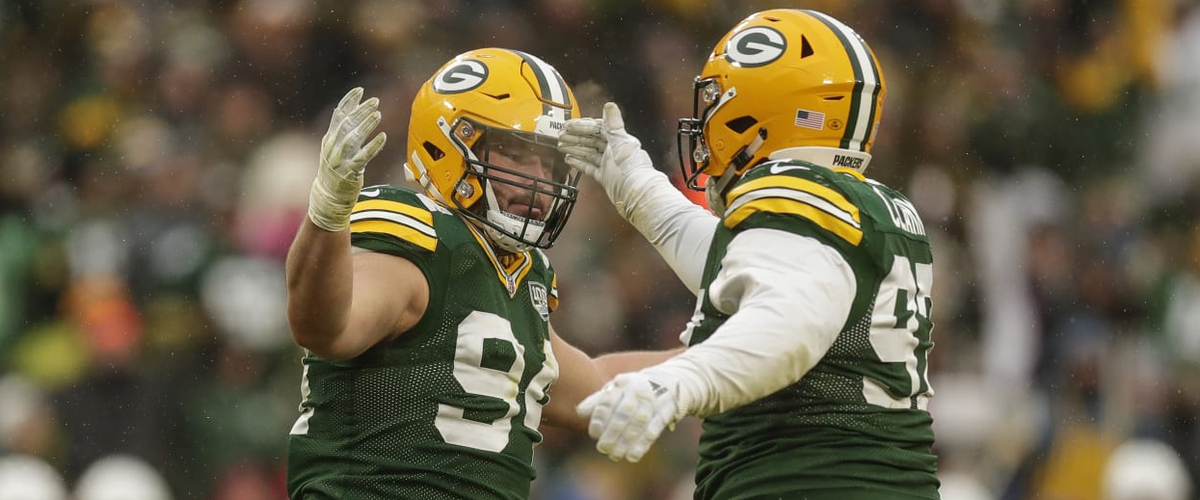 DL (5): Kenny Clark, Dean Lowry, Montravius Adams, Kingsley Keke, and Tyler Lancaster
Missed the cut: Deon Simon, Fadol Brown, James Looney, Greg Roberts, and Olive Sagapolu
Here's Why: Kenny Clark is an All-Pro D-Lineman when healthy, and Green Bay needs him to play as much as possible, simple as that. Dean Lowry saw starter-level snaps a lot last year, and he showed enough to warrant a three-year extension, essentially guaranteeing him a starting spot on the end of the line if he's healthy. Montravius Adams is DC Mike Pettine's pick for most improved player on defense, and if that's the case, he may see the third-most reps on the line this year after solely coming off the bench in 2018. Kingsley Keke is a toolsy-yet-raw lineman who can attack a variety of gaps from the inside, and the Rookie is on pace to be a second-stringer in 2019. Tyler Lancaster was an undrafted rookie last season who stepped up big time in December when most of the D-Linemen were out injured. He's shown enough skill that if healthy, he should have a backup job and see a good share of reps in run stopping sets. Deon Simon is a Nose Tackle who spent most of 2018 on Green Bay's practice squad, but he, Fadol Brown and James Looney will have to do more than what they did last year for the Packers if they want a shot at making the active roster. Greg Roberts is a multi-positional wildcard at 6'5" and 260 pounds, but he's been dormant so far in camp and he's already buried on the depth chart in a cuttable spot. Olive Sagapolu is an undrafted rookie from Wisconsin that, despite his athleticism, hill have to show a lot more if we wants to steal a practice squad spot from his fellow linemen.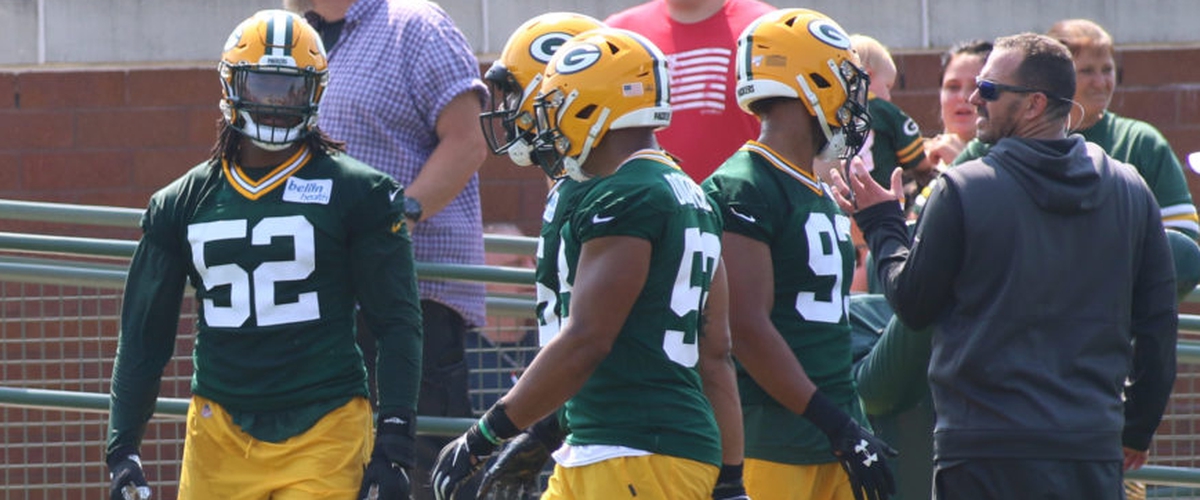 OLB (5): Preston Smith, Za'Darius Smith, Rashan Gary, Kyler Fackrell, and Reggie Gilbert
Missed the cut: Brady Sheldon, Randy Ramsey, and Markus Jones
Here's Why: Through four seasons, Preston Smith hasn't missed a single game, tallying 24.5 Sacks and earning a big contract from Green Bay. Likewise, Za'Darius Smith only missed six games over the same amount of time, and he tallied 8.5 Sacks in his first year starting at least half the time on the outside. Rashan Gary was taken 12th overall by Green Bay, and where he lines up at the next level is still to be determined by Mike Pettine. Gary can attack inside, outside and edge gaps, but he may need a bit of time to figure out what type of NFL player he can be. Kyler Fackrell came out of nowhere to tally 10.5 Sacks in 2018, and him standing as arguably the fourth-best edge rusher says a lot about how much change this position group underwent (and deservingly so). Reggie Gilbert is on the bubble, but unless his competition steps it up in the second half of camp, I don't see why you'd give his spot to Brady Sheldon, Randy Ramsey or Markus Jones over Gilbert. Out of those three, right now I'd say Sheldon is the most likely to make the practice squad.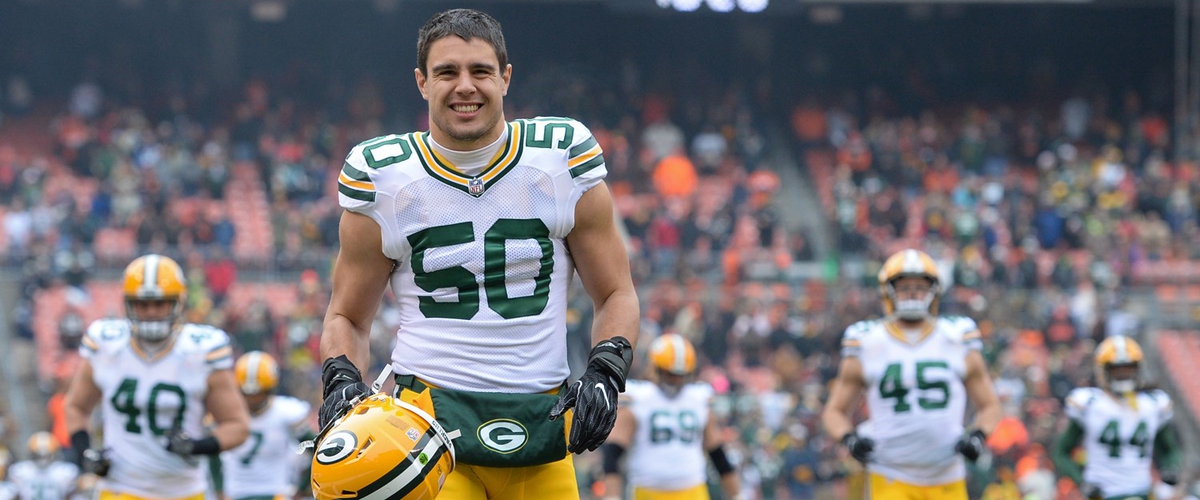 ILB (3): Blake Martinez, Oren Burks, and Ty Summers
Missed the cut: James Crawford and Curtis Bolton
Here's Why: Blake Martinez is an All-Pro Inside Linebacker, and he's instrumental to this defense's success. Oren Burks struggled as a rookie last year, especially regarding his health, and a pectoral issue may sideline him once again. I give Ty Summers the edge for the third roster spot over James Crawford and Curtis Bolton, just based on how camp and the first two preseason games have gone, but that spot is up for grabs among the three. Middle Linebacker is still one of the weakest positions depth-wise, so I wouldn't be surprised to see Brian Gutekunst make a deal before the season opener to bring in more talent behind Martinez.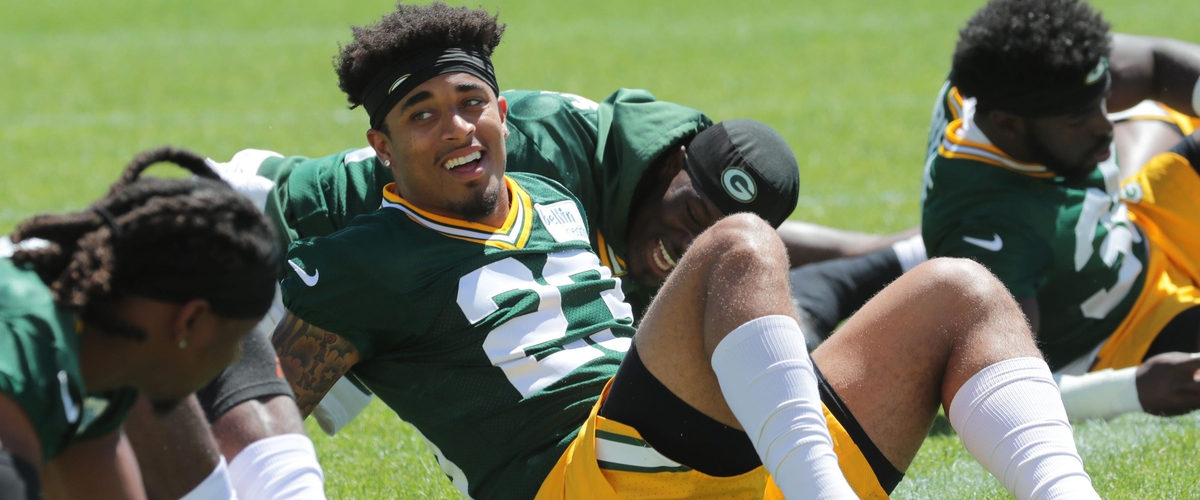 CB (6): Jaire Alexander, Kevin King, Tramon Williams, Josh Jackson, Tony Brown, and Ka'dar Hollman
Missed the cut: Will Redmond, Michael Tyson, Chandon Sullivan, and Nydair Rouse
Here's Why: Jaire Alexander may take a good amount of reps in the slot, but make no mistake about it: he's the top corner. Kevin King is very close to returning to full health, and if he can finally stop getting injured, there's enough talent and potential there to warrant CB2 responsibilities. Tramon Williams is far past his prime, but I'm hoping a move back to Cornerback after a failed attempt as a starting Free Safety will be good enough for CB3 level reps. Josh Jackson had plenty of struggles during his rookie year in 2018, but his ball-hawking and all-around potential is still more than enough to guarantee a spot on the bench. Tony Brown has played as well as any defensive back in camp, and while he's the CB5 in my current depth chart, he could easily move up in a hurry. Ka'dar Hollman has simply outplayed the converted Safety Will Redmond for the sixth Cornerback spot. I doubt they expand this position to seven corners, especially since Michael Tyson, Chandon Sullivan and Nydair Rouse haven't done much to enter the active roster conversation so far in camp.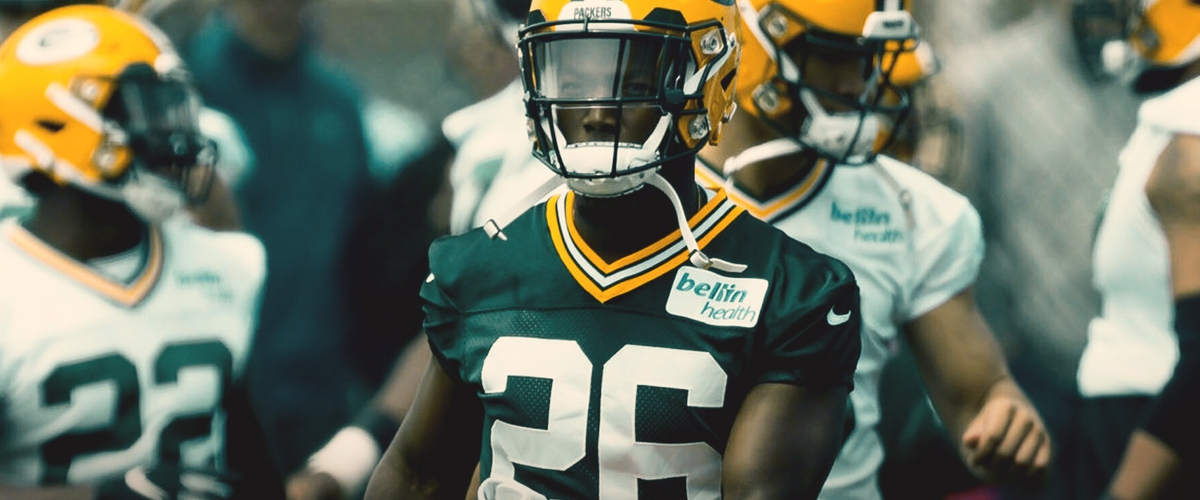 S (4): Adrian Amos, Darnell Savage, Raven Greene, and Ibraheim Campbell
Missed the cut: Josh Jones, Natrell Jamerson, and Tray Matthews
Here's Why: Adrian Amos was signed to replace Ha Ha Clinton-Dix and Kentrell Brice as a starting Safety, especially following career highs in starts (16), Interceptions (2) and Tackles (73) in 2018. Darnell Savage is a ballhawking Safety with tons of potential, and Green Bay drafted him 21st overall back in April to start opposite of Amos right away. Raven Greene flashed talent on special teams and occasionally in sub packages last year, and right now he's done enough to deserve a spot as a backup. The fourth Safety spot is an interesting one, as I believe Ibraheim Campbell is more deserving of the #2 Strong Safety job over Josh Jones, who just hasn't panned out (and already got kicked out of camp this year). Natrell Jamerson still has a shot at a backup spot too, but he'll have to flash more talent and potential in these last two preseason games. Tray Matthews needs to do more overall in order to get serious consideration for a practice squad spot.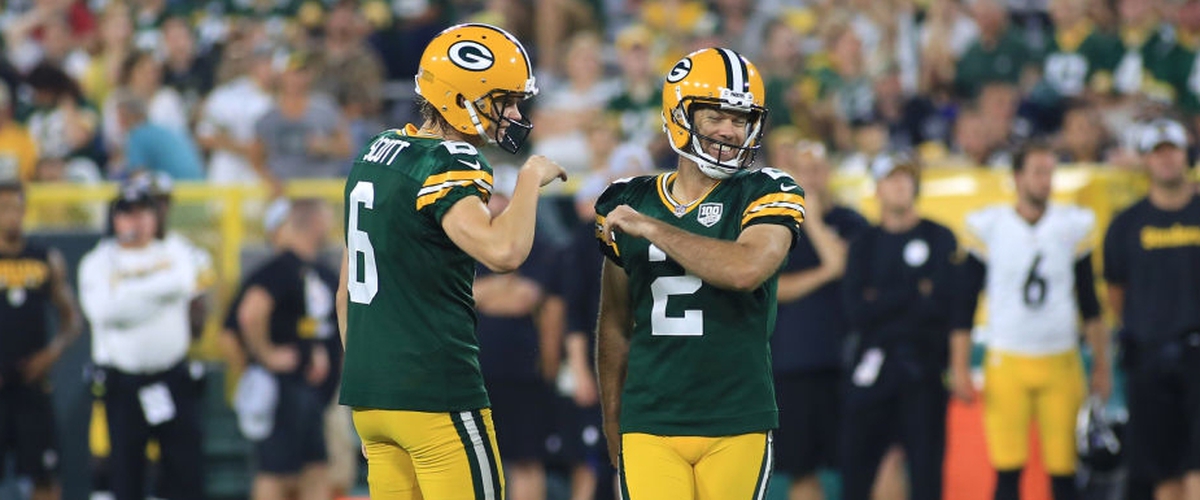 ST (3): Mason Crosby (K), JK Scott (P), and Hunter Bradley (LS)
Missed the cut: Sam Ficken (K)
Here's Why: Veteran Mason Crosby has done enough to keep his job over the younger competition in Sam Ficken, although a couple bad weeks of camp could change everything. JK Scott and Hunter Bradley are the only specialists at their specific positions, so they can rest easier than most others in camp.
Thoughts? Opinions? Let me know!