Fuller's Packers Report Card - Week 1: The Bears Still Suck and WE HAVE A DEFENSE?!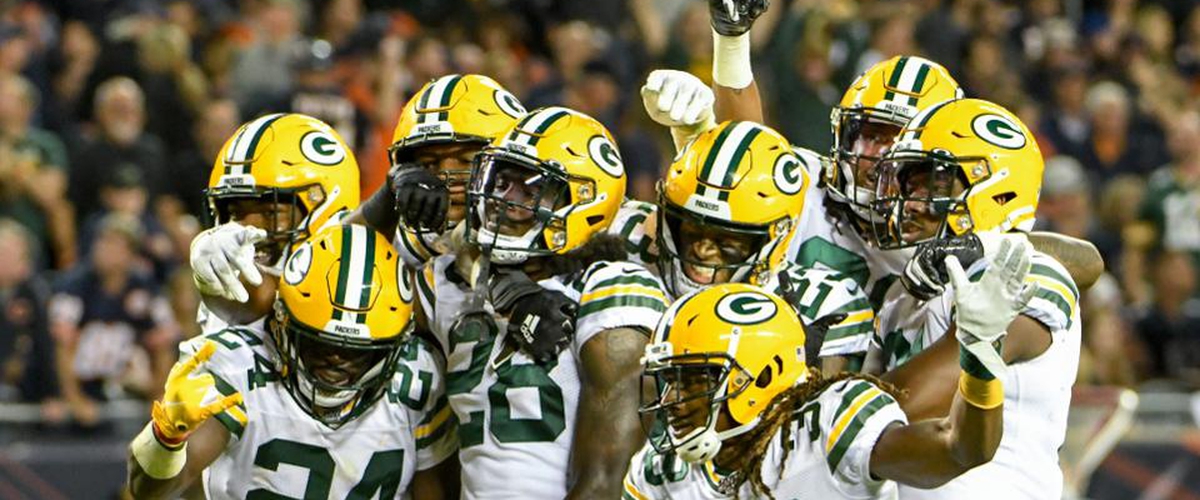 THE PACK IS BAAAAAAAACK! So is my grading of the Green and Gold, and I'm not going to lie, I was a bit nervous about this one. It was Matt LaFleur's first game as an NFL head coach and the defense features key newcomers that might face a bit of a learning curve. There was NO learning curve on defense last night.
First, the bad: Aaron Rodgers didn't have much time in the pocket due to a blitz-heavy, talented Bears defense facing an underperforming offensive line, and there was still a degree of miscommunication between #12 and the rest of the offense in Game 1. Aaron Jones couldn't average more than three yards per carry, and the team's 16% Third Down Conversion rate (2-for-12) is a MAJOR issue that damn well better get addressed moving forward.
Now, the good: The defense! Holy crap, I've never seen such efficient and effective coverage through all four quarters from a Packers defense. Kenny Clark held down the D-Line that he now anchors, Blake Martinez tallied a sack and naturally led the team in tackles, and the new Outside Linebackers Preston Smith and Za'Darius Smith both constantly blew up the backfield and combined for two sacks and a half-dozen tackles for loss. The icing on the cake was extra sweet too, with former Bears Safety Adrian Amos picking off his old QB with only two minutes left to go to essentially seal the game. Oh, and last but not least: the MVP of the opener, Punter JK Scott booted nine beauties to prevent Chicago from getting any field position advantage, a huge catalyst for a fantastic three-points-allowed defensive performance.
OVERALL: C+
Offense: D+ QB/RB: C WR/TE: B- OL: D
Defense: B+ DL: B- LB: B+ DB: B+ Special Teams: B+
BEST GRADE: A: P JK Scott
There's a handful of key contributors on defense that earned A- grades, but the all-around best performer was, well, the punter. How much did Green Bay struggle on offense, especially on third down? Scott punted NINE times, with an average of 47.6 Yards and the longest punt standing at 63 yards. When Rodgers & Co. couldn't contribute, Scott consistently prevented Chicago from getting good field positioning. Tarik Cohen couldn't make a difference on special teams, and without Scott's big leg, this game could've easily gone the other way.
WORST GRADE: D-: G Billy Turner
The right side of the O-Line has landed in my "Worst Grades" section frequently over the past few years, but I wasn't expecting the free agent addition Billy Turner to be the worst performer of the night. He was solely responsible for two sacks on third down, and was partially responsible on two other sacks. That's four of the team's five sacks surrendered, and this wasn't even against Khalil Mack - he was guarding Roy Robertson-Harris as much as anyone. With high-potential rookie Elgton Jenkins waiting in the wings, Turner has a short leash when it comes to blocking lapses. His silver lining? Lane Turner, the other starting Guard, only performed slightly better with a "D" grade.
MVP Watch: If the season was only one game, JK Scott would be your MVP. Moving forward, I would expect the new standout defensive performers (Adrian Amos, Preston Smith & Za'Darius Smith) to all have a solid shot, and I wouldn't count out last season's top three (Davante Adams, Blake Martinez and Aaron Rodgers) out either.
STATS OVERVIEW:
Passing - Rodgers: B- (18/30, 203 Yds, 1 TD, 0 INT, 91.4 Passer Rating)
Rushing - A. Jones: C- (13 Rush, 39 Yds; 1 Rec, 0 Yds); J. Williams: C- (5 Rush, 0 Yds)
Receiving - Adams: B- (4 Rec, 36 Yds); Valdez-Scantling: B (4 Rec, 52 Yds); J. Graham: B+ (3 Rec, 30 Yds, 1 TD)
Defense - 1 Interception (Amos), 5 Sacks (P. Smith 1.5, Martinez, King, z. Smith, K. Clark 0.5)
Questions? Comments? Concerns? General Feedback? Holy hell, are we a defensive team now? Let me know!
Thank you and God Bless,
Samuel R. Fuller