Brewers Season In Review: Rebuild Is Ahead Of Schedule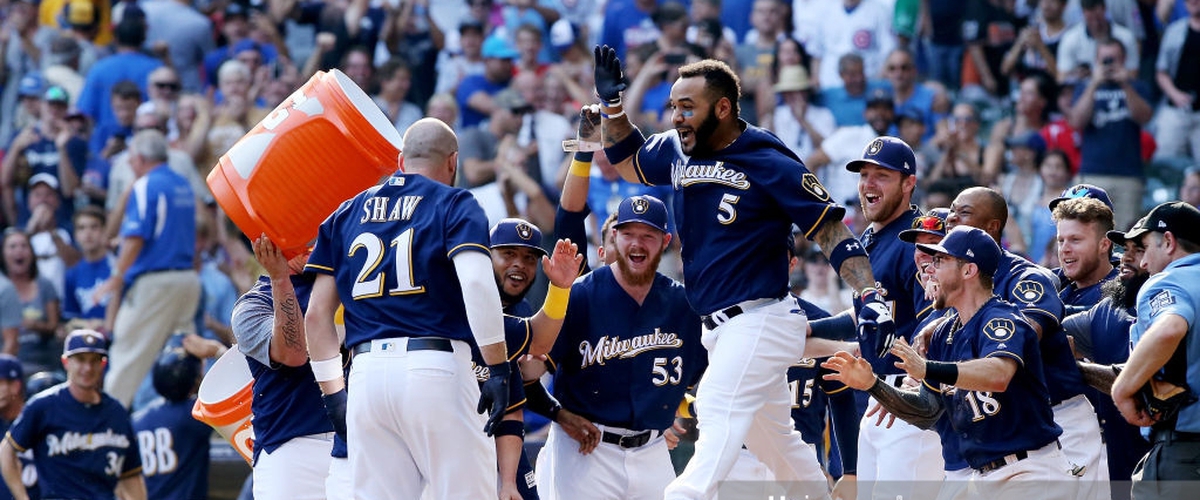 The 2017 Milwaukee Brewers were supposed to be "The Island of Misfit Toys", and in a sense, they definitely were. However; this haphazard roster wasn't even supposed to have a winning record this season, let alone go 86-76 and be two games away from playing in the NL Wild Card game. Sure, some people will see this season and feel let down because they had a five game lead at the All-Star break, but let's face it, the Chicago Cubs were a better team and the Brewers weren't going to trade away what they worked hard for during their rebuild for a single push. What should be noted is that they don't have any All-Star key pieces that are in their last few good years, demanding a playoff push and as soon as possible (I'm looking at you, Milwaukee Bucks). This team certainly had elements of a playoff team, and if Jimmy Nelson and Chase Anderson stayed healthy down the stretch, this Brewers team could have been one. What this season's results boil down to is the Brewers need to win close games. They just couldn't finish the deal. There were far too many one or two run losses for a team as talented as the Brewers. If they can find a way to either keep their bullpen good when it counts, or finally find an offensive push (less long ball, more small ball) in the last few innings, this Brewers team could easily find themselves keeping their divisional lead and landing a spot in the 2018 playoffs for the first time in seven years. Keep on keepin' on, David Stearns.
STARTING ROTATION:
1. Jimmy Nelson: 12-6, 3.49 ERA, 199 K's, 1.25 WHIP, 3.3 WAR
2. Zach Davies: 17-9, 3.90 ERA, 124 K's, 1.35 WHIP, 2.9 WAR
3. Chase Anderson: 12-4, 2.74 ERA, 133 K's, 1.09 WHIP, 4.1 WAR
4. Matt Garza: 6-9, 4.94 ERA, 79 K's, 1.45 WHIP, -0.2 WAR
5. Brent Suter: 3-2, 3.42 ERA, 64 K's, 1.29 WHIP, 1.7 WAR
6. Junior Guerra: 1-4, 5.12 ERA 67 K's, 1.48 WHIP, -0.1 WAR
Jimmy Nelson was still the Ace in the rotation, but when the whole rotation was healthy, he wasn't the best pitcher on the staff. When HEALTHY, key word, Chase Anderson was absolutely the ace. He missed eight starts due to injury, so if you average his stats over 33 healthy starts, his stat line would have been 16-6, 2.74 ERA and 176 K's. That's an absolutely phenomenal year, and hearing the occasional "if he was healthy, he'd be on the Cy Young shortlist" conversation from local sports broadcasters wasn't ridiculous. His WAR was the best among all pitchers, starting and relief, and that alone should excite Brewers fan for what Anderson can put together next season. Jimmy Nelson had some rough starts, but going from 140 to 199 strikeouts and an ERA improvement from 4.62 to 3.49 shows promise in the right direction from the #1. He'll be a force in the front end of the rotation next year as well. If you want to talk about anomalies, Zach Davies should not have gotten 17 Wins given his ERA and inconsistency, but for some reason the batters always came out and supported Davies whenever he was on the mound. His 3.90 ERA should have been better, but it's still a slight improvement from a 3.97 last season. It should be noted that he was the only pitcher that started all 33 games possible. His strikeout numbers actually went down by 11. If he can find some consistency and not give up runs early next season, he could absolutely be the best Brewers pitcher in the rotation next season. Matt Garza on the other hand shouldn't even be on an active roster. He has been my least favorite Brewer for the past three season, and for a good reason. His horrid numbers from 2016 actually got worse, as he had the same amount of wins and one more loss, a worse ERA and WHIP, and a worse K/9 ratio as well. With the emergence of pitchers coming up from AAA next season, there is no reason why he should be on the 25-Man roster come April. Speaking of emerging pitchers, Brent Suter was a pleasant surprise this season. After just a couple start last September call-ups, Suter made 14 starts due to other starters' injuries and simply failures on the mound, and if you average his stats over a starter's healthy 33 start workload, that's a stat-line of 7-4, 3.42 ERA and 151 K's. That's a pretty good year. His 1.4 WAR for a guy who started only 42% of potential starts is equally impressive. Given any free agency acquisitions or Spring Training breakthroughs, Brent Suter should be the #4 starter come 2018. Junior Guerra couldn't stay healthy, nor find his 2016 form that brought an astounding 2.81 ERA. He's north of 30 and with young arms coming through the ranks, it's more likely than not that he won't be in the rotation come April. Two other starters that weren't mentioned are Wily Peralta and Brandon Woodruff. Wily is just not a major league pitcher anymore, but Woodruff is my current favorite to be the #5 starter for 2018 given his 8 starts this fall.
BULLPEN:
1. Corey Knebel: 1-4, 1.78 ERA, 126 K's, 1.16 WHIP, 39 Saves, 76 Innings, 14.9 K/9, 3.7 WAR
2. Jacob Barnes: 3-4, 4.00 ERA, 80 K's, 1.25 WHIP, 2 Saves, 72 Innings, 10.0 K/9, 0.4 WAR
3. Carlos Torres: 4-4, 4.21 ERA, 56 K's, 1.53 WHIP, 1 Save, 72.2 Innings, 6.9 K/9, 0.3 WAR
4. Jared Hughes: 5-3, 3.02 ERA, 48 K's, 1.22 WHIP, 1 Save, 59.2 Innings, 7.2 K/9, 1.2 WAR
5. Oliver Drake: 3-5, 4.44 ERA, 59 K's, 1.50 WHIP, 1 Save, 52.2 Innings, 10.1 K/9, 0.2 WAR
6. Josh Hader: 2-3, 2.09 ERA, 68 K's, 0.99 WHIP, 0 Saves, 47.2 Innings, 12.8 K/9, 1.8 WAR
7. Anthony Swarzak: 2-1, 2.08 ERA, 39 K's, 1.03 WHIP, 1 Save, 29 Innings, 12.1 K/9, 0.9 WAR
8. Jeremy Jeffress: 4-0, 3.65 ERA, 22 K's, 1.58 WHIP, 0 Save, 24.2 Innings, 8.0 K/9, 0.4 WAR
This bullpen had their ups and downs, the downs unfortunately coming down the stretch, but overally it was a pretty good year for Brewers relievers. Corey Knebel completely earned his All-Star nod by finishing third in saved (39) and leading all MLB relievers in strikeouts (126) and K/9 ration (14.9). I don't think I've seen as dominant of a year by a Brewers reliever in my lifetime. He's up for arbitration this season, but if I were David Stearns, I'd lock Knebel up long-term ASAP. Jacob Barnes went from pitching 26 innings in his 2016 rookie campaign to a whopping 72 this year, and he flirting with triple digits on the radar gun quite frequently. While his 80 K's were nice, his 4.00 ERA proves he needs to be more consistent in late innings if he wants to keep seeing 70+ game seasons. Carlos Torres also pitched 72 Innings, but his stat line looked much worse. A 4.21 ERA and a WHIP above 1.5 demonstrates his issues. I feel like every other Brewers game I watched after the All-Star break, Carlos Torres would come in and load the bases and give up a few runs. He's north of 30 and entering arbitration, so if I was GM, I wouldn't bring Torres back next year. Jared Hughes was the only full-season non-closing reliever with a good ERA (3.02), and his consistency in a bullpen lacking it could be appreciated next year as well. Oliver Drake certainly had the strikeouts coming (10.1 K/9), but a 4.44 ERA and 1.50 WHIP shows he simply gave up too many hits and runs. He'll have something to prove if he wants to make the 25-man roster come April. Josh Hader was undoubtedly the most pleasant surprise of the year. The former promising starting prospect, Hader was called up as a rookie to help out in the bullpen, and oh boy he did. A killer 2.09 ERA combined with a WHIP under 1 and a 12.1 K/9 ratio was jaw-dropping for a rookie reliever. Look for him to excel in an Andrew Miller-like fashion in the 6th and 7th innings again next year. Anthony Swarzak was a genius July acquisition, and in his half-season of work, he posted a 2.08 ERA with a 1.03 WHIP and 12.1 K/9 ratio, an astounding stat line. He's an unrestricted free agent, and while he'll likely get signed for a good chunk of cash this offseason, if the Brewers can bring him back they absolutely should. I loved Jeremy Jeffress when he was the closer before he was traded to the Rangers, but after reqcquiring him in 2017, he did not look like his former self. Despite a 4-0 record, he posted a 3.65 ERA and a 1.58 WHIP, simply giving up too many hits. He used to be a strikeout monster too, but that wasn't seen this year either. He also blew two potential wins in the last week of the season, ultimately dooming the Brewers' playoff hopes. I'm not saying Jeffress is the reason the Brewers missed the playoffs, but he needs to be significantly better in late inning situations if he wants to see the mound at all next year.
CATCHERS (by usage):
1. Manny Pina: .279 Avg, 9 HRs, 43 RBIs, .327 OBP, .424 Slug, .751 OPS, 2 SB, 359 PA's, 2.6 WAR
2. Jett Bandy: .207 Avg, 6 HRs, 18 RBIs, .287 OBP, .349 Slug, .636 OPS, 1 SB, 188 PA's, -0.6 WAR
3. Stephen Vogt: .254 Avg, 8 HRs, 20 RBIs, .281 OBP, .508 Slug, .789 OPS, 0 SB, 129 PA's, 0.3 WAR
4. Andrew Susac: .083 Avg, 0 HRs, 0 RBIS, .083 OBP, .083 Slug, .167 OPS, 0 SB, 12 PA's, -0.2 WAR
The biggest Spring Training question mark was on the Catcher position, and it began as a three-legged dog for opening day. Even with injuries and a claim off of waivers, Manny Pina emerged as a formidable starting catcher. At a position where players honestly aren't expected to hit so well, Pina put up a .279 Average with 9 Homers, 43 RBI's and the third-best WAR (2.6) out of all batters. His hitting was good, but his fielding was impeccable. I can't remember another Brewers catchers that had the release and lightning-fast instincts like Pina possesses. The job is all his in 2018. Jett Bandy, the favorite to get the most reps in March, had a not so good campaign, albeit marred with injury. Still, when he did play, he only scraped together a .207 Average and a .349 Slugging, not to mention the worst WAR (-0.6) out of all batters. Barring injury, look for him to start out in AAA come April. Stephen Vogt was an interesting waiver pick-up, and his leadership did not go unnoticed. His .254/8/20 split was impressive for only 129 PA's with the Brew Crew, and he wasn't a defensive liability behind the plate either. A bigger power threat than Pina, expect Vogt (if brought back through arbitration) to be a key player coming off the bench and filling in behind the plate when needed. Andrew Susac is only really included because he was a potential starter at the end of Spring Training, but he'll be a non-factor guy joining Bandy in AAA in 2018.
INFIELDERS (by usage):
1B: Eric Thames: .247 Avg, 31 HRs, 63 RBI, .359 OBP, .518 Slug, .877 OPS, 4 SB, 551 PA's, 1.4 WAR
2B: Jonathan Villar: .241 Avg, 11 HRs, 40 RBIs, .293 OBP, .372 Slug, .665 OPS, 23 SB, 436 PA's, 0.1 WAR
SS: Orlando Arcia: .277 Avg, 15 HRs, 53 RBI, .324 OBP, .407 Slug, .731 OPS, 14 SB, 548 PA's, 2.6 WAR
3B: Travis Shaw: .273 Avg, 31 HRs, 101 RBIs, .349 OBP, .513 Slug, .862 OPS, 10 SB, 606 PA's, 4.0 WAR
IF: Hernan Perez: .259 Avg, 14 HRs, 51 RBIs, .289 OBP, .414 Slug, .704 OPS, 13 SB, 458 PA's, 1.0 WAR
IF: Jesus Aguilar: .265 Avg, 16 HRs, 52 RBIs, .331 OBP, .505 Slug, .837 OPS, 0 SB, 311 PA's, 1.3 WAR
IF: Eric Sogard: .273 Avg, 3 HRs, 18 RBIs, .398 OBP, .378 Slug, .770 OPS, 3 SB, 299 PA's, 1.9 WAR
IF: Neil Walker: .267 Avg, 4 HRs, 13 RBI, .409 OBP, .433 Slug, .843 OPS, 0 SB, 149 PA's, 0.5 WAR
No player in baseball got to a hotter start than Eric Thames. He became a national story and a feel-good message to players trying to make a comeback in the league. He could very well end up with the MLB Comeback Player of the Year. His 31 Homers, about 2/3 of which came before the All-Star break, is astounding for a player who spent the last two years in Korea. His average (.247) could have been better, and his RBI total (63) would have been higher if he didn't bat first or second so often, but all around he had a formidable return season as a power-hitting first baseman. Being north of 30 and having a major decline in the second half, it will be interesting to see how many of his at bats will be taken by Jesus Aguilar come 2018. Jonathan Villar spent a good portion of the season coming off the bench, but his number of plate appearances technically puts him as the starting second baseman. His stats show a relatively average year, but when you look at the footage, Villar simply made a lot of dumb mistakes. He was picked off, caught stealing, made stupid errors, struck out far too often, and the supposed lead-off man who led the NL in stolen bases last year had less than half of his steals total (23) mostly because he couldn't ever get on base (.293 OBP). He was fast, sure, but he was a total liability and the last thing a playoff pushing team wants to put on the field. He's really got to show more of the 2016 Villar form next year if he wants to see anywhere close to 436 Plate Appearances. Orlando Arcia played like the top prospect he's been touted as for years - and then some. He's honestly already as good of a fielding shortstop as anyone in the league (fight me on that) and he found a never-before-seen pop of power (15 HRs) while posting the third-best WAR (2.6) among Brewer hitters. He's developing into a key five-tool shortstop for years to come. Travis Shaw made David Stearns look like a genius for trading for him. His .273/31/101 line is insane for a first-year starter, and his 4.0 War lead the entire team. Undeniably the most consistent hitter on the roster, Shaw will be a, if not THE, key piece in the Brewers' playoff efforts come 2018. Hernan Perez was the utility man once again, and while he proved why he should be on the field, his sneaky power (14 HRs) and speed (13 SB) make him a solid option in the same role and usage next year. Jesus Aguilar was known to be a power threat, as he led all of AAA in home runs last year, but he demonstrated good contact (.265 Avg) and patience (.333 OBP) to shine as an all-around good hitter (.837 OPS). He should definitely see more at-bats coming his way, and if he flashes dual-threat power and contact in spring training, he might just become the everyday first baseman over Eric Thames before the 2018 All-Star break. Eric Sogard was possibly the most underappreciated player on the roster down the stretch. Coming up from AAA, he got off to a crazy hitting streak and batted over .400 for a while, but by the end of the year, he finished with a .273 Average while making clutch defensive plays and genius base-running decisions. Whatever Jonathan Villar lacked, he excelled at. His 1.9 WAR, higher than Perez, Villar and Neil Walker, shows exactly what he contributes to a team: wins. His veteran presence and abilitiy to maintain very long at-bats proves why he earned a 1-Year contract to fight for the Second Base starting job in 2018. The other contender for the Second Base job is Neil Walker, and even in his limited time with the Brewers, he proved his worth at the plate with a .409 On Base Percentage and .843 OPS. His $17.2 Million salary was a burden for the small-market Brewers to bear, and given his age and unrestricted level of free agency, the Brewers should be equally okay with letting him go or bringing him back for cheaper.
OUTFIELDERS (by usage):
LF: Ryan Braun: .268 Avg, 17 HRs, 52 RBIs, .336 OBP, .487 Slug, .823 OPS, 12 SB, 425 PA's, 1.2 WAR
CF: Keon Broxton: .220 Avg, 20 HRs, 49 RBIs, .299 OBP, .420 Slug, .719 OPS, 21 SB, 463 PA's, 0.4 WAR
RF: Domingo Santana: .278 Avg, 30 HRs, 85 RBIs, .371 OBP, .505 Slug, .875 OPS, 15 SB, 607 PA's, 3.0 WAR
OF: Brett Phillips: .276 Avg, 4 HRs, 12 RBIs, .351 OBP, .448 Slug, .799 OPS, 5 SB, 98 PA's, 1.4 WAR
OF: Lewis Brinson: .106 Avg, 2 HRs, 3 RBIs, .236 OBP, .277 Slug, .513 OPS, 1 SB, 55 PA's, -0.4 WAR
OF: Kirk Niewenhuis: .115 Avg, 1 HR, 1 RBI, .258 OBP, .269 Slug, .527 OPS, 1 SB, 31 PA's, -0.2 WAR
Arguably the best batter on the 2016 Brewers was Ryan Braun, but that player didn't show up a year later. His .305/30/91 line was near MVP-worthy, but .268/17/52 is just a decent starting outfielder. At 33, I don't know if he can get back to the 2016 form, and I'd be more than open to listening to Trade Deadline offers come next July. Despite striking out far too often, Keon Broxton ended up racking 20 Homers with 21 Stolen Bases. He also made some incredible catches, but with an inability to get on base (.299 OBP) and a worse Slugging (.420) than his outfield counterparts (.487, .505), he's going to have to fight to get starting reps next year. Domingo Santana was either really hot or really cold, but his ending line of .278/30/85 while flashing a cannon of an arm and some decent speed (15 SB), he's developing into a five-tool Right Fielder of the future. Brett Phillips proved there's more to him than his infections laugh this season. In less than 100 PA's, he flashed decent contact and power (.799 OPS). If you spread out his numbers over a full season, it's a .276/20/60 Line with 25 Steals. That's a quality year. He also already has one of the best arms in all of baseball (MLB Pipeline gave his throwing a perfect score). With a WAR a whole win better than Keon Broxton, he could potentially be the everyday Center Fielder sooner than later. A longer outfield project is Lewis Brinson. His stats were flat out bad, and his WAR (-0.4) was the second-worst on the entire team. The #1 prospect still has a ton of potential and a lot of time to grow, but he might not be a factor until 2019. Kirk Niewenhuis is really only on here because he saw the field enough to qualify, but he's nothing more than a AAA injury replacement going forward.
OVERALL:
The playoff push was valuable experience for this young and growing team. A lot of new characters put up some good numbers, and having some experience with having a fire lit under their asses should beneficially prepare them for another playoff run next year. When Jimmy Nelson returns from injury, he'll join Zach Davies and Chase Anderson in a successful front end of the rotation with Brent Suter and Brandon Woodruff, as well as any free agent acquisitions, at the back end. Josh Hader could enter the rotation, but if not, he'll bolster a bullpen with Corey Knebel & Co. Manny Pina earned the starting catcher role, Eric Thames and Jesus Aguilar are both solid First Base options, Eric Sogard and Jonathan Villar will battle for Second Base reps, and Orlando Arcia and Travis Shaw are incredible key pieces on the left half of the infield. Ryan Braun might be on the decline, but Domingo Santana will be a major player come 2018, and Brett Phillips will certainly give Keon Broxton a run for the starting reps. Another key aspect is the farm system. If any players go down with injuries, the Brewers could give some experience to any number of prospects in one of the best minor league systems in all of baseball. I'd expect to see the Brewers in a similar position next year down the stretch, but with more experience, development and maturity, this team and their growing key pieces will be strong enough to keep up the success in December and push into October.
SUPERLATIVES:
Most Valuable Player: Travis Shaw, 3B
Best Batter: Travis Shaw, 3B
Best Pitcher: Corey Knebel, CP
Best Fielder: Orlando Arcia, SS
Most Improved Player: Eric Thames, 1B
Rookie Of The Year: Josh Hader, RP
Biggest Disappointment: Neftali Feliz, CP
Biggest Disappointment named Matt Garza: Matt Garza, SP
Questions? Comments? Concerns? Are we looking at the 2018 NL Central Champions? Let me know what you think!
Thank you and God Bless,
Samuel R. Fuller
---