Destinations for the Top 20 NBA Free Agents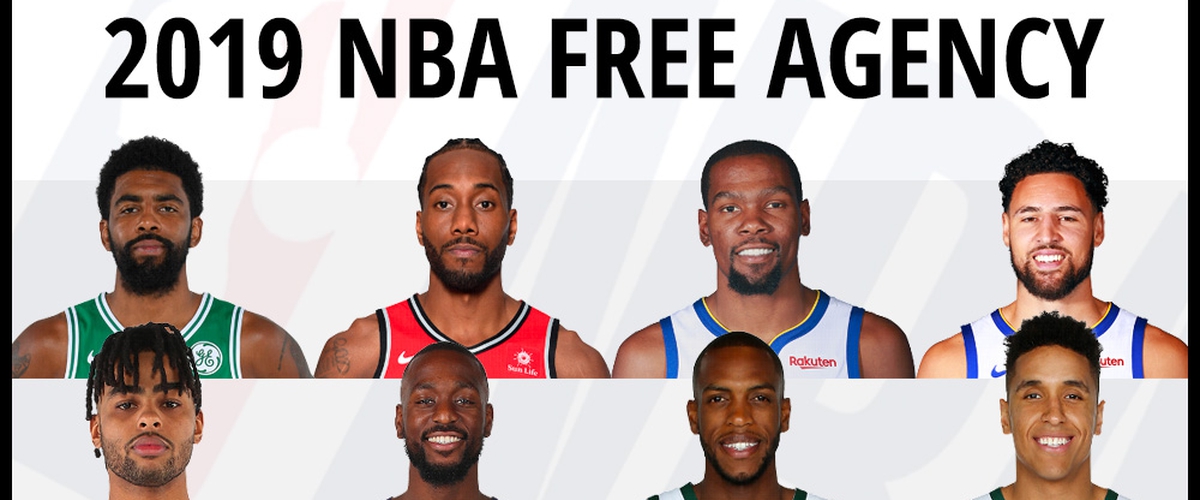 While the NBA Free Agency period doesn't begin until this weekend, teams and players have certainly done their homework by either fixing cap space (I see you, Lakers), making their efforts obvious (Toronto) or playing their cards close to their chest (Milwaukee). Then again, some teams like the Knicks, Celtics and Suns have received publicity before free agency opens for all the wrong reasons. These players will sign HUGE contracts somewhere, and now it's up to me to guess which uniforms these megastars will don come the fall.
Kevin Durant - Brooklyn Nets over Warriors and Knicks
Durant's trajectory changed completely when he tore his Achilles in the NBA Finals. Still, when healthy he's arguably the best player in the league, so he might get a max deal on the open market anyways. While I see a return to Golden State as highly likely, he did just sell his home in Malibu and might be suing the Warriors for damages surrounding his injury. He's going to miss most of the 2019/20 season recovering from that nasty injury, so joining a title contender won't necessarily matter. The rumor mill has Durant either re-signing or linking up with Kyrie in Brooklyn, and considering he might be suing his incumbent franchise, I'm choosing the latter here.
Kawhi Leonard - Toronto Raptors over Lakers and Clippers
Kawhi may be one of the hardest mega-stars to figure out. Returning to Toronto would make him a hero north of the border, but he could become the face of a franchise back home in Los Angeles. Which one? Good guess, as LeBron is apparently trying to recruit him for the Lakers, but he could be the face of the Clippers with one signature. Kawhi could easily go down any of the three aforementioned paths, but considering he wore a Toronto Blue Jays jersey on vacation when they absolutely suck in 2019 gives "The North" the tiebreaker here.
Kyrie Irving - Brooklyn Nets over Knicks and Lakers
For being one of the biggest names in free agency this summer, it's actually hard seeing him sign anywhere other than Brooklyn. Yes, the Knicks and Lakers might still have a slight shot, but the Point Guard conversation is surrounding D'Angelo Russell and Kemba Walker far more than Kyrie. Being "the man" in Boston didn't work, so now he can share the mega-spotlight with Kevin Durant on what could be a very dangerous Brooklyn team.
Klay Thompson - Golden State Warriors over Clippers and Lakers
While the three bigger stars don't have too many questions surrounding the money attached to their deal, Klay Thompson does. Yes, there's probably a 95% chance he re-signs with Golden State, but the Lakers and Clippers could become much bigger players here if Golden State doesn't offer him the $190 Million max amount. Will they? Yes, probably, especially after letting Durant walk earlier in this article.
D'Angelo Russell - Minnesota Timberwolves over Lakers, Nets, Knicks, Celtics, Mavericks, Pacers and Suns
If Brooklyn doesn't add Kyrie Irving or another big name Point Guard, I'd say there's a very good chance D'Lo returns to the Barclays Center come the fall. However, all signs point to Kyrie joining the Nets, meaning Russell will have to be the man somewhere else. Enter Minnesota, who can just barely afford to pair a max contract with Karl-Anthony Towns and Andrew Wiggins this season. Phoenix is making some noise, but I don't see him joining a team that bad. Apparently the Lakers are a possibility, but that just seems like it could get ugly and possibly turn into a power struggle real quick. I'm not too confident with any particular direction for D'Lo, but Minnesota just makes the most sense right now.
Kemba Walker - Boston Celtics over Lakers, Hornets, Knicks and Mavericks
Kemba has to be sick of not winning, right? He claimed he'd take less than a max amount to stay with Charlotte earlier, but the big figures coming through his agent starting Sunday could easily change that stance. Boston appears to be the front-runner, according to Woj himself. However, if the Lakers miss out on Kyrie and Kawhi, they could make a major push here. The Knicks and Mavericks have a chance, but their cases just simply aren't as strong as Boston or LA. Until LeBron & Co. make it clear they're pursuing Kemba, I'm taking Boston.
Khris Middleton - Milwaukee Bucks over Mavericks, Clippers, Pacers and Hawks
All signs point to Middleton re-signing to Milwaukee on a five-year deal, and his buddy Giannis has open stated over and over that he wants Khris to stay in Milwaukee with him. I don't see Giannis leaving the 414 anytime soon, which means Khris is highly unlikely to either.
Jimmy Butler - Philadelphia 76ers over Lakers, Clippers, Nets, Heat and Rockets
Butler wants a max contract, but I'm not sure anyone's willing to give him one. If the Lakers do after missing out on bigger free agents, they may be able to hijack his return to Philly, but until that becomes a sure thing I don't see any team coming close to beating a return to the Sixers - especially not Houston.
DeMarcus Cousins - Los Angeles Lakers over Knicks, Warriors, Celtics, Mavericks, Clippers, Thunder and Bulls
Boogie to the Lakers might surprise you, but hear me out: he actually enjoyed sharing the front-court with Anthony Davis. Yes, Cousins has been used to being the face of the paint through most of his career, but after his third serious injury (which occurred on a one-year prove-me deal), I think he'd appreciate not getting all of the attention down low. Plus, he and AD gelled when both were healthy in New Orleans. If not L.A., I'd expect the Knicks to be his next best shot, followed by a handful of teams who could use a better big man but don't want to toss around a long-term deal.
Tobias Harris - Philadelphia 76ers over Nets, Pacers, Mavericks, Pelicans, Kings and Lakers
Harris' name is tossed around in the max contract conversation, but only as teams' last resort. Philly is very interested in bringing him back, and unless there's something deep-rooted between Jimmy Butler and Harris that we don't know about, I don't see why they both wouldn't return to team up with Joel Embiid and Ben Simmons for a full season. If anyone else has a shot at him, it's the Nets (if they don't add two megastars like Durant and Irving, of course).
Malcolm Brogdon - Milwaukee Bucks over Bulls, Lakers and Celtics
Brogdon's one of the biggest sleepers in this free agency period. When healthy, he's a do-it-all Point Guard who can score double-digits every night without needing the ball too often. The Lakers and Celtics should both be interested, and there are multiple rumors claiming the Bulls will give him as much money as he wants, but I'd expect Brogdon to return to Milwaukee on a four-year deal worth up to $80 Million, depending on what other teams offer.
Nikola Vucevic - Boston Celtics over Magic, Kings and Lakers
Orlando loves Vuc, and he loves Orlando. I'm just not sure he wants to stay in Central Florida without success any longer than the seven years he already has tallied. Boston still needs a Center and they haven't spent big money on a free agent yet, so they're my best bet if Orlando can't retain his services. The Lakers and Kings could offer him a ton of money too.
Al Horford - Dallas Mavericks over Nets, Hawks, Clippers, Pelicans, Lakers and Kings
Dallas has been linked with Horford for a while now, and they have the money to pair a new superstar with Kristaps Porzingis and Luka Doncic. Apparently, some mystery team offered Big Al a 4-year, $112 Million deal, but I have no idea who would put that up for a 33-year-old big man beyond his best years. Maybe Sacramento? Vlade's crazy like that.
Julius Randle - New York Knicks over Mavericks, Nets, Bulls, Thunder and Suns
The Knicks still have money to spend, despite not pulling in any bigger-named free agents. Julius Randle is probably the most underrated big man in this free agency window, going under the radar after averaging over 21 points per game last year in Anthony Davis' shadow. The next best team to bid for his services would be Dallas if they don't get Al Horford.
Brook Lopez - Milwaukee Bucks over Pelicans and Lakers
Lopez is probably the latest-blooming stretch-5 the NBA has ever seen, and he's an incredible fit in Mike Budenholzer's offense. I doubt he lands anywhere other than Milwaukee, but the Pelicans and Lakers both are rumored to have interest and could realistically afford him.
DeAndre Jordan - Brooklyn Nets over Lakers and Rockets
Jordan, like DeMarcus Cousins, would probably sign for less to play on a good team. The Lakers have expressed interest, but I already have them adding Boogie himself. Enter Brooklyn, who could offer Jordan the chance to play with his good friend Kevin Durant. Houston might have a shot too, but in this universe Brooklyn is the clear choice for DJ.
Harrison Barnes - New York Knicks over Clippers, Nets, Kings and Lakers
Barnes opted out of a $25.1 million option because he "fully expects to be offered a max contract." Well, I don't know about that, but the New York Knicks still have money to offer and need shooters, so that fit makes a lot of sense. Brooklyn is another option, and I wouldn't be surprised to see Sacramento and both L.A. teams to give him a long look too.
Jonas Valanciunas: Memphis Grizzlies over Kings, Celtics and Lakers
Valanciunas may come into play for big spenders who miss out on other big men, but with an open playing field, I don't see him doing anything other than re-signing with Memphis. He put up good numbers after being traded from Toronto in February, and their young corps leaders Jaren Jackson Jr. and Ja Morant are both pushing for his return. The biggest threat to V's return to Tennessee is probably the Sacramento Kings.
Bojan Bogdanovic: Indiana Pacers over Lakers, Nuggets and Clippers
Bogdanovic is another underrated free agent this summer, quietly averaging 18 PPG on a playoff team and hitting over 42% from beyond the arc last year. Returning to Indiana is the most likely scenario, but if the Lakers still have money around later in free agency, adding a solid-shooting wing makes a lot of sense. I've seen Denver linked with Bogdanovic too.
J.J. Redick - Los Angeles Lakers over 76ers, Clippers and Knicks

In this scenario, the Lakers didn't add Kawhi, Kyrie or Kemba, and settled on adding DeMarcus Cousins instead. With the extra cash, they can add a star shooter who will help big time with stretching the floor for LeBron, the Brow and Boogie. Philly isn't going to give him more than $6 million, so that's a major question mark. If he does decide to play it cheap, over half the league would want his shooting coming off their bench, so Redick might have more suitors than a lot of the bigger names above him on this list.
Did I miss anyone? Let me know what you think!
---