2018 NFL Draft by Position: Quarterbacks (1/11)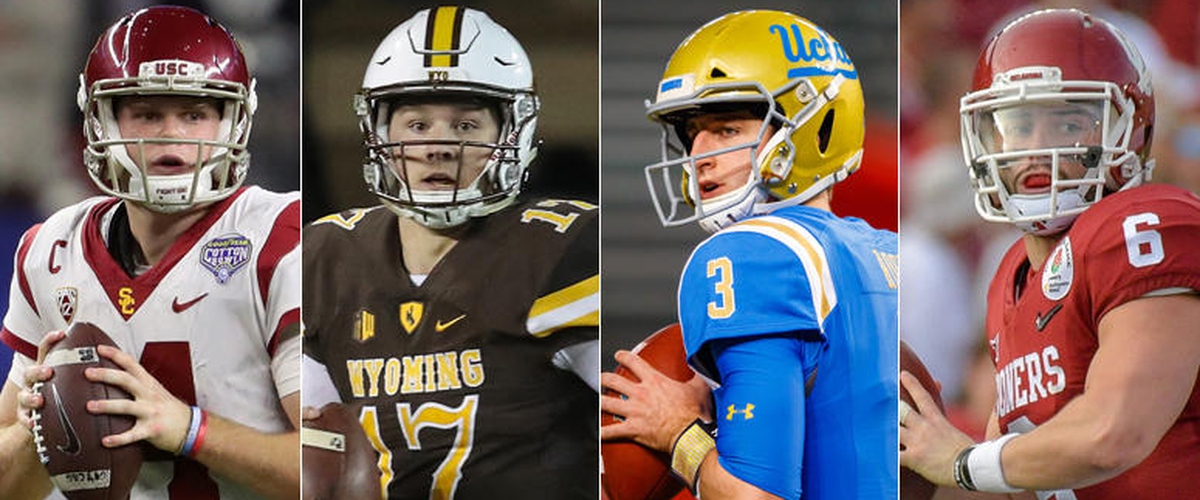 There's 11 days until the NFL Draft, and we have 11 position groups to cover. Obviously, we're starting with the Quarterbacks, where four names sit far apart from the rest: Sam Darnold, Josh Allen, Josh Rosen, and Baker Mayfield. Not only is that the order in the above picture from left to right, it's also the order I have the four prospects landing in my newest Three-Round Mock Draft. To no one's surprise, that's how I have them ranked in this positional analysis. However, there are some names further down the list that could have a shot at developing into future starters (I'm looking at you, Mason Rudolph). Let's get started, shall we?
1. Sam Darnold, USC - #1 Overall Pick
It would be a major shocker if anyone other than Sam Darnold goes #1. He has the impeccable combination of great size, arm strength, accuracy, pocket mobility and awareness, and overall poise and maturity. Despite all of these, he still threw far too many interceptions at USC. Some time learning on the sideline could really help Darnold, and Cleveland gives him that freedom by starting Tyrod Taylor in the meantime. Darnold's windup isn't too pretty, but he has the velocity and relative accuracy to look past it. He'd be nothing more than an average starter if he starts Week One, but he has the realistic upside of a healthy Andrew Luck. Hence why he's the top pick.
2. Josh Allen, Wyoming - Top 3 Pick
Josh Allen worked his way up from Community College to being a Top 3 pick in the NFL Draft. Allen is 6'5" with an absolute cannon of an arm, a combination teams have drooled over this offseason. One stat stands as a red flag: 56%. That was Allen's completion percentage both his Sophomore and Junior seasons. No prospect with that low of a completion percentage in college has ever turned into a starter at the next level, let alone a franchise Quarterback. He needs some time to improve his mental game at the next level, so whoever drafts him needs to be patient. That mental development will be the key as to whether he turns into the next Carson Wentz or Ben Roethlisberger, or if he just turns into another big, strong-armed bust like Jake Locker.
3. Josh Rosen, UCLA - Top 5 Pick
Josh Rosen may be the most attractive pick on tape. The IQ, accuracy and overall poise is definitely at an NFL level. His arm strength definitely needs work, and he doesn't excel in creating plays on his own. The biggest concerns surrounding Rosen are his lack of maturity and coach-ability, two things that can derail any career early-on. He also has a lower perceived ceiling than Sam Darnold and Josh Allen, leading to his #3 Quarterback ranking. His big personality may fit best He's also been injured every season at UCLA - something to keep an eye on.
4. Baker Mayfield, Oklahoma - Top 15 Pick
Another Heisman-winning Quarterback from Oklahoma may not pan out at the next level. His 6'1" stature immediately draws concerns, as the only possibly beneficial comparisons are Drew Brees and Russell Wilson. The difference between Mayfield and those two? Mayfield's an immature, spread-style, shotgun-first Quarterback, not a pro-style, mature leader. Baker can extend plays, come up big in clutch time and flash his accuracy from anywhere in the backfield. If a team wants him to lead an offense, they'll need to build a squad around in him order to reap the rewards. That'll take an abundance of faith from both the head coach and the front office.
5. Lamar Jackson, Louisville - Middle 1st/Early 2nd Round
It's difficult to see Lamar Jackson turning into a successful NFL Quarterback on measurables alone, but his rare speed and athleticism while still completing passes on a regular basis make him an interesting prospect. Like Deshaun Watson, his playmaking ability overshadows any mental mistakes. It's almost guaranteed that whatever franchise takes a chance on Jackson will have to focus on the Read Options in their playbook, but if he can keep his thin frame healthy while finding a way to make plays through RPO's, he could turn into a decent starting NFL Quarterback.
6. Mason Rudolph, Oklahoma State - Late 1st/Middle 2nd Round
Mason Rudolph put up amazing numbers as a consistently good pocket passer at Oklahoma State, but he also had a great line and two draft-worthy receivers to throw to. His 6'5" frame, combined with inert patience and maturity make him an automatic quality backup for any NFL franchise. His ceiling is the biggest question mark, but if he lands in a quality-QB environment (New England is rumored for a reason), it's realistic to expect his development into an average starting Quarterback.
7. Luke Falk, Washington State - 3rd/4th Round
Luke Falk put up crazy numbers at Washington State, as his 6'4" height combined with a natural touch of accuracy was on full display. However, his lack of mobility and poor decision making on deep throws, in addition to his unfortunately high comfort with ill-advised, off-balance throws were just as noticeable. Like many gunslingers with sky-high production at smaller schools, he needs to prove he can win outside of his college system. Otherwise, I see him bearing a Mike Glennon-like mediocre starting potential.
8. Mike White, Western Kentucky - 3rd/4th Round
Unlike most Quarterback prospects out of small school, he won with actual NFL-level arm talent. He actually had a worse Senior season than Junior year, a concerning trait. His 6'4", sturdy frame is a plus at the next level, but his decision-making hasn't gotten much better over his four years at WKU. If he can't adjust to the NFL game mentally, he'll be nothing more than a practice squad bum. The arm talent alone makes him a mid-round pick with expected back-up qualities right away, though.
9. Kyle Lauletta, Richmond - 3rd/5th Round
Kyle Lauletta was a consistently accurate passer at FCS-giant Richmond, but he lacks arm talent. That's why he slips to being the ninth-best QB in this draft. You can teach a playbook and mental traits, but you can't teach intangible arm talent. The play speed of defenders increases immensely at the next level, preventing the 6'3" Lauletta from being projected by most to have a backup-level ceiling.
10. Kurt Benkert, Virginia - 6th Round/Undrafted
Kurt Benkert stands at 6'4" with a cannon of an arm, but his low release point and poor accuracy are big concerns. His decision-making and football IQ are okay, but again, his accuracy is extremely inconsistent on short, medium AND long-range throws. The lack of accuracy alone could see him getting cut before the end of camp.
11. Riley Ferguson, Memphis - 6th Round/Undrafted
Riley Ferguson is 6'4" with innate accuracy and quick drops. His arm strength is average, but Ferguson got himself in a lot of trouble with a slow windup and a complete lack of poise and composure behind center. His average arm strength and disappointingly thin frame round out a skill set that's difficult to see turning into anything more than an average, everyday backup at best.
12. Nic Shimonek, Texas Tech - 7th Round/Undrafted
Nic Shimonek got benched near the end of the year, almost all-but-damning his NFL chances. However, a team could see Shimonek as a fringe roster player with his 6'3" size, above-average arm talent and decent accuracy.
Other Quarterbacks with training camp chances: Chase Litton, Marshall; Logan Woodside, Toledo; Tanner Lee, Nebraska; and J.T. Barrett, Ohio State
---