Fuller's Official 2019 NBA Mock Draft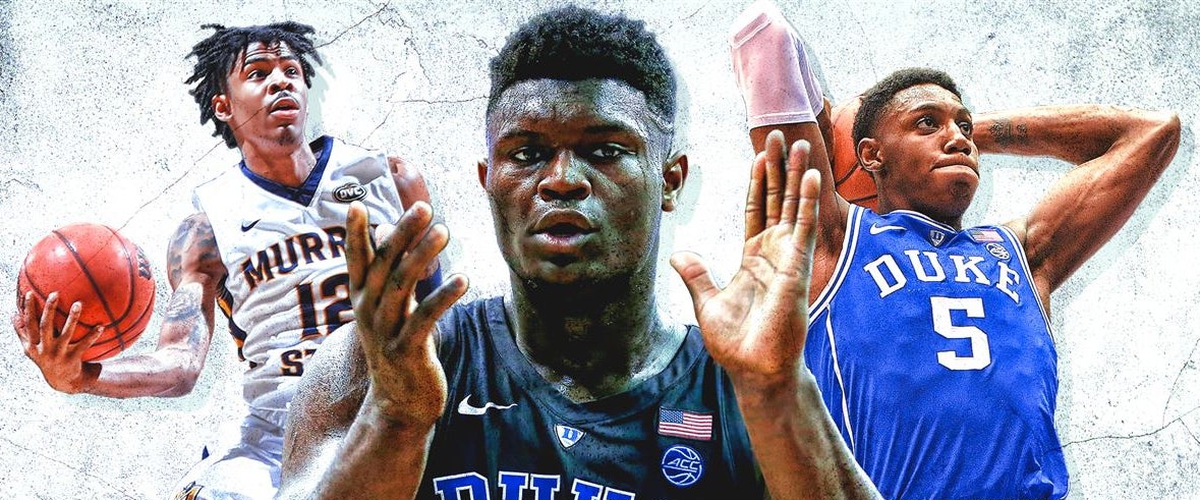 DRAFT DAYYYYYY! Even though my beloved Milwaukee Bucks don't have a single pick in this draft, I'm still 100% locked in on seeing where these prospects land. Zion is the most hyped one-and-done prospect since Anthony Davis, and Ja Morant and R.J. Barrett essentially have their names already penned in to the #2 and #3 slots. After that? It's anyone's game, and while I'm typing this with New Orleans bearing the #4 picks, there's a VERY good chance that changes some time in between me publishing this and the start of tonight's festivities. Let's go!
1. New Orleans Pelicans: Zion Williamson, PF, Duke ( same )
Zion's been a Pelican for a while now, let's be honest.
2. Memphis Grizzlies: Ja Morant, PG, Murray State ( same )
Memphis traded star PG Mike Conley to pave the way for Ja Morant to be the face of their rebuild with this pick.
3. New York Knicks: R.J. Barrett, SF, Duke ( same )
If the Knicks keep #3, all signs point to R.J. Barrett being New York's priority over Darius Garland and Jarrett Culver.
4. New Orleans Pelicans: Jarrett Culver, SG, Texas Tech ( same )
It doesn't look too likely that New Orleans keeps this pick by tonight. The Pelicans already have two quality Point Guards in Jrue Holiday and Lonzo Ball, so adding Darius Garland wouldn't make a ton of sense. Jarrett Culver is the best player on the board and could eat up serious minutes on the wing right away.
5. Cleveland Cavaliers: De'Andre Hunter, SF, Virginia ( same )
Cleveland will take Jarrett Culver or De'Andre Hunter here, and Culver is already off the board. Still an easy choice.
6. Phoenix Suns: Darius Garland, PG, Vanderbilt ( same )
Phoenix needs help at Point Guard, and Darius Garland is both the best Point Guard behind Ja Morant in the class and the best player available on my board.
7. Chicago Bulls: Coby White, PG, North Carolina ( same )
White is the top player remaining on my board and Chicago could use another backcourt general besides Kris Dunn. If White's on the board at #7, this is another easy choice.
8. Atlanta Hawks: Cameron Reddish, SF, Duke ( same )
Reddish's stock is far too high for him to slip past #8, and they could use another wing to compete with Kent Bazemore, Allen Crabbe, DeAndre Bembry and Kevin Huerter for minutes.
9. Washington Wizards: Sekou Doumbouya, SF/PF, France ( +2 )
Troy Brown is Washington's only Forward under an actual contract, and Sekou Doumbouya could be an immediate boost at both spots.
10. Atlanta Hawks: Jaxson Hayes, C, Texas ( -1 )
Atlanta still needs a big man and they're lucky Washington passed on top-rated Center prospect Jaxson Hayes at #9. If he's gone, I'd expect Goga Bitadze to be the pick here.
11. Minnesota Timberwolves: Rui Hachimura, PF, Gonzaga ( +8 )
Minnesota will likely add a frontcourt player at #11, and there are three quality options: Rui Hachimura, P.J. Washington and Brandon Clarke. As of right now, Hachimura is the highest-rated of the three and most likely bears the most potential.
12. Charlotte Hornets: Nassir Little, SF, North Carolina ( same )
Little was the selection in my last mock draft, and he's still the best player available (and still played in-state) on draft day. P.J. Washington is another excellent candidate to land here.
13. Miami Heat: P.J. Washington, PF/C, Kentucky ( +1 )
Miami would've loved a shot at Nassir Little, but he's gone. They still need wings more than front-court players, but P.J. Washington is by far the best prospect available and Miami will take the best player available. Plus, Hassan Whiteside becomes a free agent next summer.
14. Boston Celtics: Goga Bitadze, C, Republic of Georgia ( -4 )
With three picks in the first round, Boston can afford to go a lot of different directions with this pick. Brandon Clarke, Goga Bitadze and Tyler Herro are the top three prospects remaining on my board, and all three have been mocked to Boston at #14 more than once. With Al Horford free to leave, their best under-contract big man is Aron Baynes. Bitadze will give them the true Center help they need in 2019/20, something neither of the other two top prospects can offer.
15. Detroit Pistons: Tyler Herro, SG, Kentucky ( +1 )
Detroit needs help on the wings, and Tyler Herro is just ahead of Romeo Langford on my board.
16. Orlando Magic: Romeo Langford, SG, Indiana ( -3 )
Orlando also needs help on the wings, which means Romeo Langford finally hears his name called.
17. Atlanta Hawks: Brandon Clarke, PF, Gonzaga ( same )
Clarke is the best prospect available and has been mocked to Atlanta at #17 more than anyone else available. If Atlanta wants to add a Guard here instead, Nickeil Alexander-Walker should be the pick.
18. Indiana Pacers: Nickeil Alexander-Walker, PG/SG, Virginia Tech ( same )
I've slotted Alexander-Walker to Indiana in every one of my mock drafts, and on the day of the draft, I have absolutely no reason to change it. It's still Indiana's biggest need, and he's still the best prospect available on my board.
19. San Antonio Spurs: Keldon Johnson, SG/SF, Kentucky ( +2 )
I still see Small Forward as the weakest spot for San Antonio, and Keldon Johnson's the best player who can eat minutes at the 3. If the Spurs see adding a big man as a bigger priority, Mfiondu Kabengele should be the pick here.
20. Boston Celtics: Bol Bol, PF/C, Oregon ( same )
Bol Bol might be mocked more to Boston at #20 than anyone else combined, and their depth in the front-court is weak enough to warrant two Top-20 picks to addressing the issue.
21. Oklahoma City Thunder: Kevin Porter Jr., SG, USC ( -6 )
The Thunder's weak spot is on the wing, and even though Kevin Porter Jr.'s stock has slid, he's more deserving than any other prospect on the board to go here at #21.
22. Boston Celtics: Cameron Johnson, SF, North Carolina ( same )
Boston will add a wing or a Guard if they keep this pick (given their earlier selections), and Cameron Johnson is once again the best player available.
23. Memphis Grizzlies: Mfiondu Kabengele, C, Florida State ( +1 )
Memphis acquired this pick by flipping Mike Conley for a huge haul. They have no true Centers under contract, making the selection of top-remaining prospect Mfiondu Kabengele an incredibly easy one.
24. Philadelphia 76ers: Matisse Thybulle, SF, Washington ( +1 )
Philly has a ton of picks in this upcoming range, so they'll still stick with the best player available. Matisse Thybulle is the best player available, and with the futures of Jimmy Butler and Tobias Harris uncertain, adding a Small Forward makes plenty of sense.
25. Portland Trailblazers: Luka Samanic, PF, Croatia ( +5 )
Portland's weakest positional groups are the 3 and 4. Luka Samanic will spread the floor with his 3-point ability while eating up valuable minutes at Power Forward. Nic Claxton and KZ Okpala both deserve plenty of attention here too.
26. Cleveland Cavaliers: Ty Jerome, PG, Virginia ( same )
My quote from Mock 3.0 still stands: "Cleveland already took a Virginia player at #5 in De'Andre Hunter, and now they can add his college teammate in Ty Jerome to lead the second-team offense, much like another Virginia Point Guard product names Malcolm Brogdon."
27. Brooklyn Nets: Nic Claxton, PF/C, Georgia ( -4 )
Brooklyn needs depth at both the four and the five, and top remaining prospect Nic Claxton can do exactly that. If the Nets prefer Bruno Fernando, that's just as good of a pick here.
28. Golden State Warriors: KZ Okpala, SF/PF, Stanford ( same )
KZ Okpala has now been mocked to Golden State in all four of my mock drafts, and with an NBA-ready wing being the Warriors' priority, there's no reason to change it from the still-top-rated prospect at #28.
29. San Antonio Spurs: Grant Williams, PF, Tennessee ( +3 )
San Antonio added Keldon Johnson back at #19 in this mock, so front-court will be the priority here. Grant Williams is the best prospect available, and while he can't cover minutes at the 5 like Bruno Fernando, he's a far more proven player.
30. Detroit Pistons: Chuma Okeke, SF/PF, Auburn ( -1 )
Detroit acquired this pick by eating Tony Snell's over-sized contract from Milwaukee and flipping Jon Leuer back to Wisconsin in the process. Even after adding Tyler Herro at #15, the wing should still be Detroit's priority. Chuma Okeke can both shoot well and eat minutes at the 3 and 4, making the second-best prospect available a priority over Bruno Fernando.
SECOND ROUND:
31. Brooklyn Nets: Darius Bazley, SF/PF, Princeton High School ( +6 )
32. Phoenix Suns: Luguentz Dort, PG/SG, Arizona State ( +3 )
33. Philadelphia 76ers: Carsen Edwards, PG, Purdue ( -2 )
34. Philadelphia 76ers: Dylan Windler, SF, Belmont ( same )
35. Atlanta Hawks: Talen Horton-Tucker, SG/SF, Iowa State ( -2 )
36. Charlotte Hornets: Bruno Fernando, PF/C, Maryland ( -9 )
37. Dallas Mavericks: Eric Paschall, PF, Villanova ( +3 )
38. Chicago Bulls: Daniel Gafford, C, Arkansas ( -1 )
39. New Orleans Pelicans: Jontay Porter, C, Missouri ( +3 )
40. Sacramento Kings: Isaiah Roby, SF/PF, Nebraska ( -2 )
41. Atlanta Hawks: Jalen Lecque, SG/PG, Brewster Academy ( same )
42. Philadelphia 76ers: Nazreon Reid, PF/C, LSU ( -3 )
43. Minnesota Timberwolves: Shamorie Ponds, PG, St. John's ( same )
44. Atlanta Hawks: Louis King, SF, Oregon ( +1 )
45. Detroit Pistons: Deividas Sirvydas, SG/SF, Lithuania ( -1 )
46. Orlando Magic: Admiral Schofield, SF, Tennessee ( same )
47. Sacramento Kings: Terence Davis, SG, Ole Miss ( same )
48. Los Angeles Clippers: DaQuan Jeffries, SG, Tulsa ( +7 )
49. San Antonio Spurs: Jordan Poole, SG, Michigan ( +7 )
50. Indiana Pacers: Jalen McDaniels, PF, San Diego State ( -2 )
51. Boston Celtics: Tremont Waters, PG, LSU ( +6 )
52. Charlotte Hornets: Joshua Obiese, PG/SG, Germany ( -3 )
53. Utah Jazz: Terance Mann, SG, Florida State ( -2 )
54. Philadelphia 76ers: Ignas Brazdeikis, SF/PF, Michigan ( -4 )
55. New York Knicks: Jaylen Hoard, PF, Wake Forest ( -3 )
56. Los Angeles Clippers: Miye Oni, SF, Yale ( +3 )
57. New Orleans Pelicans: Jaylen Nowell, SG/PG, Washington ( -4 )
58. Golden State Warriors: Alen Smailagic, PF/C, Serbia ( +27 )
59. Toronto Raptors: Zylan Cheatham, PF, Arizona State ( +10 )
60. Sacramento Kings: Jordan Bone, PG, Tennessee ( -2 )
Other Draftable Prospects: Zach Norvell, SG, Gonzaga; Yovel Zoosman, SG/SF, Israel; Ky Bowman, PG, Boston College; Charles Matthews, SG, Michigan; Kris Wilkes, SF, UCLA; Quinndary Weatherspoon, SG/PG, Mississippi State; Cody Martin, SG/SF, Nevada; Charles Bassey, C, Western Kentucky; Adam Mokoka, SG, France, Tacko Fall, C, UCF; Brian Bowen, SF, Sydney Kings (USA); Kyle Guy, SG, Virginia; Oshae Brissett, SF, Syracuse; Dedric Lawson, SF/PF, Kansas; Jaylen Hands, PG, UCLA; Jared Harper, PG, Auburn; and Marcos Louzada Silva, SG/SF, Brazil
---