Fuller's 2019 NBA Mock Draft 3.0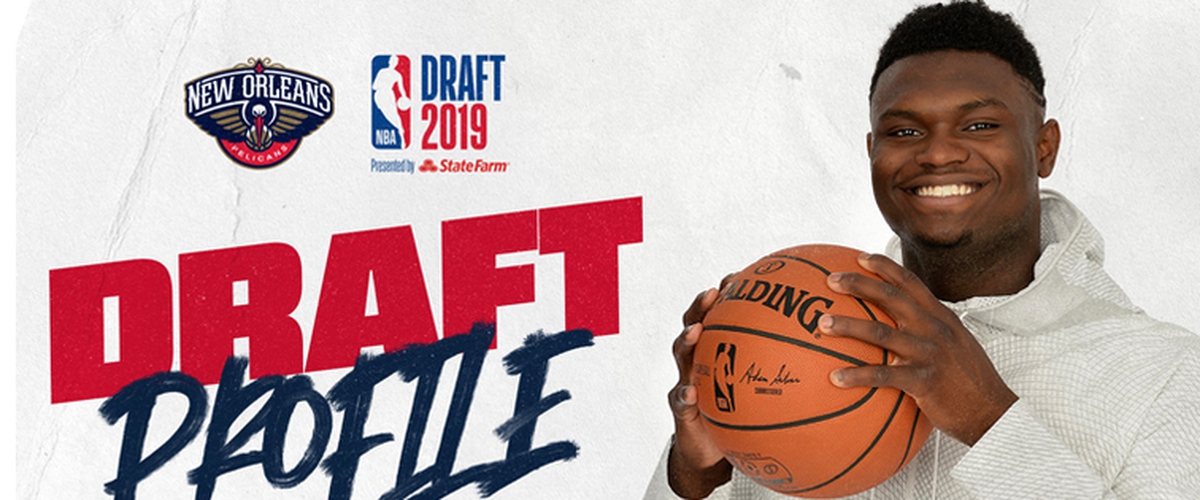 Just three days away from the NBA Draft, there's still plenty of movement up and down the draft board. Atlanta acquired pick #17 from Brooklyn, and the back end of the lottery looks to be a complete mystery. I'll have a final mock draft published Thursday afternoon, but this mock will do in the meantime.
1. New Orleans Pelicans: Zion Williamson, PF, Duke ( same )
Zion's still healthy, so he's still the #1 pick - even after the Lakers trade.
2. Memphis Grizzlies: Ja Morant, PG, Murray State ( same )
Morant is essentially a lock-in for #2 behind Zion, so pencil it in now.
3. New York Knicks: R.J. Barrett, SF, Duke ( same )
If the Knicks keep #3, R.J. Barrett is the obvious choice.
4. New Orleans Pelicans: Jarrett Culver, SG, Texas Tech ( same )
The Lakers flipped this pick in a huge trade package for Anthony Davis, so we're re-evaluating this pick entirely. New Orleans now has Jrue Holiday, Lonzo Ball, Brandon Ingram, Jahlil Okafor and inevitably Zion Williams as their key core. Josh Hart, E'Twaun Moore and Solomon hill are the other wings joining Ingram, so I'm actually sticking with Jarrett Culver at #4.
5. Cleveland Cavaliers: De'Andre Hunter, SF, Virginia ( same )
The fifth pick will be Jarrett Culver or De'Andre Hunter, and Culver is already off the board. Easy choice.
6. Phoenix Suns: Darius Garland, PG, Vanderbilt ( same )
Phoenix is most likely looking to add a Point Guard, and Darius Garland has maintained a better stock profile than rival PG Coby White.
7. Chicago Bulls: Coby White, PG, North Carolina ( same )
White is the top player remaining on my board and White to Chicago at #7 is one of the most common picks across experts' mock drafts, so who am I to disagree here?
8. Atlanta Hawks: Cameron Reddish, SF, Duke ( same )
It's hard to see Cam Reddish slipping past #8 anymore, and nearly every other expert's mock drafts reflect the same. I wouldn't be surprised to see Jaxson Hayes go here either, if Atlanta doesn't think they can wait until #10 to get him.
9. Washington Jaxson Hayes, C, Texas ( +1 )
Dwight Howard isn't getting any younger, and while Jaxson Hayes won't fill a starting spot for Washington right away, it's Hayes' potential that has him so high up on everybody's boards. Sekou Doumbouya and Goga Bitadze should also be in the Wizards' sights here.
10. Atlanta Hawks: Goga Bitadze, C, Republic of Georgia ( +9 )
Atlanta still needs a big man and scouts are finally noticing how good Goga Bitadze could be. If they want to look elsewhere, Sekou Doumbouya is the best player remaining on the board.
11. Minnesota Timberwolves: Sekou Doumbouya, SF/PF, France ( -2 )
Doumbouya is the best player available and while there are bigger front-court prospects available, Sekou Doumbouya can cover reps at the 3 and 4. Minnesota has plenty of other options in the late lottery range at both positions, however.
12. Charlotte Hornets: Nassir Little, SF, North Carolina ( +3 )
Charlotte is the biggest wildcard of the lottery picks, and they could realistically take anyone out of the top remaining players: Nassir Little, P.J. Washington, Rui Hachimura, Brandon Clarke and Romeo Langford. As of now, Little is the top remaining player and did his one-and-done year in-state at UNC.
13. Miami Heat: Romeo Langford, SG, Indiana ( same )
Miami needs Shooting Guards more than it needs big men, and the top shooting guard remaining is Romeo Langford. Despite his stock sliding a bit, Langford gets to stay at #13.
14. Boston Celtics: P.J. Washington, PF/C, Kentucky ( same )
P.J. Washington is the best player available on my board and fits Boston's biggest needs. Brandon Clarke and Rui Hachimura should also receive serious consideration here.
15. Detroit Pistons: Kevin Porter Jr., SG, USC ( +1 )
Detroit needs help on the wings, and while Tyler Herro is a spot above Kevin Porter as the two best available wings, Porter is much longer and can cover more than just other 2's.
16. Orlando Magic: Tyler Herro, SG, Kentucky ( +4 )
Orlando also needs help on the wings, which makes taking Tyler Herro here a no-brainer. Keldon Johnson would be the next-best option, and he's not worth reaching for at #16.
17. Atlanta Hawks: Brandon Clarke, PF, Gonzaga ( -6 )
Atlanta acquired this pick by taking on Allen Crabbe's big contract for the Nets, and after taking a wing (Cam Reddish) and a big man (Goga Bitadze) earlier in the first, adding a traditional #4 would make a lot of sense behind John Collins. Rui Hachimura and Brandon Clarke both will likely play the 4 the most at the next level, and with Collins being more of a strictly-in-the-paint big man, Atlanta adding Brandon Clarke over his teammate makes a little more sense. This pick could go either way (or with Bol Bol).
18. Indiana Pacers: Nickeil Alexander-Walker, PG/SG, Virginia Tech ( same )
I've had Alexander-Walker to Indiana at #18 in every one of my NBA mocks, and even as tempting as it is to add a slashing big like Rui Hachimura, I'm sticking to my guns on the potential-filled combo guard.
19. San Antonio Spurs: Rui Hachimura, PF, Gonzaga ( -7 )
San Antonio could use help at the 3 or the 4, and Rui Hachimura's traits translate excellently. I wouldn't be surprised to see Bol Bol go here if he's still on the board come Thursday.
20. Boston Celtics: Bol Bol, PF/C, Oregon ( -3 )
Even though Boston just added a stretch-four build in P.J. Washington, I think they'll go with talent over positional preferences with Bol Bol still on the board at #20. Wings like Keldon Johnson and Cameron Johnson should come into play here too.
21. Oklahoma City Thunder: Keldon Johnson, SG/SF, Kentucky ( same )
Small Forward seems to be the direction OKC will go, and Keldon Johnson is still the best player available and can eat minutes at the 2 and the 3. If the Thunder prefer Cameron Johnson, that's just as good of a pick to me.
22. Boston Celtics: Cameron Johnson, SF, North Carolina ( +2 )
Boston will add a wing or a Guard if they keep this pick, and Cameron Johnson is still the best player available.
23. Utah Jazz: Nic Claxton, PF/C, Georgia ( +11 )
Utah's deep lineup doesn't offer too many opportunities, but a young option behind Derrick Favors at the #4 makes the most sense. Mfiondu Kabengele and Nic Claxton are the top two remaining prospects, and Claxton can cover both the 4 and the 5.
24. Philadelphia 76ers: Mfiondu Kabengele, C, Florida State ( +6 )
Philly has a ton of picks in this upcoming range, so they'll still stick with the best player available. Instead of Matisse Thybulle, that's now big man Mfiondu Kabengele.
25. Portland Trailblazers: Matisse Thybulle, SF, Washington ( -1 )
Thybulle is the best remaining prospect on my board, and Portland could use more healthy competition at the 3.
26. Cleveland Cavaliers: Ty Jerome, PG, Virginia ( +7 )
Cleveland already took a Virginia player at #5 in De'Andre Hunter, and now they can add his college teammate in Ty Jerome to lead the second-team offense, much like another Virginia Point Guard product names Malcolm Brogdon...
27. Brooklyn Nets: Bruno Fernando, PF/C, Maryland ( +5 )
Brooklyn needs depth at both the four and the five, and top remaining prospect Bruno Fernando can do exactly that. If they prefer Luka Samanic here, that would makes a lot of sense too.
28. Golden State Warriors: KZ Okpala, SF/PF, Stanford ( same )
I've picked KZ Okpala staying in the bay area throughout my earlier mocks, and now with only Luka Samanic ahead of him on my big board, I don't see any reason to change it now.
29. San Antonio Spurs: Chuma Okeke, SF/PF, Auburn ( -2 )
With a stacked Guard core and a front-court now with Rui Hachimura, they can add a excellent-shooting wing in Chuma Okeke who can also cover minutes at the 4.
30. Milwaukee Bucks: Luke Samanic, PF, Croatia ( -5 )
With Pau Gasol looking to re-sign and a rumored offseason emphasis on Brook Lopez, adding a Center at #30 no longer makes sense. Nikola Mirotic and Malcolm Brogdon are both free to leave, and prospects Luka Samanic and Carsen Edwards could fill their respective roles. As of today, Samanic is higher on my board.
SECOND ROUND:
31. Brooklyn Nets: Carsen Edwards, PG, Purdue ( same )
32. Phoenix Suns: Grant Williams, PF, Tennessee ( -9 )
33. Philadelphia 76ers: Talen Horton-Tucker, SG/SF, Iowa State ( -7 )
34. Philadelphia 76ers: Dylan Windler, SF, Belmont ( same )
35. Atlanta Hawks: Luguentz Dort, PG/SF, Arizona State ( -6 )
36. Charlotte Hornets: Daniel Gafford, C, Arkansas ( +1 )
37. Dallas Mavericks: Darius Bazley, SF/PF, Princeton High School ( +3 )
38. Chicago Bulls: Isaiah Roby, SF/PF, Nebraska ( same )
39. New Orleans Pelicans: Nazreon Reid, PF/C, LSU ( +3 )
40. Sacramento Kings: Eric Paschall, PF, Villanova ( +6 )
41. Atlanta Hawks: Jalen Lecque, SG/PG, Brewster Academy ( same )
42. Philadelphia 76ers: Jontay Porter, C, Missouri ( +3 )
43. Minnesota Timberwolves: Shamorie Ponds, PG, St. John's ( same )
44. Atlanta Hawks: Deividas Sirvydas, SG/SF, Lithuania ( same )
45. Detroit Pistons: Louis King, SF, Oregon ( -9 )
46. Orlando Magic: Admiral Schofield, SF, Tennessee ( -7 )
47. Sacramento Kings: Terence Davis, SG, Ole Miss ( +7 )
48. Los Angeles Clippers: Jalen McDaniels, PF, San Diego State ( +1 )
49. San Antonio Spurs: Joshua Obiese, PG/SG, Germany ( +2 )
50. Indiana Pacers: Ignas Brazdeikis, SF/PF, Michigan ( -2 )
51. Boston Celtics: Terance Mann, SG, Florida State ( +1 )
52. Charlotte Hornets: Jaylen Hoard, PF, Wake Forest ( +2 )
53. Utah Jazz: Jaylen Nowell, SG/PG, Washington ( +6 )
54. Philadelphia 76ers: Adam Mokoka, SG, Franca ( +16 )
55. New York Knicks: DaQuan Jeffries, SG, Tulsa ( +7 )
56. Los Angeles Clippers: Jordan Poole, SG, Michigan ( +2 )
57. New Orleans Pelicans: Tremont Waters, PG, LSU ( same )
58. Golden State Warriors: Jordan Bone, PG, Tennessee ( -2 )
59. Toronto Raptors: Miye Oni, SF, Yale ( -9 )
60. Sacramento Kings: Tacko Fall, C, UCF ( +3 )
Other Draftable Prospects: ; Charles Matthews, SG, Michigan; Sagaba Konate, PF/C, West Virginia; Charles Bassey, C, Western Kentucky; Zach Norvell, SG, Gonzaga; Kris Wilkes, SF, UCLA; Brian Bowen, SF, Sydney Kings (USA); Quinndary Weatherspoon, SG/PG, Mississippi State; Kyle Guy, SG, Virginia; Zylan Cheatham, PF, Arizona State; Yoven Zoosman, SG/SF, Israel; Tyler Cook, SF/PF, Iowa; Dedric Lawson, SF/PF, Kansas; Paul Eboua, SF, Italy; Simi Shittu, PF, Vanderbilt; Jaylen Hands, PG, UCLA; Ky Bowman, PG, Boston College; Jared Harper, PG, Auburn; Justin Robinson, PG, Virginia Tech; C.J. Massinburg, SG, Buffalo; and Ethan Happ, PF, Wisconsin
---