Fuller's 2019 NFL Mock Draft 3.0 - 3 Rounds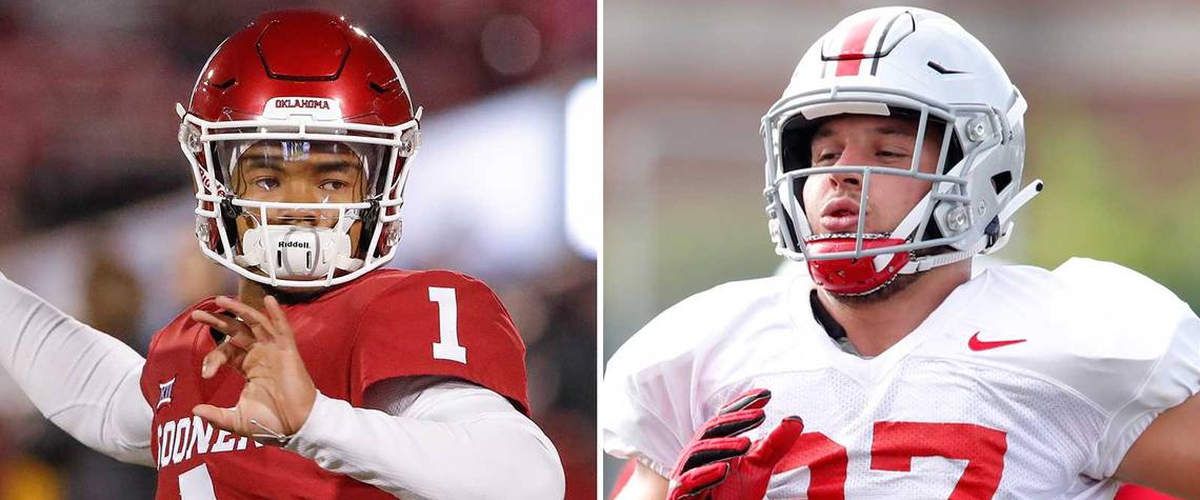 1. Cardinals: Kyler Murray, QB, Oklahoma
Kliff Kingsbury still loves Kyler, and at this point, I'm just expecting a notification that Arizona trades Josh Rosen elsewhere any day now.
2. 49ers: Nick Bosa, DE, Ohio State
Bosa is still my top all-around talent in the class, but the odds of him going #1 to Arizona anymore are slim to none. Since Mock Draft 2.0, he ate dinner with the San Fran brass, and reports say it went well. With the addition of Bosa, the 49ers can now cut Arik Armstead and save $9 Million for elsewhere. I've also seen reports that John Lynch & Co. really like Quinnen Williams, so if the Alabama big D-Lineman gets taken above Bosa to play next to DeForest Buckner inside, don't be too surprised.
3. Jets: Josh Allen, Edge, Kentucky
Allen is #3 on my big board behind Kyler and Bosa, and one spot ahead of Quinnen Williams. Right now, I expect the first few picks to fall out that way too. Sure, New York could add Q here, but Jets fans are desparate for pass rushers and Allen seems like the surer thing. GM Mike Maccagnan has already mentioned he's open to trading this pick, so don't get too confident on anyone here.
4. Raiders: Quinnen Williams, DL, Alabama
Williams is the best player available on my board, and if it wasn't for Arizona loving Kyler Murray enough to take him over more talented players, he wouldn't slip out of the Top 3. Gruden is simply taking the best player available here, something he can do after acquiring Antonio Brown, Lamarcus Joyner, Trent Brown, Tyrell Williams, Nevin Lawson and Vontaze Burfuct over the past month. If Gruden likes Devin White or is feeling risky enough to take Dwayne Haskins here, both are not-so-far-fetched possibilities.
5. Buccaneers: Devin White, ILB, LSU
Assuming Tampa Bay keeps this pick, this could be Devin White, Montez Sweat or Rashan Gary, depending on which defensive position they want to improve. With Kwon Alexander leaving and signing for big money in San Francisco, the Linebacker corps is significantly weaker. White is the best modern Inside 'backer to come out of the draft in a long time, and while Bruce Arians has a handful of good prospects to choose from, White is the most sensible.
6. Giants: Dwayne Haskins, QB, Ohio State
I'm convinced the rumors about Dave Gettleman not paying much attention to Dwayne Haskins was just a smoke show. The Giants brass ate with Haskins after his pro day, and scouted him just as much (if not more) than any other team in Columbus. I don't care how much Gettleman likes Eli, he should take his best shot at their next franchise Quarterback. Still, something tells me he's considering going with a different position (or whatever Gettleman's best player available is in his eyes), so pay attention to Montez Sweat, Rashan Gary and even D.K. Metcalf here too.
7. Jaguars: Jawaan Taylor, OT, Florida
I called Nick Foles to the Jags back in January, and now it's looking more and more likely. Their three best tackles are Jeremy Parnell, Cam Robinson and Will Richardson, so improvements need to be made. Taylor is a 10-year starter who can plug in on either side of the line. I wasn't expecting another tackle to leapfrog Jonah Williams for the top spot, but here we are.
8. Lions: Montez Sweat, Edge, Mississippi State
Clelin Ferrell is a more natural fit to replace Ziggy Ansah, but Montez Sweat's combine solidified him as the third-best edge rusher behind Bosa and Allen, regardless of fit. If Detroit loves TE T.J. Hockenson, he could land here.
9. Bills: Rashan Gary, DL, Michigan
Rashan Gary is the best player available on the board, and his multi-gap blitzing package will help Buffalo cover the loss of franchise DT Kyle Williams to retirement. If the Bills are super high on WR D.K. Metcalf, they could stretch for the supersized receiver here too.
10. Broncos: Drew Lock, QB, Missouri
Despite acquiring Joe Flacco and his massive contract this spring, rumor has it Denver is still very high on taking Drew Lock at #10. Tight End production has been weak despite adding to the depth chart with draft capital (Jake Butt, Troy Fumagali, etc.) recently, so TE T.J. Hockenson is a major contender here. If John Elway really loves one of the top corners (Greedy Williams, Byron Murphy & DeAndre Baker), I wouldn't be stunned to see him reach a bit.
11. Bengals: Devin Bush, LB, Michigan
Tyler Eifert re-signed and Tyler Kroft left, so how Cincy sees their Tight End depth is a major question mark, especially with T.J. Hockenson still on the board. However, they're really going to feel the loss of Vontaze Burfict if they don't find a replacement soon, and the links to Devin Bush are warranted. His formidable combine boosted his stock from a fringe first rounder to a 'backer guaranteed to land in the first half of night one.
12. Packers: T.J. Hockenson, TE, Iowa
I didn't think TE T.J Hockenson, OLB Brian Burns, WR D.K. Metcalf and DT Ed Oliver would all be available here at #12, but here we are. I'll start by saying no to Burns, as Green Bay has invested big bucks in new edge rushers Za'Darius Smith and Preston Smith. As far as receiver, they really need a new slot option following Cobb's departure, and D.K. Metcalf isn't that guy. Defensive Line isn't necessarily a need, but imagine Ed Oliver up front with Kenny Clark and Mike Daniels. Green Bay still has a ton of money invested in Jimmy Graham, but T.J. Hockenson is available and could be a dual-threat starting Tight End for years to come. Sorry #80, I'm going with the top Tight End in the class here, who also happens to be the best player available on my board.
13. Dolphins: Brian Burns, Edge, Florida State
Cameron Wake, William Hayes, Robert Quinn and Andre Branch are all gone. At least from a numbers standpoint, edge rusher appears to be Miami's biggest hole, and they can add a Day One difference-maker here in Brian Burns. If they prefer Clelin Ferrell for some reason, he's also an option. I wouldn't be surprised to see QB Daniel Jones, DT Ed Oliver or OL Jonah Williams get serious consideration here too.
14. Falcons: Ed Oliver, DT, Houston
There's absolutely no way Atlanta passes on Ed Oliver if he falls to #14. He fills their biggest need (despite franchise-tagging Grady Jarrett) and he fits perfectly in Dan Quinn's defense. I'm still extremely secure with this pick if Oliver falls, which may be increasingly harder to envision after his speedy pro day.
15. Washington: Daniel Jones, QB, Duke
Jonah Williams is the best player available on my board, and there appears to be an open Guard spot opposite of Brandon Scherff. However, Daniel Jones had a solid pro day and Washington doesn't have a long-term option behind fill-in QB Case Keenum. If I were Jay Gruden, I'd be planning on life after Alex Smith and making the right call for the long-term health of the franchise here. No pressure.
16. Panthers: Clelin Ferrell, DE, Clemson
The Kalil brothers are both gone, and while Carolina signed Matt Paradis to be their new Center, there's still a big hole at Left Tackle. Jonah Williams isn't fit to play the blind side, which leaves Andre Dillard as the best option, but edge rusher is also a big need after losing Julius Peppers and Thomas Davis this offseason. Clelin Ferrell is still on the board, and he's a perfect 4-3 Defensive End fit, plus he's talked with Carolina (partially due to geographic proximity) more than any other team. If Ferrell's there, it's hard to see Carolina going another direction.
17. Giants: Jonah Williams, RT/G, Alabama
Earlier in this mock, the Giants put down their bluff and took Dwayne Haskins to be their next shot at a franchise gunslinger. The offensive line was a major area of concern, but now it appears four of the five spots are filled by LT Nate Solder, G Kevin Zeitler, G Will Hernandez and C Spencer Pulley. Right Tackle is still a hole, and New York has weaknesses on defense at edge rusher and Defensive Tackle. Jonah Williams is the best player available, and while some teams believe he could have a much higher ceiling if moved inside, the Giants will just be happy to get a proven blocker to fill their last O-Line hole.
18. Vikings: Cody Ford, G/RT, Oklahoma
Minnesota's biggest weakness is obvious: Offensive Line. Riley Reiff is a sure starter at Left Tackle, and G Josh Kline and C/G Pat Elfein are trustworthy enough to be penciled in as starters. Aside from those three, I wouldn't be confident in RT Rashod Hill, T Brian O'Neill and G Danny Isidora filling out the remaining two O-Line spots. Cody Ford can start at Right Tackle or Guard, and unless they like OL Dalton Risner, G Chris Lindstrom or C Garrett Bradbury more, I can't really see them taking anyone other than Ford.
19. Titans: Noah Fant, TE, Iowa
Marcus Mariota still needs more weapons after adding WR Adam Humphries, and Noah Fant is still on the board. His numbers were even more athletic than superior college teammate TE T.J. Hockenson, and his blocking drills went better than expected at the combine. There's no way Fant escapes the first round, and while WR D.K. Metcalf may look intriguing to Tennessee, Fant is the sensible choice with the aging TE Delanie Walker likely on the decline.
20. Steelers: Greedy Williams, CB, LSU
19 picks have gone by and no corners have been taken once again. At this point, Greedy Williams, Byron Murphy and DeAndre Baker are interchangeable stock-wise. It's really up to each team's preference, and for now, my gut is still going with Greedy as the best corner in the draft. Injuries and pro day results could change this outcome rapid fast. D.K. Metcalf would also earn a good amount of attention if he's still around at #20.
21. Seahawks: Taylor Rapp, S, Washington
Offensive Line was Seattle's biggest weakness last season, but now they have a decently respectable crew. LT Duane Brown and C Justin Britt are locks to start, George Fant and Germain Ifedi will battle for the Right Tackle spot, and Mike Iupati, D.J. Fluker and Ethan Pocic should fill in the two Guard spots. Safety is a glaring hole with Earl Thomas gone and Kam Chancellor unlikely to play again, and Seattle's own S Taylor Rapp sits on the board as the best safety. With Nasir Adderley injuring himself at the Delaware pro day, Johnathan Abram is the only other Safety worth considering here at #21, but the familiarity with Rapp has to be a major factor here. I'm not sold on their Defensive Line either, so DT Christian Wilkins and DT Dexter Lawrence both deserve some attention here.
22. Ravens: D.K. Metcalf, WR, Ole Miss
Baltimore could still take RB Josh Jacobs here, but he's basically Mark Ingram 2.0 and the Ravens already signed Ingram 1.0 in March. Wide Receiver seems to always be a concern, and D.K. Metcalf is still on the board at #22. I have concerns over his agility at the next level, as I genuinely believe he may be too muscular to be a productive wideout in the NFL, but he's still the top receiver and a good value for a team with only one receiver on the depth chart set to earn over $1 Million in 2019.
23. Texans: Andre Dillard, T, Washington State
Protecting Deshaun Watson was priority #1 this offseason, and they now have a new franchise Left Tackle in Matt Kalil. Combined with G Zach Fulton, G Senio Kelemete, RT Seantrel Henderson and three Center options (Greg Mancz, Nick Martin and Martinas Rankin), some might say Houston has filled their biggest holes. However, I still believe T Andre Dillard is the way to go. He's one of the best players available, by far the best pass blocking Tackle in this class, and Ryan Kalil is coming off major knee injuries. Plus, I'm not sold with Seantrel Henderson just earning the Right Tackle spot with zero competition, so adding Dillard would give Houston O-Line flexibility they could still definitely use.
24. Raiders: Josh Jacobs, RB, Alabama
No team has undergone more significant player turnover in the past eight months than the Oakland Raiders. Gruden shipped away Khalil Mack and Amari Cooper, cut RT Donald Penn, and let WR Jordy Nelson, WR Martavis Bryant, RB Marshawn Lynch, RB Doug Martin, TE Jared Cook, G Kelechi Osemele, CB Rashaan Melvin, S Reggie Nelson and SS Marchus Gilchrist either walk away in free agency or retire. On the flip side, they've also added WR Antonio Brown, LT Trent Brown, FS Lamarcus Joyner, CB Nevin Lawson, RB Isaiah Crowell, ILB Brandon Marshall, WR Tyrell Williams and ILB Vontaze Burfict. If Oakland is comfortable with Jalen Richard and Isaiah Crowell splitting Running Back duties, then adding RB Josh Jacobs at #24 wouldn't make sense. However, Jacobs is a different type of weapon and neither of those options even hit 700 yards last season. DT Christian Wilkins, CB Byron Murphy, CB DeAndre Baker and whatever receivers Oakland likes should all get consideration here, but the pick is Jacobs if he's on the board at #24.
25. Eagles: Byron Murphy, CB, Washington
Defensive Tackle is a popular pick here, and Christian Wilkins is still on the board, but after adding Malik Jackson to a D-Line already featuring Fletcher Cox, Brandon Graham, Chris Long and Vinny Curry, I don't think it's that big of a need. The lack of Cornerback depth, however, was significantly exposed during Philly's playoff run. Byron Murphy is one of the best players available, and unless they prefer DeAndre Baker over him, I don't know why they wouldn't go with the Washington corner.
26. Colts: Christian Wilkins, DT, Clemson
Indianapolis has undergone the least amount of change since the offseason began, essentially swapping out Ryan Grant for Devin Funchess, adding OLB Justin Houston and watching G Matt Slauson retire. That's it. Defensive Tackle is the biggest need right now, and Christian Wilkins is by far the best player available. Sure, they'll probably look at receivers here, but if Wilkins is on the board at #26, this is a no-brainer.
27. Raiders: DeAndre Baker, CB, Georgia
Oakland is now on their third pick of the night, after taking DT Quinnen Williams at #4 and CB Josh Jacobs at #24. Edge Rusher is still an area of concern, but that would be Jachai Polite or Jaylon Ferguson here and neither player is worth using the 27th pick on. That leaves Cornerback, Wide Receiver, Guard and Tight End and the four biggest positional groups to fill. Out of those, DeAndre Baker is the best player available and I see Cornerback as a bigger need than Wide Receiver after the additions of Antonio Brown and Tyrell Williams. I'd expect G Chris Lindstrom, OL Dalton Risner, TE Irv Smith Jr., WR Marquise Brown, WR A.J. Brown and WR N'Keal Harry to all receive decent consideration here.
28. Chargers: Dexter Lawrence, DT, Clemson
Despite losing DT Corey Liuget, DT Darius Philon and SS Jahleel Addae to free agency, they haven't filled any of their holes. DT Dexter Lawrence is the second-best player available behind WR Marquise Brown on my board, and he'll plug gaps just as well as a healthy Liuget once did for the Bolts. DT Jerry Tillery, S Nasir Adderley and S Johnathan Abram are all solid candidates here as well.
29. Chiefs: Rock Ya-Sin, CB, Temple
Kansas City did sign S Tyrann Mathieu, but they still lost three others in Eric Berry, Ron Parker and Eric Murray. Daniel Sorenson is slotted to start opposite Mathieu, and the Chiefs could be looking at S Nasir Adderley or S Johnathan Abram as upgrades. However, K.C. only has two cornerbacks (Kendall Fuller and Bashaud Breeland) set to earn over $700 Thousand in 2019, a clear sign of a thin corps. Rock Ya-Sin is earning more and more first-round evaluations, and while he might be a slight reach over a couple handfuls of higher-ranked players, he's not undeserving of the 29th pick.
30. Packers: Nasir Adderley, S, Delaware
In my last mock draft, I had TE T.J. Hockenson (#12) and Nasir Adderley (#30) as Green Bay's two first round selections. About a month later, both still hold up. Yes, WR Marquise Brown is the best player available and could cover the slot hole Randall Cobb left in Titletown, but I have serious durability questions surrounding his 166-pound frame. Fellow wideouts A.J. Brown and Parris Campbell could both earn time in the slot, and both are likely high on Green Bay's board. No edge rusher is worth taking over a Safety, and with Kentrell Brice finally out of the picture, the Packers need someone to pair with Adrian Amos full-time. Inside Linebacker is also a spot of concern, and Mack Wilson at #30 isn't far-fetched. This being said, Nasir Adderley is still my favorite hear, unless Safety counterpart Johnathan Abram wows me over the next month or so.
31. Rams: Garrett Bradbury, C, North Carolina State
L.A. still has a huge hole to fill after declining Center John Sullivan's 2019 option. Garrett Bradbury is one of the best players available, and would definitely make a larger impact than DT Jerry Tillery, DT Jeffery Simmons, DE Jachai Polite or DE Jaylon Ferguson.
32. Patriots: Irv Smith Jr., TE, Alabama
New England is incredibly lucky to have Irv Smith Jr. still on the board at #32. He had a solid combine, a good pro day, and the only reason he hasn't been taken earlier is the fact that he has two even-more-outstanding Tight End prospects in this loaded class above him in T.J. Hockenson and Noah Fant. Following Gronk's retirement, this pick is increadibly easy if Smith Jr. is around at the end of Thursday night.
SECOND ROUND
33. Cardinals: Marquise Brown, WR, Oklahoma
34. Colts: A.J. Brown, WR, Ole Miss
35. Raiders: N'Keal Harry, WR, Arizona State
36. 49ers: Jerry Tillery, DT, Notre Dame
37. Giants: Mack Wilson, LB, Alabama
38. Jaguars: Johnathan Abram, S, Mississippi State
39. Buccaneers: Trayvon Mullen, CB, Clemson
40. Bills: Greg Little, T, Ole Miss
41. Broncos: Jachai Polite, Edge, Florida
42. Bengals: Chris Lindstrom, G, Boston College
43. Lions: Chauncey Gardner-Johnson, DB, Florida
44. Packers: Parris Campbell, WR, Ohio State
45. Falcons: Jaylon Ferguson, DE, Louisiana Tech
46. Washington: Hakeem Butler, WR, Iowa State
47. Panthers: Dalton Risner, OL, Kansas State
48. Dolphins: Kelvin Harmon, WR, North Carolina State
49. Browns: Jeffery Simmons, DT, Mississippi State
50. Vikings: Dre'Mont Jones, DT, Ohio State
51. Titans: Zach Allen, DE, Boston College
52. Steelers: Deebo Samuel, WR, South Carolina
53. Eagles: Erik McCoy, G/C, Texas A&M
54. Texans: Amani Oruwariye, CB, Penn State
55. Texans: Damien Harris, RB, Alabama
56. Patriots: J.J. Arcega-Whiteside, WR, Stanford
57. Eagles: David Montgomery, RB, Iowa State
58. Cowboys: Elgton Jenkins, C, Mississippi State
59. Colts: Julian Love, CB, Notre Dame
60. Chargers: Germaine Pratt, ILB, North Carolina State
61. Chiefs: Deionte Thompson, FS, Alabama
62. Saints: Charles Omenihu, DE, Texas
63. Chiefs: Devin Singletary, RB, Florida Atlantic
64. Patriots: Chase Winovich, Edge, Michigan
THIRD ROUND
65. Cardinals: Justin Layne, CB, Michigan State
66. Steelers: Jace Sternberger, TE, Texas A&M
67. 49ers: Juan Thornhill, DB, Virginia
68. Jets: Kaleb McGary, T, Washington
69. Jaguars: Kaden Smith, TE, Stanford
70. Buccaneers: Yodny Cajuste, T, West Virginia
71. Broncos: Tre Lamar, ILB, Clemson
72. Bengals: Will Grier, QB, West Virginia
73. Patriots: Tytus Howard, T, Alabama State
74. Bills: Riley Ridley, WR, Georgia
75. Packers: Michael Deiter, G/RT, Wisconsin
76. Washington: Joe Jackson, Edge, Miami
77. Panthers: Connor McGovern, G/C, Penn State
78. Dolphins: David Edwards, RT, Wisconsin
79. Falcons: Miles Sanders, RB, Penn State
80. Browns: Joejuan Williams, CB, Vanderbilt
81. Vikings: Oshane Ximines, Edge, Old Dominion
82. Titans: Andy Isabella, WR, Massachusetts
83. Steelers: D'Andre Walker, OLB, Georgia
84. Seahawks: Austin Bryant, DE, Clemson
85. Ravens: Terrill Hanks, LB, New Mexico State
86. Texans: Josh Oliver, TE, San Jose State
87. Bears: Jamel Dean, CB, Auburn
88. Lions: Vosean Joseph, LB, Florida
89. Colts: Amani Hooker, SS/LB, Iowa
90. Cowboys: Anthony Nelson, DE, Iowa
91. Chargers: Ryan Finley, QB, North Carolina State
92. Chiefs: Gerald Willis III, DT, Miami
93. Jets: Lonnie Johnson, CB, Kentucky
94. Jaguars: Mecole Hardman, WR, Georgia
95. Giants: Christian Miller, Edge, Alabama
96. Washington: Max Scharping, RT/G, Northern Illinois
97. Patriots: Jarred Stidham, QB, Auburn
98. Jaguars: Isaiah Buggs, DL, Alabama
99. Rams: Blake Cashman, LB/SS, Minnesota
100. Panthers: Emanuel Hall, WR, Missouri
101. Patriots: Khalen Saunders, DT, Northern Illinois
102. Ravens: L.J. Collier, DE, TCU