Fuller's 2020 NFL Draft Big Board 4.0: Pre-National Championship Game Standings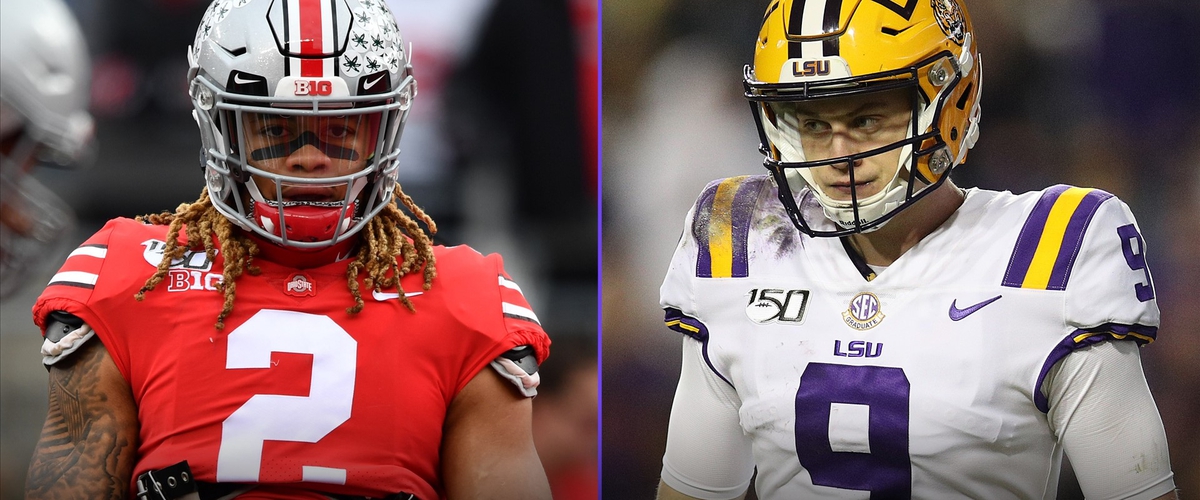 Before we get to the updated Big Board rankings, let's take a look at the top-rated players who announced they're returning back to school for another college campaign, thus pulling out of the 2020 NFL Draft pool:
Alex Leatherwood, OT, Alabama (#23 Overall, #3 Tackle)
Marvin Wilson, DT, Florida State (#31 Overall, #4 D-Lineman)
Dylan Moses, LB, Alabama (#35 Overall, #3 Linebacker
DeVonta Smith, WR, Alabama (#39 Overall, #6 Wide Receiver)
Shaun Wade, CB, Ohio State (#42 Overall, #7 Cornerback)
Walker Little, OT, Stanford (#55 Overall, #7 Tackle)
Alaric Jackson, OT, Iowa (#73 Overall, #9 Tackle)
Sage Surratt, WR, Wake Forest (#85 Overall, #15 Wide Receiver)
Samuel Cosmi, LT, Texas (#94 Overall, #12 Tackle)
These nine players will join a very talented 2021 Draft Class next year, but now we turn to the players still in the mix to become NFL draftees this spring. As always, I've included their change in rank, and four my fourth Big Board, I'm also including their landing range among current respected mock drafts.
Note: Players with an "*" have yet to officially join the 2020 Draft Class, meaning they could still return to school and pull out before the January 17th deadline.
1. Joe Burrow, QB, LSU ( same, #1 to the Bengals)
2. Chase Young, Edge, Ohio State ( same, #2 to the Giants)
3. Jeff Okudah, CB, Ohio State ( +1, 3rd-5th Pick)
4. Jerry Jeudy, WR, Alabama ( -1, 3rd-8th Pick)
5. Derrick Brown, DL, Auburn ( +1, 3rd-9th Pick)
6. Andrew Thomas, OT, Georgia ( -1, 3rd-14th Pick)
7. Tua Tagovailoa, QB, Alabama ( +3, #5 to the Dolphins)
8. Isaiah Simmons, LB/S, Clemson* ( -1, 5th-13th Pick)
9. CeeDee Lamb, WR, Oklahoma ( -1, 6th-12th Pick)
10. Justin Herbert, QB, Oregon ( -1, 6th-16th Pick)
11. Grant Delpit, S, LSU* ( same, 10th-19th Pick)
12. Javon Kinlaw, DL, South Carolina ( +2, #17 to the Cowboys)
13. AJ Epenesa, Edge, Iowa* ( -1, Mid 1st Round)
14. Tristan Wirfs, T, Iowa* ( -1, Mid 1st Round)
15. Henry Ruggs III, WR, Alabama ( same, Mid 1st Round)
16. Laviska Shenault Jr., WR, Colorado ( +1, Mid 1st Round)
17. Tee Higgins, WR, Clemson* ( +2, Mid 1st Round)
18. Jedrick Wills Jr., T, Alabama ( +8, Mid-Late 1st Round)
19. Kristian Fulton, CB, LSU ( -3, Mid-Late 1st Round)
20. CJ Henderson, CB, Florida ( -2, Mid-Late 1st Round)
21. Yetur Gross-Matos, Edge, Penn State ( -1, Mid-Late 1st Round)
22. D'Andre Swift, RB, Georgia ( +2, Mid 1st-Early 2nd Round)
23. Xavier McKinney, S, Alabama ( +5, Mid 1st-Early 2nd Round)
24. Kenneth Murray, LB, Oklahoma ( +6, Mid 1st-Early 2nd Round)
25. Paulson Adebo, CB, Stanford* ( -4, Mid 1st-Early 2nd Round)
26. Trevon Diggs, CB, Alabama ( -1, Late 1st-Early 2nd Round)
27. Austin Jackson, T, USC* ( +7, Late 1st-Early 2nd Round)
28. JK Dobbins, RB, Ohio State ( +9, Late 1st-Early 2nd Round)
29. Curtis Weaver, Edge, Boise State ( -7, Late 1st-Early 2nd Round)
30. Jonathan Taylor, RB, Wisconsin ( -2, Late 1st-Mid 2nd Round)
31. Justin Jefferson, WR, LSU* ( +12, Late 1st-Mid 2nd Round)
32. Terrell Lewis, OLB, Alabama* ( -5, Late 1st-Mid 2nd Round)
33. K'Lavon Chaisson, OLB, LSU* ( +5, Late 1st-Mid 2nd Round)
34. Tyler Biadasz, C, Wisconsin ( -5, Late 1st-Mid 2nd Round)
35. Julian Okwara, Edge, Notre Dame ( +1, Late 1st-2nd Round)
36. Raekwon Davis, DL, Alabama ( -3, Late 1st-2nd Round)
37. Jalen Reagor, WR, TCU ( +8, Late 1st-2nd Round)
38. Creed Humphrey, C, Oklahoma* ( +3, 2nd Round)
39. Mekhi Becton, T/G, Louisville ( +31, 2nd Round)
40. Bryce Hall, DB, Virginia ( same, 2nd Round)
41. Jordan Love, QB, Utah State ( +28, 2nd Round)
42. Josh Jones, T, Houston ( +20, 2nd Round)
43. Brandon Aiyuk, WR, Arizona State ( +5, 2nd-Early 3rd Round)
44. Jacob Eason, QB, Washington ( +3, 2nd-Early 3rd Round)
45. Jeff Gladney, CB, TCU ( +16, 2nd-Early 3rd Round)
46. Travis Etienne, RB, Clemson* ( +3, 2nd-Early 3rd Round)
47. Justin Madubuike, DL, Texas A&M ( +61, 2nd-Early 3rd Round)
48. A.J. Terrell, CB, Clemson* ( +11, 2nd-Early 3rd Round)
49. Ashtyn Davis, S, Cal ( +23, 2nd-Early 3rd Round)
50. Trey Adams, T, Washington ( -6, 2nd-Early 3rd Round)
51. KJ Hamler, WR, Penn State ( +7, 2nd-Early 3rd Round)
52. Prince Tega Wanogho, T, Auburn ( +5, Mid 2nd-3rd Round)
53. Hunter Bryant, TE, Washington ( +27, Mid 2nd-3rd Round)
54. Jake Fromm, QB, Georgia ( -4, Mid 2nd-3rd Round)
55. Donovan Peoples-Jones, WR, Michigan ( +1, Mid 2nd-3rd Round)
56. Brycen Hopkins, TE, Purdue ( -3, Mid 2nd-3rd Round)
57. Anfernee Jennings, OLB, Alabama ( -6, Mid 2nd-3rd Round)
58. Albert Okwuegbunam, TE, Missouri ( -12, Mid 2nd-3rd Round)
59. Neville Gallimore, DT, Oklahoma ( +7, Mid 2nd-3rd Round)
60. Zach Baun, OLB, Wisconsin ( +7, Mid 2nd-3rd Round)
61. Solomon Kindley, G, Georgia ( -1, Mid 2nd-3rd Round)
62. Jaylon Johnson, CB, Utah ( +12, Mid 2nd-3rd Round)
63. Tyler Johnson, WR, Minnesota ( +16, Mid 2nd-3rd Round)
64. Najee Harris, RB, Alabama* ( +17, Mid 2nd-3rd Round)
65. Michael Pittman Jr., WR, USC ( -2, Mid 2nd-3rd Round)
66. Damon Arnette, CB, Ohio State ( +53, Mid 2nd-3rd Round)
67. Cameron Dantzler, CB, Mississippi State ( -15, Mid 2nd-3rd Round)
68. Gabriel Davis, WR, UCF ( +42, Mid 2nd-3rd Round)
69. Shane Lemieux, G, Oregon ( -15, Mid 2nd-3rd Round)
70. Cole Kmet, TE, Notre Dame ( +50, Mid 2nd-3rd Round)
71. Malik Harrison, LB, Ohio State ( -6, Mid 2nd-3rd Round)
72. Jordan Elliott, DT, Missouri ( +41, Mid 2nd-3rd Round)
73. Troy Dye, LB, Oregon ( +2, Mid 2nd-3rd Round)
74. Antonio Gandy-Golden, WR, Liberty ( +3, Late 2nd-3rd Round)
75. Rashard Lawrence, DL, LSU ( +33, Late 2nd-3rd Round)
76. James Lynch, DL, Baylor* ( +39, Late 2nd-3rd Round)
77. Chuba Hubbard, RB, Oklahoma State* ( -1, Late 2nd-3rd Round)
78. Matt Peart, T, Connecticut ( +12, Late 2nd-3rd Round)
79. Jalen Hurts, QB, Oklahoma ( -15, Late 2nd-3rd Round)
80. Jake Hanson, C, Oregon ( +47, Late 2nd-3rd Round)
81. Trey Smith, G/T, Tennessee* ( +25, Late 2nd-3rd Round)
82. Isaiah Wilson, T, Georgia ( +50, Late 2nd-3rd Round)
83. Jared Pinkney, TE, Vanderbilt ( same, Late 2nd-3rd Round)
84. John Simpson, G, Clemson ( +4, Late 2nd-3rd Round)
85. Darrell Taylor, OLB, Tennessee* ( +1, Late 2nd-3rd Round)
86. Troy Pride Jr., CB, Notre Dame ( +1, Late 2nd-3rd Round)
87. Nick Coe, DL, Auburn ( -16, Late 2nd-3rd Round)
88. Jabari Zuniga, Edge, Florida ( -20, Late 2nd-3rd Round)
89. Cam Akers, RB, Florida State ( +2, Late 2nd-3rd Round)
90. Nick Harris, C, Washington ( +48, Late 2nd-3rd Round)
91. KJ Hill, WR, Ohio State ( +4, Late 2nd-3rd Round)
92. Marlon Davidson, DE, Auburn ( +17, Late 2nd-3rd Round)
93. Kenny Willekes, DE, Michigan State ( -4, Late 2nd-3rd Round)
94. Jordyn Brooks, LB, Texas Tech ( +3, Late 2nd-3rd Round)
95. Trevon Hill, DE, Miami ( +47, Late 2nd-3rd Round)
96. Khalid Kareem, DE, Notre Dame ( +49, Late 2nd-3rd Round)
DROPPED OUT:
Tommy Kraemer, G, Notre Dame (#78); Ben Bredeson, G, Michigan (#82); Darryl Williams, G/C, Mississippi State (#84); Bradlee Anae, DE, Utah (#92); Calvin Throckmorton, T, Oregon* (#93); Lloyd Cushenberry III, C, LSU* (#96)