Fuller's Packers Report Card - NFC Championship: An Underachieving End to an Overachieving Season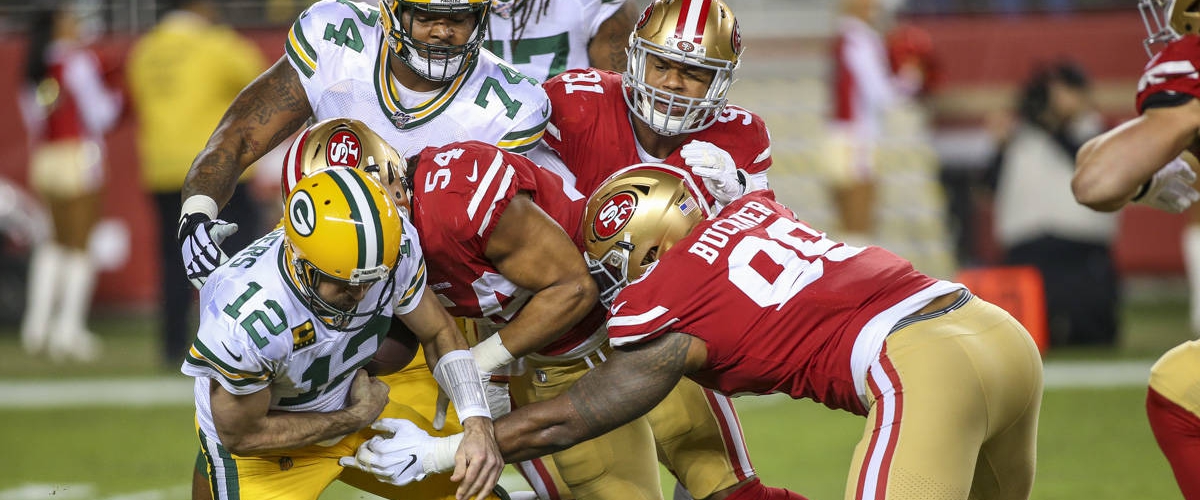 The first week without Packers football is a sad one filled with a slight emptiness inside, but we have a lot to be thankful for after this season and plenty to be hopeful for heading into the 2020 campaign. HEADS UP CHEESEHEADS.
First-year head coaches don't lead losing-record teams to the NFC Championship in their first year. Let's remember how high we climbed given all of our circumstances. Also, let's remember how we didn't have ANY January football the past two years, and now we were blessed with being 60 minutes away from sending Aaron Rodgers back to the Super Bowl. Feeling appreciative? Alright, now it's time to complain/vent/ramble/discuss, depending on how this turns out...
First off, the box score may be a bit deceiving for those who didn't catch most of the game. Yes, Aaron Rodgers (C) ended with 326 yards, 2 touchdowns and a passer rating of 97.2, but he also accomplished most of those statistics in garbage time and was overthrowing, underthrowing and simply missing his receiving corps throughout the first half. Aaron Jones (A-) did what he could with little blocking help, finishing with 83 total yards on 17 touches and 2 of the team's 3 touchdowns. Davante Adams (B+) had himself another great game, pulling in 138 yards on 9 receptions, but he failed to reach the end zone and was truly the only consistently open receiver all game. Jimmy Graham (B) had a few solid catches, Allen Lazard (B-) had positives in both receiving and blocking, and rookie Jace Sternberger (B) pulled in his first career touchdown reception. After that, the crew drops off a bit, with Geronimo Allison (D+), Jake Kumerow (C+), Marcedes Lewis (C+) and Robert Tonyan (C-) not doing much to alter the course of the game. On the line, David Bakhtiari (C) was the only member who finished with a non-below-average grade. Bryan Bulaga's (C-) penalty pushed him in the red, whereas the three interior blockers of Elgton Jenkins (D+), Billy Turner (D+), and Corey Linsley (D) did absolutely nothing to further the progress of Matt LaFleur and Nathaniel Hackett's offense.
The real failures came on the defensive side of the ball. Kenny Clark (C) at least finished with an at-average grade, and I can't say the same for Dean Lowry (D+). Tyler Lancaster (C+) and Kingsley Keke (B-) had bright moments on the line, and I barely saw Montravious Adams (C) on the field. Za'Darius Smith (C+) and Preston Smith (C) both failed to register a sack, and the fourth-string edge rusher Kyler Fackrell (B) was the only player to take down Jimmy Garoppolo. Blake Martinez (D+) completely failed to stop San Francisco's run offense, which managed to rack up a whopping 285 yards against the Green & Gold. Jaire Alexander (D+), Kevin King (C) and Tramon Williams (D+) had their share of struggles in the secondary, and Darnell Savage (D) didn't fare any better. In fact, Adrian Amos (C+) was the only secondary member with an above-average grade. JK Scott (D+) shanked a punt badly, and once again Mason Crosby (B-) made all of his extra-point attempts but didn't get a try for a field goal. Tyler Ervin (D+) fumbled a kick return and nearly muffed a punt return fair catch call, adding some doubt to him returning as the Packers' main returner in 2020.
The Packers were simply outplayed and outclassed in all three facets of the game, inevitably leading to an NFC Championship loss. Matt LaFleur now has a year under his belt with this talented squad. Moving into the offseason, I truly hope he, the rest of the staff and every player in our locker room watches this abhorrent tape and interprets their shortcomings as fuel for next season's Super-Bowl-bound fire.
We can only hope...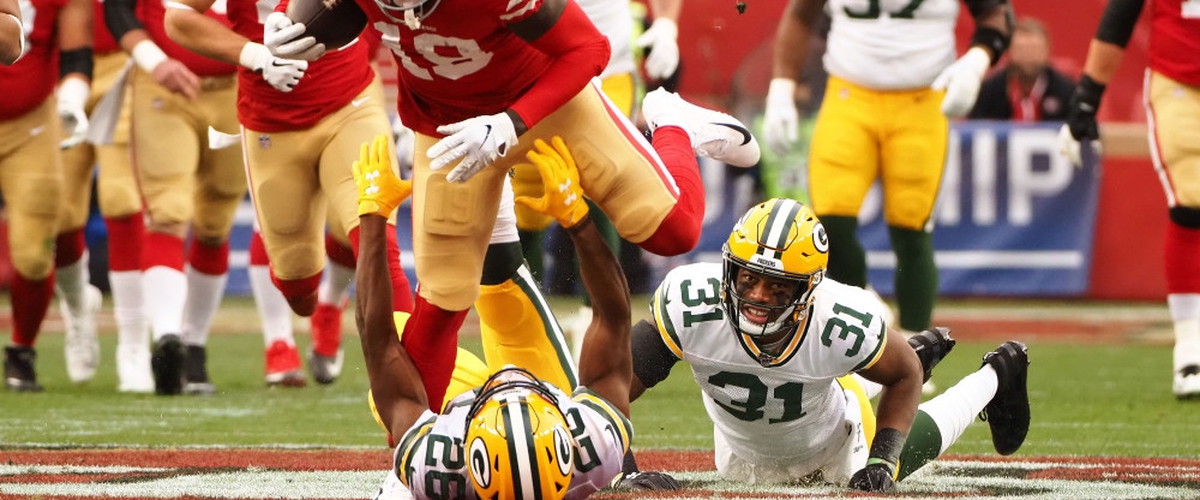 OVERALL: D+
Offense: C- QB/RB: C WR/TE: C+ OL: D+
Defense: D DL: D+ LB: D+ DB: D Special Teams: D+
BEST GRADE: A-: RB Aaron Jones
If you look at the yardage statistic, Davante Adams' 138 Yards on 9 Receptions is much more impressive than Jones' 83 Yards on 12 rushes and 5 catches, but there's a lot more to this game than the box score. First off, Jones was responsible for two of the Packers' three touchdowns. Most importantly, there was pretty much nowhere for Jones to run. The O-line gave him no favors as far as opening, and he still managed to average 4.7 yards per rush against the toughest front seven in football. Simply put, Jones did what he could with what he had - Vince Lombardi's definition of success.
WORST GRADE: D: C Corey Linsley and S Darnell Savage
Unless my memory fails me, this is the first time all season that Corey Linsley's landed in this dreaded paragraph. It also happened to be at the worst possible time because not only did he botch a snap and cause a fumble leading to a turnover, he (and both Guards Elgton Jenkins and Billy Turner) also failed to protect Aaron Rodgers from interior rushers and failed to advance the run game for Aaron Jones. On the defensive side of the ball, Darnell Savage was caught looking far too often and was simply out-schemed by Jimmy Garoppolo, Raheem Mostert and the 49ers' offensive play-callers. It was still a decent rookie campaign from Savage, but I really hope he's watching this tape (and some from a couple other recent poor performances) to really take a step forward in his sophomore campaign.
MVP Watch: After eighteen grueling games, Davante Adams (3.57 GPA) is official the 2019 Green Bay Packers team valedictorian. Aaron Jones (3.33 GPA) will most likely have a higher GPA after reviewing the season as a whole, but playing runner-up to an All-Pro receiver is no short feat. Za'Darius Smith (3.18 GPA) clinches his bronze medal, while Mason Crosby (3.08 GPA) should be happy with a "B+" grade in his year-35 season.
STATS OVERVIEW:
Passing - Rodgers: C (31/39, 326 Yds, 2 TD, 2 INT, 97.2 Passer Rating; 1 Rush, 0 Yds)
Rushing - A. Jones: A- (12 Rush, 56 Yds, 1 TD; 5 Rec, 27 Yds, 1 TD); J. Williams: C- (3 Rush, 6 Yds; 2 Rec, 1 Yds);
Receiving - Adams: B+ (9 Rec, 138 Yds); Graham: B (4 Rec, 59 Yds); Lazard: B- (3 Rec, 36 Yds); Allison: D+ (2 Rec, 8 Yds); Kumerow: C+ (1 Rec, 23 Yds); Sternberger: B (2 Rec, 13 Yds, 1 TD)
Defense - No Interceptions and 1 Sack (Fackrell)
Questions? Comments? Concerns? General Feedback? Does this team have a better or worse chance to reach the Super Bowl in 2020/2021? Let me know!

Seriously, thank you to everyone who read any of my Packers Report Cards this season. I have no idea what the future holds, but my gut is telling me there's a good chance these weekly articles will return in some fashion for a fourth campaign come this fall.
Stay tuned and carry on,

Samuel R. Fuller