Grading the 2018 Packers Season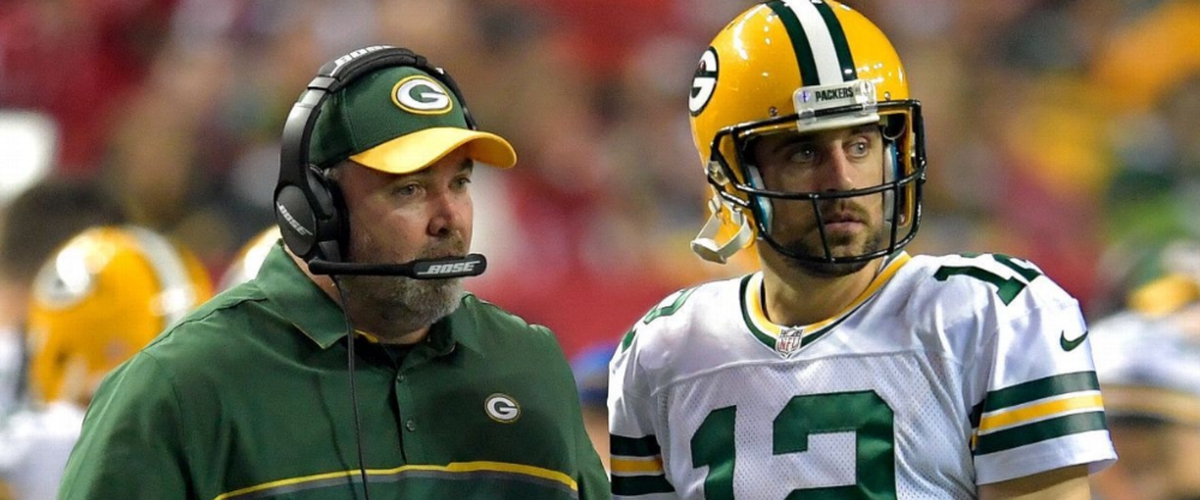 Last season's grading article began with talking about the Vikings' Anthony Barr and his dirty hit on Aaron Rodgers, ultimately damning any hope of Green Bay making the playoffs. However, Aaron Rodgers played in all 16 games this year and the team still ended up with a losing record and no playoff berth for the second season in a row. In fact, their record dropped from 7-9 to 6-9-1, resulting in a pink slip with Mike McCarthy's name on it. In the past week, Green Bay hired Tennessee Titans Offensive Coordinator Matt LaFleur to be their 15th head coach in franchise history. He'll hopefully bring an innovative offense and a respectable staff along with him; however, former GM Ted Thompson and President Mark Murphy are just as responsible for Titletown's decline.
Sure, Murphy's done a fine job at making the area around Lambeau Field profitable, but his ignorance to Ted Thompson's decline and arrogance surrounding his selfish power structure has put the actual product on the field in a rough spot. Sure, games might still sell out, but the casual fan has fewer and fewer reasons to tune in every Sunday. The unfortunate thing is it'll likely take more than one formidable offseason to return to playoff contender status. Hell, I just want to see Green Bay back in the playoffs again. The front office should be 100% focused on getting Aaron Rodgers another ring, as a player with his talent deserves more than a single title to his name. Mark Murphy just made him the highest paid player in football, and this year was disappointing for Rodgers' level of standards. Only throwing 2 interceptions was good, but according to Pro Football Focus, he had one of the worst completion percentages in the NFL when excluding throwaways. Game in and game out, he held onto the ball far too long. Sure, a 4,400+ yard season with 23 more touchdowns than interceptions may look better than most, but we all know what the former MVP (and a player still getting paid to play like one) is capable of. Is this just aging, given he just turned 35? For the Packers' salary cap and future playoff hopes, I sure hope it isn't. While McCarthy will get a large share of the blame for a horribly disappointing season, the trio of Rodgers, Thompson and Murphy should be recognized for their faults as well.
Aaron Jones experienced a breakthrough season, and if he stayed healthy and didn't earn a suspension for the first two games of the year, he would've been Green Bay's first 1,000 yard rusher in a long time. Jamaal Williams did a decent job serving as his backup, especially after we flipped Ty Montgomery to Baltimore, for pretty much nothing in return, due to his stupidity; however, Williams' lackluster yards per carry (3.8 compared to Jones' 5.5) showed why Jones should be the RB1 moving forward. Davante Adams put up All-Pro numbers, finishing one reception shy of Green Bay's single-season record. His 1,386 Yards and 13 Touchdowns round out a Team MVP-caliber season. Randall Cobb couldn't stay healthy and looked aged when he did make it onto the field, and out of the three rookie receivers, Marquez Valdes-Scantling was the standout player. EQ St. Brown had some good moments, and the earliest-drafted player J'Mon Moore struggled in his rare appearances on the field. Jake Kumerow showed his worth as a bench option with his first career touchdown after returning from Injured Reserve. Jimmy Graham wasn't completely awful, but he definitely fell short of expectations (and what a Tight End with his huge salary should produce). Neither Lance Kendricks nor Marcedes Lewis looked any more deserving of the starting job. David Bakhtiari was the best pass-blocking left tackle in the NFL, deserving of an All-Pro spot. Corey Linsley snapped every ball in 2018, just like 2017, and was the only other consistently good starting O-lineman. Bryan Bulaga and Justin McCray disappointed just like last year. Byron Bell didn't look worthy of a starting spot in his first season as a Packer, and Lane Taylor put together his worst season as a starter.
On defense, Kenny Clark was on pace to have an All-Pro season at Nose Tackle before ending up on Injured Reserve. Mike Daniels wasn't having quite as good of a season, but his play was still solid before also ending up on Injured Reserve. Muhammad Wilkerson looked slightly above-average before a nasty ankle injury made him the first of all three starting D-lineman to make it on IR. In the above three's place, Dean Lowry had a decent campaign, while undrafted rookie Tyler Lancaster played much better than expected. Nick Perry showed he wasn't worth his huge price tag, Clay Matthews had a decent season off the edge but not worthy of an eight-figure salary, and the best edge rusher ended up being fourth-stringer Kyler Fackrell with 10.5 Sacks. It was supposed to be Reggie Gilbert's breakout year after Perry's injury, but Fackrell proved to be the most productive pass rusher despite getting paid over ten times less than the players starting above him. Blake Martinez had another Pro Bowl-caliber season at Inside Linebacker, but neither Antonio Morrison nor rookie Oren Burks showed worthy of a full-time starting job opposite of him. Injuries forced veteran Tramon Williams over from Cornerback to Free Safety, and the 35-year-old looked bad at both. Rookie first-rounder Jaire Alexander was one of the few silver linings after an extremely disappointing all-around Packers season, and he's a building block for this secondary moving forward. In contrast, second-rounder Josh Jackson had a rough first year, committing penalties let and right while failing to use his ball skills to pull in any interceptions. Green Bay signed Bashaud Breeland mid-season and he performed well as a CB3. Kevin King showed some promising play in his second year, but last year's top selection ended up on Injured Reserve once again. Out of the three or four other cornerbacks required to fill out depth-wise because of injuries, Tony Brown had the most bright moments. Kentrell Brice got most of the starting reps at Strong Safety, and he may have been the worst starter on either side of the ball. Josh Jones was a decent sub-package strong safety, but his performances were far from full-time starter-worthy. Because of the disappointing season at Safety, Green Bay signed Ibraheim Campbell and Eddie Pleasant, with the former ending up injured and the latter looking worse-than-average. Mason Crosby had the day from hell against the Lions, but otherwise had a decent kicking season, knowing he was playing for his job after that horrible afternoon in Detroit. J.K. Scott showed off a massive cannon of a leg, but had some rookie struggles with inconsistency. Not a single returning option proved worthy of a full-time job, with miffed punt returns and costly fumbles left and right.
As I said last year, there will be a subsequent article to this one addressing what I believe the Packers should do in the offseason, but for now, I'll just go over all of the individual Packer grades from this collective season.
QUARTERBACK
Aaron Rodgers, #12: A- (2017: B; 2016: A+)
Rodgers was on pace to tally 3,828 Yards, 37 Touchdowns and 14 Interceptions last year before a season-ending collarbone injury. In 2018, the highest paid player in football threw for 4,442 Yards, 25 Touchdowns and only 2 Interceptions. Is that really an improvement, given more yards, fewer touchdown and one fewer win? Are we willing to accept that the 35-year-old might just be aging? With his status as the highest paid player in football, he better start playing like one if Green Bay wants a chance at another Super Bowl. I still see zero possibility of Green Bay trading or cutting him across the next few years.
DeShone Kizer, #9: D (First season in Green Bay)
Kizer only played two games in his first year after a year in Cleveland, and he showed struggles in both. He completed less than 50% of his completions, didn't throw a touchdown and tossed two stupid interceptions. He had some bright moments in the season finale, but I'm far from certain Kizer's the man to take over after Rodgers head off into the sunset. Is he okay as the backup for 2019? Eh, probably. However, I wouldn't say I'm completely secure in the backups for Rodgers moving forward.
Tim Boyle, #8: n/a (Rookie)
Boyle looked good in his preseason reps, obviously good enough for Green Bay to keep him on the active roster, but he was only active for Week 2. Maybe he's the better option behind Rodgers moving forward? With only preseason reps, it's hard to tell, but he didn't have a -2 Interception ratio like Kizer.
RUNNING BACKS
Aaron Jones, #33: B+ (2017: B-)
Jones averaged 5.5 yards per carry in limited reps last year. Coming into 2018, he didn't start all of the 12 games he was active for, and with only 133 Rushes, he could've tallied over 1,000 yards easily as the full-time starter. I expect his role in 2019 to expand even further, as he was one of the Top 10 running backs when starting this year. His grade could easily be in the "A" range with production similar to this year (728 Yards, 8 TDs, 5.5 Average in 12 games and 9 starts) as a full-time starter next year.
Jamaal Williams, #30: C+ (2017: B)
Williams played in all 16 games, with only 7 games as the full-time starter. His stats show 464 yards, 3 Touchdowns and a 3.8 Average over 121 rushes, good enough for a second-string back. He's a good off-speed bruiser up the middle, and this year confirmed his status as a reliable RB2 instead of a potential RB1.
Ty Montgomery, #88: C (2017: B- 2016: B+)
Montgomery was only 7 yards away from 1,000 total yards in 2016, then split the reps with then-rookies Jones and Williams in 2017, and ultimately became the RB3 in 2018. Overall, Jones and Williams looked much better, and after fumbling a kickoff return and costing Green Bay the win in Los Angeles, then followed by his sideline tirade, Green Bay traded him to Baltimore for a future 7th-rounder. So, essentially nothing. I hope he has more usability in Baltimore, but with the emergence of Jones and Williams the past two years, he wouldn't have had much of a future in Green Bay anyways.
Danny Vitale, #45: C- (First season in Green Bay)
Green Bay cut Aaron Ripkowski during the final cuts, and halfway through the year signed Danny Vitale. Overall, he had a relatively disappointing tenure in Green Bay at fullback. Sure, there's a good chance they bring him back for training camp next year, but I don't see how he's an improvement over Ripkowski whatsoever.
Kapri Bibbs, #22: n/a (First season in Green Bay)
Bibbs was signed late in the season to be a RB3, similar to Christine Michael two years ago. He looked decent in his brief two-game stint, only having one rush overall. Green Bay could bring him back for training camp competition at RB3, but he didn't do anything incredibly special to guarantee a spot in Green Bay next August.
WIDE RECEIVER
Davante Adams, #17: A (2017: A-; 2016: A-)
Adams would have been a 1,000 yard receiver last year if he didn't miss two games with a nasty concussion last year. In 2018, he tallied career highs in receptions (111), yards (1,386), and Touchdowns (13). Thank god Green Bay extended him, because he has realistic potential to be an All-Pro for years to come. Adams didn't win the 2018 Packers MVP award in my grading by accident.
Randall Cobb, #18: B- (2017: B 2016: B+)
Cobb only appeared in 9 games, but even his 16-game projection of 681 yards, 4 touchdowns and 68 receptions isn't good enough for a player on an eight-figure salary. Is there a chance Cobb returns on a discount? Sure, but I guarantee there's at least one team out there willing to pay Cobb to be a decent veteran slot receiver, far more money than Green Bay would give. Green Bay sure could use him next year, especially for Rodgers' benefit, but he wouldn't be anything more than a WR3 at full health.
Geronimo Allison, #81: B- (2017: C+; 2016: C+)
In five games, four of them considered "starts", he tallied a whopping 303 yards on 20 catches (that's a 15.1 average). He has the floor of a WR3 next year and the ceiling of a WR2, if he can stay healthy. This is the first serious injury he's tallied during his Milwaukee tenure, so there's serious hope for him in 2019.
Marquez Valdes-Scantling, #83: B- (Rookie)
The expectations for a fifth-round pick weren't super high, but 581 yards as the third or fourth receiver across the whole season is impressive. His top-end speed proved dangerous on long passes, and that's something Rodgers should explore more in 2019. If Cobb does leave like he should and Allison ends up as the WR2, I have zero doubt that MVS can be an effective WR3 in his sophomore campaign next year.
Equanimeous St. Brown, #19: C+ (Rookie)
You could see how St. Brown's route tree was developing throughout his rookie year. His most impressive stat is his yards per catch (15.6), definitely good enough to be a WR4 and potentially a WR3 in 2019. Barring a free agent signing or a revolution in J'Mon Moore's game, he should play a relatively significant role in the 2019 Packers offense.
Jake Kumerow, #16: C+ (First season in Green Bay)
Kumerow looked like the white Jesus out there after returning from Injured Reserve, and he did enough in my books (103 yards and a Touchdown in 5 bench performances) to warrant a spot as a depth receiver in 2019.
J'Mon Moore, #82: C- (Rookie)
The earliest-drafted of the three rookie receivers, Moore only tallied two catches for 15 yards, with his most significant contribution being the muffed punt return in Week 16. He had a lot of developing to do this offseason if he wants to become anything more than the sixth receiver on the depth chart.
Trevor Davis, #11: n/a (2017: C+; 2016: C-)
Davis was the return man in 2017, but played a very limited role in the only two games he was active for in 2019. With plenty of up-and-coming receivers moving forward, I'm not seeing a spot on Green Bay's 2019 active roster for Davis.
Allen Lazard, #13: n/a (Rookie)
The undrafted free agent caught one pass for seven yards in the single game he was active for in 2019. Green Bay could bring him back for competition in 2019, but it's no skin off their nose if they let Lazard walk.
TIGHT END
Jimmy Graham, #80: C+ (First season in Green Bay)
Graham was getting paid to be one of the best receiving tight ends in 2019, but certainly didn't play like it. We knew he couldn't block, and he didn't pick up that part of a Tight End's game in 2019, but 55 receptions for 636 yards and two touchdowns isn't good enough for a guy who got paid more than Travis Kelce and Rob Gronkowski in 2018. Cutting him would save $5.3 Million if they do so before June 1st, and there's a good chance they do so, but if Graham stays, he needs to step it up big time.
Lance Kendricks, #84: C (2017: C-)
Last year, Kendricks' 203 yards was a career-low. He pulled in even lower in 2018, with only 170 yards and matching last season's total of one single touchdown. He's a free agent this offseason, and they could easily replace their TE2, but there's also a chance that the Milwaukee native returns in 2019 as a backup.
Marcedes Lewis, #89: C- (First season in Green Bay)
Lewis came into Green Bay as a 34-year-old with 5 touchdowns in 2017, but pulled in a career low 3 receptions and 39 yards. I don't see Green Bay paying this much for a TE3 ($2.1 Million in 2018) next year, so I'm sure the seasoned veteran will be suiting up in a different uniform next year.
Robert Tonyan, #85: C (First season in Green Bay)
Tonyan made a couple impressive receiving plays, including his first career touchdown, but also committed multiple penalties on offense and special teams. His potential is likely more than enough to bring him back as the TE3 next season, as his ERFA status favors a return to Green Bay.
TACKLES
David Bakhtiari, #69: B+ (2017: B; 2016: A)
Bakhtiari earned another All-Pro honor while once again being snubbed from the Pro Bowl. He was by far Green Bay's best offensive lineman this season, well, really for the last three seasons at least. Bakhtiari held his own against solid pass rushers (well, except for Khalil Mack) and for the most part did his job against the run. Could he have played better? Yes, but rumor has it he was nursing an injury or two at different parts of the season, plus Green Bay needs him more than most other players on this roster. He's signed for another $24+ Million over the next two seasons, and barring any future injuries, he'll absolutely deserve it.
Bryan Bulaga: #75: D+ (2017: C 2016: C+)
Another year, another disappointing campaign from Bryan Bulaga. Unlike 2017, he did play more than a third of the season, but was pushed around and committed oodles of penalties in both run and pass protection. I wanted Green Bay to cut him before last season, but Gutekunst did next to nothing to improve the O-line before 2018, a mistake that Rodgers physically felt. His 2019 cap hit is $8.35 Million, and cutting him would save over $6 Million of that. I'm not saying handing him a pink slip is an obvious choice, but anyone who's watched even one single Packers game from the past few years can agree he doesn't deserve anywhere near $8 Million, even when staying healthy.
Jason Spriggs, #78: D (2017: C; 2016: C-)
2018 was Spriggs' third year in the league, and performance-wise his worst. Similar to the man starting above him (Bulaga), Spriggs committed stupid penalties throughout his select playing time, and was horribly exposed when covering for Bakhtiari on the blind side. At the end of the day, Spriggs hasn't given anyone in Green Bay a reason to trust him protecting the highest-paid player of all-time. He's due just shy of $1.6 Million in the final year of his rookie deal in 2019, and cutting him would save over $1.1 Million of that. I'd cut him, but we know how reluctant Gutekunst is already at major positional changes. Honestly, I don't want to see Bulaga OR Spriggs in a Packers uniform next year.
Alex Light, #70: D+ (Rookie)
Light, and undrafted rookie, was inactive for the first thirteen weeks of the season. He saw limited snaps on offense in December, and didn't look very good during them. Honestly, the only memorable moments were when his number was called for penalties. He's young and has room to grow, and unless Green Bay does expansive retooling across the o-line this spring, I'd expect to see Light back and fighting for a depth spot again come training camp.
Kyle Murphy, #68: n/a (2017: F)
After being an absolute failure last season, Murphy spent the first sixteen weeks on Injured Reserve, then was cut on December 28th and landed on the Rams' practice squad for the final few days of the regular season. There's zero reason to expect him to re-join Green Bay at any point of his career.
GUARDS
Lane Taylor, #65: C (2017: B; 2016: B+)
Taylor signed an extension through 2020 right before the 2017 campaign began, and while he lived up to his new deal that season, he had his worst campaign as a starting Guard in 2018. Overall, he just looked exposed in both running and passing schemes, especially the latter. He still had an average season overall and ended up with the third-highest O-Line GPA, but what does that say about Green Bay's blocking situation as a whole?
Byron Bell, #74: C (First season in Green Bay)
Bell signed a one-year deal this offseason after years backing up a good Cowboys o-line. Overall, his season was okay for his role as a third guard/third tackle, fill-in starter type on lineman. Unfortunately, he was Green Bay's best option at Right Guard, so he saw far more snaps than a player at his age and talent level probably should. He's free to walk this offseason, and Green Bay can find another veteran role guy to fill his shoes in a heartbeat. There's little reason to expect Bell back in a Packers uniform come September.
Justin McCray, #64: D (2017: D)
Last year, McCray landed in the "Worst Grades" category for nearly half the season. Sadly, 2018 was no different, as he got pushed around when trying to block for both passing and running plays. He shouldn't be a starting lineman, plain and simple. He's an Exclusive Rights Free Agent, and knowing the Packers' front office, they'll probably bring him back to be the third Guard and fill-in starter again next year. Has he earned it? No, but good offensive linemen are becoming harder and harder to find.
Lucas Patrick, #62: C (2017: D+)
Lucas Patrick has a memorable moment where he actually returned a kickoff against Miami. He was the fourth-string guard again last year, but actually looked deserving of more reps down the stretch. I'm not saying the guy should start next year, as the only Guard I'm comfortable seeing start is Lane Taylor, but he's an ERFA and I'd bring him back as a third-stringer to provide pressure on the rest of the o-line depth chart.
CENTER
Corey Linsley, #63: B (2017: B- 2016: B)
Linsley has quietly become extremely important to the Packers' offense. After snapping every ball last season, he did the same this year, tallying a combined snap total of well over 2,000 snaps. His blocking was consistently effective regardless of the type of play, and with no other true Centers on the roster, let's hope he stays healthy through the final two years of his contract.
DEFENSIVE LINE
Mike Daniels, #76: B (2017: B; 2016: B)
This is Daniels' third-straight "B" grade, which says a lot about what he brings to Green Bay's d-line: excellent talent, but usually something holding him back from ascending to All-Pro status. In 2016, he was an absolute monster in run support but couldn't get after the Quarterback. In 2017, his pass rushing improved but his health declined, only playing in 13 games compared to 19 the year before. This season, he showed glimpses of serious talent in both run and pass defense packages, but a foot injury limited him to 10 games. He's on the books for $10.7 Million in his final contract year next season, and cutting him could save $8.5 Million if they decided to move on. However, Daniels is still a productive player, a fan favorite and does a lot for the Green Bay community, so I'd expect Green Bay to ride him out during his contract year just like they did with Clay Matthews and Randall Cobb this season. No need to give him another extension quite yet either.
Kenny Clark, #97: B+ (2017: B; 2016: C)
Kenny Clark took another big step in his development in 2018, growing from solid starter to borderline All-Pro talent. He had 55 Tackles, 8.5 Tackles for Loss and 6 Sacks in 13 games before landing on Injured Reserve. Next year is the last year on his rookie deal, and while the Packers would be insane not to extend him, he's going to command a lot of money given his age (23) and All-Pro potential.
Dean Lowry, #94: B- (2017: B-; 2016: C+)
After Green Bay signed Mo Wilkerson, Lowry became the odd man out and began the season playing off the bench. There weren't any fumble-return-for-six moments in 2018, but he still tallied 13 more tackles and 1 more sack than 2017. Lowry isn't going to become anything more than the third-best defensive lineman on this team, and with next year being the final year of his rookie deal, they have a decision to make as to who will start on the defensive line moving forward. Oh and Kenny Clark and Mike Daniels have expiring contracts too.
Muhammad Wilkerson, #96: C+ (First season in Green Bay)
It wasn't really his fault, but to call Wilkerson's single season in Green Bay disappointing would be an understatement. His 1-year, $5 Million prove-me deal this offseason resulted in 5 tackles over three games. That's it. Even before suffering a nasty season-ending ankle injury, he didn't look any better than Dean Lowry as the team's third starter next to Kenny Clark and Mike Daniels. Honestly, Green Bay has no reason to try and give him a similar deal next year. In fact, at 29 and rehabbing a sever injury, they'd be foolish to give him a similar figure in 2019. He's more than free to leave in my eyes.
Montravious Adams, #90: C (2017: C-)
When Adams was taken in the third round in 2017, I went on the record saying he would be a bust. Two seasons later, he isn't an absolute bust be also hasn't looked like anything more than a bench option. If you're curious, he was taken before S Eddie Jackson, RB James Connor, RB Tarik Cohen and TE George Kittle. He's still under contract for the next two years and provided decent reps as a fill-in down the stretch, so I'd expect to see him as a depth option again next year.
Tyler Lancaster, #95: C+ (Rookie)
Lancaster was the only defensive lineman that significantly exceeded expectations. He went undrafted out of Northwestern, began the season on the practice squad and ended up as a full-rep starter for the final three games. He should absolute be back next year, most likely as their best backup option for the middle of the line.
Fadol Brown, #98: C (First season in Green Bay)
Brown went undrafted out of Ole Miss in 2017, spent all of last year on Oakland's practice squad, then found the field in eight games this year for the Raiders before being waived on December 4th. Green Bay claimed him the next day (with all their D-line injury troubles) and he had ups and downs during his four-game stint. He'd have an explosive play or two, but then would commit a dumb Roughing the Passer penalty the next game. He's an ERFA, and I think he's flashed enough potential for Green Bay to give him a chance at a tough battle for a backup job.
James Looney, #99: n/a (Rookie)
Looney was a seventh-round pick last April, spent most of the season on the practice squad and was promoted to the active roster on November 28th, only to see a couple snaps here and there. We haven't caught a glimpse of what he's really made of yet, but given his draft position and lack of play despite injuries above him on the depth chart, it's hard to see Looney as anything more than camp competition for better D-lineman come August.
OUTSIDE LINEBACKERS
Nick Perry, #53: C (2017: B; 2016: A-)
After a stellar 12-sack campaign in 2016, Green Bay gave Perry a hefty extension. Since then, he's missed 11 games and raked in only 8.5 total sacks over two years. He's due over $42 Million dollars over the next three years, but cutting him post-June 1st would free up $11 Million in cap space for 2019, something Green Bay needs more than ever after Aaron Rodgers' record-breaking year. Talent-wise, he's not worth his contract, and at 28 with a riddled injury history, it's hard to see his odds of returning to 12-sack form improving ever again. Gutekunst needs to be smart and let Perry go.
Clay Matthews, #52: C+ (2017: B; 2016: C+)
Unlike recent seasons, Matthews started and played in all 16 games; however, his issues of completely disappearing and being swallowed up by blockers have only grown. His Tackles for Loss were cut in half (13.5 in 2017 to 6.5 in 2018) and he had less than half his sack total from last year (8.5 in 2017 to 3.5 in 2018). He's a 32-year-old unrestricted free agent, and there's no way he's returning on any contract close to the $11.4 Million he made this season. If I had to gamble, I'd say his odds of returning aren't impossible, but pretty bleak.
Kyler Fackrell, #51: B- (2017: C+; 2016: C)
Many fans (including myself) were surprised he made the 53-man roster over Vince Biegel and other bubble players, but he proved everyone wrong by more than tripling his sack total from 3 in 2017 to a team-leading 10.5 sacks this year. He's not an every-down edge option, but he definitely demonstrated his worth as a rotational option. He won't be the top edge rusher moving forward, but Green Bay will enjoy riding out the final year of his rookie contract next season.
Reggie Gilbert, #93: C+ (2017: n/a)
Gilbert had a lot of hype entering the season, especially after an impressive preseason campaign, but only tallied 2.5 sacks over all 16 games. He was expected to earn a starting spot from Clay Matthews or Nick Perry and be a leading edge rusher option for years to come, but as of now, he doesn't look like anything more than a decent bench option in 2019. He's an ERFA, so Green Bay will undoubtedly re-sign him for the inexpensive depth on defense.
INSIDE LINEBACKERS
Blake Martinez, #50: A- (2017: A-; 2016: C+)
Martinez emerged as a star in his sophomore campaign last year, leading the entire NFL in tackles. He didn't decline in his third campaign, tallying the exact same amount of tackles (144) again, and more than doubled his career sack total (2 over his first two season) to five. If he pulled in a turnover or two, this would've easily been a 4.0 "A" season. He's entering the final year of his rookie deal in 2019, and Green Bay would be foolish not to pay the man what he's worth. He's an absolutely cornerstone of Mike Pettine's defensive schemes.
Antonio Morrison, #44: C+ (First season in Green Bay)
Morrison was signed to fill the gap left by Jake Ryan's torn ACL, and he played the role he was brought in for: a rotational run stopper. His 5.5 Tackles for Loss and single sack were okay, but he also didn't have a ton of volume to work with. He still has one year left on his rookie deal, and I'd expect him to play the same role (maybe with more Special Teams reps) in 2019.
Oren Burks, #42: C (Rookie)
Oren Burks was drafted to be a sub-package hybrid linebacker, and he had his chance at serious reps after Jake Ryan's season ended before it ever began. However, he wasn't much of a factor, tallying 23 tackles and zero impact plays. In fact, he was relegated to special teams duties only for nearly half the season. Burks may need more time to figure out his role moving forward, but it's hard to see him suddenly becoming a reliable starting option after an abysmal first year.
James Crawford, #54: C (Rookie)
Unlike Burks, James Crawford was merely lucky to make the active roster after training camp. The undrafted free agent rookie was more than happy to be a special teams specialist, where he pulled in a fumble recovery against San Francisco. He'll need to fight for a roster spot again next year, especially with the high volume of roster turnover expected with a new head coach, but his special teams prowess should give him an edge against other bubble options at Inside Linebacker.
Korey Toomer, #56: C- (First season in Green Bay)
Toomer was brought in to be a veteran presence at a depth-challenged position, but all he really did was disappear on special teams and commit a penalty or two. He was waived on November 28th, and there's zero chance he returns to Green Bay at any point of whatever's left of Toomer's career.
Jake Ryan, #47: n/a (2017: C+; 2016: B-)
Ryan proved productive in 2017, with 81 tackles across 15 games. A blown ACL in camp left Ryan out for the entirety of his contract year. Green Bay could bring him back as an option in 2019, but there's not much of a difference between what he and Antonio Morrison offer, and Morrison's younger and already under contract for next year. He's more likely than not to suit up for another team after this offseason.
CORNERBACKS
Tramon Williams, #38: D+ (First season in Green Bay)
Tramon played his first eight seasons in Green Bay, tallying 99 starts and 28 Interceptions. Now playing in his age-35 season, Williams started in all 16 games and played in 99.9% of defensive snaps (more than any other defender), but was unable to force a single turnover. In fact, he consistently blew deep coverage at both Cornerback and Free Safety, where he moved to after the Ha Ha Clinton-Dix trade. His numbers may have looked a bit better if he stayed at corner the whole year, but all in all he looked old and unable to keep up with fast receivers. If I could keep track of a "touchdowns surrendered" stat, I have little doubt Tramon would've led the team. He's due $6.375 Million next season, and they do have the option to cut him and save $4.75 Million of that, but they'd need to fill his hole with another veteran, one that won't come cheap. His odds of returning in 2019 are better-than-not, despite being tied for the worst grade out of all defensive starters.
Jaire Alexander, #23: B (Rookie)
Jaire Alexander was expected to have a decent role after being drafted in the Top 20, but no one expected him to play as well as he did. Alexander was a ball hawk, breaking up passes left and right while providing impressive pressure at the line of scrimmage. He held his own guarding the likes of Julio Jones and Stefon Diggs, and he's undoubtedly a finalist for the Defensive Rookie of the Year. Best used as a CB2/3 with slot reps, he'll see similar starting-level reps next year as he continues to grow as a star on a defense desperate for playmakers.
Josh Jackson, #37: D+ (Rookie)
While Jaire excelled in his rookie campaign, the second-rounder Jackson struggled big time. He committed more penalties than anyone else on defense, and his ball skills - arguably his most-hyped trait coming out of Iowa - were non-existent with zero interceptions. Is he best suited to be a zone option off the bench, or should he switch to Free Safety and use his range to his advantage? These are questions Mike Pettine has to iron out, as we don't need another Damarious Randall/Quinten Rollins type defensive back, who's stuck between corner and safety and ends up not very good at either.
Bashaud Breeland, #26: C+ (First season in Green Bay)
I was pushing for Green Bay to sign Breeland back in spring, so I was pumped when they brought him in halfway through the season. Despite only playing in seven games, he was the only Cornerback with multiple interceptions and a defensive touchdown. He seems to love Green Bay, and I'd be more than happy to bring him back next year. He's a great CB3 with proven ball skills, unlike most of the other corners on this roster. However, he's an unrestricted free agent and is free to leave. Gutekunst should see what he can do to keep Breeland and his fight-for-every-rep attitude in Titletown.
Kevin King, #20: C (2017: C)
When King's on the field, I feel good about our Cornerback situation. the problem is he's rarely on the field. He pulled in his first career Interception this year, and mostly held his own in six games (all with starting reps), but wound up on Injured Reserve just like last season. In a 15-month span, he's had serious shoulder, groin and hamstrings injuries. I want him to return to full health and be that long, tall man-to-man corner we need in our secondary, but he HAS to find a way to stay healthy in the second half of his rookie deal.
Tony Brown, #28: C (Rookie)
Brown, an undrafted free agent from Alabama, was promoted to the active roster on September 29th. In 11 games of backup and special teams duties, he tallied 34 Tackles, a Tackle for Loss and shares credit for a Forced Fumble. If he didn't commit so many stupid penalties, he'd instantly become a valuable bench player. If his mental game improves and he cuts out the penalties, he should have a decent chance of making the roster in a similar role next year.
Davon House, #31: D+ (2017: D)
I kid you not, I forgot Davon House was still on the roster for most of the season. He was signed last year to be the #1 corner and disappointed big time. He was re-signed on a much cheaper contract to simply be a veteran depth player, and he couldn't even do that well. He tallied two tackles in three games of sparse reps before landing on Injured Reserve with a shoulder injury. Green Bay has zero reason to bring him back again, and the unrestricted free agent would be fortunate to make anyone's 53-man roster come September after the past two horrid campaigns.
Will Redmond, #25: D+ (First season in Green Bay)
After being taken #68 overall in the 2016 draft by the Giants, Redmond has bounced around as a bubble practice squad/active roster player.Green Bay promoted Redmond to the active roster on November 6th. He proceeded to play four games of mediocre special teams play, then ended up on Injured Reserve by mid-December. He's under contract for next season, but he'll have to fight hard in camp next summer to earn a roster spot (he's no longer practice squad eligible, so that significantly worsens his odds).
Natrell Jamerson, #21: n/a (Rookie)
Jamerson, who plays corner and Safety, was the Saints' fifth-round selection last spring. He missed the final cut, then Houston claimed him, and after
SAFETIES
Kentrell Brice, #29: D+: (2017: C+; 2016: C)
Brice won the starting Strong Safety job after Green Bay chose not to try and re-sign Morgan Burnett, and massively disappointed in his inaugural starting year. I feel like I was tweeting for the Packers to reach out to other available Strong Safeties on a weekly basis after watching Brice play. He missed tackles, blew coverage, committed penalties and was helpless in red zone defense, all while failing to create a single turnover. He's a Restricted Free Agent, and Green Bay could bring him back to fight with Josh Jones for backup Safety reps, but he shouldn't see anything near starting reps for any team in 2019.
Josh Jones, #27: C: (2017: B-)
Jones raked in 55 Tackles and 2 Tackles for Loss, which may seem like a lot for a hybrid, sub-package specialist, but he tallied 71 Tackles, 5 Tackles for Loss and his only career interception in his rookie campaign last year. Despite only being 24 and just two years of experience under his belt, I don't see his role expanding over the next two years of his rookie contract. Still, he does provide value on special teams and in the sub-packages he was drafted to assist with, enough value to comfortable assume a roster spot come next September.
Ha Ha Clinton-Dix: #21: C+ (2017: C+; 2016: B)
Clinton-Dix certainly wasn't traded because of his production. He only started in the first seven games before being traded to Washington, and his 3 Interceptions over said games is more than any Packer player was able to match over the entire 16-game season. He openly said he wouldn't re-sign after 2018, and he was a growing character issue, so Green Bay made the right call in flipping him to the 'Skins. However, Green Bay still needs to fill the void Ha Ha left on a long-term basis, because keeping Tramon at Free Safety led to horrible results.
Raven Greene: #36: C (Rookie)
Greene, and undrafted free agent out of James Madison, only saw a handful of reps on defense, but demonstrated his value on special teams with one significant statistic: 2 Forced Fumbles. In extremely limited reps over only eight games, he forced more turnovers than nearly anyone else on the entire roster. This gives him an edge in fighting for a bench spot after what's set to be a busy offseason.
Jermaine Whitehead, #35: D+ (2017: C-; 2016: F)
Whitehead flashed some talent in the preseason, enough to warrant his spot as the backup Free Safety, but made mistake after mistake both on defense and special teams before giving Green Bay no choice in cutting November 67th, even after trading Ha Ha Clinton-Dix. Cleveland claimed him and he's still on their roster, meaning he's not, dare i say never, planning a reunion with Green Bay.
Ibraheim Campbell, #39: C+ (First season in Green Bay)
Campbell was busy in his three-game stint as a Packer, tallying 18 tackles and a Tackle for Loss. I know he was only signed as an emergency solution at Safety, but I liked what I saw, especially in his tackling ability. He's unrestricted and free to sign anywhere, but Gutekunst should at least make an effort to bring him back as a rotational option.
Eddie Pleasant, #35: D+ (First season in Green Bay)
Like Campbell, Eddie Pleasant was signed as an emergency solution at Safety. Unlike Campbell, he didn't impress in his small playing sample. He raked in 7 Tackles over 5 games, blew a couple of important coverage assignments and dropped a wide-open, potentially game-changing interception. He's unrestricted and, unless Gutekunst saw something I didn't see, is playing for another franchise in 2019.
SPECIAL TEAMS
Mason Crosby, #2: B (2017: B-; 2016: B+)
Aside from possibly the worst kicking performance in NFL history at Detroit, he had a decent campaign. His final numbers showed 30/37 (81.1%) on Field Goals, but subtract his career-worst performance and his ratio is a much more favorable 29/32 (90.6%). If the NFL showed us anything this year, it's that good kicking is hard to find. Crosby can still get it done, going nearly perfect down the stretch after Detroit, but I'd expect Green Bay to bring in some sort of kicking competition for Crosby, who's going into his age-35 year and the final year of his relatively large extension - he's due $4.85 Million in 2019.
J.K. Scott, #6: C+ (Rookie)
Scott showed of a cannon of a leg for a lanky 6'6" rookie punter, but his numbered showed an average-at-best season. He finished 22nd in Average Yards (44.7), 26th in Net Yards (38.8) and 27th in Punts Within the 20 (19). Scott has the leg talent; he just needs to show some consistency. I wouldn't expect the Packers to bring in any serious competition for Scott, as the job is comfortably his even after the mediocre stat line.
The next article is one addressing the offseason, and while there isn't a change in General Manager like last year, a lot of roster turnover occurs just with the change of a head coach. Hell, we don't even know who's going to be on Matt LaFleur's offensive staff. To give a little bit of foreshadowing, I'll point out the four biggest areas of concern for me: Right Guard, Right Tackle, Edge Rusher and Safety. Yes, there are more than that, as the Tight End depth chart will look a lot different in 2019, but this is just something to think about before the full offseason-oriented article is published. Also, expect to see another NFL Draft big board to be published in the next couple of weeks!
Any parting thoughts about the 2018 season, or can we just let it die? Let me know what you think!