Addressing the Packers' 2019 Offseason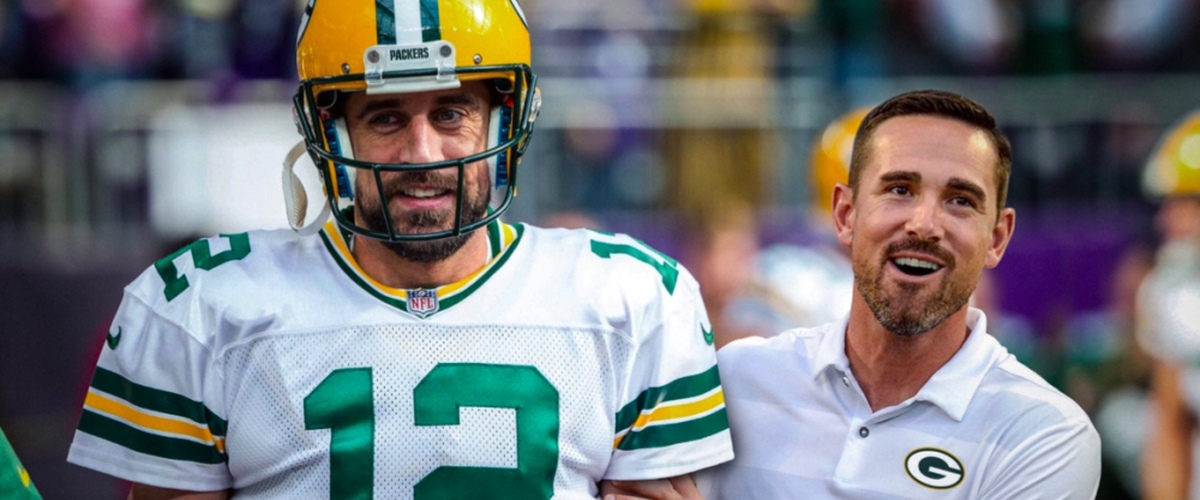 Any Packers fan will agree: our front office has a lot of work to do. Green Bay hasn't had back-to-back losing seasons since 1991, so long ago that the now Hall-of-Famer Brett Favre was still the Quarterback at Southern Mississippi. That was also the last season the starting QB wasn't Brett Favre or Aaron Rodgers. Mr. Rodgers still has a handful of elite years ahead of him, and is now certainly getting paid to play like one. Like I stated in my article on the 2018 season grades, the primary goal of the front office should be building a team good enough to help Aaron Rodgers win another ring. A player of his caliber deserves more than one title, and a Packers franchise with 13 national championships and 4 Super Bowls is certainly hungry to add some new hardware to the trophy room. Now, that's not going to happen next year, regardless of how well this offseason goes. Hell, let's just try returning to the playoffs. This roster has plenty of holes and question marks in all three aspects of the game. We don't know what the coaching staff will look like, as Matt LaFleur hasn't announced any assistant coaches yet, but the lack of talent eclipses any questions about new coaching growing pains. Simply put, the Packers aren't as talented as the Chicago Bears, and they're probably not as talented as the Minnesota Vikings. New starters are needed at a variety of positions, and with a change in scheme, some personnel surprises are destined to occur. I distinctly remember Aaron Kampman leaving Green Bay after not being a scheme fit in then-new DC Dom Capers' 3-4 offense. Lovable veterans may go by the wayside, and while Aaron Rodgers' job is safe, that's not the case for most other starting spots.
Just like last year, here's a list of the Packers' Unrestricted Free Agents, sorted by their 2018 cap hit:
Randall Cobb, WR, 28. 2018 Cap Hit: $12.5 Million
Cobb is still only 28, but he may have ran his course in Green Bay. Think back to that emotional picture before Week 17, where Cobb and Rodgers are hugging each other, both on the brink of tears. I think they both know Cobb is going to play elsewhere next year, and given his experience in being effective in the slot, he'll have a decent market.
Clay Matthews, OLB, 32. 2018 Cap Hit: $11.4 Million
Matthews is more likely to return to Green Bay than Cobb, but I still believe he's just as likely (if not more likely) to leave. Despite playing in all 16 games, his production has dropped significantly. It's gone from coming close to a double-digit sack season to praying he hits five sacks at least one more time in his career. The whole edge rushing situation needs a rework (I'm looking at you too, Nick Perry), and that starts with letting the long-locked veteran walk away from Titletown.
Muhammad Wilkerson, DE, 29. 2018 Cap Hit: $5 Million
I was stoked when Green Bay announced the signing of Wilkerson, as he's a proven pass rusher who needed a prove-me deal. Instead, Wilkerson tallied five tackles in three games before his season ended prematurely after a nasty ankle injury. Dean Lowry filled in and was just as productive as Wilkerson looked to be. I don't see why Green Bay would want to try Wilkerson again.
Lance Kendricks, TE, 30. 2018 Cap Hit: $2.225 Million
Kendricks' 170 yards is a career-low, and his previous career-low came last year. That's a downward trend for a second-string Tight End who also saw Fullback reps, and now playing north of 30, he's unlikely to suddenly deserve all the reps he took. Tight End needs a makeover, and unless he's content with being a veteran TE3 next year for less money, Kendricks' time in his home state has come to an end.
Marcedes Lewis, TE, 34. 2018 Cap Hit: $2.1 Million
Lewis has posted incredible numbers over the years, and showed blocking prowess in the preseason. However, when it actually counted, Lewis sat back as the TE3 and played very few downs, most of them just routine blocking assignments. Robert Tonyan can play his role, and he's a decade younger, much cheaper and already under contract. Lewis isn't returning for another try.
Jake Ryan, MLB, 26. 2018 Cap Hit: $2 Million
Ryan was productive as the second starter at Inside Linebacker next to Blake Martinez last year, but he blew out his ACL and missed all of 2018, the last year of his rookie deal. Sure, Green Bay could bring him back, but I have no idea what a deal would look like and Mike Pettine has ZERO real game experience with this guy. Odds aren't looking good at more than four years in Green Bay for Jake Ryan.
Byron Bell, RG/RT, 29. 2018 Cap Hit: $1.7 Million
Bell was brought in to provide veteran competition at Right Guard and Right Tackle, and he ended up playing in 12 games and starting in nine. He was mediocre for a starter, but I guess he kind of lived up to expectations? Green Bay needs solid options at both spots ASAP, and Bell isn't a formidable solution at either moving forward. I expect to see him in a different uniform come fall.
Davon House, CB, 29. 2018 Cap Hit: $1 Million
House re-signed with Green Bay for cheap after a horrible 2017 season. His role was to simply be a veteran backup (CB5?), and he couldn't even do that well, nor stay healthy enough to play in more than three games this year. House is out of chances, no matter what kind of discount he's willing to take.
Bashaud Breeland, CB, 26. 2018 Cap Hit: $880 Thousand
Breeland may be the best free agent signing of the Gutekunst era, and he was signed mid-season. Breeland showed his playmaking ability with a pick-six and consistent pressure in man-to-man coverage. He's usable outside or in the slot, and he's a quality CB3 even with a fully healthy depth chart. His Twitter feed made it look like he enjoyed his stint in Green Bay, and Gutekunst should see what he can do to bring him back on a reasonable contract. Oh, and he's only 26.
Eddie Pleasant, FS, 30. 2018 Cap Hit: $790 Thousand
I liked the Eddie Pleasant signing on paper, as he was a decent emergency option, but he blew coverage and dropped what would have been a game-changing, wide-open interception. At 30, we've seen what we're going to get from Pleasant, and he doesn't have a place in the Safety depth chart moving forward.
Ibraheim Campbell, SS, 25. 2018 Cap Hit: $705 Thousand
Campbell, like Pleasant, was an emergency signing given an injury bug. He tallied 18 Tackles in 3 games before landing on Injured Reserve, but I liked what I saw. He certainly looked like a better Strong Safety option than Kentrell Brice. If Campbell's willing to come back on an inexpensive deal, I don't see why Green Bay wouldn't take him up on it.
To sum it up, I would love for Green Bay to re-sign Bashaud Breeland and at least talk to Ibraheim Campbell about a return, but Green Bay's fortunate they don't NEED any of their unrestricted free agents in 2019.
Now, to the good stuff...
WHAT THE PACKERS NEED TO DO IN THE 2019 OFFSEASON:
Be okay with letting fan favorites Randall Cobb and Clay Matthews go.
Fan favorites are good for marketing, morale, and local commercials. However, when both are past their prime and made WAY too much money at positions that could use upgrades this offseason, being a fan favorite doesn't matter. Randall Cobb and Clay Matthews combined for $23.7 Million in salary in 2018, despite neither finishing with a Top 2 GPA at their position (again, check my grades). Last year, fans had to swallow the pill of letting Jordy Nelson go. This year, it's Cobb and Matthews. Oh wait, but I'm not done...
Shed the dead weight: cut Nick Perry, Bryan Bulaga, and maybe even Jimmy Graham.
Right now, Green Bay's 2019 cap space is sitting at about $32 Million, not counting potential rookie deals and re-signing Exclusive Rights Free Agents and Restricted Free Agents. Nick Perry has the second-highest 2019 salary at over $14.4 Million, and he doesn't even deserve half of that. He has a built-in potential out in the 2020 offseason, but they could cut him and save over $3.3 Million right away. Sure, you're still paying a guy over $11 Million to not even play for your team, but if you designate him as a Post-June 1st release, that saves over $10.7 Million in 2019 and pushed most of the burden onto the following year. Bryan Bulaga isn't worth his $8.3 Million salary tag, and cutting him would save about $6.7 Million of that. Just from cutting two players, Green Bay's already increased their cap space by another $10 Million. Cutting Jimmy Graham would take that number over $15 Million saved, but I'm not so sure Brian Gutekunst is willing to give up on that investment quite yet. If the cap space becomes an issue, I expect Tramon Williams and Mason Crosby to be next in line as cap casualties.
Find new starting options at both Right Guard and Right Tackle.
Aaron Rodgers is useless if he's not protected, and the right side of the line is extremely vulnerable. Right Guard was split between Byron Bell, a mediocre veteran who's leaving in free agency, and Justin McCray, who was the weakest link on the line for the second straight season. Right Tackle was won by Bryan Bulaga, who was reliable in run protection but completely unreliable in pass protection once again, and Jason Spriggs, who was mauled backing up both Tackle positions this year. Honestly, I'd be fine with seeing all four leave and completely restart that side of the line. Being realistic, I don't think Gutekunst is going to shed all four guys, as he may give McCray and Spriggs another camp to prove their worth, but they need to find new starting options at both spots. I don't care if it's free agency (Jared Veldheer, Bobby Massie, Seantrel Henderson, Mike Iupati, Andy Levitre, Rodger Saffold, etc.) or the draft (Cody Ford, Dalton Risner, Chris Lindstrom, etc.), we can't have significant holes on an offensive line holding up a 35-year-old future Hall of Fame Quarterback.
Actually address our edge rushing problem.
Green Bay began the 2018 season with two highly-paid starting edge rushers in Nick Perry and Clay Matthews. Reggie Gilbert was the hyped-up backup option destined to succeed Matthews for his starting spot. Kyler Fackrell barely beat out Vince Biegel for the last spot, and most fans wrote him off as just a special teams. Fast forward about five months, and supposed benchwarmer Kyler Fackrell was the only one of the bunch with at least four sacks. That's not good. Matthews is a free agent, Nick Perry should be cut, and Reggie Gilbert will likely be re-signed as a bench option with a seemingly low ceiling. That leaves at least one, if not two starting edge rushing spots on defense. As of now, I'd assume the earlier of our two first-rounders (#12 overall) will have significant odds at bearing an edge rusher. Kentucky's Josh Allen and Clemson's Clelin Ferrell will both likely go in the Top 10, leaving Florida's Jachai Polite as the highest option on the board, followed by Mississippi State's Montez Sweat, Florida State's Brian Burns and Boston College's Zach Allen. If none of those names suit Gutekunst & Co., the likes of Ziggy Ansah, DeMarcus Lawrence, Jadeveon Clowney, Dante Fowler Jr. and even Terrell Suggs are all pending free agents. Just do something. I'm still not over Green Bay passing up T.J. Watt.
Get two Safeties who can impact the defense right away.
Last year, I said the only impending free agent the Packers might regret losing would be Morgan Burnett. Sure enough, they let him walk and Kentrell Brice stinks the bed as the new starting Strong Safety. Josh Jones is a fin sub-package option, but I'm not sure he could ever handle starting reps. It doesn't get prettier at Free Safety, where Green Bay traded Ha Ha Clinton-Dix for being a major locker room cancer. Mike Pettine moved Tramon Williams over to play as the fill-in starter, and he sucked too. Tramon should probably move back to Cornerback, as he doesn't look cut out to start at Free Safety. This leaves both starting Safety spots wide open, and I'll start by hopping on the hype train for Landon Collins. The guy's an absolute playmaker who called Aaron Rodgers the GOAT. Other pending free agent Safeties include Lamarcus Joyner, Earl Thomas, Tyrann Mathieu, and Marcus Gilchrist. As far as the draft goes, the only Safety worth even considering at #12 overall is Alabama's Deionte Thompson, and he hasn't even decided if he's going pro or not. Behind him is a slew of second-to-third round talents. That being said, Chicago's Eddie Jackson was a fourth-round pick and he's become the highest scoring defender in today's NFL.
Rebuild the Tight End position. Cut Jimmy Graham if you have to.
The Packers had four Tight Ends on their active roster in 2019, and currently three are out of a contract and the one still under contract is wildly overpaid. Yikes. Jimmy Graham was painfully disappointing in his first season as a Packer, pulling in under 650 Yards while bearing a higher Average Salary than Rob Gronkowski, Travis Kelce, and all other Tight Ends. His backups Lance Kendricks and Marcedes Lewis were both underwhelming, and now both players are past their prime and free to leave in free agency. Robert Tonyan is an Exclusive Right Free Agent, meaning Green Bay will likely bring him back for cheap, but he's best suited as a third Tight End. Gutekunst needs to bring in at least two new options, one of them good enough to be a TE2 right away and challenge Jimmy Graham for the starting spot. A reunion with Jared Cook actually makes sense, and Aaron Rodgers could use the familiarity. Tyler Eifert is worth a look, despite his horrid injury history. Behind those two, none of the other pending free agent Tight Ends are any better than Kendricks and Lewis. In the draft, Iowa's Noah Fant would be an incredible pick if he's still on the board for Green Bay's later pick in the first round. If Alabama's Irv Smith Jr. or Missouri's Albert Okwuegbunam decide to declare early, they both deserve a look with that late first round pick.
Add another weapon for Aaron Rodgers to utilize.
Data (and common sense) shows when an offensive mind becomes the new head coach, he'll try to add more weapons that fit his scheme. Davante Adams is an All-Pro receiver whom Aaron Rodgers loves, but with Randall Cobb free to leave, that leaves an injured Geronimo Allison, a young Marquez Valdes-Scantling and a disappointing Jimmy Graham as his next three top targets. With most other offenses, I'd include Aaron Jones in the mix as a receiving back, but Rodgers clearly doesn't look comfortable with too many check-down passes. A WR2/3 to add flexibility, or even a receiving-oriented TE2 would help both Rodgers and Matt LaFleur big time. The Antonio Brown rumor is ridiculous and isn't happening for so many reasons. Larry Fitzgerald is highly unlikely too, but a speedy game-changer like Cole Beasley, Golden Tate, Cordarrelle Patterson, Tavon Austin or even Adam Humphries would make sense. If they don't want to spend the money, there are plenty of speedy options late in the first or on Day 2, with Oklahoma's Marquise Brown and Ohio State's Parris Campbell being the best scheme fits.
Build competition at Inside Linebacker, Kicker and Returner
Neither of these positions should come before the right side of the O-Line, edge rushers, Safety or Tight End; however, these aren't guaranteed starting spots. Antonio Morrison and Oren Burks could split time at ILB2 (which is also used as the hybrid sub-package 'backer), but that didn't work too well in 2018. Mason Crosby only had one bad game (he was 29/32 not counting the Detroit disaster), but he's turning 35 and due nearly $5 Million next season. I'm not asking for a significant signing at either; hell, they could use a third or fourth rounder for the Linebacker issue and a promising undrafted free agent or unsigned veteran at Kicker. I wouldn't mind another player who can naturally play Center, as Corey Linsley's the only player on the roster with snapping experience. Despite a relatively full depth chart, I'd want to see another Cornerback in for competition, and a mid-round pick could do the job. Also, someone has to be the designated #1 returner. Trevor Davis is a bubble roster player, Randall Cobb is gone, Tramon Williams and J'Mon Moore sucked, and Jamaal Williams and Bashaud Breeland were average at best. Just have one single guy, like a Cordarrelle Patterson or Tavon Austin, and it could make a world of difference for whoever the next Special Teams Coordinator is.
Packers Fans: here's our 2019 NFL Draft Big Board. Start studying.
1. Jachai Polite, OLB, Florida
2. Deionte Thompson, FS, Alabama
3. Devin White, ILB, LSU
4. Rashan Gary, DL, Michigan
5. Montez Sweat, OLB, Mississippi State
6. Brian Burns, OLB, Florida State
7. Noah Fant, TE, Iowa
8. Marquise Brown, WR, Oklahoma
9. Cody Ford, RG/RT, Oklahoma
10. Devin Bush, ILB, Michigan
Did I miss any concerns we should have? Let me know, and stay tuned for my next NFL Draft Big Board!
Remember, it's not a rebuild: it's a re-tool.