Green Bay's Best Head Coaching Candidate is.... Mike McCarthy?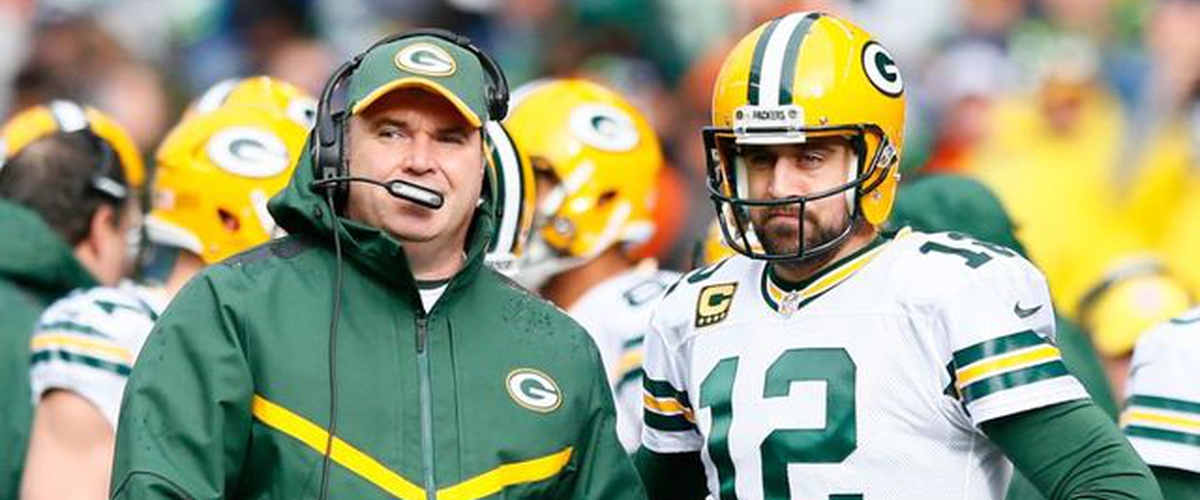 Hear me out: Mike McCarthy may still be the best man for the job.
I was all for firing McCarthy. A team like the Green Bay Packers has expectations, and it's about time someone was held accountable. Mark Murphy has preached accountability over the years, and now he's finally backed it up. McCarthy and Aaron Rodgers have had a rocky relationship over the past few years, and Green Bay just made Aaron Rodgers the highest paid player in league history, so Rodgers certainly isn't going anywhere. Combine that with losing to bottom-dweller Arizona at home, after going winless on the road, and the pink slip essentially wrote itself.
Joe Philbin led Green Bay to a win following the firing, but the Packers quickly came back to Earth by losing a mediocre game down in Chicago. There was very little belief Philbin would actually be a candidate for the full-time job following the season, and with Sunday's loss giving Chicago the NFC North, his odds of coming back next year are slim to none.
This leaves a wide-open head coaching vacancy. Mike Pettine has done an excellent job in his first season as Defensive Coordinator, but we all know how poor of a head coach he was in Cleveland. I'll give him the fact he didn't have much to work with, but he's probably not worth the gamble. I wrote an article discussing the top 15 candidates, but as I'll
explain below, all of them have significant question marks.
First, I'll list all fifteen again:
Josh McDaniels, New England Patrions Offensive Coordinator
Lincoln Riley, Oklahoma Sooner Head Coach
John DeFilippo, Minnesota Vikings Offensive Coordinator
Eric Bieniemy, Kansas City Chiefs Offensive Coordinator
Pete Carmichael Jr., New Orleans Saints Offensive Coordinator
Jeff Tedford, Fresno State Bulldogs Head Coach
John Harbaugh, Baltimore Ravens Head Coach
Bruce Arians, former Arizona Cardinals Head Coach
Gary Kubiak, former Denver Broncos Head Coach
Dabo Swinney, Clemson Tigers Head Coach
Matt LaFleur, Tennessee Titans Offensive Coordinator
Kris Richard, Dallas Cowboys Pass Defense Coordinator
Todd Monken, Tampa Bay Buccaneers Offensive Coordinator
Zac Taylor, Los Angeles Rams Quarterbacks Coach
Pat Fitzgerald, Northwestern Tigers Head Coach
Let's just dissect these immediately. Josh McDaniels is a great offensive mind, but he didn't even last two full seasons as the head man in Denver (11-17 record). Plus, character questions are present after his last-second backing out of the Colts job last spring. Lincoln Riley created a QB dynasty down in Norman, and not only is he highly unlikely to leave, Riley also has zero NFL coaching experience. John DeFilippo was fired after an embarrassing loss to Seattle, so that wouldn't be a good look for Green Bay. Eric Bieniemy has helped turn Kansas City's offense into one of the best in the league, but he isn't the play-caller and there are questions surrounding the degree of his influence. Pete Carmichael Jr. bears the same concern, as he's not calling plays in New Orleans. Plus, he's helped a formidable Saints offense for about a decade, so it's a little suspicious he's never been a serious candidate for any coaching vacancies over the years. Jeff Tedford just led Fresno State over a good Arizona State team in their bowl game, but at the end of the day, he's a Mountain West Conference head coach with zero NFL experience who's only tied to this job because he was Aaron Rodgers' coach back in the day at Cal-Berkeley. John Harbaugh won a Super Bowl, but his Ravens team is still very much in the playoffs picture, so there's a solid chance he keeps his job in Baltimore. Bruce Arians nearly won a ring with the Cardinals, but he's been away from the game for a while and openly claims he'd only return to coaching for the Browns job. Gary Kubiak won a ring during Peyton Manning's farewell tour, but he also has left the game for a while and nearly every rumor of a return to coaching is as an Offensive Coordinator, not a Head Coach. Dabo Swinney isn't leaving his Clemson dynasty, plain and simple. Matt LaFleur is calling plays in Tennessee this year for the first time at the NFL level, but the Titans offense has been extremely inconsistent, especially the passing game. Kris Richard has done a hell of a job in Dallas this year, but the 'Boys most likely wouldn't let him leave, nor does he have any head coaching experience. Plus, if the Packers were going to hire a defensive mind (which I find highly unlikely), they'd just promote Mike Pettine. Todd Monken has done a decent job as the OC in Tampa, but certainly not enough to warrant a head coaching job. Zac Taylor may be a great head coach someday, but he hasn't even been an Offensive Coordinator yet, let alone a Head Coach. Pat Fitzgerald is Mr. Northwestern; there's no way he's leaving that program, even for a Packers job he's far from qualified for. Just for kicks, I'll add a sixteenth name I've seen floating around recently: Jim Harbaugh. Yes, the brother of John and head coach of Michigan is now tied to the opening, but that's a horrible fit for so many reasons.
There you have it, fifteen candidates either under-qualified or unlikely to leave their current situations. Now, let's focus on three key things Green Bay should find in their next head coach:
1) An offensive mind, preferably someone with experience calling offensive plays for a pro-style Quarterback.
2) A proven winner, as the Packers need to be perennial playoff contenders for the rest of Rodgers' tenure
3) Someone with experience phasing out an aging Quarterback without switching to a run-first scheme
Now, who has all three of those things and is available to be a head coach in 2019….hmm…. oh wait, that's Mike McCarthy.
Mike McCarthy is an offensive mind with plenty of pro-style play-calling experience. The calling and time management were two major negatives leading to his dismissal, but it's possible he just needed to take a sabbatical. McCarthy won Super bowl XLV with Rodgers leading the way, and he tallied eight 10-win seasons during his 13-year tenure. McCarthy also played a critical role in phasing out Brett Favre and handing Aaron Rodgers the reigns.
As often as Packers fans called for his head, me being one of them, it's hard to argue against Mike McCarthy being the most qualified head coaching candidate for the seat he occupied less than three weeks ago.
Hindsight is 20/20, and looking back at it, many of the issues surrounding the Packers' lack of recent success have Ted Thompson's name and legacy written all over it. He's largely responsible for some poor draft classes. Mike McCarthy certainly had his struggles, but the front office didn't do much to prevent him from failing. When McCarthy was first hired in the mid-2000's, Ted Thompson was more than willing to go out and get talent like Charles Woodson. If McCarthy wanted more talent in a certain area, Thompson would take care of it. In the years following Super Bowl XLV, Thompson became more and more of a recluse. He was drafting willy-nilly and tried positional experiments like Quinten Rollins and Damarius Randall that never panned out. To put it in a metaphor, McCarthy would point out round holes and Thompson would go out and get square pieces. Thompson and Defensive Coordinator Dom Capers were both fired about three years after their expiration date, and there's a reason Mike McCarthy claimed he'd leave if assistant GM Russ Ball was promoted to Thompson's old office: Ball is just Ted Thompson 2.0. Brian Gutekunst has taken a more progressive approach, but being a former Ted Thompson assistant, the concerns of another Ted are still very real. To sum it up, Mike McCarthy made his fair share of mistakes as the head coach, but his hands were tied as far as the recent lack of talent is concerned.
It's no secret Green Bay's power structure is complicated. It begins with CEO and President Mark Murphy. He comes from a football background (a former Pro Bowler, I may add) but is much more focused on the business side of the organization (as a CEO should be). No one can question the incredible job he's done with the Titletown project involving the area surrounding Lambeau. However, he still demands having control of personnel. The decision to fire Mike McCarthy had to come from Murphy, and I have very little doubt he'll demand control over the hiring process for McCarthy's replacement. If this seems abnormal to you, that's because it is. The General Manager is supposed to hire and fire the people underneath him, but Brian Gutekunst clearly doesn't have that power. Plus, the remnants of the Ted Thompson era still exist in the shape of Russ Ball. Yes, Green Bay's salary man, is still the Assistant General Manager because he's one of Mark Murphy's good ol' boy. While coaching for the most successful football franchise history is drool-worthy, dealing with Green Bay's erratic, senseless power structure is not.
If you haven't figured out where I'm going with this, I'll spell it out for you: Mike McCarthy is the only coach with experience in a fractured power system like Green Bay. Out of all potential head coaching vacancies, McCarthy would surely want to stay in Green Bay over heading to Cleveland or New York, right? McCarthy wants to win championships, and his most reliable route to the promise land is through mending his broken relationship with Aaron Rodgers.
Would you be willing to accept Mike McCarthy back as the head coach if you knew he was the best option available?
If not, then who's the guy?