Sam's Grading the Pack Week 16: Now THAT was Aaron Rodgers!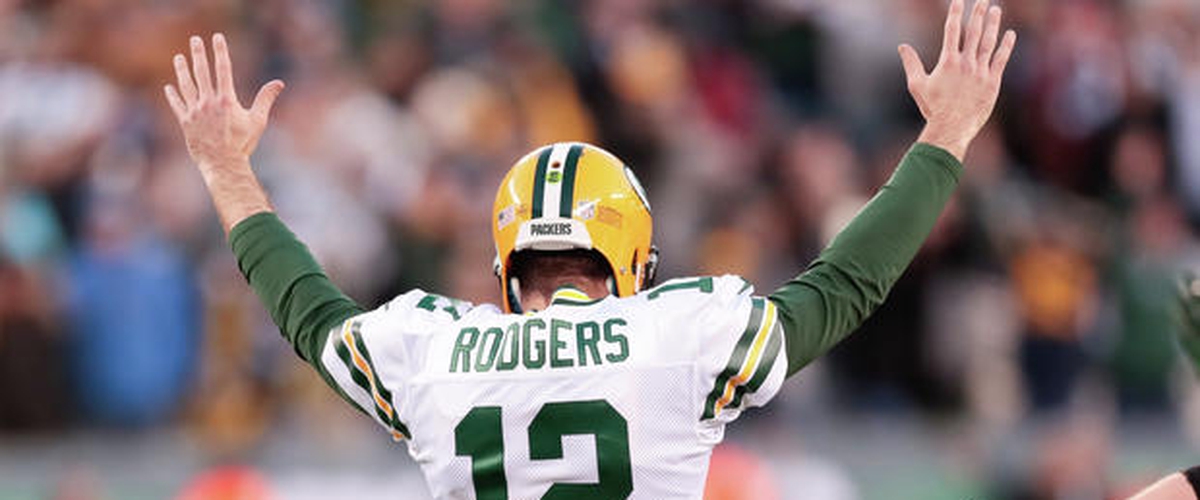 Before anything, I want to say I was in the tanking camp and wouldn't have blamed Aaron Rodgers one bit for not playing. He pulled his groin a week ago, and we as fans need to see more of DeShone Kizer to feel comfortable if anything happened to the highest-paid player in league history. Also, our odds of winning without Rodgers are exponentially lower, and I want as good of a draft pick as possible now that Green Bay has nothing to play for.
This being said, I admire Aaron Rodgers' answer as to why he played:
"I'm a competitor. In 20 years I don't wanna look back and know that I quit on my teammates. I want them to know that in a game that didn't mean a whole lot, I never lost faith and we did it together"
There were plenty of people, whether fans or haters, who questioned his leadership in the past week. This isn't a new trend either, as a number of former players have turned to the media after leaving Green Bay and bashed Rodgers for his lack of leadership. If anything, #12 used this week to silence this discussion. A telling sign for me was his running up to an opposing D-Lineman after his late altercation with Bryan Bulaga. Normally you see the big fellas sticking up for the gunslinger, but it was Rodgers doing the same for his linemen. In fact, he single-handedly carried the team to a victory with 474 total yards and 4 total Touchdowns, including the game-tying Touchdown and 2-Point Conversion, as well as the game-winning touchdown pass to Davante Adams. Speaking of Adams, he pulled in 11 receptions, his final one being the OT-ending score; and now he's only once catch behind Sterling Sharpe for the most catches in a single season (113) with one game to go. On the ground, Jamaal Williams turned 21 touches into 151 total yards and a touchdown, making it his best game of the season. This all happened with poor protection from everyone across the line. Jake Kumerow caught his first career touchdown, EQ St. Brown had the best game of his career with a new highest mark of 91 yards, and Marquez Valdez-Scantling added 75 yards of his own to the box score.
While the 44-points-scored offense held their own, the 38-points-allowed defense and special teams had a horrid performance. Blake Martinez held his own (of course) with the second-most tackles and one of two sacks, Kyler Fackrell tallying the other. Undrafted rookie Tyler Lancaster was the best D-Lineman (which should say something) and Clay Matthews was an absolute non-factor. Undrafted corner Tony Brown was the only secondary member who earned above a "C-", and against a rookie Quarterback who leads the entire league in Interceptions, they looked god awful. It didn't get any better on Special Teams, where Tramon Williams and J'Mon Moore both fumbles returns and the kicking team allowed a Touchdown return. I'd be shocked if Special Teams Coordinator Ron Zook returns next year, and he really shouldn't even have his job right now.
Overall, there were glimpses of offensive excellence stemming from a former NFL MVP, but there's plenty of work to do surrounding Rodgers. While winning an overtime game is exciting, let's remember we were playing the now 4-11 Jets.
OVERALL: C
Offense: B QB/RB: A WR/TE: B+ OL: D+
Defense: D+ DL: C LB: C DB: D+ Special Teams: D+
BEST GRADE: A+: Aaron Rodgers, QB; Jamaal Williams, RB; and Davante Adams, WR
Jamaal Williams and Davante Adams shared the honor last week, and Aaron Rodgers' MVP-like performance expands the honor share to three individuals. I mean, 474 total yards and 4 touchdowns is incredible given the circumstances. Williams tallied 151 total yards and a touchdown, and Adams raked in 11 catches for 71 yards and the game-winning touchdown. It took some star power to compensate for awful defense and special teams, and Green Bay got exactly that from a Quarterback, a Running Back and a Receiver.
WORST GRADE: F: RT Bryan Bulaga
Here's a quote for you: "Right Tackle needs some serious revamping in 2019." Sound familiar? That's because I said it A WEEK AGO in my last article, that time about Jason Spriggs. Bryan Bulaga returned to full health only to blow coverage throughout the entire game. He was called on not one, not two, but three holding calls, the last one cancelling out what would have been the game-winning touchdown. Fortunately, Aaron Rodgers threw a beautiful pass to his All-Pro receiver Davante Adams just two plays later. This O-Line needs a LOT of work, arguably more so than any other position group (I'm still not letting you slide, Edge Rushers and Safeties).
MVP Watch: Davante Adams is the guaranteed winner of this award, but a top-quality performance by Aaron Rodgers sees #12 take the 2nd-place spot back from Blake Martinez.
STATS OVERVIEW:
Passing - Rodgers: A+ (37/55, 442 Yds, 2 TD, 1 INT, 103.7 Passer Rating; 5 Rush, 32 Yds)
Rushing - J. Williams: A+ (15 Rush, 95 Yds, 1 TD; 6 Rec, 61 Yds)
Receiving - D. Adams: A+ (11 Rec, 71 Yds, TD); St. Brown: A- (5 Rec, 94 Yds); Valdez-Scantling: B+ (5 Rec, 75 Yds); Graham: B- (3 Rec, 34 Yds); Kendricks: B- (2 Rec, 25 Yds); Kumerow: A- (3 Rec, 68 Yds)
Defense - No Interceptions, 2 Sacks (Fackrell, Martinez)
Questions? Comments? Concerns? General Feedback? Would you start Rodgers in the season finale? Let me know!
Thank you and God Bless,
Samuel R. Fuller