Sam's Grading the Pack Week 17: The Sad, Depressing Finale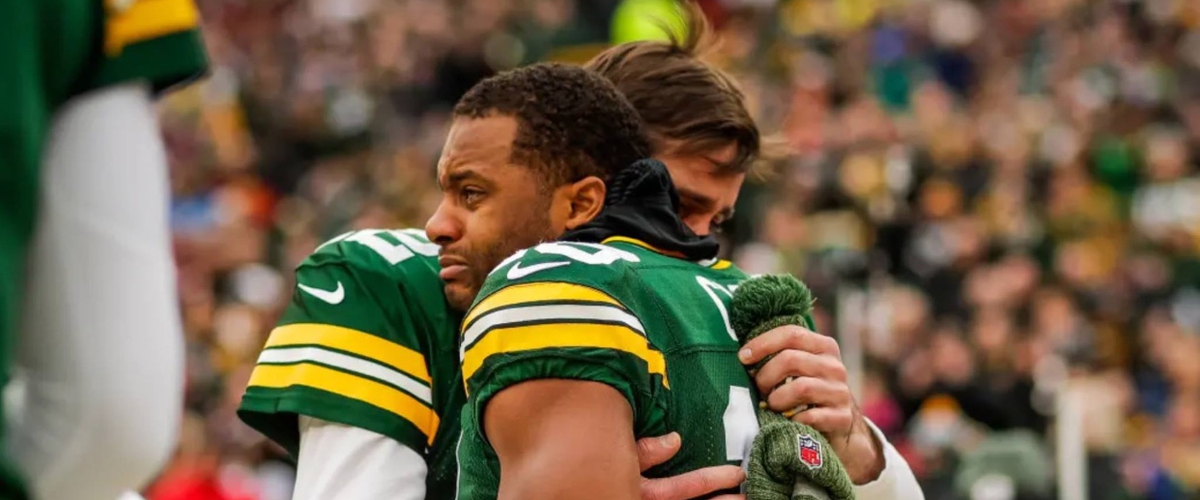 Before diving into my analysis of being shut out by the freaking Lions, I just want to say thank you to anyone who had read these weekly Packers updates over the last few years. I've enjoyed grading Green Bay and following the roster throughout the season, and I hope some of y'all did as well.
Alright, now to address the game: bad. Aaron Rodgers took a nasty hit on the second play of the game, and while he stayed in for a couple more drives before eventually conceding to the concussion protocol, he never looked the same afterwards. DeShone Kizer had some glimpses of efficiency marching the ball down the field, but he ended the day completing less than 50% of his passes, throwing no touchdowns and tossing a stupid interception. There's work to be done behind #12. Jamaal Williams was completely ineffective all game, only tallying four yards on eight rushes. Randall Cobb only caught one pass in what will most likely be his last game as a Packer, and Marquez Valdez-Scantling was the only player to rake in over 30 receiving yards. The O-Line was pitiful, allowing three sacks with Justin McCray partially responsible for all of them.
The defense may have been just as bad as the pointless offense (see what I did there?). Dean Lowry was the only down lineman with a grade above the "C" range, and I can't remember a single good edge rush. Blake Martinez held his own as usual, and Antonio Morrison showed just how good he can be in run defense. Kyler Fackrell notched the only sack of the game, securing his spot as the season leader. Not a single defensive back finished with a grade "C" or better, encapsulated by Kentrell Brice's missed tackles and lack of effort. Some areas will improve just by getting injured players back, but Safety is a long ways away from looking decent. Mason Crosby only did kickoffs, and J.K. Scott had the busiest afternoon of his career. Overall, this game pretty much summed up how the season went, and it showed just how many holes Green Bay needs to address before returning to their expected title-contending status.
OVERALL: D+
Offense: D QB/RB: D+ WR/TE: C- OL: D
Defense: D+ DL: C LB: C+ DB: D+ Special Teams: C+
BEST GRADE: B+: Blake Martinez and Antonio Morrison, ILB's
Yep, it's one of those games so bad the best performers can't event reach an "A-". Both of the starting Inside Linebackers share the honor this week. Blake led the team with 12 Tackles and leapfrogged Aaron Rodgers for the second-best season grade. Antonio Morrison held his own as a run stopping specialists with two high-velocity tackles for loss. In the worst-graded game all season, this defensive pair still did their part.
WORST GRADE: D-: G Justin McCray and SS Kentrell Brice
No surprise to find the two worst grades sitting at their two biggest offseason needs: Safety and Offensive Line. McCray was partially responsible for all three sacks, and didn't open many holes for Jamaal Williams at either guard spot. Right Guard and Right Tackle need new solutions next year, and Lane Taylor's job isn't that safe at Left Guard either. Kentrell Brice blew tackles and coverage like he was trying to lose his job. He hasn't shown many reasons to keep him on the 53-man come September, let alone deserve a starting job anywhere. Boy, Brian Gutekunst better be prepared for a heavy workload this offseason.
MVP Watch: Davante Adams is the 2018 Green Bay Packers Most Valuable Player. Blake Martinez takes the silver medal, and Aaron Rodgers settles for the bronze.
STATS OVERVIEW:
Passing - Kizer: D+ (16/35, 132 Yds, 0 TD, 1 INT, 44 Passer Rating; 4 Rush, 4 Yards); Rodgers: C (3/5, 26 Yds, 0 TD, 0 INT, 73.8 Passer Rating)
Rushing - J. Williams: D+ (8 Rush, 4 Yds; 3 Rec, 16 Yds); Bibbs: C (1 Rush, 2 Yds; 3 Rec, 13 Yds)
Receiving - Valdez-Scantling: B- (3 Rec, 43 Yds); Cobb: C+ (1 Rec, 27 Yds); Graham: C (3 Rec, 21 Yds); Kumerow: B- (3 Rec, 19 Yds)
Defense - No Interceptions, 1 Sacks (Fackrell)
Questions? Comments? Concerns? General Feedback? Would you start Rodgers in the season finale? Let me know!
Thank you and God Bless,
Samuel R. Fuller