The Brewers Are In 1st, And They Should Do Absolutely Nothing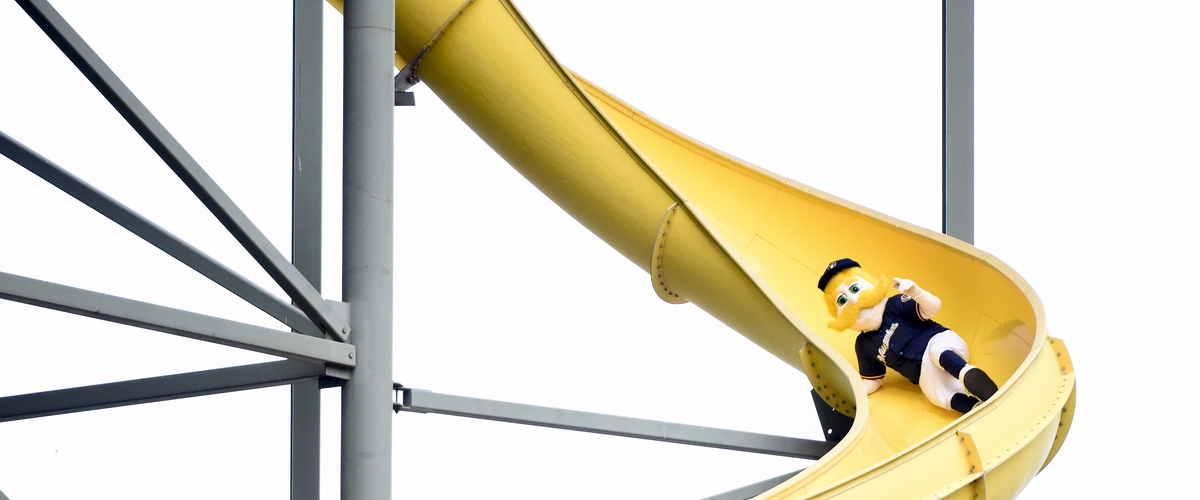 Not even General Manager David Stearns or Owner Mark Attanasio could have seen the Brewers winning 50 games by the All-Star break. Heck, this was only Year Two of the full rebuilding process. It hasn't even been 22 months since Stearns stepped into his office as a 30-year-old ready to dismantle an aging mediocre squad and build from deep, deep within. Nobody saw the Brewers doing this well.
The Milwaukee Brewers are leading the NL Central
Milwaukee is 50-41, rocking a .549 Winning Percentage and bearing a 5.5 game lead over the Cubs and the Cardinals. If that isn't surprising enough, look at the players involved. Junior Guerra, Matt Garza, Ryan Braun, Jonathan Villar, Wily Peralta, Chase Anderson, Travis Shaw, and Eric Sogard have all been on a Disabled List this season. Peralta absolutely imploded and got himself sent to the minors. Closer Neftali Feliz was absolute garbage and got cut before July. The relief pitching has blown 13 saves, ninth most in Major League baseball. Only All-Star Corey Knebel has been dependable out of the bullpen, and he just let Clint Frazier of the Yankees hit a walk-off less than a week ago. The face of the franchise Ryan Braun has been underwhelming, and Villar, Orlando Arcia, Keon Broxton and Domingo Santana have all had terrible cold hitting streaks. Yet, the Brewers still have a 5.5 game lead. This could only mean...
Yes, the Brewers are better than the Chicago Cubs
I don't know what happened to the World Series Champs, but they just haven't figured it out this year. Let's start with batters. Playoffs hero Kyle Schwarber was so bad (.178 Avg) they sent him down to the minors. MVP candidates Kris Bryant and Anthony Rizzo are only hitting .269 and .259 respectively. Nobody is Top 10 in Homers, Top 20 in RBIs or even Top 40 in Average. The pitching gets even worse. The best ERA out of all pitchers with double-digit starts is Eddie Butler's 3.88. Jake Arrieta (8-7, 4.35), Jon Lester (5-6, 4.25), John Lackey (5-9, 5.20) and Kyle Hendricks (5-4, 4.09) made up one of the best rotations in baseball last year, but only Jon Lester has over half of his starts as quality starts (10 of 18). Whatever star power the Cubs had last year, it's nowhere to be found in 2017.
In direct comparison, look what the "Land of Misfit Toys" Brewers have put together. Eric Thames, who returned from a couple seasons over in Korea, is tied for fourth in Home Runs in the National League. Travis Shaw, whom the Red Sox benched last year, is sixth in RBI's and Top-20 in average for the NL. To put that in perspective, no defending-World-Series-Champions Chicago Cubs' players have more than 20 Homers (Thames has 23), 56 RBI's (Shaw has 65) or a .269 from qualified players (Shaw, Domingo Santana and Orlando Arcia are all hitting above that). Jimmy Nelson (8-4, 3.30) and Chase Anderson (6-2, 2.89) have been more reliable than any Cubs starter.
If the individual stats aren't convincing enough, just look at the team stats:
Avg. Hits Runs HR's ERA Wins Saves QS K's
MIL: 16th 9th 6th 2nd 8th 7th 3rd 17th 13th
CHC: 28th 28th 20th 13th 9th 16th 17th 25th 9th
In all categories except strikeouts, Milwaukee is better. That's exactly why I don't buy into this hype that Chicago is suddenly going to go on a tear and win the division. It's one thing if you have one category on your team that's lacking and you can make some deadline deals to bolster a playoff push. It's another thing entirely when you're the worse of two teams in nearly every category. Chicago has the pieces in place to be a good team, they just aren't performing like it. Miguel Montero was waived, Kyle Schwarber can't hit the ball, none of the rotation is reliable, and the bullpen and rest of the batting line-up have been average at best. They're a 43-45 team, and they've played like it. No drastic moves or sudden burst of inspiration could skyrocket the Cubs' playoff odds. The only way the Cubs have a chance is if the Brewers implode after the All-Star break.
How will the Brewers keep their lead?
There's a lot of speculation on how the Brewers can keep this up, and some of it honestly bothers me. One idea is that the Brewers will trade key prospects for an ace like Sonny Gray or Jose Quintana. Brewers fans: does this sound familiar? In 2008, the Brewers traded for C.C. Sabathia in a deal that gave up future All-Star Michael Brantley. They won 90 games and made the playoffs, but lost in the first round to Philadelphia and had back-to-back losing seasons in '09 and '10. For the 2011 season, the Brewers traded for Zach Greinke. They won 96 games and got to the NLCS, but got pummeled by the Cardinals and they haven't made it back to the playoffs since. Do you know who they gave up in the Greinke trade? Lorenzo Cain, Alcides Escobar, Jeremy Jeffress and Jake Odorizzi. Trading for an Ace might help them secure a playoff spot, but they'd be giving up potential future starts in what's a very promising minor league system as a sacrifice. What they've been doing so far has earned them first place, and no moves by the Brewers, Cubs or Cardinals will drastically change their odds of ending up exactly where they stand now at the end of the season.
The Brewers aren't a juggernaut, and shouldn't act like it
This is still a year to be focused on development. The Brewers are one of the youngest teams in baseball, and they're already playing at a 90-win pace. Imagine if you let guys like Orlando Arcia, Lewis Brinson, Corey Ray, Josh Hader and Adrian Houser develop into the starters they can become? That's an Astros-like dangerous team down the road. Milwaukee is in a position to make the playoffs now, but there's no move to be made that would make them a true World Series contender. If it wasn't for trades, the Brewers would have had Nelson Cruz, Michael Brantley, Lorenzo Cain, Alcides Escobar, and Jake Odorizzi in their prime. Yes, the Brewers are a playoff team and will most likely be just staying the way they are, but again, trying to play like the Dodgers or Astros or getting players to mirror them will just completely derail the ultimate goal of David Stearns and all Brewers fans.
Ignorance is bliss, and the best learning experience is on the job
If this team can blow 13 saves, experience all of the injuries and the close, devastating losses and STILL be in first place, imagine where they'll be when they figure it out! Maybe this young team is naive towards the pressure they face in this current situation. If that's the case, then they should truly embrace in the ignorance. This young core can grow together while battling it out for a division title and leave everything they have on the field in the playoffs, which could do wonders for their development. When the talent catches up to the potential in a few years, the possible title-contending Brewers squad will be battle-tested and ready to make a run. Why would anyone throw away the chance to have a World Series contending team in a few years just to secure the odds that we make it in the playoffs this year as just an above-average team when the Brewers are on track to doing just that anyways?
In conclusion, the Brewers should do ABSOLUTELY NOTHING.
---