What if the Brewers drafted well...?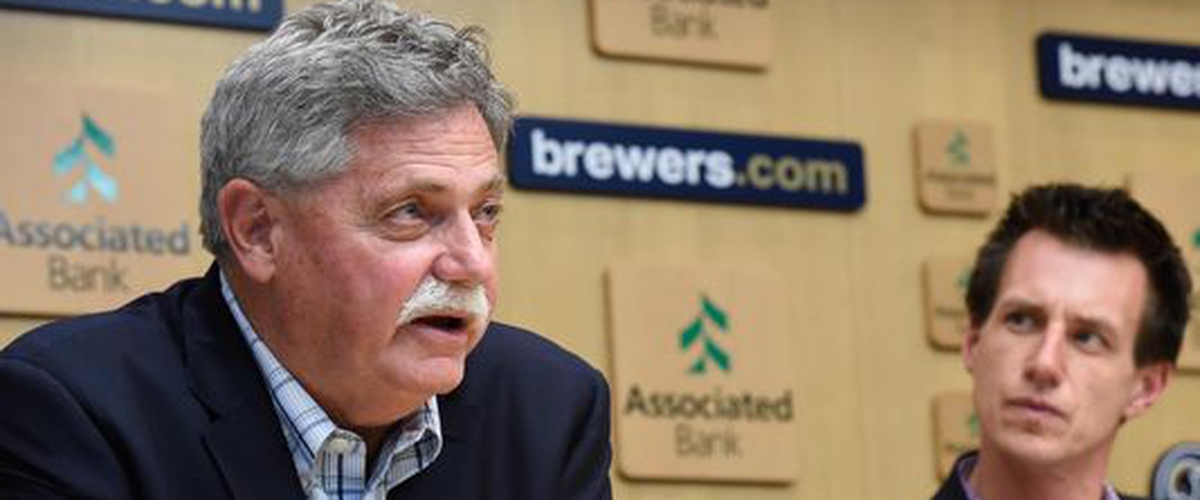 Like many other surging baseball clubs in 2018, the Milwaukee Brewers have relied on young, developed talent to round out their roster. Josh Hader is on pace to easily break the single-season record for strikeouts by a reliever, and he's only 24. Orlando Arcia was statistically the best defensive Shortstop in the NL before a brief AAA stint, and he's only 23. Freddy Peralta made his major league debut about a month ago at 21, and he threw 13 K's in six shutout innings. It's especially important for small-market teams to develop young talent through their farm system, as they don't have the $200 Million-plus payroll like New York, Boston, L.A. or Chicago teams do. GM David Stearns new this when he took the job in September 2015, and his replacing of over half the 40-man roster just in the first offseason alone demonstrated what he thought of the talent pool across the Brewers organization.
Here's the kicker with most of the rising youth for the Brewers, including RP Josh Hader, RF Domingo Santana, SP Zach Davies, 2B Jonathan Villar, 1B Jesus Aguilar, CF Brett Phillips, RP Adrian Houser, and C Jacob Nottingham: The Brewers didn't draft any of them. Even highly-valued prospects used as trade bait like LF Lewis Brinson and 2B Isan Diaz? Yep, they were acquired from other organizations too. This being said, how good could the Brewers have been during this rebuild if old GM Doug Melvin, assistant GM Gord Ash and farm director Reid Nichols actually did a decent job drafting? That's exactly what I'm investigating...
Now, I'll give some leeway for players still developing in the system, so the first relevant draft I'll dissect is the 2015 draft, which also happens to be the last draft conducted in the pre-David Stearns era. With early-selection guys like Dansby Swanson of the Braves and Alex Bregman of the Astros finding their way to the big leagues in 2018, this makes a three-season window as a minimum an appropriate one. The first eight rounds ends up being the first 255-ish picks, so about what an entire NFL draft is (which is my expertise). This being said, I'm including Milwaukee's picks from the first eight rounds of the past ten drafts, and if any player beyond the first eight rounds has reached the big leagues (or at least rose to the top of the farm system rankings), I include them as a later significant pick underneath the early selections. Let's begin:
2015 MLB Draft
Trent Clark, CF (#15); Nathan Kirby, LHP (#40); Cody Ponce, RHP (#55); Nash Walters (#90); RF Demi Orimoloye (#121); SS Blake Alleman (#155); RHP Eric Hanhold (#181); 3B George Iskenderian (#211); and RHP Nate Griep (#241)
Significant later picks: none
Who they could've taken: Mike Soroka, RHP (#28); Austin Riley, 3B (#1); Andrew Stevenson, OF (#58); Harrison Bader, OF (#100); Paul DeJong, IF (#131); Ben Taylor, RHP (#201); Koda Glover, RHP (#254); P.J. Conlon, LHP (#389); and Phil Maton, RHP (#597)
Analysis: Although there obviously isn't a ton of data to work with here, it's not off to a good start. Trent Clark, now Trent Grisham (Brewers' #7 prospect) is still working to be productive in AA. Nathan Kirby (unranked) missed all of 2016 and 2017 due to Tommy John complications, and he's trying to find his old stuff in A. Cody Ponce (#13) has a 4.71 ERA in AA this year, and the rest of the class isn't among the top 30 Brewers prospects. They could've taken Mike Soroka, the 27th-best prospect in baseball, who's already made three decent starts for the Braves. 3B Austin Riley is the 75th-best prospect in baseball, ripping a .312 average in AAA for the Braves. Andrew Stevenson doesn't have incredible upside, but he's already talented enough to make the Nationals roster. Harrison Bader is a quality Outfield talent for the Cardinals, and Paul DeJong would easily be a starting Infielder for the Brewers right now. Behind him, Ben Taylor, Koda Glover, P.J. Conlon and Phil Maton are all decent reliver prospects that have already made their major league debut, something none of the Brewers Draft Class of 2015 can say. In fact, there isn't one pick that stands out as a clear, quality choice yet.
2014 MLB Draft
Kodi Medeiros, LHP (#12); Jake Gatewood, SS (#41); Monte Harrison, OF (#50); Cy Sneed, RHP (#85); Troy Stokes, CF (#116); Dustin DeMuth, 3B (#146); David Burkhalter, RHP (#176); Mitch Meyer, RF (#206); and J.B. Kole, RHP (#236)
Significant later picks: Brandon Woodruff, RHP (#326)
Who they could've taken: Trea Turner, SS (#13); 1B AJ Reed (#42); Alex Verdugo, OF (#62); Daniel Mengden, RHP (#100); Rhys Hoskins, 1B (#142); David Hess, RHP (#151); Jonathan Holder, RHP (#182); Trevor Oaks (#219); Austin Slater, CF (#238); Dillon Peters, LHP (#287); Justin Anderson, RHP (#419); and Aaron Bummer, LHP (#558)
Analysis: Out of their entire 2014 class, only 11th-rounder Brandon Woodroff has made the big show. Kodi Medeiros (Brewers' #18 prospect) has plateaued in AA, still yet to post a sub-4.20 ERA at any level. Jake Gatewood (#17) has shifted positions frequently, but is hitting under .240 in AA with a minor league career OPS below .700, which is not promising. Monte Harrison is currently the 64th-best prospect in all of baseball, but they shipped him off to Miami in the Christian Yelich deal. The reast of the class has yet to get to AA, nor be ranked among the best 30 prospects in Milwaukee's farm system. Now, could you imagine if the Brewers took Trea Turner, the borderline All-Star Shortstop, in the first round instead? Imagine an infield with Eric Thames, Trea Turner, Orlando Arcia and Travis Shaw. Yeah. A.J. Reed made the big leagues with Houston in 2016 and currently serves as the emergency 1B on their 40-man roster. Alex Verdugo is the 29th-best prospect in baseball, making his Dodgers debut last September. Daniel Mengden is a full-time starter this season with the A's, currently posting a 2.85 ERA. Rhys Hoskins exploded onto the scene last year, winning Rookie of the Month in August. He's also hit 24 Home Runs in his first 100 Games, now serving as the full-time starting First Baseman. David Hess made his debut this season, making three decent starts for the Orioles. Jonathan Holder has pitched 60 games in relief over the past three seasons for the Yankees, and Trevor Oaks, Austin Slater, Dillon Peters, Justin Anderson and Aaron Bummer have all made their debuts either in 2018 or last September. That's at least twelve Major League quality prospects the Brewers missed taking before their one class gem in the 11th, Brandon Woodruff.
2013 MLB Draft
Devin Williams, RHP (#54); Tucker Neuhaus, SS (#72); Barrett Astin, RHP (#90); Taylor Williams, RHP (#122); Josh Uhen, RHP (#152); Garrett Cooper, 1B (#182); Omar Garcia, CF (#212); and Brandon Diaz, CF (#242)
Significant later picks: none
Who they could've taken: Chad Pinder, SS (#71); JaCoby Jones, CF (#87); Ryon Healy, 1B (#100); Cody Bellinger, 1B (#124); Adam Frazier, SS (#179); Tyler Olson, LHP (#207); Kendall Graveman, RHP (#235); Trey Mancini, 1B (#249); Mitch Garver, C (#260); Chad Kuhl, RHP (#269); Zack Godley, RHP (#288); Emilio Pagan, RHP (#297); Shane Carle, RHP (#299); Chad Green, RHP (#336); JT Riddle, 2B (#382); Zack Granite, CF (#410); Caleb Smith, LHP (#434); Kevin McCarthy, RHP (#474); Dustin Fowler, CF (#554); Adam Engel, CF (#573); Luke Voit, C (#665); and Alan Busenitz, RHP (#757)
Analysis: Man, the Brewers missed out on some gems. Before I dive in, here's a woulda-shoulda-coulda for you: If the Brewers didn't give up their first rounder to the Cardinals to get the overrated starter Kyle Lohse, they could have drafted Aaron Judge. Let that sink in. Out of the 2013 draft class, only Taylor Williams and Garrett Cooper are in the big leagues in 2018. In fact, none of the other players in the entire class are among the top 30 Brewers prospects in 2018. Devin Williams hasn't pitched since 2016, Tucker Neuhaus is stuck in A, Barrett Astin is in the Cincinnati farm system, Josh Uhen is a mediocre reliever in AA, and Omar Garcia and Brandon Diaz both aren't even playing anymore. Chad Pinder is a big league utility man for the A's, tallying 21 Homers over 142 games in the past three seasons. JaCoby Jones is a fill-in Outfielder for the Tigers, now in his third season in the majors. Ryon Healy starts at first for Seattle in 2018 after exploding onto the scene hitting 25 Homers and 78 RBI's last year for the A's. Cody Bellinger trumps them all, winning NL Rookie of the Year and making an All-Star game last year with a .267/39/97 line in 2017. Adam Frazier is the utility man in Pittsburgh, hitting .276 in 121 games last season. Tyler Olson is in his fourth big league season with his third team, currently sitting at 68 career relief appearances. Kendall Graveman is on track to be a full-time starter for the fourth year in a row in Oakland. Trey Macini erupted onto the scene for Baltimore in 2017 with a .293/24/78 line in 147 games. Mitch Garver made his debut last year with Minnesota and is now their #2 Catcher. Chad Kuhl is already at 56 career starts in his third major league season with Pittsburgh. Zack Godley posted an impressive 3.37 ERA in his first chance as a full-time starter in Arizona last year. Emilio Pagan sits at 48 relief appearances in his second major league season, his first with Oakland. Shane Carle is arguable the best rookie relief pitcher in 2018, currently with a 1.82 ERA and 3-1 record in Atlanta. Chad Green made his Yankees debut as a starter in 2016, but is 8-0 with a 1.99 ERA in 61 relief appearances over the past two seasons. JT Riddle became Miami's backup middle Infielder in 2017. Zack Granite played in 40 games in 2017 as a backup Center Fielder and pinch runner for Minnesota. Caleb Smith is a full-time starter for Miami in 2018, with a 3.51 ERA and a projected 179 Strikeouts. Kevin McCarthy is 5-2 in 61 relief appearances for Kansas City, currently in his third big league season. Dustin Fowler is still MLB's 93rd-best prospect, currently with just 16 major league games for Oakland in 2018. Adam Engel is the starting Center Fielder for the White Sox, with his good speed and fielding offsetting his poor .183 Average over 143 big league games. Luke Voit was the fill-in Catcher in 62 games for St. Louis during his 2017 rookie campaign. Alan Busenitz has a nice 2.52 ERA over 32 games through his second season in Minnesota. Yes, that's a lot of players mentioned, but the increase in major league debutantes demonstrates the increase in disappointing draft results on Milwaukee's end. Even their best selection, Taylor Williams, could have been Cody Bellinger. Only Garrett Cooper had more major league experience than everyone else after his selection (#182) and the Brewers' next pick (#212).
2012 MLB Draft
Clint Coulter, C (#27); Victor Roache, OF (#28); Mitch Haniger, OF (#38); Tyrone Taylor, CF (#92); Zach Quintana, RHP (#122); Tyler Wagner, RHP (#155); Damien Magnifico, RP (#185); Angel Ortega, SS (#215); and David Otterman, LHP (#245)
Significant later picks: Anthony Banda, LHP (#335); Buck Farmer, RHP (#485); and Brent Suter, LHP (#965)
Who they could've taken: Stephen Piscotty, 3B (#36); Lance McCullers, RHP (#41); Alex Wood, LHP (#85); Edwin Diaz, RHP (#98); Drew VerHagen, RHP (#154); Chris Taylor, UT (#161); Jake Lamb, 3B (#213); Kyle Barraclough, RHP (#240); Luke Maile, C (#272); Nick Wittgren, RHP (#287); Joey Rickard, CF (#302); Paul Sewald, RHP (#320); Taylor Rogers, LHP (#340); Keone Kela, RHP (#396); Matt Boyd, LHP (#412); Devon Travis, 2B (#424); Dominic Leone, RHP (#491); Matt Duffy, IF (#568); and Josh Hader, LHP (#582)
Analysis: Right off the bat, this may be the worst draft yet. Clint Coulter hasn't hit above .240 in AA since 2016, Victor Roache hit .176 in AA last year and is now with the Cardinals, and Mitch Haniger was traded to Arizona in 2014 before making a debut with Milwaukee. Tyrone Taylor has finally made it to AAA this year, but as a backup Outfielder hitting .248. Tyler Wagner did make the big leagues, but after 6 games and an ERA of 4.94, he now sits with Texas' AAA. Damien Magnifico made 3 abysmal relief appearance before being shopped around the minors, now resting on Pittsburgh's 40-man roster via the Rule 5 draft. David Otterman and Zach Quintana haven't pitched since 2013 and 2016, respectively. Angel Ortega still hasn't played above the AA level, either. Now look at what they could've picked. Stephen Piscotty hit a .273/22/85 line in his sole healthy season of 2016. Lance McCullers and Alex Wood both made their first All-Star appearances last season, with 69 Wins combined between the two since 2013. Edwin Diaz leads all of baseball in saves this season with a current tally of 19. Drew VerHagen has served as a fill-in reliever so far, with 73 appearances through his fifth season in Detroit. Chris Taylor hit an impressive .288/21/72 line in 2017, with a career-high 140 appearances all over the field. Jake Lamb's 30 Homers and 105 RBI's in 2017 were more than enough to earn his first All-Star appearance. Kyle Barraclough has been nothing short of reliable through his fourth big league season in Miami, with a 2.63 ERA over 191 relief appearances. Luke Maile, altough only playing in 131 games through his fourth season, is Toronto's #2 catcher in 2018. Nick Wittgren has already appeared in over 100 games for Miami, and in his third season, his 2.70 ERA in 2018 is a career best. Joey Rickard is in his third season as Baltimore's fourth Outfielder. Paul Sewald made his big league debut in April 2017 with the Mets, and he's already tallied 75 relief appearances. Taylor Rogers is a third-year reliever with Minnesota, boasting a 11-6 record through 148 relief stints. Keone Kela, in his fourth season with Texas, is currently 4th in the AL in saves. Matt Boyd is in his third season as a full-time starter for Detroit, with a career high 3.00 ERA in 2018. Devon Travis starts at second base for Toronto, with a .282 career average through his fourth big league season. Dominic Leone is with his fourth team in five major league seasons, but his 175 relief appearances show he's been utilized wherever he's played. Matt Duffy was the runner-up for Rookie of the Year in 2015, and the former Giant is now a starting Infielder for Tampa Bay with a career average of .285 through four seasons. I don't even have to post the stats on Josh Hader, just know that the Brewers could have drafted him instead of trading for him in the Carloz Gomez deal. There's over a dozen major leagues the Brewers passed on with quality major league time, something none of the 2012 class (except for Brent Suter) can say. The only silver lining is finding a late gem in Brent Suter back at #965.
2011 MLB Draft
Taylor Jungmann, RHP (#12); Jed Bradley, LHP (#15); Jorge Lopez, RHP (#70); Drew Gagnon, RHP (#100); Nick Ramirez, 1B (#131); Michael Reed, CF (#161); Daniel Keller, RHP (#191); David Goforth, RHP (#221); and Dustin Houle, C (#251)
Significant later picks: Mallex Smith, CF (#401); Jacob Barnes, RHP (#431); and Carlos Rodon, LHP (#491)
Who they could've taken: Sonny Gray, RHP (#18); Jackie Bradley Jr., OF (#40); James McCann, C (#76); Tony Cingrani, LHP (#114); Mike Clevinger, RHP (#135); Mookie Betts, UT (#172); Marcus Semien, SS (#201); Ken Giles, RHP (#241); Kyle Hendricks, RHP (#264); Austin Barnes, C (#283); Travis Shaw, 3B (#292); Jon Gray, RHP (#329); Seth Maness, RHP (#350); Kelby Tomlinson, SS (#387); Jerad Eickhoff, RHP (#474); Nick Martinez, RHP (#564); Cody Allen, RHP (#698); and Chris Devenski, RHP (#771)
Analysis: For a single season, it looked like Milwaukee actually got a first round pick right. Called up in June 2015, he went 9-8 with a 3.77 ERA over 21 starts. However, he quickly slid to 0-5 with an ERA over 7 in just six starts in 2016, got sent down, never started another game for Milwaukee and is now pitching in Japan. Classic Brewers. The other first rounder, Jed Bradley, pitched six mediocre games for Baltimore in 2016 and retired just a year later. Jorge Lopez is still on Milwaukee's 40-man roster, but in 9 appearances over three seasons, his 4.84 ERA and 1.84 WHIP aren't impressive. Drew Gagnon hasn't pitched below a 5.50 ERA yet, now with his third AAA team in the past three years. Nick Ramirez switched from first base to pitcher, but already seven years later, he's still stuck in AA. Michael Reed was a September call-up for Milwaukee in 2015 and 2016, but a .214 average and no homers over 15 games got him sent down. Now he's a bench outfielder in Atlanta's AAA. Daniel Keller never made it past the rookie leagues, and Dustin Houle just made his debut in AAA last week. David Goforth was thought to be the Brewers' next closer when called up in 2015, but his 5.91 ERA over 31 games through 2017 quickly crushed that dream, leading him to a bullpen role in Washington's AAA. If Milwaukee got Mallex Smith and Carlos Rodon to sign, this class would've been Doug Melvin& Co.'s best, but neither player did. Looking at the players they could've drafted, it's almost torture with the 2011 class. Sonny Gray and Jackie Bradley have both made All-Star games. Tony Cingrani has pitched in 211 games through his seventh season, in his second with the Dodgers. Mike Clevinger went 12-6 with 137 K's and a 3.11 ERA in 2017, his first full year as a starter. Mookie Betts is already a two-time All-Star, finishing in the top 6 in AL MVP voting in 2016 and 2017, and he's arguably the best all-around player in the entire league in 2018. Marcus Semien has statistically been one of the best defensive Shortstops in all of baseball the past three seasons. Ken Giles was Houston's primary closer in 2017, with a 2.30 ERA and 34 saves. Kyle Hendricks is 42-26 with a crazy good 2.97 career ERA through four seasons-worth of starting experience with the Cubs. Austin Barnes played Catcher, second base and third base for the Dodgers in 2017, hitting an impressive .289 average and .895 OPS. Brewers fans know how valuable Travis Shaw is, but it's crazy to think the Brewers could've easily trafted him as late as pick #292. Jon Gray is 25-22 through his first 70 career starts in Colorado. Seth Maness has tallied 252 relief appearances, currently sitting at 18-10 with a 3.21 ERA. Kelby Tomlinson in in his fourth big league season in San Francisco, where he's played everywhere on the field through 255 games, hitting a nice .272 career average. Jerad Eickhoff will enter his third season as a full-time starter in Philadelphia once he comes off the 60-day DL this summer. Nick Martinez made 68 starts through four seasons in Texas. Cody Allen has been a solid late reliever for Cleveland, with a 2.69 ERA and 131 Saves through his seventh big league season. Chris Devenski made his first All-Star game last season, with an impressive 8-5 record, 2.68 ERA and 100 K's through 62 games of what became a World Series-winning bullpen. With all of those impressive All-Star-caliber talents in this class, Milwaukee's corps being led by Jacob Barnes demonstrates how comparatively disappointed this draft class truly is. I mean, Boston drafted Jackie Bradley Jr., Mookie Betts AND Travis Shaw? Come on...
2010 MLB Draft
Dylan Covey, RHP (#14); Jimmy Nelson, RHP (#64); Tyler Thornburg, RHP (#96); Hunter Morris, 1B (#129); Matt Miller, RHP (#159); Cody Hawn, 3B (#189); Joel Pierce, RHP (#219); and Austin Ross, RHP (#249)
Significant later picks: Yadiel Rivera, IF (#279); Kevin Shackelford, RHP (#639); and Jason Rogers, 1B (#969)
Who they could've taken: Noah Syndergaard, RHP (#38); Andrelton Simmons, SS (#70); JT Realmuto, IF (#104); James Paxton, LHP (#132); Scott Alexander, LHP (#179); Kevin Gausman, RHP (#202); Greg Garcia, SS (#229); Jacob DeGrom, RHP (#272); Adam Duvall, OF (#348); Joc Pederson, CF (#352); Robbie Ray, LHP (#356); A.J. Griffin, RHP (#395); Adam Eaton, CF (#571); Evan Gattis, C (#704); and Scott Schebler, RF (#802)
Analysis: First of all, they wasted the #14 overall pick on a guy who didn't sign. That's just inexcusable. He also was 0-7 with a 7.71 ERA in his debut season with the White Sox last year. Jimmy Nelson was a solid pick, having career highs in Wins (12), ERA (3.49) and Strikeouts (199) last season before injuring his shoulder. Tyler Thornburg was 8-5 with a 2.15 ERA and 13 saves in his only full-health season in 2016, before getting traded to Boston for Travis Shaw where, through multiple injuries, he still has yet to debut. Hunter Morris hasn't played since 2015, and Matt Miller and Cody Hawn haven't played since 2013. Joel Pierce hasn't pitched since 2012, and Austin Ross is a free agent after finally making it to AAA with Cincinnati last year. Instead of a sucky pitcher who would'nt sign, they could've taken Noah Syndergaard, who made an All-Star game in his single full-health season (2016) by throwing 218 K's, a 2.60 ERA and a 14-9 record. Andrelton Simmons has already won 3 Gold Gloves in his first six seasons, and he's ripping a .337 average in 2018. JT Realmuto has a career line of .283/44/187 over 451 games at Catcher and First Base in Miami. James Paxton is in fifth full-time starting season in Seattle, with a career record of 34-21 and a 3.26 ERA. Scott Alexander pitched his first full-time relief season in 2017 with Kansas City, posting a 2.48 ERA and a 5-4 record over 58 games. Kevin Gausman already has 117 career starts through his sixth major league season in Baltimore. Greg Garcia's 137 games played in 2017 was a career-high, filling in all over the infield for St. Louis. Jacob DeGrom won Rookie of the Year in 2014, and has since gone 49-32 with a 2.85 ERA, not to mention he leads all 2018 starters with a 1.52 ERA currently. Adam Duvall has hit 82 homers and 248 RBIs through his third season as Cincinnati's starting Left Fielder, making the 2016 All-Star game as well. Joc Pederson has hit 63 homers and 175 RBI's through his fourth season as the Dodgers' starting Center Fielder. Robbie Ray posted career-highs in Wins (15), Strikeouts (218) and ERA (2.89) in his 2017 All-Star campaign, while leading all of baseball in K/9 ratio (12.1).A.J. Griffin is 34-21 through his first 85 career starts, first in Oakland and now in Texas. Adam Eaton has a .285 average through 552 games with Arizona, the White Sox and now Washington. Evan Gattis, now in his sixth season, has hit over 20 homers in every season with at least 500 at-bats. Scott Schebler hit 30 homers and 67 RBI's in 2017, his first season as Cincinnati's starting Right Fielder. Overall, Milwaukee got it right with Jimmy Nelson and Tyler Thornburg,m but still missed out on some quality picks once again.
2009 MLB Draft
Eric Arnett, RHP (#26); Kentrail Davis, CF (#39); Kyle Heckathorn, RHP (#47); Max Walla, RF (#73); Cam Garfield, C (#74); Josh Prince, SS (#105); Brooks Hall, RHP (#136); D'Vontrey Richardson, RF (#166); Hiram Burgos, RHP (#196); Khris Davis, RF (#226); and Chad Stang, LF (#256)
Significant later picks: Scooter Gennett, 2B (#496); Tyler Cravy, RHP (#526); Caleb Thielbar, LHP (#556); and
Mike Fiers, RHP (#676)
Who they could've taken: Rex Brothers, LHP (#34); Garrett Richards, RHP (#42); Nolan Arenado, 3B (#59); DJ Lemahieu, 2B (#79); Kyle Seager, IF (#82); Adam Warren, RHP (#135); Brandon Belt, 1B (#147); Kike Hernandez, SS (#191); Dallas Keuchel, LHP (#221); Paul Goldschmidt, 1B (#246); Chase Anderson, RHP (#276); Tucker Barnhardt, C (#299); Yan Gomes, C (#310); Nate Karns, RHP (#352); Matt Carpenter, 3B (#399); Ryan Tepera, RHP (#580); J.D. Martinez, RF (#611); A.J. Ramos, RHP (#638); Trevor Rosenthal, RHP (#639); Matt Adams, 1B (#699); and Dan Straily, RHP (#723)
Analysis: Milwaukee pitcked up some gems later on, with Scooter Gennett, Tyler Cravy, Caleb Thielbar and Mike Fiers all contributing at the major league level. Khris Davis was a solid find, although they stupidly traded him to the A's for a mediocre catcher prospect. Otherwise, the rest were busts. Eric Arnett, the first round selection, never made it past single-A and was cut March 2014. Kentrail Davis made it to AA with the Angels, but was cut June 2015. Kyle Heckathorn made it to AAA, but hasn't pitched since throwing a 5.70 ERA in 2014. Max Walla, who tried Pitching in 2014, couldn't make it past single-A. Cam Garfield was cut from Colorado's single-A in 2015. Josh Prince made his major league debut, pinch hitting in 8 games in 2013 with Milwaukee, but hasn't made the big leagues since. He's currently In Arizona's AA. Brooks Hall is a free agent after throwing a 5.28 ERA in Arizona's AAA last year. D'Vontrey Richardson was cut before the 2015 season after a poor 2014 campaign in AA. Hiram Burgos mad a brief big league debut in 2013, but a 6.44 ERA over six starts resulted in a deserved demotion, where he's thrown in AA and AAA since. Chad Stang was cut from AA in 2014 after hitting .083. Now, looking at who they could've picked, Milwaukee missed out on about four or five MVP candidates. Rex Brothers is 20-14 through 314 career relief appearances. Garrett Richards hasn't been able to avoid injuries, but he's still 44-38 with a 3.54 ERA in 110 starts through his eighth big league campaign. Nolan Arenado has won 5 Gold Gloves through 5 seasons, while making 3 All-Star games and hitting at least 37 homers and 130 RBI's three years in a row. DJ LeMahieu has 2 Gold Gloves, 2 All-Star appearances and won the 2016 batting title with a .348 average. Kyle Seager has hit over 25 homers for four season in a row, while also making an All-Star game and picking up a Gold Glove. Adam Warren, now in his seventh season, is 23-22 with a 3.45 ERA in 259 games. Brandon Belt is in his sixth season starting at first for San Francisco, making an All-Star appearance and boasting an impressive career .828 OPS. Kike Hernandez had career highs in games (140) and homers (11) in 2017 with the Dodgers. Dallas Keuchel has 3 Gold Gloves, 2 All-Star appearances and the 2016 AL Cy Young award after a 20-8, 2.48 ERA and 216 strikeout season. Paul Goldschmidt may be the most underrated player in all of baseball, with a .294/183/646 line and career .919 OPS through seven seasons and five All-Star campaigns in Arizona. Chase Anderson is the Brewers ace in 2018, but they could've taken him at #276 instead of trading for him. Tucker Barnhardt won the starting Catcher job in 2017 for Cincinnati, hitting a career high .270 average while picking up a Gold Glove. Yan Gomes has split time at Catcher in Cleveland for six season, with his healthiest season coming in 2014 and bearing a .278/21/74 hitting line and a Silver Slugger. Nate Karns' only fully healthy starting campaign came in 2015, when he threw a 3.67 ERA and 145 Strikeouts, both career highs. Matt Carpenter has six full seasons as the Cardinals' starting third baseman, making three All-Star games and winning a Silver Slugger in 2013 after leading the league in Runs (126) and Hits (199). Ryan Tepera is 10-5 with a 3.40 ERA and 150 K's in 153 relief appearances with Toronto. J.D. Martinez has made an All-Star game and hit a career-best .303/45/104 line in 2017. He also leads the AL in homers and RBIs in 2018. A.J. Ramos has three seasons of full-time closer duties under his belt, tallying 99 Saves and making an All-Star Game in 2016. Trevor Rosenthal has five full major league relief seasons under his belt, posting a 2.99 ERA, 121 saves and an All-Star appearance over 328 games. Matt Adams has managed two full-health starting campaigns, 2014 and 2017, where he hit a combined 35 homers, 133 RBI's and .281 average. Dan Straily is 39-31 with 572 K's in 115 starts, now on his fifth team in seven years. Khris Davis, Scooter Gennett and Mike Fiers make this possibly the best class yet for the Brewers, but they also missed out on the most by skipping over Nolan Arenado, Paul Goldschmidt, Dallas Keuchel, DJ LeMahieu, DJ LeMahieu and Matt Carpenter. I mean, look at those names. That's just absurd.
2008 MLB Draft
Brett Lawrie, 3B (#16); Jake Odorizzi, RHP (#32); Evan Frederickson, LHP (#35); Seth Lintz, RHP (#53); Cutter Dykstra, OF (#54); Cody Adams, RHP (#62); Logan Schafer, OF (#94); Josh Romanski, LFP (#128); Maverick Lasker, RHP (#158); Jose Duran, SS (#188); Trey Watten, RHP (#218); and Erik Komatsu, OF (#248)
Significant later picks: Rob Wooten, RHP (#398); and Lucas Luetge, LHP (#638)
Who they could've taken: Lance Lynn, RHP (#39); Logan Forsythe, IF (#46); Tyson Ross, RHP (#58); Charlie Blackmon, OF (#72); Craig Kimbrel, RHP (#96); Justin Wilson, LHP (#144); Alex Avila, C (#163); Josh Harrison, 2B (#191); Eric Thames, LF (#219); Dan Jennings, LHP (#268); Tommy Milone, LHP (#301); Alex Wilson, RHP (#311); Nathan Eovaldi, RHP (#337); David Phelps, RHP (#440); Collin McHugh, RHP (#554); Nick Vincent, RHP (#555); and Tanner Roark, RHP (#753)
Analysis: It's interesting that the only two standout names taken by the Brewers, Brett Lawrie and Jake Odorizzi, were both used as trade bait before they could debut with Milwaukee. Brett Lawrie was shipped to Toronto for starter Shaun Marcum, and in his four years in Canada, single year in Oakland and then his one-year finale with the White Sox, he hit a .261/71/253 line in 588 games. His career derailed after being cut in March 2017, and he hasn't played baseball since. Jake Odorizzi was traded with Lorenzo Cain, Alcides Escobar and Jeremy Jeffress to Kansas City for Zack Greinke, Yuniesky Betancourt and cash. After debuting in Kansas City, spending five years with the Rays and now pitching his first season with the Twins, Odorizzi is 43-40 with a 3.85 ERA in 138 starts. After those two, it's pretty ugly. Evan Fredrickson (2010), Seth Lintz (2012), Cody Adams (2009), Maverick Lasker (2012), Jose Duran (2009), and Trey Watten (2011) were all cut before ever making it past single-A. Cutter Dykstra retired in 2016 in Washington's AA. Logan Schafer actually served as Milwaukee's backup Outfield in 2013, playing in 134 games but hitting just .211. He's currently a free agent, playing a full season in Baltimore's AAA last year. Josh Romanski played just four games in a rookie league in 2008, then completely dropped off the map and is now playing in Mexico in 2018. Erik Komatsu actually made it to the big leagues, playing in 30 games between St. Louis and Washington in 2012, but retired after a 2015 campaign in the independent leagues. While there weren't any real MVP candidates available in the 2008 class, plenty of high-quality players were once again passed up. Lance Lynn is 72-47 with 949 K's and a 3.38 ERA through his first 161 starts, making the 2012 All-Star game. Logan Forsythe has played all over the infield in 762 career games with the Padres, Rays and Dodgers. Tyson Ross has a 3.89 ERA through 123 starts and an All-Star Game appearance in 2014. Charlie Blackmon had a career year in 2017, leading the league in runs (137), hits (213), triples (14) and average (.331), while playing in his second All-Star Game and earning back-to-back Silver Slugger awards. Craig Kimbrel is on his way to a Hall of Fame career, sitting at 27-19 with an astonishing 1.82 career ERA and 309 saves through his ninth season, six of which have been All-Star-worthy. Justin Wilson, now in his eight big league season, is 23-15 with a career 3.27 ERA in 364 relief appearances. Alex Avila is on his fourth team in his tenth season, earning an All-Star bid and Silver Slugger award in 2011. Josh Harrison is in his eighth season in Pittsburgh, with a career average of .281 and two All-Star games. Eric Thames finally figured it out in 2017 with Milwaukee, hitting 31 Homers and 67 RBI's with an .877 OPS. Dan Jennings, also now with Milwaukee, has a career 2.86 ERA over 336 career relief appearances. Tommy Milone has made 126 starts in seven years with five different teams, boasting a career 45-36 record. Alex Wilson has a 3.29 ERA over 247 relief appearances through his sixth year. Nate Eovaldi is on his fourth team in just his seventh season, with a 4.18 ERA over 128 starts. David Phelps moved from starting to the bullpen, with a 2.72 ERA in 118 appearances since making the switch in 2016. Collin McHugh was 48-36 with a 3.96 ERA over 111 starts, and since switching to the bullpen in 2018, he's throwing a 1.05 ERA over 18 relief appearances. Nick Vincent is 19-14 with a 3.08 ERA in 315 relief stints. Tanner Roark is in his fifth season as a full-time starter for Washington, with a 57-44 record and a nice 3.41 ERA. Plenty of quality players were available, but Doug Melvin and his gang definitely missed the mark once again.
Here's what the best team Doug Melvin drafted looks like:
C: Clint Coulter
1B: Garrett Cooper
2B: Scooter Gennett
SS: Yadiel Rivera
3B:Brett Lawrie
LF: Khris Davis
CF: Logan Schafer
RF: Mitch Haniger
Bench: Monte Harrison
Bench: Jake Gatewood
Bench: Michael Reed
SP: Jimmy Nelson
SP: Mike Fiers
SP: Jake Odorizzi
SP: Brent Suter
SP: Brandon Woodruff
RP: Taylor Williams
RP: Jacob Barnes
RP: Caleb Thielbar
RP: Jorge Lopez
RP: Tyler Cravy
CP: Tyler Thornburg
Now here's what the best team Doug Melvin had the opportunity to draft looks like:
C: Evan Gattis
1B: Paul Goldschmidt
2B: DJ LeMahieu
SS: Andrelton Simmons
3B: Nolan Arenado
LF: Cody Bellinger
CF: Charlie Blackmon
RF: Mookie Betts
Bench: J.D. Martinez
Bench: Matt Carpenter
Bench: Jackie Bradley Jr.
SP: Dallas Keuchel
SP: Kyle Hendricks
SP: Noah Syndergaard
SP: Jacob DeGrom
SP: Sonny Gray
RP: Cody Allen
RP: Ken Giles, RHP
RP: Trevor Rosenthal
RP: A.J. Ramos
RP: Josh Hader
CP: Craig Kimbrel
There are still All-Stars available that didn't fit on this star-studded potential roster. As you notice, NOT ONE of the Milwaukee Brewers' selections made the woulda-shoulda-coulda team. Khris Davis was the closest to making it, but then again, he was stupidly traded away before the 2016 season.
Obviously hindsight is 20/20, but could you imagine if the Brewers drafted just a handful of the players they easily could have, instead of the large majority of disappointments they actually decided to pick?
It would be an entirely new ballgame...
---