25 Teams In 25 Days: Eagle Academy (Bronx) Eagles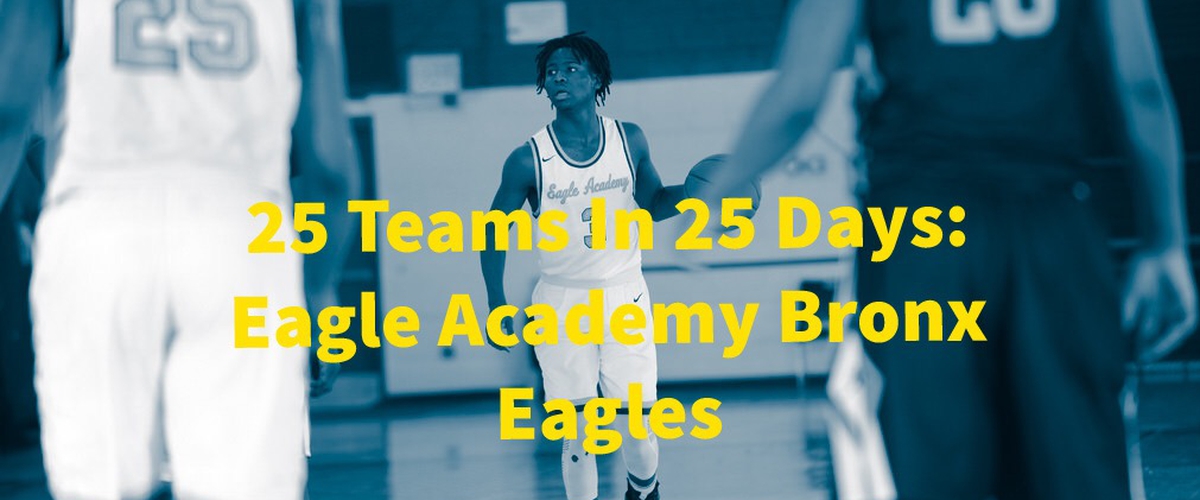 2017-18 season at a glance: 23-5 Overall record, Bronx AA regular season champions (14-1 division record), Bronx borough champions, reached PSAL quarterfinals.
Key additions: Joel Simpson, Noel Echevarria, Damarco Watson
Players to Watch: Vernon Simmons, Julian Avila, Damarco Watson
Eagle Academy has some familiar faces that are in for a big season, but they also have a few new faces that will contribute to the team in a big way. Among many of the new faces on this eagle squad are 6-4 freshman Noel Echevarria, a tall guard who can get to the rack and score. Echevarria is one of the top freshman in the city and he can make an impact quickly for this Eagle team. Eagle has struck gold once again when it comes to getting transfers from the catholic league. One of Eagle's newest additions is Damarco Watson a 6-4 guard from St. Raymond's and Joel Simpson from All Hallows. The addition of these players give eagle more depth at the guard and wing positions. Junior Vernon Simmons who is an aau teammate of Watson, is due for a big year as well. Seniors Julian Avila and Michael Caldero will be the leaders for this Eagle team who is looking to defend the Bronx borough title as well as make a deep post season run.


Eagle Academy made a big statement early in the preseason as they defeated State federation champion Archbishop Stepinac in the Tru-Ballaz Invitational. This was one game that proved that Eagle is one team that should be taken very seriously. Coming off of their success last season the Eagles have been invited to just about any preseason tournament to compete against the best in the city. At times Eagle Academy came up short in many games, but it's a sure thing that the preseason had prepared them well for the 2018-19 season.
Outlook
Bronx Borough championship, check. Win Bronx AA division, Check, sweep division rival and win the Bronx Borough championship? check. A run to the final four or championship? To Be Determined.
The Eagle Academy Eagles lost big to Thomas Jefferson in the quarterfinals last season, and that should serve as enough motivation for the Eagles going into the 2018-19 season. First things first Eagle must prove that winning the division and borough title last year wasn't a fluke. The competition in the Bronx AA might have gotten hotter as Wings Academy is an improved team, and James Monroe could possibly be the sleeper team in the division. If Eagle can win the division and borough again and prove to have a strong non-conference performance. They could be a dangerous team come playoff time.
Key games to Watch:
November 17th vs Curtis @ the Hersh Tip-off classic
Eagle Academy will start the season with a huge challenge as they will go up against Staten Island power Curtis High School.
December 8th vs Brooklyn Collegiate @ the snowball classic
Eagle vs Brooklyn Collegiate will be one contest that might be a 2019 playoff preview. The best of the Brooklyn AA division vs the best of the Bronx AA division.
December 22nd vs Thomas Jefferson @ the Brooklyn Bridge Holiday Classic
The rematch of the 2018 PSAL Elite 8 game will be epic as Eagle will look to avenge last year's playoff loss.
December 28th and 29th Governor's challenge
Eagle academy will travel down to Maryland to go up against the Highland School (VA) in the Governor's challenge. The tournament will be an opportunity for the team to go up against schools from across the country to end 2018.
February 7th vs Wings Academy
what better way to end the regular season than to play your division and borough rival. This will be the second meeting between the two teams.
---