A Look Back at the IS8 Nike Spring Tip Off Championship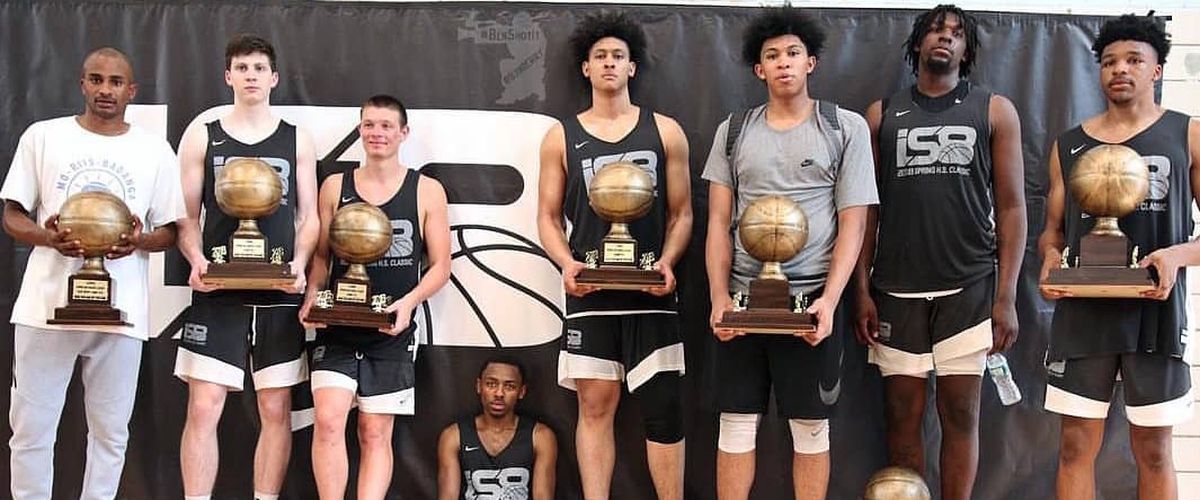 2nd Championship in 4 appearances for Northeast Basketball Club
? Credit:Ben Berry/BenShotitt
Saturday's Semifinals and championship at the Is8/Nike Spring Tip-off Classic. Was the perfect finish to a great season. With all the camps, graduations and other activities occurring on this day all four teams were able to have enough players to compete.
The semifinals started with Northeast Basketball Club handling Above and Beyond 72-58. McDonald's all American and LSU-bound Forward Nazi Reid scored 21 points to lead his team to victory.
The second Semifinal game featured an All-Queens matchup between 2Gz (Fall 2017 champs) and Sean Bell All-Stars. Both teams brought out the best local prospects and turned out to be a classic. 2Gz won the fall championship in 2017, while Sean Bell was looking to advance to its third championship appearance. This game brought tons of people from the surrounding neighborhoods and beyond, and the gym was in Standing room only mode.
The game started out heavily in 2Gz favor as they took advantage of Sean Bell's slow start in the first quarter. Guards Tyler Bourne and Anthony Marshall controlled they pace of the game and continuously atracked the rim with ease. The late arrival of South shore forward Sekou Sylla and Christ The King point guard Tyson Walker. Sean Bell started to mesh and went on a huge run to close out the first half going up 34-33.
In the second half Sean Bell went on a huge surge in the third quarter to put themselves up for good. Sean Bell also had a huge size advantage up front with 7-footers Moussa Cisse and Cliff Omoruyi clogging the paint. 2Gz found thee way to fight back but it wasn't enough as Sean Bell went on to win 77-68.
This set up a huge Queens vs New Jersey battle in the championship game between Sean Bell and North East basketball club. This would be the third straight champion appearance for both teams, and the first time Veteran Streetball coach Rah Wiggins went up against Trev James in his own backyard.
Both teams went at it with each other in the first half until Northeast Basketball pulled away in the 2nd quarter and part of the third with a barrage of three pointers. Dean Noll and Rutgers-bound wing Ron Harper Jr. were hitting long-range jumpers from everywhere. Sean Bell found themselves down by as much as 17 points going into the fourth quarter but they would go on a massive run throughout the final quarter to cut the lead to single digits. Sean Bell's run had the home crowd in a frenzy but that didn't phase Northeast Basketball as they had an answer most of the time for each bucket Sean Bell made. Luhi's Tykei Greene and Frankie Policelli were huge down the stretch so huge that Sean Bell All-Stars were up three with a few seconds remaining. Northeast found themselves on the verge of losing the title but that all changed when Nazi reef hit a big three pointer to tie things up.
With the back and forth battle of both teams Overtime was definitely needed and the battle between both teams continued in the extra period. Tykei Greene and Frankie Policelli continued to hit timely shots while Northeast Basketball found ways to get contributions from just about everyone. At the final buzzer Northeast Basketball escaped with a 96-95 victory over Sean Bell. Ron Harper Jr. Led Northeast Basketball with 32 points and the MVP trophy. Frankie Pollicelli earned Sportsmanship honors and scored 31 points in the game.
Nike Was in the building to hook up the players of Sean Bell and Northeast Basketball Club with some gear and kicks to take home along with the hardware. The gear included pairs of the Lebron Soldier XII along with the Lebron Soldier I retro that was released on May 31st in celebration of the 10th year anniversary of one of Lebron's defining moments, game 5 of the Eastern Conference Finals. All of this was a part of their Art of a Champion Campaign.
The Ultimate Prize Package for the IS8 2018 Spring Tip-off Champions
On Championship day, Is8 announced the All-tournament teams
Nike IS8 Spring Tip-off All-Tournament 1st team
Naz Reid(Roselle Catholic '18/LSU Commit)- Northeast Basketball Club
Ron Harper Jr.(Don Bosco Prep'18 / Rutgers Commit)- Northeast Basketball Club
Jason Douglas-Stanley (Mount Vernon HS '18/ George Mason Commit) Ben Gordon All-Stars
Anthony "Rome" Marshall(Metro-BDA '20)- 2Gz
Savion Lewis- (Hills East '18/ Quinnipiac University Commit) Team Long Island
Nike IS8 Spring Tip-off All-Tournament 2nd Team
KC N'Defo (Abraham Lincoln '18)- 2Gz
AnThony Nelson (SouthKent '18/Seton Hall Commit)- Road To Riches
Jonathan Kuminga (Huntington Prep '21)- D1 Stars
Dontae Walker '20 - LPAC
Ray Bethea- Above and Beyond
Nike Is8 Spring Tip-off All-Tournament third team
Tyson Walker (Christ The King '18) Sean Bell All-Stars
Tykei Greene (LuHi '18/Loyola Chicago Commit) - Sean Bell All-Stars
Sam Sessoms (Shipley (PA)'18/Binghamton Commit)- Above and Beyond
Dashawn Davis (Our Savior Lutheran'19) Road To Riches
Posh Alexander (Our Savior Lutheran '20) Beacon Elite
IS8 Player of The Year Moses Brown (Archbishop Molloy '18/ UCLA Commit)
---