NWI Region Collegiates Report (January 2020)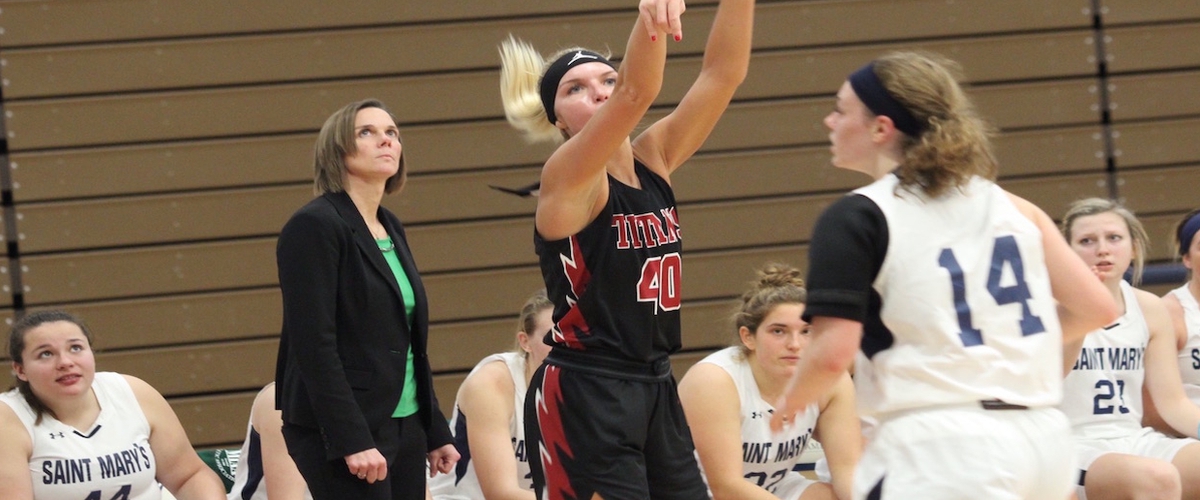 - University of St. Francis (Ill.) guard Justene Charlesworth (LaCrosse, 2018) produced her first career double-figure scoring effort at the college level in a win at Governors State on Dec. 14 with 11 points and three rebounds while shooting three-of-six from beyond the arc. Charlesworth also made a crucial three-pointer just before halftime during a narrow 56-55 win at Robert Morris one week later.
- Illinois-Springfield point guard Lauren Ladowski (Lake Central, 2018) made her first three-pointer of the season and scored a season-high 22 points in an overtime loss against Missouri Western State University on Dec. 18. Lauren currently leads the Prairie Stars with averages of 15.0 points and 3.6 assists per game on the season.
- Though she is from the other side of Northern Indiana, senior guard Shae Rhonehouse (Fremont, 2016) is set to graduate from Purdue-Northwest here in 2020 after having majored in Elementary Education. This fine young lady has accumulated over 800 points in four years of service for PNW women's basketball, with Rhonehouse's last 20-point game having come in a loss to Ferris State on Feb. 21, 2019, when she made four three-pointers.
- Bellarmine senior forward Chris Palombizio (Chesterton, 2015) led the Knights with 16 points and seven rebounds off the bench, both season-highs for Chris, in a blowout win over Spring Hill on Nov. 27.
- Chris' cousin, Ky Palomobizio (Chesterton, 2018), has not seen much run for Barry University after spending last season at Don Bosco Prep. Ky has played a total of five minutes in two games this season with totals of five points, one rebound, and one steal while connecting on all three of his free-throw attempts. Hopefully his playing time will pick up as his career continues to advance.
- Tallahassee Community College guard DeAndre Gholston (21st Century, 2018) is currently averaging 12.9 points, 4.9 rebounds, and 4.9 assists per game in 21 games this season after transferring over from Kent State after one season.
- Wisconsin-Green Bay forward ShanQuan "Tank" Hemphill (Michigan City, 2016) will be granted a redshirt senior season in 2020-21 after having undergone pre-season knee surgery. All I can so to this is - Good for you, Tank. It's good to see you getting the most out of this sport, because frankly you got screwed in the opening round of sectionals your senior year in high school. (For those that don't know: The host school Crown Point shot 31 free throws in that game compared to City's three.) Hemphill averaged 11.7 points and 5.6 rebounds per game for the Phoenix as a junior in 2018-19. Good luck next season!
- Eastern Florida State College guard Johnny Bernard (Westville and Merrillville, 2018) has averaged 9.1 points and 4.9 rebounds in 12 November games earlier here in 2019-20. Bernard has contributed scoring outputs of 18 and 17 points in two games each this season.
- 5'6" guard Dana Evans (Gary West Side, 2017) is doing quite well for the #5-nationallly ranked Louisville women. Evans currently leads the Cardinals with averages of 18.9 points and 4.2 assists per game, including 27 points in last night's win at Boston College.
- In a homecoming of sorts, Judson University guard Emily Balcazar (Whiting, 2019) scored 14 points, including two-of-three from distance, during a loss against IU-Northwest at Gary. Balcazar matched that scoring output, this time with four three-pointers in Judson's first win of the season against Cardinal Stritch on Jan. 8.
- Speaking of Whiting, Calumet College of St. Joseph guard Alexis Switzer (Portage, 2018) is averaging 8.7 points and 4.0 rebounds in 22.4 minutes in spite of being hindered by a hip pointer earlier in the season. She figures to be in store for a larger role as a junior next season as soon as certain teammates graduate.
- One of those teammates, senior forward Hayley Collins (Hobart, 2016), is currently averaging 6.4 rebounds per game this season. Not only did Hayley grow up in the same town as your truly, but she also grew up in the same house on the west side, as her family had moved in when I had skipped town back in 2005 when my mom got re-married. Collins went for six points and 10 rebounds in Wednesday's win over Judson.
- Valparaiso University forward Grace Hales (Westview, 2016) scored a career-high 25 points to go along with six rebounds in a 78-66 win at Eastern Illinois on Dec. 30. She later tweeted after the game that it was the most fun she has ever had playing basketball.
And in somber news...
Current Hobart High School senior Lauren Romeo had passed away a little more than two weeks ago on New Year's Day with what was considered an undisclosed illness. What had started as a mild headache on Dec. 30 had turned into something fatal roughly 48 hours later.
Truthfully - This one has hit me where it hurt, to the point where I couldn't not include it in a post of mine. Early reports claimed it to be a bacterial infection, the same illness that nearly took the life of then-Cleveland Indians centerfielder Leonys Martin back in August of 2018. However, a friend of mine told me the other day that she had heard from multiple sources that it was actually a brain infection.
While I haven't always been able eye-to-eye over the years with my original hometown for various reasons that are irrelevant at this point, it is times like these where we all need to stick together. My senior year at Hobart (2006) was also marred by tragedy, when woods professor Mr. Mike Zoladz was discovered to have an untreatable cancerous brain tumor. He died in May of that year. All that being said, I could not begin to fathom what it would be like to have a senior year be remembered for a loss of a fallen classmate.
A speed demon and three-sport athlete, Lauren Romeo's primary sport was soccer. Lauren and current basketball player Grace Nestich each scored goals during a 2-1 over Michigan City last Aug. 28.
If there was any consolation at all - At least Lauren didn't have to suffer for too long. Unfortunately, it is the rest of us that are suffering in attempt to make sense out of this. The conclusion that perhaps anyone could best come up with is that God has a plan for Lauren.
#SheIsWithUs