Cody Kessler, Brock Osweiler, or DeShone Kizer?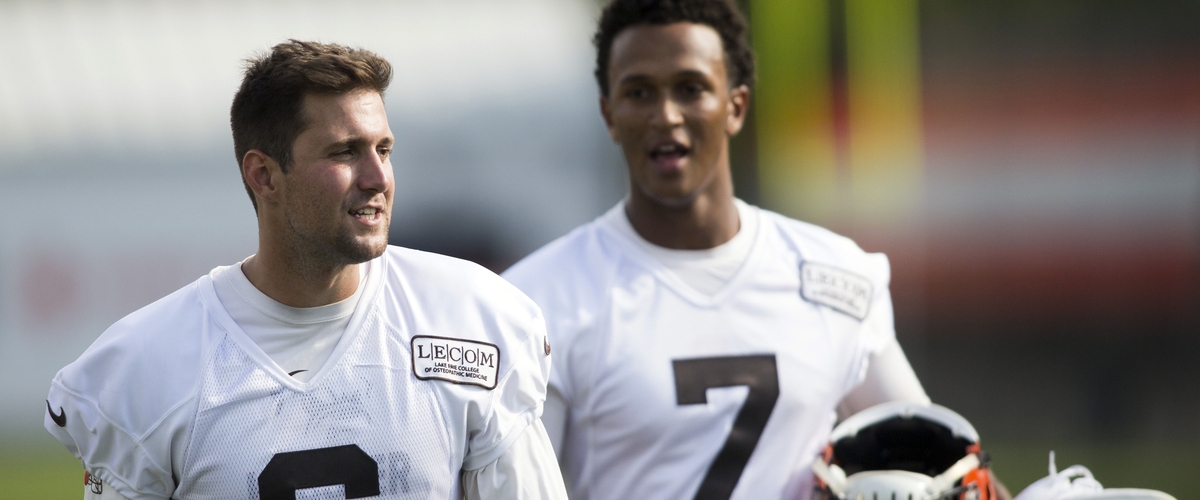 The Cleveland Browns went 1-15 last season and they possibly can't get any worse. Heading into training camp, Cody Kessler is taking 1st team reps as the quarterback.
When Robert Griffin III and Josh McCown were sidelined, Kessler was playing pretty well. He has the potential to be better. Kessler threw for 1,380 yards 6 touchdowns and 2 interceptions in 9 games last season.
In reality, Kessler was better than Brock Osweiler last season with the Houston Texans. Osweiler threw for 2,957 yards 15 touchdowns and 16 interceptions in all 16 games he played in.
If Kessler played in all 16 games, he would thrown for close to the amount of yardage as Osweiler did. He would have either tied or had more passing touchdowns. Kessler would have also thrown less interceptions.
With no one to really throw too, it seemed like Kessler made the right decision most of the time. It seemed as if Osweiler has showed his potential. That's not his fault, Denver messed with his head the day Peyton Manning was named the starter once again.
Osweiler is being paid $16 million for the next couple of seasons and would the Browns really hang onto him if Kessler keeps on getting better every day and Kizer shows his flashes?
Kizer is only 21 years old and teammates like the way he throws the ball. He was taken in the second-round in 2017 NFL Draft. Kizer can also run the ball at lightning speed.
If I were the Browns, I'd start Kessler week 1. As long as Osweiler doesn't fall off a cliff, I would make him the back up. If Kizer outplays Osweiler throughout the preseason, Kizer needs to be ahead of him on the depth chart.
I don't think the Cleveland Browns want to rush DeShone Kizer to be the starter. If that's the case, he just might have to be added to the Browns Are a Dumpster Fire song.
---