Falcons Cruise Against Packers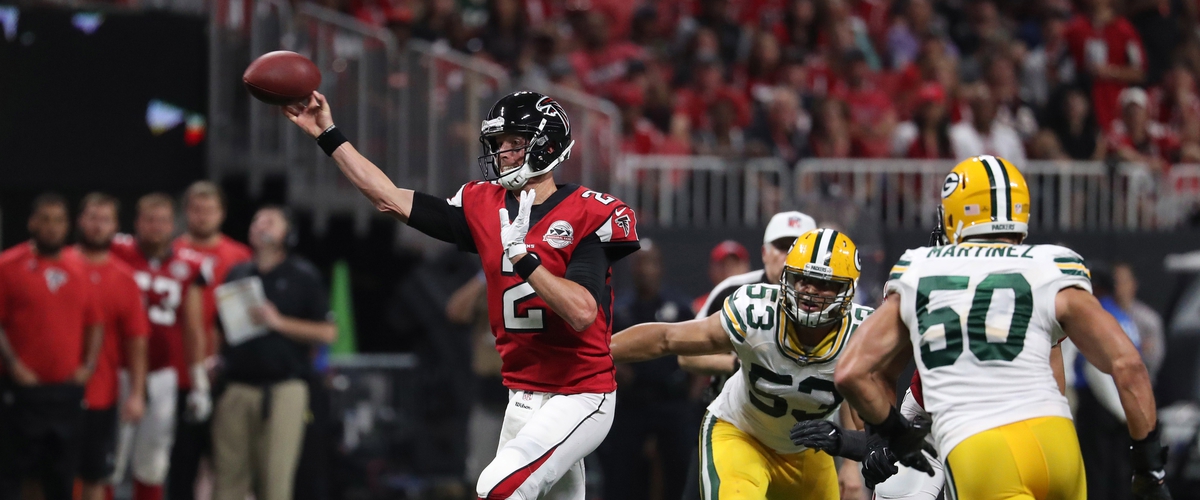 Could the Atlanta Falcons dominate the Green Bay Packers once again at home, but this time in their new Mercedes-Benz Stadium? Atlanta dominated once again in a 34-23 over Green Bay.
Devonta Freeman scored on a 1-yard rush in the first quarter for the Falcons. Ty Montgomery did the same for the Packers in the first.
Freeman scored on a 2-yard touchdown run in the second-quarter. He finished with 84 rushing yards on 19 carries and 2 touchdowns, along with 2 receptions for 16 yards receiving. With the Falcons leading 17-7, Tevin Coleman caught a 3-yard touchdown pass from Matt Ryan. Coleman only had 2 catches for 3 yards and a touchdown, but rushed for 42 yards on 6 carries.
Matt Ryan completed 19-of-28 passes for 252 yards passing and a touchdown. Julio Jones was the leading Falcons receiver with 5 catches for 108 yards receiving. In the third quarter, Desmond Trufant recovered a fumble and took it to the house for the Falcons from 15 yards out.
With the Packers trailing 34-10 in the fourth, Aaron Rodgers threw a 33-yard touchdown pass to Davante Adams. He finished with 8 catches for 99 yards receiving and a touchdown.
Ty Montgomery caught a 1-yard touchdown pass in the fourth. Montgomery finished with 35 rushing yards on 10 carries and a touchdown along with 6 catches for 75 yards receiving and a touchdown.
Aaron Rodgers threw his 300th career touchdown to Montgomery. Rodgers completed 33-of-50 passes for 343 yards passing 2 touchdowns and an interception.
Jordy Nelson left the game for the Packers with a quad injury. Vic Beasley Jr. left the game for the Falcons with a hamstring injury and Ricardo Allen left the game for the Falcons with a calf of ankle injury.
The Packers will host the Cincinnati Bengals (0-2) next Sunday and the Falcons will travel to face the Detroit Lions (1-0) next Sunday.
---