Falcons Defeat Elliott less Cowboys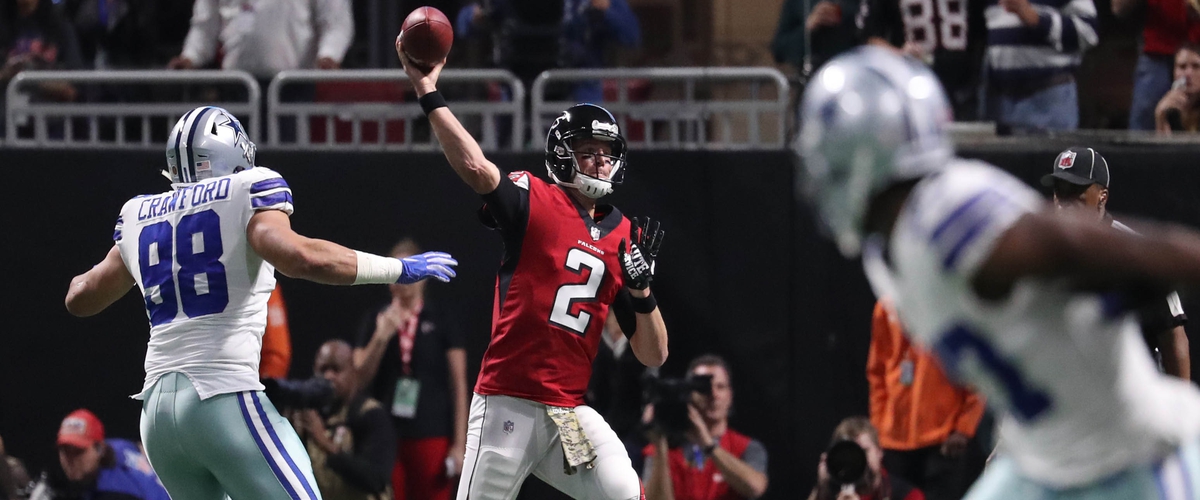 Ezekiel Elliott was beginning his six-game suspension for the Dallas Cowboys. The loss of Elliott felt like nothing because left tackle Tyron Smith did not play as well for the Cowboys. Adrian Clayborn abused Chaz Green all game long and Clayborn had six sacks in a Atlanta Falcons 27-7 victory over the Dallas Cowboys.
Dak Prescott scored on a 7-yard touchdown run in the first-quarter for the Dallas Cowboys. Prescott rushed for 42 yards on six carries and a touchdown. He also completed 20-of-30 passes for 176 yards. Alfred Morris rushed for 53 yards on 11 carries for the Cowboys.
With the Falcons trailing 7-3 in the second quarter, Tevin Coleman scored on a 1-yard rushing touchdown. Coleman finished with 83 rushing yards on 20 carries and a touchdown. He also caught one pass for five yards receiving. Coleman did most of the heavy duty in the backfield because DeVonta Freeman left the game early for the Falcons with a concussion.
Justin Hardy caught a 3-yard touchdown pass from Matt Ryan in the third quarter. Hardy caught two passes for seven yards receiving and a touchdown. Austin Hooper caught a 1-yard touchdown pass from Ryan in the fourth quarter. Hooper finished with six receptions for 49 yards receiving and a touchdown. Ryan completed 22-of-29 passes for 215 yards two touchdowns and one interception.
The Cowboys will host the Philadelphia Eagles (8-1) next Sunday Night and the Falcons will travel to face the Seattle Seahawks (6-3) next Monday Night.
---