Flyers Explode for Seven Goals in Win Against Rangers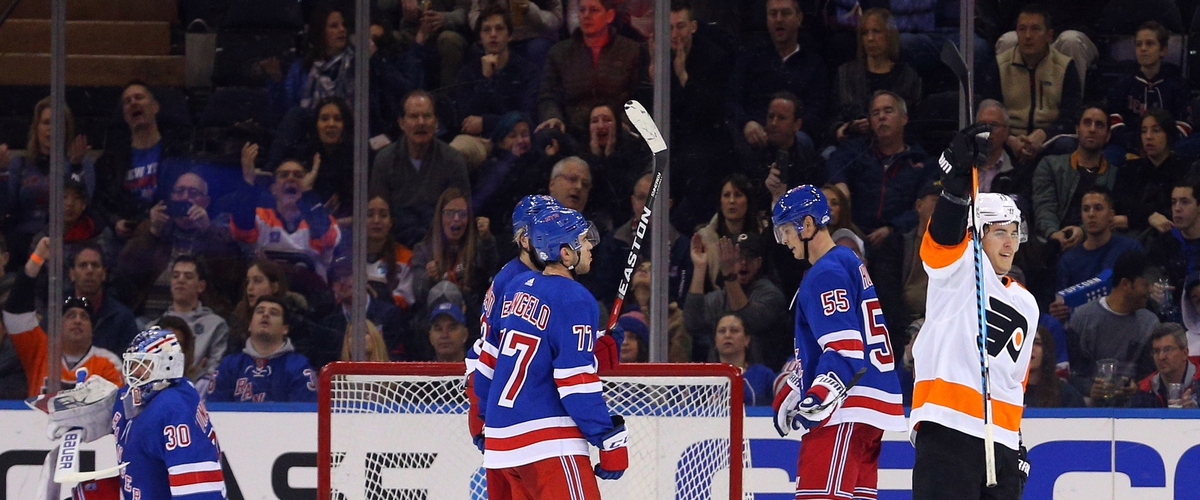 When Shayne Gostisbehere (Flyers) and Pavel Buchnevich (Rangers) dropped the gloves :15 seconds into the game, it set the tone of the game early and there would be many fireworks after that. The Philadelphia Flyers scored seven times at Madison Square Garden on Sunday Afternoon against Metro Division Rivals New York Rangers (final 7-4).
Kevin Hayes scored 1:30 into the game for the Rangers. Andrew MacDonald tied the game at one for the Flyers later in the first. Rick Nash scored off a rebound for the Rangers later in the first. Less than two minutes later, Scott Laughton tied the game at two for the Flyers. Brandon Manning gave the Flyers a 3-2 lead and then Mats Zuccarello tied the game at three for the Rangers before the first period ended.
Michal Neuvirth left the game after the first period with a lower-body injury and he made 11 saves for the Flyers. Alex Lyon came in relief for the Flyers and he was outstanding with 25 saves. The Flyers are already thin at goalie with Brian Elliott being sidelined for the next several weeks.
Nolan Patrick scored 2:01 into the second period for the Flyers. Peter Holland scored later in the second for the Rangers. Travis Konecny scored with 4:20 remaining in the second period for the Flyers and it happened to be the game-winning goal for them.
Claude Giroux and Jori Lehtera scored for Philadelphia in the third-period and the Flyers controlled the pace all game long offensively. They made Henrik Lundqvist look slow and he made 30 saves, but it looked a lot worse than it actually was. The Philadelphia Flyers and the New York Rangers will play each other two more times this season.
---