NBA Mock Draft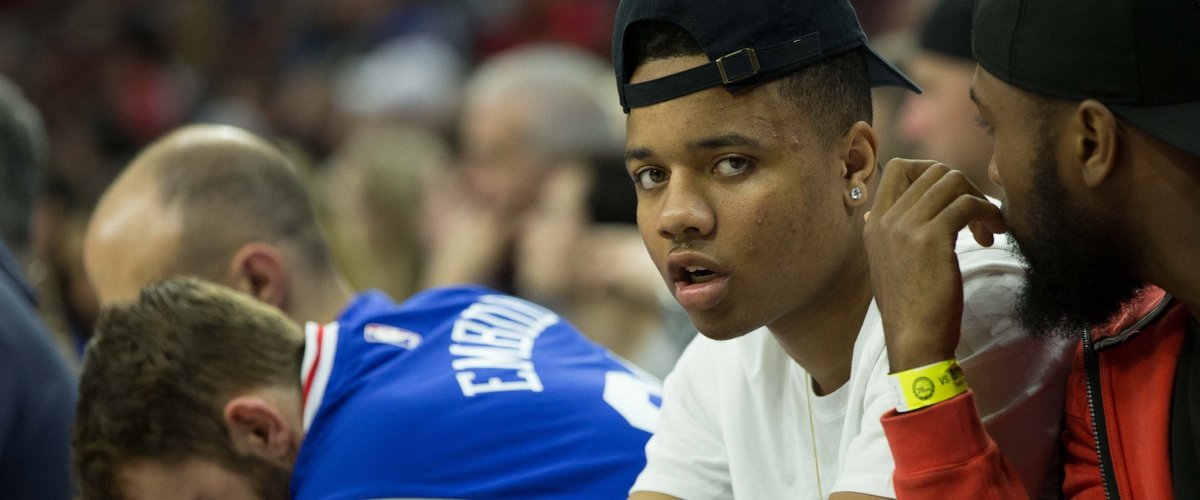 In just a little bit over 2 weeks away, the NBA Draft will take place at the Barclays Center in Brooklyn, New York. Many talented freshman once again are coming out of college and it is a very deep draft this season. I am sure the Brooklyn Nets feel disgusted about hosting it because the Boston Celtics hold the number 1 pick in the draft because of a made trade in 2013 with them.
The Lonzo Ball saga will also be interesting as well. Will he play in his hometown of Los Angeles or they feel it will cause to much drama because of his dad Lavar?
First Round: 1. Boston Celtics (From Brooklyn)- Markelle Fultz, PG. Washington
2. Los Angeles Lakers- Josh Jackson, SF, Kansas
3. Philadelphia 76ers (From Sacramento)- Lonzo Ball, PG, UCLA
4. Phoenix Suns- Jonathan Issac, SF/PF, Florida St.
5. Sacramento Kings (From Philadelphia)- Jayson Tatum, SF, Duke
6. Orlando Magic- De'Aaron Fox, PG, Kentucky
7. Minnesota Timberwolves- Malik Monk, SG, Kentucky
8. New York Knicks- Dennis Smith Jr., PG, NC St.
9. Dallas Mavericks- Frank Ntilikina, PG, Strasbourg Inernational
10. Sacramento Kings (From New Orleans)- Donovan Mitchell, SG, Lousiville
11. Charlotte Hornets- Luke Kennard, SG, Duke
12. Detroit Pistons- Zach Collins, PF/C, Gonzaga
13. Denver Nuggets- Lauri Markkanen, PF, Arizona
14. Miami Heat- Justin Jackson, SF, North Carolina
15. Portland Trail Blazers- OG Anunoby, SF/PF, Indiana
16. Chicago Bulls- Jarrett Allen, C, Texas
17. Milwaukee Bucks- John Collins, PF, Wake Forest
18. Indiana Pacers- T.J. Leaf, PF, UCLA
19. Atlanta Hawks- Semi Ojeleye, SF/PF, SMU
20. Portland Trail Blazers (From Memphis via Denver and Cleveland)- Justin
Patton, C, Creighton
21. Oklahoma City Thunder- Terrance Ferguson, SG, Adelaide
22. Brooklyn Nets (From Washington)- Ike Anigbogu, C, UCLA
23. Toronto Raptors (From LA Clippers via Milwaukee)- Harry Giles, C, Duke
24. Utah Jazz- D.J. Wilson, PF, Michigan
25. Orlando Magic (From Toronto)- Bam Adebayo, C, Kentucky
26. Portland Trail Blazers (From Cleveland)- Isaiah Hartenstein, PF/C, Zalgiris International
27. Brooklyn Nets (From Boston)- Tyler Lydon, SF/PF, Syracuse
28. Los Angeles Lakers (From Houston)- Jawun Evans, PG, Oklahoma St.
29. San Antonio Spurs- Derrick White, SG, Colorado
30. Utah Jazz (From Golden State)- Anzejs Pasecniks, C, Gran Canaria International
Top 5 Picks in Round 2: 31. Atlanta Hawks (From Brooklyn)- Ivan Rabb, PF/C, California
32. Phoenix Suns- Jordan Bell, PF, Oregon
33. Orlando Magic (From LA Lakers)- Rodions Kurucs, SF, Barcelona 2 International
34. Sacramento Kings (From Philadelphia via New Orleans)- Tony Bradley, C, North Carolina
35. Orlando Magic- Johnathan Motley, PF/C, Baylor
Top Players Remaining: Jonathan Jeanne, C, Nancy Inernational Thomas Bryant, C, Indiana Frank Jackson, SG, Duke Alec Peters, PF, Valparaiso and Caleb Swanigan. PF/C, Purdue
---