NFL Week 6 Predictions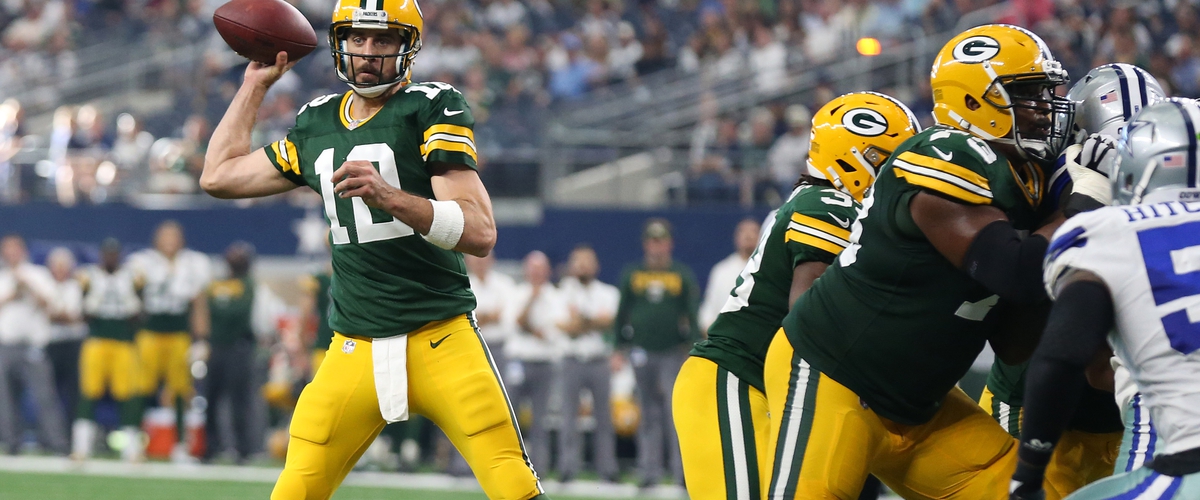 A little bit over a quarter of the season is already finished. Aaron Rodgers worked his magic once again last week for the Green Bay Packers. The New York Giants season keeps on getting worse with losing Odell Beckham Jr. and Brandon Marshall for the season.
Sam Bradford got hurt again for the Minnesota Vikings and Case Keenum came to the rescue for them. Mitchell Trubisky wasn't bad in his NFL debut for the Bears. The Cleveland Browns, San Francisco 49ers, and the New York Giants remain win less. The Kansas City Chiefs are still undefeated. My record last week was 8-6 and I'm 43-34 on the year.
Philadelphia Eagles 26 Carolina Panthers 30: It is very rare there is a good matchup on Thursday Night and we have one here. It is only week six, but this game could determine who could maybe get a first round bye. Carson Wentz and Cam Newton will both play with swagger. Which running game is going to step up to the occasion?
Miami Dolphins 17 Atlanta Falcons 20: I don't see the Atlanta Falcons losing two games in a row at home and they are coming off a bye week. The Dolphins haven't looked great the past few weeks, but they are lucky enough that they face a Falcons defense that doesn't force turnovers.
Chicago Bears 13 Baltimore Ravens 23: The Ravens got a much needed win on the road last week. They scored 30 points without Joe Flacco throwing a touchdown. The Ravens rushing attack is starting to get rolling and the Bears rushing attack has been quiet lately. That's a formula for Ravens forcing turnovers.
Cleveland Browns 14 Houston Texans 49: DeShaun Watson played well against the Chiefs last week and I expect him to again this week against a bad Browns team. Kevin Hogan will start in place of DeShone Kizer for the Browns.
Green Bay Packers 20 Minnesota Vikings 23: The Packers are coming off an emotional win on the road against the Dallas Cowboys. Now, they are playing on the road against a divisional foe. The Vikings do a decent job defensively on Aaron Rodgers. The Vikings offense will do just enough to squeak it out.
Detroit Lions 21 New Orleans Saints 28: Matthew Stafford tried to lead the Lions back again last week, but they came up short again. The Lions can't afford to dig themselves into a hole early and often. Drew Brees is going slice up this defense apart. Alvin Kamara is the Saints running back to keep an eye on.
New England Patriots 21 New York Jets 20: Who would have thought heading into week six that the Patriots and the Jets would have a 3-2 record? The winner of this game will temporarily move into first place in the AFC East. Tom Brady and the Patriots are banged up, but they will make enough plays to win.
San Francisco 49ers 10 Washington Redskins 31: Kyle Shanahan returns to Fed Ex Field as a the head coach of the San Francisco 49ers. They have been competitive this season, but the 49ers will get crushed to a more physical Redskins team.
Tampa Bay Buccaneers 22 Arizona Cardinals 16: If the Buccaneers can kick field goals with no problem, they should be able to win. If not, then it is questionable if they will. Jameis Winston has been good for the past few weeks for Tampa Bay and the Cardinals defense has its issues. The Cardinals have Adrian Peterson now, but the Buccaneers will keep that offense in check.
Los Angeles Rams 21 Jacksonville Jaguars 14: This could either be a very good game or a boring game. The Rams and the Jaguars are both hit or miss teams. It is very possible both teams could run the ball effectively on the ground, but Jared Goff will out play Blake Bortles.
Pittsburgh Steelers 17 Kansas City Chiefs 31: The Steelers are a mess right now especially on the offensive side of the ball. One week it's Big Ben's fault and another week either Le'Veon Bell or Antonio Brown's complaining about not getting the ball enough. Kansas City is one of the most fun teams to watch right now. They will continue to make Pittsburgh a mess.
Los Angeles Chargers 20 Oakland Raiders 23: Derek Carr will most likely play for the Raiders in week six and that will help their chances of winning. Amari Cooper is in a massive funk and he needs to snap out of it in a hurry. When Carr is healthy, the Raiders are more competitive. The Chargers got their first win of the year last week against the New York Giants. Phillip Rivers and Melvin Gordon will have another good game.
New York Giants 10 Denver Broncos 40: Odell Beckham Jr. and Brandon Marshall being out for the Giants means that the Denver Broncos corners are going to be feasting all game long. The Giants offensive line is horrendous and Von Miller will have a field day. The Broncos offense will get into a groove early and often.
Indianapolis Colts 10 Tennessee Titans 13: The Titans can be thankful that they don't have to face Andrew Luck. Marcus Mariota should be back for the Titans and that will help their chances.
Byes: Buffalo Bills, Cincinnati Bengals, Dallas Cowboys, and Seattle Seahawks.
---