Vikings Hold Off Rallying Lions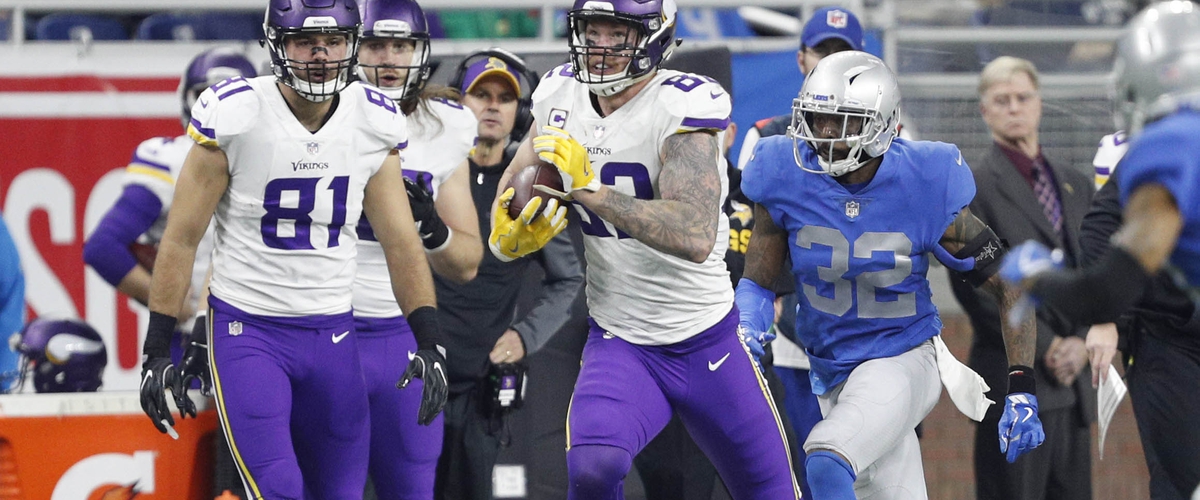 Darrius Slay blocked a field goal for the Detroit Lions late in the fourth-quarter, and Nate Lawson returned it 77 yards for a touchdown, but it was negated because of an offside penalty by Slay. It would have potentially tied the game for Detroit but it didn't as the Minnesota Vikings held on for a 30-23 victory.
Kyle Rudolph caught a 1-yard touchdown pass from Case Keenum and Keenum scored on a 9-yard touchdown run in the first-quarter for the Minnesota Vikings. With the Vikings leading 13-3 in the second-quarter, Rudolph caught a 22-yard touchdown pass from Keenum.
Rudolph finished with four receptions for 63 yards receiving and two touchdowns. Keenum completed 21-of-30 passes for 282 yards and two touchdowns. He also rushed for 20 yards and a score on seven carries.
Right before halftime, Marvin Jones caught a 6-yard touchdown pass from Matthews Stafford. In the third quarter, Latavius Murray scored on a 2-yard touchdown run. He rushed for 84 yards on 20 carries and a score.
With Detroit trailing 27-16 to start the fourth, Jones caught a 43-yard touchdown pass from Stafford. Jones finished with six receptions for 109 yards receiving and two touchdowns. Stafford completed 20-of-35 passes for 250 yards two touchdowns and one interception.
Kai Forbath made a field goal from 36 yards out for the Vikings. Matt Prater made three field goals for the Lions (32 (2x), and 50 yards). The Vikings will travel to face the Atlanta Falcons (6-4) next Sunday and the Detroit Lions will travel to face the Baltimore Ravens (6-5) next Sunday.
---