JR Smith; NBAs Dark Horse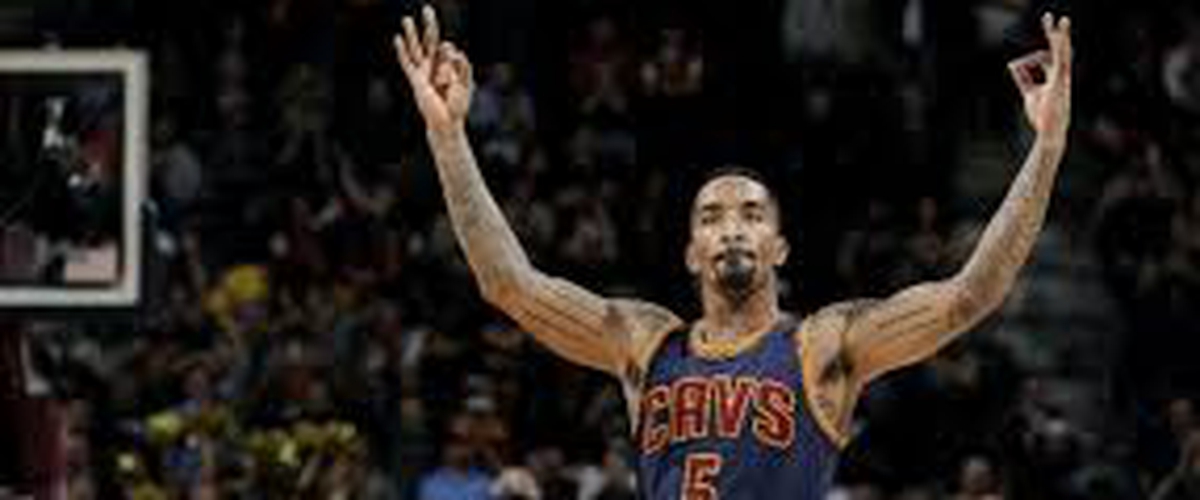 Legend among men, newly crowned NBA champion, still unsigned and looking to get his money, is NBA's very own JR Smith. Smith finally got what he deserved and that was a ring, Smith has had countless issues during his time with the NBA from getting into car accidents that has cost the life of one of his best friends to being accused of being in the street gang the bloods. Smith has earned himself a reputation of being a troublemaker among the league, racking up many violations and fines , having issues with teams, you name it. But all this has only made it easier for any NBA fan to cheer and want to see Smith succeed among the best of the best.
My love for Smith and his game began when he joined the Knicks back in 2012 signing on as a free agent, Smith brought what he was known for ; his 3 point shot, the man is a machine when he wants to be, being able to knock down his jumper from just about anywhere in the offensive zone. But along with his 3 point ability Smith also brings a top notch athleticism that should be feared by just about anyone having to defend him, with quick bursts of speed and strength Smith is able to get by just about any defender and bring it up for a monstrous slam, that would get just about any bench to stand up. Accompanied by his will of a champion Smith managed to win the hearts of most Knicks fans.
So one can understand why it was so heartbreaking to watch Smith walk away 2 seasons ago in a 3 team deal with OKC and Cleveland, but as much as I didn't want to see him go as a JR Smith fan I was happy that he joined the Cavs which gave Smith his best opportunity to win a championship.
I could write all day about what JR Smith has done for me but I'm not going to, so instead I'll move onto the real question on hand ; Where will JR Smith end up this postseason?
Clearly with the new cap space Smith is going to be commanding much more money than what he's seen the last few seasons, especially with players who are lower caliber than him earning such big pay checks. The Ideal spot for Smith to land would to simply be resigning a contract with the Cleveland Cavaliers and going to war to defending their title, but Smith has gone on record asking for $15 million per year which might prove to be too much for the Cavs forcing them to let their shooting guard walk. Now it is rumored that Smith is going to join the Lakers as their replacement for Nick Young which would be in my eyes counterproductive for the young Lakers team who are trying to develop their young talent. Memphis should take a minute and evaluate JR Smith as they are in the need for a player to complement their big man offense, and Smith's deadly 3 point shooting will help spread the defense. The Hawks could also look at Smith as a potential candidate to join Korver as one of the deadliest 3 Point shooting teams. The Kings should be willing to consider Smith unless Ben McLemore manages to develop to the lethal player they were hoping to get when they drafted him. Finally the 76er's could use Smith's veteran presence to lead their young core but Smith would have to greatly increase his effort on the defensive end of the ball to make it worthwhile.
All in all, I would be happy if JR Smith managed a return to Cleveland in hopes of defending their title, would be equally satisfied if the Lakers managed to snag Smith even though it might not be best for their team development I think Smith on the Lakers would be something to see. But I believe that if they can manage it either the Kings or the 76er's should sign Smith in hopes to make their team relevant again.
---