10 Takeaways From The NBA Draft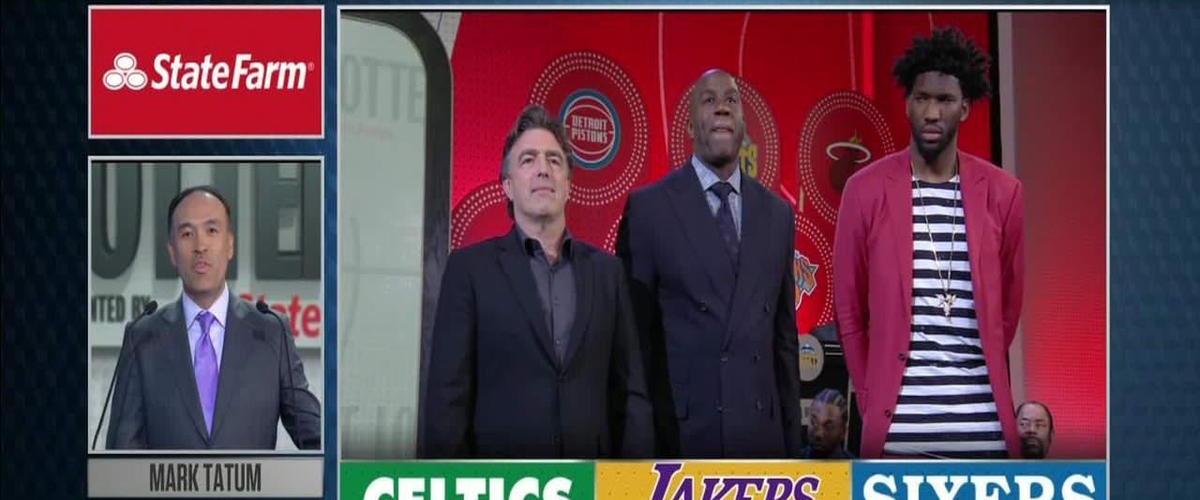 1) JIMMY BUTLER DOESN'T SOLVE ALL OF WOLVES' PROBLEMS
Jimmy Butler surely helps the Timberwolves get back into the sooner-than-later playoff contenders, but they still have work to do. They now have a starting five (projected) of Butler, Karl Towns, Andrew Wiggins, Ricky Rubio and Gorgui Dieng, with rookie Justin Patton, Tyus Jones and Nemanja Bjelica around. That's not a contender, and they will need to bring in better point guard play along with a few additional veterans to be taken seriously. However, this is why they are fourth in my top five teams that have a chance at taking down the Warriors in the next few years.
2) SACRAMENTO MAY TURN OUT TO HAVE THE BEST OVERALL DRAFT
In the first round, the Kings had three selections, starting with PG De'Aaron Fox at number five. They then traded #10 to Portland for #15 and #20, and took NCAA Champion Justin Jackson and PF Harry Giles, who was seen as the number one pick prior to his injuries. Should Harry Giles turn into the special player he could have been along with the likely consistency of Jackson and the playmaking of Fox, the Kings could be dangerous. Don't forget about the Naismith winning PG Frank Mason in round two.
3) JOSH JACKSON WAS A STEAL FOR THE SUNS
He was one of three players in my opinion who had the potential of going first overall, along with Markelle Fultz and Jayson Tatum, but I think he could be the best. He's a great scorer, and is a good fit for the Suns' system. A starting four of Jackson, Eric Bledsoe, Devin Booker and Marquese Chriss/Dragan Bender could be the start of something special in Sun City.
4) WHAT DO THE BULLS GET FROM BUTLER
The Bulls have a solid chance of turning this trio of players from Jimmy Butler into something good, starting with the 7 foot shooter in Lauri Markkanen. They also brought in dunking stud Zach LaVine, who is recovering from a torn ACL and second year PG Kris Dunn. Two of these players need to "hit" for the Bulls to have survived the trade, although this means the playoffs aren't an option this season.
5) DID PHILLY MAKE THE RIGHT CALL
Apparently, Jayson Tatum would have gone number one to the Celtics, but GM Danny Ainge has to say that or he will ruin Tatum's confidence. Lonzo Ball likely would have went to the Lakers. So, that means Fultz could have feasibly been available third overall, and the Sixers traed up to get him. I believe it's the right call in only this way, the Sixers need to start collecting stars instead of assets, and this is the first step in that direction.
6) I THINK PEOPLE FORGOT ABOUT TRADING FOR CARMELO
With the Knicks drafting another project in PG Frank Nkitilina from France, alienating free agents and shopping Kristaps Porzingis, you have to wonder how Carmelo Anthony feels about this. With names like Paul George, Jimmy Butler, Gordan Hayward and Porzingis floating around, not hearing Carmelo's name isn't surprising, but it has to be frustrating for him to be in New York right now. Maybe now is a good time to buy low on him for teams like the Celtics, Cavaliers and Clippers.
7) GOLDEN STATE PAID TO GET JORDAN BELL
Golden State is going to be paying the Bulls four times more for the rights to Jordan Bell than they will actually be paying Jordan Bell. When the Warriors do this, it usually means that they are going to be getting a pretty good player (look at Patrick McCaw), and Bell fits their needs defensively. He's a rim protector, someone that doesn't need touches and can play with four of the big six (Durant, Curry, Thompson, Green, Iguodala, Livingston) and provide defensive intensity.
8) SPURS MADE SPURS MOVES
Drafting veterans out of college, who can handle the ball and play multiple positions is the most "Spurs" thing any team can do. And, the only way they could have done that better would have been to take Josh Hart instead of Derrick White. But, the duo of White and Jaron Blossomgame is a good way to keep the Spurs Way going.
9) BEST PICK IN THE LAST 20 OF THE DRAFT
I'm going with SF Dillon Brooks heading to Houston. A two-way star at Oregon, who probably will be something of a Trevor Ariza-Sam Dekker hybrid is perfect for the run-and-gun Rockets' system. He can be a dark horse ROY candidate if he gets the playing time.
OTHERS: PG Monte Morris (Denver), PF Alec Peters (Phoenix), G Nigel Williams-Goss (Utah)
10) AND MY STUPIDLY EARLY ROY VOTE GOES TO...
Lonzo Ball. Did you really think I would go through an entire draft blog without talking about him? No, I'm not here to talk about LaVar. Do I think Lonzo is the best player in the draft? No, but I do think he will have the LA vote, which is huge, plus he has the starting job and some good offensive options around him. Fultz will be dueling Simmons for the 76ers ROY, Tatum is on a good team, Jackson is second place and nobody from the Kings wins awards.
ORDER: Ball (LAL), Jackson (PHX), Tatum (BOS), Simmons & Fultz tied (PHI)
---