Biggest Need for Every NBA Team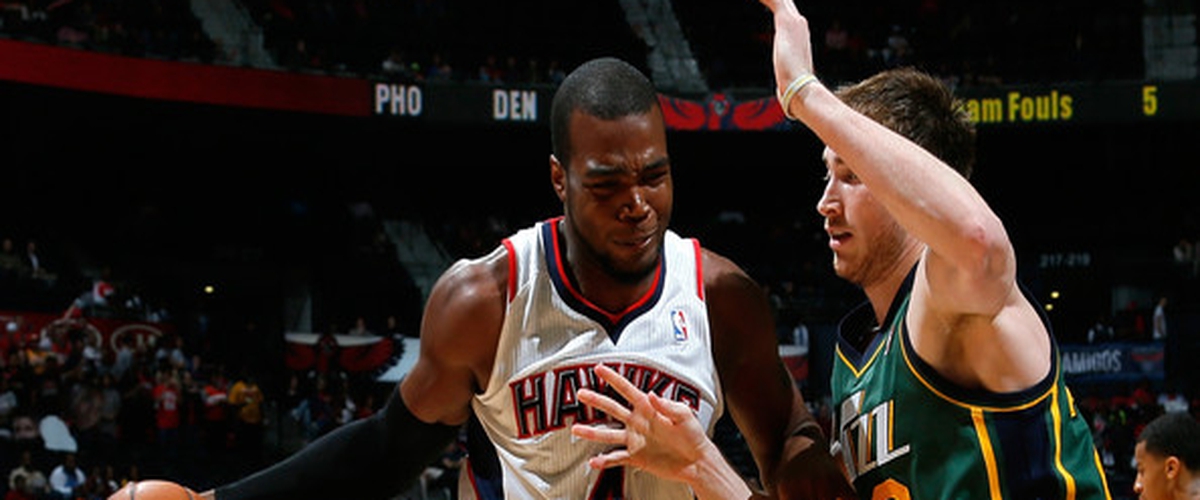 ATLANTA: A rebuild
The Hawks are on the verge of losing the entire starting five from that 61 win team just a few years ago, as Paul Millsap is a free agent and likely on the move. Dennis Schroder and Kent Bazemore are the only players left with any real value to another team (maybe Taurean Prince or Marco Belinelli), and I think that at least trading Schroder away could get the Hawks back some young(er) players to start a rebuild.
BOSTON: Another star (that's a wing or a forward)
The Celtics have a duo of Isaiah Thomas and Al Horford manning the point guard and center positions, respectively, and have a trio of talented two-way guards as well. They have the past two #3 picks in the draft who both play small forward, as well as Jae Crowder. But what Boston really needs is one of the guys in the cover photo, either Paul Millsap or Gordan Hayward. Both have connections to Boston, Millsap played with Horford and Hayward played for head coach Brad Stevens in college.
BROOKLYN: Talent
It's just that simple. Most of their players are role players at best or have spent time in the D-League, and they just need to upgrade at every position. D'Angelo Russell is an upgrade at guard, but they downgraded at center in the process. This one will take more time than in Philadelphia.
CHARLOTTE: Scoring
Kemba Walker can't score all by himself, and with Nicolas Batum (a defense-first player) as your second best scorer, adding some people to put it in the hole is necessary. Don't count on Dwight Howard to be that guy, as he has struggled with scoring since leaving Orlando. Draft choice Malik Monk was a nice pickup, but adding a veteran such as Bojan Bogdanovic or Nikola Mirotic would be beneficial.
CHICAGO: Assets for veterans
Chicago is the second playoff team on this list that is starting a rebuild, and they kicked it off by trading away star wing Jimmy Butler. The next move is to find a taker for Dwyane Wade and Rajon Rondo, and to buy them out otherwise. Hopefully for Chicago, some teams will try and trade for them before that happens.
CLEVELAND: Younger Depth
Cleveland doesn't need Paul George to win a title, they need three to five players to be able to come off the bench and give them meaningful minutes. Right now, that's just Iman Shumpert and Channing Frye, although Frye (for some reason) didn't play much in the Finals. A backup point guard, big man, and a couple of wings would do. They might be a little too handstrung by the cap to do that, though.
DALLAS: Nerlens Noel
Dallas traded away picks and Justin Anderson to bring in Noel from Philadelphia, so they need to sign him to a new contract. The Mavs are trying to get younger, and a potential core of Noel, Harrison Barnes and rookie Dennis Smith Jr is a nice start, although it's nowhere near a finished project.
DENVER: A star
I really don't think Denver cares who the star is, as they think that even PF Kevin Love is a good option for them, but Denver really wants to get back to the playoffs. They have the assets to pull off a trade for a Paul George, and the cap space to bring in a star as well. Denver is overcrowded at some positions, however, so a trade makes more sense.
DETROIT: A plan (and KCP)
It's kind of hard to determine what Detroit is doing, exactly. To start, if they let SG Kentavious Caldwell-Pope walk, they have lost one of their better assets. I'm also hearing trade rumors surrounding C Andre Drummond and PG Reggie Jackson, which makes little sense if this team still believes they can make the playoffs (and they can now, much easier). I really don't know if Detroit is building up or trying to patch itself quickly.
GOLDEN STATE: Renewed depth
Golden State won the 2017 NBA title, and they are also losing virtually their entire bench. They likely will keep Andre Iguodala and Shaun Livingston, but the Warriors need to find some veterans who will take a massive pay cut to play in the Bay Area. It shouldn't be too hard, right?
HOUSTON: The last piece of the puzzle
I'm tempted to argue that Houston, should they add someone like Chris Paul or Kyle Lowry would be in a better position to overtake the Warriors out west than the Spurs. I think adding another star guard, who's not needy with regards to touches, to pair with James Harden will take pressure off him, while improving the team as a whole.
INDIANA: Real assets for Paul George
Kevin Love isn't a real asset for Paul George. Indiana got burned when Paul George declared he would be joining the Lakers in 2017-18, and now they will get absolutely nothing for him or pennies on the dollar. If I were the Pacers, I'd wait for some real assets, draft picks, and young players instead of helping Cleveland or Boston get better. That's being competitive, right?
LA CLIPPERS: A way to get better
The Clippers have no assets, and if they re-sign Chris Paul and Blake Griffin, they have no cap space. The depth is gone either way, and the Warriors are still leagues ahead of everybody. The Clippers need to find a way to get better at the two and the three, while keeping CP3 and Griffin.
LA LAKERS: Create cap space
The Lakers are going to be a better team this season, but the main concern the Lakers have is for the summer of 2018 and clearing enough cap space to bring two stars in. They'd be paired with Lonzo Ball, Julius Randle and Brandon Ingram (among others) and the Lakers could be on a fast track back to the playoff picture.
MEMPHIS: Can I say I don't know?
I really don't know what Memphis should do, what they need, and what they don't need. They need shooters, but they also need defense. And yet, they are a playoff team.
MIAMI: Forwards
Miami's good at center, good at point guard (and two guard maybe), and they have Justise Winslow at small forward. They need a couple more quality forwards to bring in, and they might even be able to bring in an upper-level one like Gordan Hayward or Serge Ibaka.
MILWAUKEE: Point guard
Malcolm Brogdon may win Rookie of the Year, but that doesn't mean he's the Bucks' point guard of the future. It just means he is part of the Bucks' future. As far as Matthew Dellavedova goes, he's not the long-term star. Then there is Giannis Antetokounmpo, but he's the only three on the roster, unless you move Middleton there and then there are no two's. Darren Collison, Aaron Brooks? Maybe George Hill if he's affordable.
MINNESOTA: Depth
The Timberwolves have a potentially great trio at the top, then they have Ricky Rubio, and after that they don't have much. Gorgui Dieng is solid, Nemanja Bjelica is okay and Tyus Jones is inexperienced. That's the roster, plus rookie Justin Patton. The Wolves just need veteran help at every position.
NEW ORLEANS: Everything but big's
Outside of Anthony Davis and DeMarcus Cousins, the Pelicans' have nothing. Here are the other three projected starters: Solomon Hill, E'Twaun Moore and rookie second rounder Frank Jackson. Maybe Dante Cunningham or the two-year injured Quincy Pondexter. The Pelicans have a sizable amount of space to fill out the roster, but adding stars to this team probably isn't the right way to go about it.
NEW YORK: A new owner, GM, Executives, Coaches, Players
I think it all starts with the owner, but with perhaps Carmelo Anthony and even Kristaps Porzingis on the way out, that leaves Courtney Lee and the much overpaid Joakim Noah as the top two. James Dolan is the worst owner in the NBA, perhaps all sports, and needs to sell the team for the good of the team.
OKLAHOMA CITY: Flexibility
This team can't just be all Russell Westbrook, we saw how well that worked this season. They also have 60+ million dollars tied up in Enes Kanter, Steven Adams and Victor Oladipo. It's going to be really hard to build this team around Westbrook with approximately $100 million going to four players.
ORLANDO: To fully embrace the rebuild
Orlando has bungled a couple of draft picks at this point, such as Mario Hezonja and Elfrid Payton. They've also been successful with acquiring Evan Fournier and Nikola Vucevic. I think, now, it is time for Orlando to dive deeper down the win column for a few years then resurface. It all starts with Jonathan Isaac.
PHILADELPHIA: High-level veteran
They don't need a star yet in Philadelphia, but they do need to bring in a veteran of about 28 or so with the amount of talent as a JJ Redick, Jeff Teague, or Rudy Gay. They don't need to bring in a superstar, or trade for one, they just need that first veteran to make some waves saying that the rebuild is over.
PHOENIX: Paul Millsap
I think that Phoenix is a star forward away from jumping into the playoffs, and Paul Millsap might be a perfect fit here. Putting him next to Tyson Chandler on the front lines, and allowing Marquese Chriss and Dragan Bender to grow will help this team. With all the guards Phoenix has, plus the scoring small forwards in TJ Warren and Josh Jackson, Phoenix has potential.
PORTLAND: Adjusted depth
Portland is really deep, although not extremely good, with depth at the four and the five. They are very thin at the guard position after Damian Lillard and CJ McCollum, however. They have a full roster already, so they need to trade some big's for some guards. Jordan Clarkson of the Lakers would be a perfect third guard for this team.
SACRAMENTO: Time to grow, the right way
Kings' fans need to be patient now more than ever, as this franchise is about to go under a full rebuild. They have some nice young pieces, such as De'Aaron Fox, Buddy Hield, Harry Giles and Willie Cauley-Stein, but the Kings need time. That's it.
SAN ANTONIO: Health
The Spurs just need three things: Gregg Popovich, Kawhi Leonard, and good health. With all of that, they can put together a high school roster and win 50 games. They could be very aggressive this off-season, though, as Pop's career is in its' twilight stages and the Warriors are stronger than ever.
TORONTO: Kyle Lowry and more
The Raptors need to bring back Kyle Lowry, or the run they have had will be over. Should they lose Lowry, a rebuild could be an option, otherwise trying to ride things out with DeRozan as the lone ranger. If they keep Lowry, bringing in a power forward and more depth will be vital to challenging Boston and Cleveland.
UTAH: Retain Gordan Hayward
The Jazz were quietly the fourth best team in the West last season, and that won't happen again if they lose Hayward in free agency. That would be demoralizing, and then you start to wonder if Rudy Gobert will leave also down the road. The long-term foundation the Jazz have created since the Deron Williams trade would just start to crack, and they might not recover for a while. Basically, this is crucial.
WASHINGTON: Depth, depth, DEPTH
The Wizards had such a bad bench, that they traded a first round pick for Bojan Bogdanovic, and went out to sign a struggling Brandon Jennings. Now, those players (plus Otto Porter) are free agents, inserting Kelly Oubre into the starting five and creating no bench whatsoever. Seriously, Ian Mahinmi? Tim Frazier? Tomas Satoransky?
---